It's a tough question: Puerto Vallarta vs Playa del Carmen or Puerto Vallarta vs Cancun? West coast vs east coast? There's no shortage of great beach destinations in Mexico, running up and down both coastlines. So how do you decide where to go for your next Mexican vacation?
Two of our favorite spots, Puerto Vallarta and Playa del Carmen, happen to be on opposite sides of the country. This makes their offerings quite different. To help you choose we've compared Puerto Vallarta vs Cancun and Playa del Carmen based on our personal Mexico experiences plus input from other travelers to Mexico.
A New View of Top Mexican Beach Towns
We originally wrote this article in 2014 after spending 3 months in each destination. Since then we've returned to both places several times and in 2021 we are currently living in Playa del Carmen. There have been a lot of changes over the years so we decided it was time to rewrite the article and see how our picks have changed.
There are many things that both destinations share: beautiful beaches, great weather, delicious food, and friendly people to name a few.
But being on different coasts there are also some differences that will never change: Playa del Carmen and Cancun will always have the sugar-white sand and calm turquoise waters of the Caribbean. Puerto Vallarta will always be preferred by surfers because of the thundering Pacific waves.
Even though they are both Mexican beach resort towns with all the activities, dining and nightlife that go along with that there are vast cultural, historical, and geographical differences that make each one unique.
So, once again the question is how do you choose between Puerto Vallarta and Playa del Carmen or Cancun? Below we've broken it down into categories and have picked a winner for each. We've also noted which picks have stayed the same since 2014 and which have changed.
---
Puerto Vallarta vs Cancun & Playa del Carmen
Best for Beaches: Playa del Carmen & Cancun
*Our pick is unchanged since 2014
Probably no surprise or argument when it comes to the Pacific Coast town of Puerto Vallarta vs Mayan Riviera which is on the Caribbean Sea. It's pretty tough to beat the turquoise water and powder-soft white sand. One of our favorite beaches near Playa del Carmen is Xpu-Ha Beach
Note: There was an unusually high amount of Sargasso seaweed washing up on the shores of the Caribbean in 2018 and 2019. However, at the time of this writing (Jan 2021) the beaches have returned to the pristine clear water we remember on our first visit.
---
Best for Variety of Restaurants: Tied
*Our pick is unchanged since 2014
It's really impossible to choose a winner for the best restaurants in Playa del Carmen and Cancun vs Puerto Vallarta restaurants. Both offer a wonderful array of varied eateries from taco stands to world-class cuisine.
However, as you'll read further on there are some differences in other restaurant-related categories.
For a recent list of the best restaurants in Playa del Carmen click here.
---
Best for Character & Charm: Puerto Vallarta
*Our pick is unchanged since 2014
Puerto Vallarta is the hands-down winner for its charming old town with cobblestone streets, local neighborhoods, boutique Puerto Vallarta hotels, and the iconic Our Lady of Guadalupe Church.
The truth is Playa del Carmen and Cancun really didn't stand much of a chance in this category as they are more of a planned tourist destination with very little unique cultural character.
---
Learn more about this amazing country with these 80+ Fun Facts About Mexico
Best for Street Food: Puerto Vallarta
*Our pick is unchanged since 2014
Although Playa del Carmen has some street taco stands we found that Puerto Vallarta offers more options for consistently good street food, especially in the touristic areas.
Choose from a variety of meat and seafood tacos, saucy birria, volcanes, tostadas, grilled meat skewers and even ceviche made fresh to order at a street food stand.
Note: We should add, however, that downtown Cancun has more street food than Playa del Carmen since there are more locals living there.
---
Best for Nightlife: Playa del Carmen and Puerto Vallarta Tied but Puerto Vallarta vs Cancun is a Different Story
*Our pick has changed from Playa del Carmen in 2014 to a tie in 2021
Both are top party cities in Mexico so it's not an easy choice. Back in 2014, we picked Playa del Carmen with its blocks of nightclubs and bars around 5th Avenue plus the Vegas-style Coco Bongo. However, after re-visiting both places we've decided that it's a pretty dead heat between the two.
Playa del Carmen used to have a section of clubs and bars on 12th street that made it hard to beat for nightlife in a beach town. But on our last visit, we found that some of them had been shut down and the street just doesn't have the same energy.
Puerto Vallarta, on the other hand, still have their share of dance clubs and bars along the malecon but they have also added some new venues both in Zona Romantica and outside of old town where there's been a lot of new development.
Note: Another instance where if we were to look strictly at Puerto Vallarta vs Cancun we'd probably have to give it to Cancun as there is more nightlife there than Play del Carmen.
---
Best for Public Transportation: Puerto Vallarta
*Unchanged since 2014 and now Puerto Vallarta has Uber which puts it even further ahead of the race
The fabulous Puerto Vallarta bus system takes you all over the city and beyond for one low price. Playa del Carmen has limited bus routes but they do have colectivo vans that run up and down the highway and 30th Ave.
Also, as mentioned above, Uber is now in Puerto Vallarta which makes getting around uber-easy! Unfortunately, Playa del Carmen is still stuck with regular taxis which makes it a lot more challenging to get a fair rate.
---
Best for Watersports: Tied
*Our pick is unchanged since 2014
Our first thought was Playa del Carmen and Cancun due to the superior snorkeling and scuba diving. However, the scales are more balanced when you account for the great surfing in Puerto Vallarta and nearby Sayulita.
We personally spent more hours on the water in Puerto Vallarta due to the fact that you can generally negotiate the price of a boat ride more than in Playa. However, we spent more time in the water in Playa del Carmen due to the warm Caribbean. Overall they have pretty much the same options: parasailing, sailing, jet skis, paddleboards, fishing…you name it they both have it.
You can watch a Puerto Vallarta video of one of our days out on the water here.
---
Best Selection of Accommodations: Playa del Carmen or Cancun
*Our pick is unchanged from 2014
Playa Del Carmen and the surrounding area definitely have more in the way of luxury and all-inclusive resorts whereas Puerto Vallarta offers more in the way of condos and smaller hotels. In looking at the overall picture though we would say that Playa del Carmen wins for having more variety.
Tip: We've written about some great accommodations in Cancun and Playa del Carmen
Accommodation Tips:
When we are looking for hotels we always start with Hotels Combined. This is a search engine/booking site but it lists the prices of all the other booking sites like Hotels.com and Booking.com. This saves time and makes sure we are getting the absolute best prices.
When we want something with a kitchen or for longer stays we always go to Airbnb.
---
Best for Friendliness: Tied
*Our pick has changed from Puerto Vallarta to a tie
This category probably shouldn't even be in here as Mexico, in general, is one of the friendliest countries in the world and both these beach towns are no exception.
We originally picked Puerto Vallarta as being the most friendly based on our 3-month experience living in each place. However, five years later we found the friendly level to be pretty much equal.
In 2014 Playa del Carmen seemed so much more touristy and packaged than Puerto Vallarta. This made Playa feel slightly less authentically welcoming. Today, Puerto Vallarta has lost a little of its small-town charm due to the growth of tourism and ex-pat communities which can often lead to locals getting a bit tired of the masses.
Having said all that we still find both communities to be friendly, safe and welcoming overall making them both great vacation destinations.
---
Best Bang for Your Buck: Tied
*Our pick has changed to a tie since 2014
As of 2021 we no longer find Puerto Vallarta to be less expensive than Playa del Carmen.
Living expenses like rent, utilities, clothing, and household items which used to be slightly less expensive in Puerto Vallarta are now pretty much equal as are eating out and buying alcohol. Grocery prices and transportation were always pretty much a wash. The only thing that may make a slight difference is the abundance of street food in Puerto Vallarta.
Tip: Here are 12 ways we saved money in Puerto Vallarta.
---
Most Aggressive Vendors: Tied
*Our pick has changed from Puerto Vallarta to a tie
We originally chose Playa del Carmen to have less aggressive vendors simply because they didn't allow many of them on the beaches. Unlike Puerto Vallarta where you have to repeat "No, gracias" every five minutes while you're trying to relax.
On our last visit though we found the street vendors in Playa del Carmen to be even more aggressive than they used to be and the constant call of "Hey amigo, wanna get high?" on 5th Ave was pretty annoying. For this reason, we've changed to a tie.
Note: Like many lower-income countries the people of Mexico have to work hard to make even a very basic living. For this reason, you will find masses of vendors selling their products everywhere you go just to make a few extra pesos. Yes, it can get annoying but for the most part, they are polite and will not hassle you too much. Please keep in mind that this is their country and their livelihood before getting angry and being rude. A simple smile and "No gracias" usually does the trick.
---
Best for Romance: Puerto Vallarta
*Our pick is unchanged since 2014
Surprisingly (even to ourselves) we had to go with Puerto Vallarta on this one. Despite the beautiful Caribbean beaches in Playa del Carmen, there are just so many more romantic, candlelit, beachside restaurants where you can watch the sunset in Puerto Vallarta. Plus you have the bonus of strolling along the quiet cobblestone streets of old town after dinner as opposed to the rowdy 5th Ave of Playa.
For a special romantic evening consider going to Rhythms of the Night in Puerto Vallarta
*Note that this is based on the town itself, not accounting for the exotic and romantic resorts along the Riviera Maya.
---
Best For a Family Vacation: Playa del Carmen & Cancun
*Our pick in unchanged from 2014
This is close to a tie because the beaches of Puerto Vallarta are generally more kid-friendly. But, because of the abundance of adventure and theme parks in the Riviera Maya as well as the many all-inclusive resorts with kids activities we had to go with Playa del Carmen & Cancun.
Oh and we can't forget one of our favorite things to do in the Yucatan which is to explore the many magical Mayan Riviera Cenotes!
If your family loves a day of fun, nature, culture, food, and adventure be sure to check out the many parks like Xel-Ha, Xcaret Eco Theme Park.
---
Best for a Destination Wedding: Playa del Carmen & Cancun
*Our pick is unchanged since 2014
The combination of the captivating Caribbean backdrop and the abundance of lavish beachside resorts make Playa Del Carmen & Cancun a clear choice for a destination wedding.
Whether you want a sunset ceremony on the beach, an afternoon event by the pool or a more traditional wedding in a glamourous resort the Riviera Maya can make your dreams come true.
News!: We got married in Play del Carmen in Feb 2021 so check back for the story!
---
Best for Living or Long-term Stay: Puerto Vallarta
*Our pick is unchanged since 2014
Having spent almost three months in each place we can say without a doubt that for us Puerto Vallarta is the better option for long term stay. Puerto Vallarta is just more livable, feels less touristy and is overall less expensive than Playa Del Carmen. We also found it much easier to develop friendships and get involved in the community.
Read about our experience finding a home in Puerto Vallarta and in Playa del Carmen here.
---
Best for Cultural Events: Puerto Vallarta
*Our pick is unchanged since 2014
Probably due to the reasons above we found Puerto Vallarta to offer more in the way of cultural and community events. They have community centers, live theaters and plenty of art galleries.
Some of our favorite cultural events in Puerto Vallarta are the Southside Shuffle art walk, or an evening of entertainment at Act II Stages or Incanto.
---
Best for Shopping: Tied
*Our pick is unchanged from 2014
This is a very subjective choice as it depends on what you're looking for. Playa del Carmen has more in the way of designer labels and high-end boutiques but Puerto Vallarta has better everyday shopping.
As you would expect they are pretty comparable when it comes to souvenirs and local crafts so ultimately we gave it a tie.
---
Best for Excursions and Day Trips: Playa del Carmen & Cancun
*Our pick is unchanged from 2014
Puerto Vallarta is a good base for some fantastic day trips such as Bucerias, Sayulita, and Yelapa, to name just a few. However, Playa del Carmen wins for best excursions and day trips from Cancun as it boasts the ruins of Tulum and Chichen Itza, the numerous Xcaret theme parks, the nightlife and things to do in Cancun, the beautiful islands of Cozumel and Isla Mujeres and the many magical cenotes.
In addition to those listed they both offer many great snorkeling, fishing, diving, and party boat excursions as well as zip lines and other more adventurous activities.
Learn all you need to know about a day trip to Xel-Ha (one of the Xcaret theme parks) here.
Note: Although we picked Playa del Carmen as the winner in this category we did love our day trips from Puerto Vallarta too. Especially the numerous waterfalls in Puerto Vallarta, this hike from Boca de Tomatlan to Las Animas and also the Botanical Gardens
---
Here are some tours we recommend based on our experiences in Playa del Carmen
---
Best for Weather: Puerto Vallarta
*Our pick is unchanged since 2014
This is another one that we found difficult to decide as they both have great beach weather depending on what time of year you visit. Ultimately we went with Puerto Vallarta simply because the humidity and rainfall tend to be a little less than in Playa del Carmen.
In Puerto Vallarta, the weather is best from December to May when it's warm and quite dry. June to September tends to be hot and wet. October and November are a bit of a crapshoot with the weather but it's generally decent and with fewer tourists.
Playa del Carmen is tropical which means higher temperatures and humidity. September and October tend to be the wettest months and June to November is hurricane season.
Note: We personally survived 2 hurricanes Playa del Carmen's 2020 hurricane season!
---
Best for Nature and Scenery: Tied
*Our pick is unchanged from 2014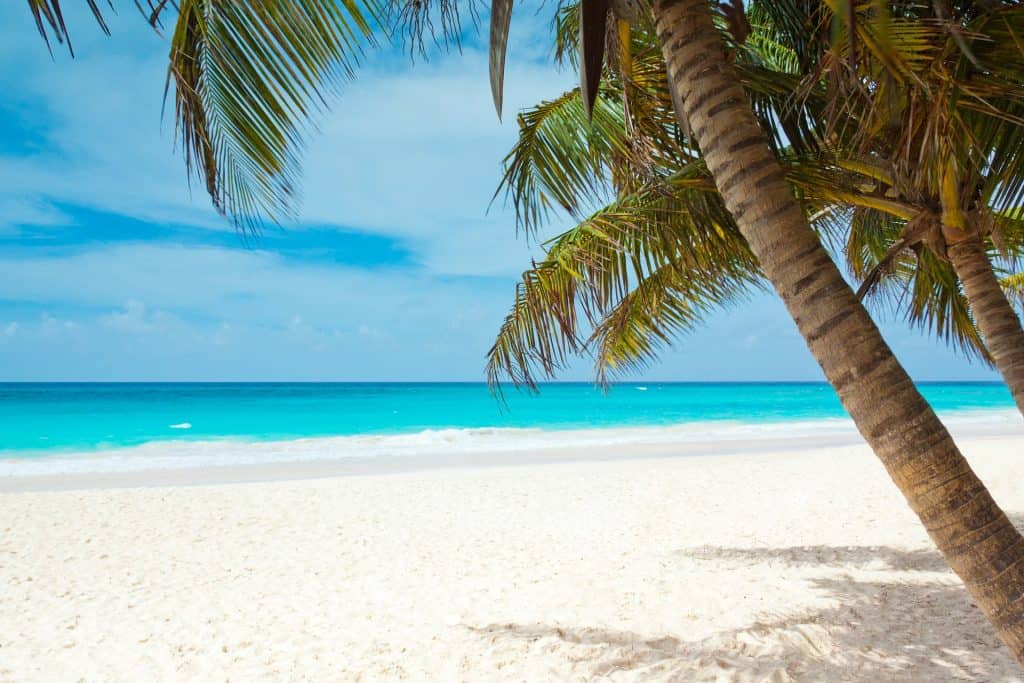 Definitely a toss-up for us. Puerto Vallarta has mountains whereas Playa del Carmen is as flat as a pancake. But then Playa del Carmen has the turquoise waters and powdery white sand whereas the Pacific beaches of Puerto Vallarta are a little less spectacular.
They both have blue skies and palm trees along with tropical flora and fauna so when you lay it all out it really is tough to decide…so we didn't.
---
Best for Markets: Puerto Vallarta
*Our pick is unchanged for 2014
Puerto Vallarta has several permanent and/or weekly markets making it a clear choice when compared to Playa del Carmen where you're mainly limited to tourist shops and supermarkets.
Some of our favorites in Puerto Vallarta are the Mercado Municipal Rio Cuale, Pueblo Viejo Mercado de Artesanias, Colonia Emiliano Zapata Municipal Market and the weekly and seasonal Olas Atlas Farmers Market.
---
Best for Sunsets: Puerto Vallarta
*Our pick is unchanged since 2014
The fact that Puerto Vallarta faces west whereas Playa del Carmen faces southeast makes this an easy choice. During our many months in Puerto Vallarta over the years, we can honestly say that there were very few evenings that didn't offer up a beautiful sunset…many times it would even be called spectacular.
Plus, with the many beachside bars and restaurants, there's ample opportunity to find a spot to enjoy a refreshing drink while watching the sky change from blue to gold to pink and purple.
---
And the Winner of Puerto Vallarta vs Cancun & Playa del Carmen is…
Our second comparison of Puerto Vallarta vs Playa del Carmen in 2021 ends with pretty similar results as 2014. Puerto Vallarta stills wins overall by a small margin but Playa del Carmen gained some ground by coming in tied for a couple of spots where they'd previously lost.
As I mentioned in the original article this conclusion came as a bit of a surprise to me. Prior to 2014, I had only ever been to Cancun and the Riviera Maya. This was because, based on my love for the beach and tropical weather, I had assumed that the Caribbean side would appeal to me more.
But then Puerto Vallarta stole my heart and opened my eyes to how much I'd been missing by making assumptions and dismissing the Pacific coast of Mexico. I guess that's what travel is really all about.
Truth be told we love the whole country of Mexico. It's so big and diverse that even after years of exploring the coast, the mountains, the desert, the cities, the towns and everything in between we have yet to find a place that we don't like…some places just resonate with us more than others.
We'd love to hear your opinions on this debate:
Puerto Vallarta vs Cancun & Playa del Carmen…Which Would You Pick & Why?
Pin It For Later
---
Other posts that may interest you:
Planning a beach vacation? This ultimate list of things to do in Cancun, Mexico will help!
If you're tired of beach vacations in Mexico take a look at all the cultural and fun things to do in the colonial city of Merida!
Save
Save
Save
Save
Save
Save
Save