Cancun is a top destination for a Mexican beach vacation. But, it's also a great base for exploring the beautiful Mayan Riviera and Yucatan Peninsula. If you're thinking of getting off the resort to see more of this stunning region then this post on excursions from Cancun is a must-read!
The possibilities are almost endless when it comes to tours, day trips, and excursions from Cancun. Choose from secluded beaches, mystical cenotes, Mayan ruins, adventure theme parks, sailing trips, diving and snorkeling tours, plus delicious food-focused and cultural experiences.
We've spent many months in the Mayan Riviera over the years and have enjoyed a huge variety of Cancun excursions and day trips. Although we've still barely scratched the surface of the amazing number of Mayan Riviera excursions available, we've definitely experienced enough to make some suggestions.
Mayan Riviera Excursions from Cancun
Water Activity Excursions from Cancun
It's no surprise that many of the most popular Mayan Riviera excursions from Cancun involve water. Whether it's sailing the seas or snorkeling and diving in the clear Caribbean or freshwater cenotes there are plenty of choices.
The Caribbean is teeming with sea life and snorkeling is right behind diving for the best way to see the beautiful underwater world just off the shores of Cancun or Cozumel. Experiences can include reef and shipwreck snorkeling, snorkeling with turtles or whale sharks and even snorkeling at the Cancun underwater museum.
---
There's nothing quite like sitting on the deck of a boat, sun on your face, wind in your hair and drink in your hand, gazing across the impossibly turquoise Caribbean. Boating excursions from Cancun range from small, peaceful sails to romantic sunset dinners to high energy party cruises.
Many of the full day sailing excursions include a meal, drinks, snorkeling and a visit to Isla Mujeres or Cozumel. Everyone should experience a day on the water when visiting Cancun and the Mayan Riviera.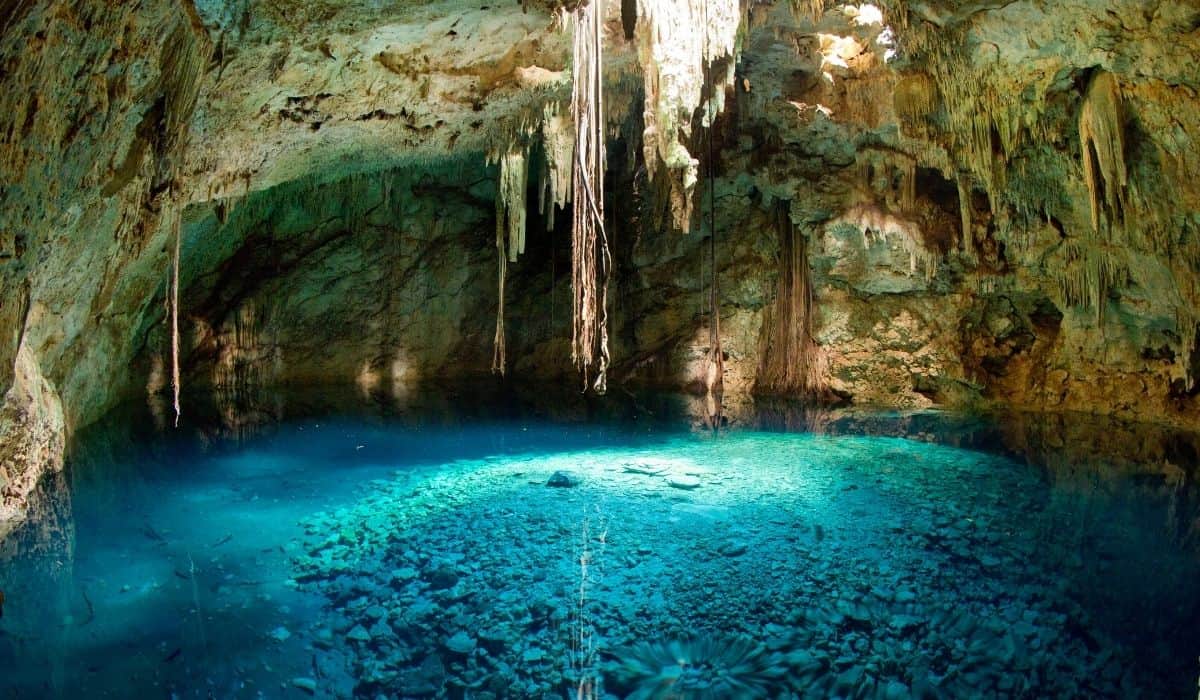 No trip to the Yucatan is complete without swimming in at least one cenote. But trust us when we say one will never be enough. Mayan Riviera cenotes are addictive because each one is so very uniquely beautiful. There are thousands of these mystical water filled sinkholes making for an almost unlimited choice of cenote excursions from Cancun and the Mayan Riviera.
---
Excursions from Cancun to Mayan Ruins
If you enjoy learning about the history and culture of a destination when you travel then visiting one or more of the Mayan Ruins near Cancun is a must. Before European explorers arrived in the Yucatan the Mayan civilization was flourishing.
Although much of the Maya population were farmers there were at least 40 impressive Mayan cities throughout the Yucatan, Guatemala, Belize and Honduras. These Maya cities were centers for commerce, administration, manufacturing, events, and ceremonies (particularly religious ones).
Among the inhabitants were kings, priests, and leaders in science, mathematics, astronomy and medicine. This is why there were so many incredible stone temples, pyramids and palaces built.
There are several well-preserved and excavated Mayan ruins sites easily visited on excursions from Cancun.
Learn more about this amazing country with these 80+ Fun Facts About Mexico
The massive site of Chichen Itza is probably the best known and definitely one of the most visited of the Mayan ruin sites in Mexico. It's a UNESCO World Heritage site and the Pyramid Kukulcan is one of the "New 7 Wonders of the World"
The walled city of Tulum was one of the most important Mayan cities in the Yucatan. The location, sitting on a cliff overlooking the Caribbean, made it a busy seaport and also a defensive stronghold. But what most visitors will be awed by is the incredible view.
Like Chichen Itza, Coba is another huge and impressive site. But only 20% of the structures have been uncovered so there's still a lot of lush jungle giving it an extra exotic feel. There are bicycles available to tour the large site.
The Maya city of Ek Balam is less known and therefore less crowded than some of the other Mayan sites which may be a big plus to some. It's nestled in the Yucatan jungle and although it's not as impressive as Chichen Itza the fact that you can climb the temples and pyramids for epic jungle views is a big draw.
---
Adventure Excursions from Cancun
The Yucatan and Mayan Riviera are made for adventure and there are dozens of great excursions from Cancun for the adventurous traveler. Choose from theme parks, ziplining, ATV tours, water parks, and more.
The first park in the Experiencias group was Xcaret and it's still one of the most popular. Xcaret provides a well-rounded experience in all the things the Yucatan is known and loved for. Here you'll find activities and displays of nature, culture, adventure and history including a spectacular live show in the evening.
Other parks include Xel-Ha for snorkeling and water activities. Xplor for ziplines, caves, amphibious vehicles and jungle hikes. Xenotes for ziplines, rappelling, kayaking and cenotes. Xenses for adventures of the senses by land, sea and air. And Xavage for extreme adventure of all kinds.
---
The Yucatan is covered in lush tropical jungle and a jungle tour makes for a very unique Mayan Riviera excursion. Most of the jungle tour excursions from Cancun are done by 2-person speedboat and take you through a labyrinth of mangroves and through the Nichupte Lagoon. You'll see plenty of wildlife and tropical plant life and will end with a snorkel on the Punta Nizuc Reef.
ATV tours are another way to get up close and personal with the unique nature of the Yucatan and Mayan Riviera. These tours will have you cruising through the jungle to various cenotes, ziplines and other adventurous activities.
Ziplining is a top adventure activity in the Mayan Riviera. You'll find ziplines at every adventure park and many of the cenotes and water parks along the Mayan Riviera.
---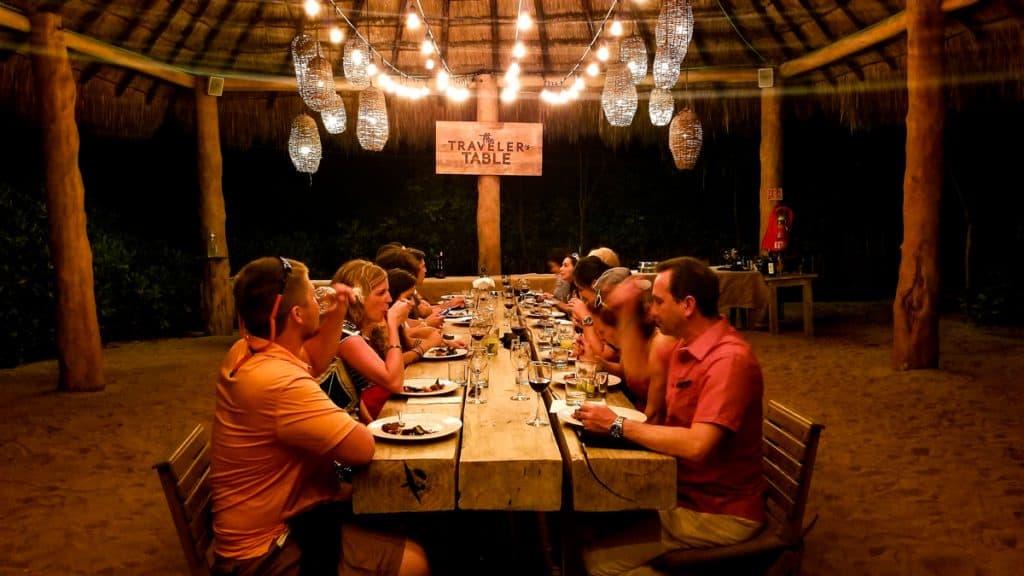 Some of the best reasons to visit Mexico are for the great food, drink and colorful culture. This is especially true of the Yucatan where the mix of Mayan culture and Spanish influence have blended into some unique dishes and an interesting history and culture.
We highly recommend taking a little time out from the beaches of Cancun to get to know the local food, drink and culture. While you can certainly find tacos and tequila everywhere in the Mayan Riviera the best way to enjoy an immersive and fun learning experience is to put yourself in the hands of the experts. You may even like to try a cooking class which is a ton of fun!
---
More resources for your Cancun & Mayan Riviera Vacation:
What to Pack for your Cancun Beach Vacation
Best Restaurants in Playa del Carmen
Xel-Ha vs Xcaret Adventure Parks: Which is best for you?
Born in England, Sarah developed her wanderlust at a young age as she traveled around Europe with her parents. As a young adult she spent every penny she could on experiences as opposed to possessions. Eventually she found a way to earn a living doing what she loved: traveling, writing and capturing images of the wondrous world we live in. When not on the go Sarah enjoys time in her "sometimes home" of Vancouver.