One of the top things to do when visiting Cancun and the Yucatan Peninsula is experiencing the mystical Mayan Riviera Cenotes.
The Yucatan and Riviera Maya hold more than 7,000 of these natural beauties. Although not all of them are open to the public there are enough that welcome visitors to keep you busy for weeks.
In our experience, once you've been introduced to the world of Mayan Riviera and Cancun cenotes in Mexico you'll be wanting more. They are each so uniquely beautiful that cenote exploring can become quite addictive.
What are Cenotes?
But first, what exactly are cenotes (say-NO-tays)? If you've never been to the Yucatan it's likely you've not heard of these underwater caves in Mexico. Essentially, Mexico cenotes are natural sinkholes often filled with fresh water from underground river systems.
The Yucatan Peninsula is made up of flat limestone bedrock but millions of years ago it was a gigantic underwater coral reef. Over time a series of climate changes and geological events dropped the sea level and the reef became exposed.
With exposure to the elements, much of the porous coral limestone gradually dissolved creating caves and caverns. Eventually, temperatures rose, melted the glaciers, raised water levels, and flooded the caves forming unique Mexico cenotes and underground river ecosystems.
The ancient Mayan civilization used the cenotes as their water source and also considered them sacred entrances to the underworld of the Gods. Ceremonies and sacrifices were made in these mystical cenotes and the Maya believed that sprites called Alux protected these spaces and needed to be appeased.
Types of Cenotes
As already mentioned, every Mexico cenote is unique. Generally, they can be placed into three main categories: Cavern/Cave cenotes, Semi-open cenotes, and Fully-open/Mature cenotes.
The cave cenotes are the youngest and the fully open are the oldest noted by the fact that the cave has fallen in overtime. Most cenotes in Cancun and the Riviera Maya are filled with water but there are some that are now dry.
Learn more with these 80+ Facts About Mexico: The country that has it all!
Fully-open Cenotes
The mature fully-open cenotes are like natural swimming pools or ponds surrounded by jungle flora and fauna. The water is often near ground level so you enter the water easily. Although some open cenotes do require climbing down steps or jumping in to reach the water.
Fully-open Mexican cenotes tend to have warmer water as the sun is able to shine on them. They also provide areas for relaxing if you don't want to swim the whole time. If you have small children or a fear of enclosed spaces the open cenotes will be your best option.
Semi-open Cenotes
The semi-open cenotes are a mix of cave and fully open. The ground-level limestone of these "middle-aged" cenotes has partially fallen away exposing portions of the sinkhole below.
They're often the prettiest because of the magical myriad of light and shadow plus vines and vegetation around the cenote opening, draping down the rocky walls to reach for the water. The plants often even grow underwater making for great snorkeling.
Cave Cenotes
Cave or cavern cenotes in Mexico have the coldest water but can also be the most interesting and compelling. Striking stalagmites and stalactites, dark connecting tunnels, the flutter of bat wings and little pockets of sunlight streaming through holes above create an alluring and exotic experience.
The slight eeriness can make you feel like you've gone back in time to visit the ancient Maya civilization. It's not hard to imagine sacred rituals taking place here and it's easy to understand why the Mayans believed in the mystical powers of cave cenotes.
Every cenote we've been to has been beautiful in its own way. If you have the time we definitely recommend visiting at least one of each type of Riviera Maya cenotes.
Mayan Riviera Cenotes Map
Where are the Best Mayan Riviera Cenotes?
The Mayan Riviera (Riviera Maya) runs from Puerto Morelos (just south of Cancun) to the Sian Ka'an Biosphere (south of Tulum.) Most of the cenotes in Riviera Maya open to visit are clustered along La Ruta de Los Cenotes near Puerto Morelos and the strip between Playa del Carmen and Tulum.
However, the Mayan Riviera isn't the only place to find beautiful cenotes. As mentioned the Yucatan Peninsula is full of them. Of special note are the areas around the charming town of Valladolid as well as the Mayan ruin sites of Chichen Itza and Coba.
The beautiful colonial city of Merida makes a great base for exploring Yucatan cenotes. We'll be writing another article highlighting these beauties soon.
Best Cenotes Cancun
There are no cenotes in Cancun itself but La Ruta de Los Cenotes is less than an hour drive and is overflowing with Mayan Riviera cenotes near Cancun. There are estimated to be more than 2,000 along this corridor. If you're looking for fun Cancun water activities this is definitely the area to go and explore these unique pools.
Driving from Cancun you turn right at Puerto Morelos when you see the big sign "La Ruta de Los Cenotes" The road is paved and runs about 20 miles through lush jungle to the small town of Leona Vicario. At that point, you can turn right onto the 180 to return to Cancun or go back the way you came through Puerto Morelos.
As you drive along La Ruta de los Cenotes Cancun, you'll see sign after sign for a variety of cenotes. Some have been left quite natural, others will have some facilities and then there are some that are full-on adventure parks.
You won't be able to come close to seeing them all in one day so it's best to decide ahead of time what cenotes most appeal to you. We suggest visiting three in a day to be a good amount.
There are lots of cenote excursions from Cancun. Here is a small sampling of the near Cancun cenotes along La Ruta de los Cenotes:
---
Tip: If you like the idea of having a holiday apartment with a kitchen rather than a hotel room CLICK HERE for a list of Airbnbs in Cancun or CLICK HERE for a guide on deciding what area of Cancun to stay
---
Cenote Las Mojarras
Type: Fully-open cenote
Location: Km 12.5 of La Ruta de Los Cenotes
Good For: Swimming, cliff jumping, ziplines, camping, picnics
Las Mojarras is a large, open cenote making it feel like a small lake or pond. The emerald green water isn't as clear as some of the other cenotes but they have ziplines and jumping platforms so it's very popular with families with older kids.
This is a great choice when some of your group just want to sunbathe but others want a change of pace from the Cancun beaches.
Cenote Elvira
Type: Semi-open
Location: Km 21 of La Ruta de Los Cenotes
Good For: Private groups, events, full-day experience, picnics, swimming, cliff jumping, relaxing
Cenote Elvira was a new find for us this year and we loved it so much we've been twice within 2 months. What makes Elvira different from the others we've mentioned is that it's only open for private rental either for a small group or an event.
They have beautiful grounds, an open kitchen with a fridge and bar, grills for BBQing, bathrooms, hammocks and chairs for lounging. We were a group of 8 people and the price was very reasonable. This is definitely one of our favorite cenotes in Cancun area.
Cenote Siete Bocas
Type: Cave and Semi-open
Location: Km 16 of La Ruta de Los Cenotes
Good For: Cave swimming and exploring, unique experience, rock formations
The name translates into "7 Mouths" because there are seven different entrances leading to seven small cenotes and one larger one. The cenotes are connected by underground tunnels making a visit to Siete Bocas a very unique experience not to be missed.
Note: The seven mouths are quite spread out so you'll need to allow a few hours to fully explore. If you choose to visit this cenote you'll likely only have time for one other on the same day.
Cenote Kin Ha
Type: Cave
Location: Km 20 of La Ruta de Los Cenotes
Good For: Cave swimming, diving, rock formations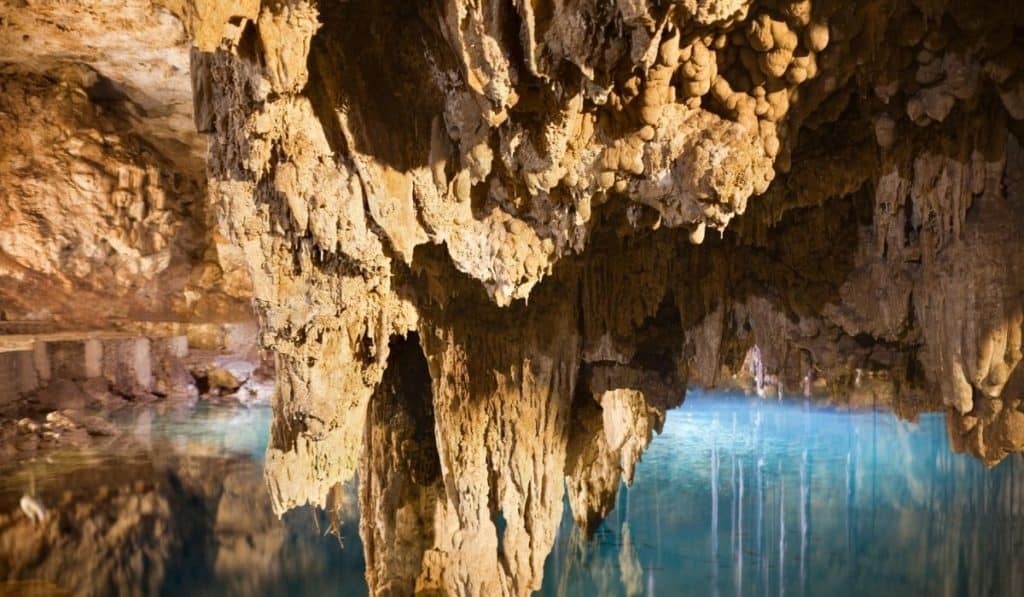 Kin Ha is a beautiful cave cenote with an opening above where the sun streams in and lights up the water and rock formations below. You have to climb down some steep stairs to reach the pool below which is so clear you can see to the bottom 40 meters below.
There is also a larger open cenote on the grounds and they have ATV tours for an additional cost. However, we have only visited the Kin Ha Cenote so cannot give a personal recommendation on the optional upgraded experience.
---
Best Playa del Carmen Cenotes
Playa del Carmen used to be a quiet fishing village. When Cancun and Cozumel were developed as a tourist destination Playa started to see amenities pop up for visitors passing through to take the ferry to Cozumel.
Then in the 1980s, Playa del Carmen began to see more tourists looking for a quieter alternative to Cancun. Today, the town is buzzing with restaurants, bars, shops and accommodations.
If you've decided to make Playa del Carmen your base you'll find that you're right in the middle of a stretch of Mayan Riviera cenotes. Though most of them are located on La Ruta de Los Cenotes or near Tulum there are a few Playa del Carmen cenotes nearby that are definitely worth a visit.
The following three Playa del Carmen cenotes are very close together and make a great day trip from Playa del Carmen.
---
Tip: If you're staying in Playa del Carmen click here for a list of the best restaurants for all budgets and tastes.
---
Cenote Azul
Type: Fully-open
Location: Off Hwy 307 just 4 minutes south of Puerto Morelos
Good For: Snorkeling, swimming, relaxing, cliff jumping
Playa del Carmen Cenote Azul (Blue cenote) is a large open cenote filled with crystal clear water. The cenote is in the shape of an "L" and the water depth varies from shallow to deep so there's a spot for all swimming abilities. The deeper area has a great cliff to jump off and the water if full of fish so snorkeling is fun as well.
The little fish will even nibble at your feet like the ones at the fish spas in town. Or you can buy fish food there to give them something to eat besides your feet. Azul is one of the most popular Playa del Carmen cenotes so don't expect to have it all to yourself.
Tip: Make it a full day in the sun and water and include a visit to nearby Xpu Ha Beach.
Cenote Cristalino
Type: Fully-open
Location: Off Hwy 307 just 4 minutes south of Puerto Morelos
Good For: Snorkeling, swimming, relaxing, cliff jumping
Similar to Azul, Cenote Cristalino has beautifully clear water but it's in the shape of a "U." The water depth is about 18 feet and there's also a cliff jump. Although it's open-air there is an area of a rock overhang that creates a half cave that is fun to swim into.
The clear water and fish make this a good place to snorkel. It also tends to be less busy than Cenote Azul.
Cenote El Jardin
Type: Fully-open
Location: Off Hwy 307 just 4 minutes south of Puerto Morelos
Good For: Swimming, snorkeling, cliff jumping, relaxing, diving
This beautiful cenote is not as large or as busy as Cenote Azul but it's one of our favorite open cenotes near Playa del Carmen. The spot is well preserved and naturally scenic with lush jungle vegetation and moss-covered rocks adding multiple shades of green to the picture-perfect scene.
There are large rocks that have fallen into the center of the cenote that makes a perfect resting spot while you have a "fish foot spa"
Best Cenotes Tulum
Tulum is a small town with a lot to offer. There's the authentic town of Tulum, the Tulum beach area and also the Mayan ruins of Tulum. Unlike Cancun and Playa del Carmen, you won't find high-rise vacation condos and big hotel chains.
But that doesn't mean Tulum is untouched by tourism. The strip next to Tulum beach is full of restaurants and accommodations that started out with a hippy/bohemian vibe but have now become quite trendy. As tourism has grown so have prices. However, there are still ways of staying in Tulum on a budget, it just takes a bit more work.
Despite the growth in popularity, Tulum is still a favorite base for those preferring to be surrounded by nature and many of the resorts are eco-friendly. It's also a great location for exploring cenotes near Tulum as there are many of them within a short drive from town.
---
Tip: If you love camping and immersing in nature but still want comfort check out this article on Glamping in Tulum
---
Dos Ojos Cenotes
Type: Cave
Location: 24 Km from Tulum
Best For: Beauty, snorkeling, diving, facilities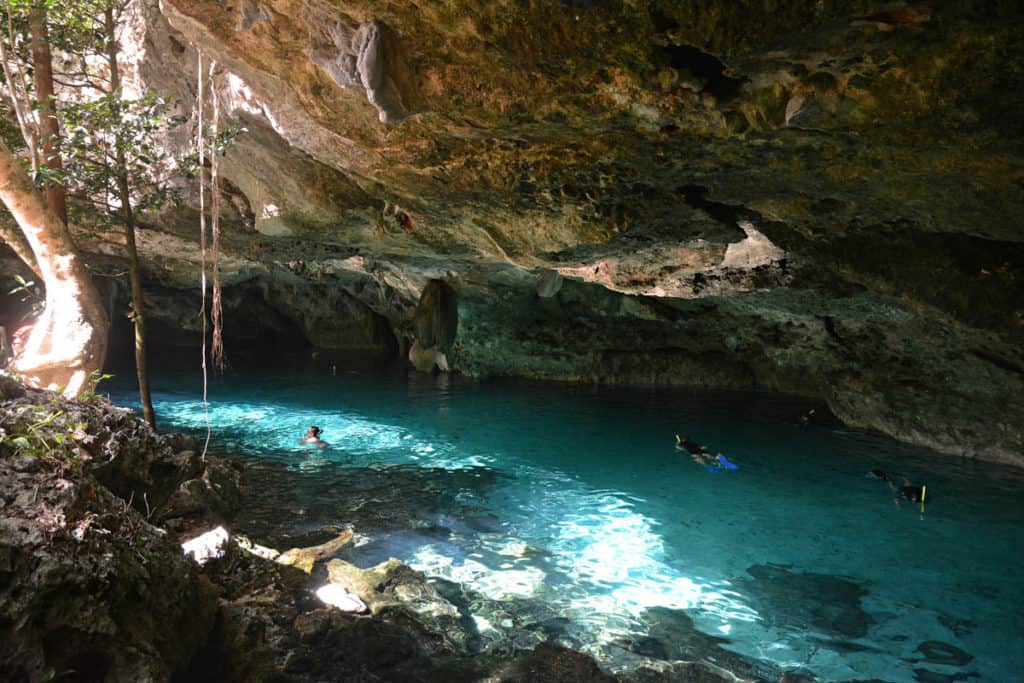 Dos Ojos means "two eyes" and it's named that because of the two adjacent sinkhole openings. Below ground, the two pools are connected by a 400-meter tunnel making it a well-known Tulum cave diving spot.
With incredible clear blue water and interesting rock formations, this Tulum cenote is one of the most beautiful Maya Riviera cenotes. It's also one of the most popular so we highly recommend arriving as close to the 8 am opening time as possible before the crowds hit.
Gran Cenote
Location: 20 minutes from Tulum
Type: Semi-open
Best For: Snorkeling, diving, facilities, kids
The Gran Cenote is another very popular swimming cave near Tulum. The water is some of the most crystal clear you'll find in the Yucatan. So clear that you don't even need a mask and snorkel to see the fish and turtles swimming by.
It's a perfect example of a semi-open cenote having both cave areas and lovely sunny open areas. The Gran Cenote Tulum also has some shallow spots so it's perfect for young kids or nervous swimmers.
Another great place to dive and snorkel is off the coast of Sayulita on Mexico's Pacific side
Cenote Car Wash (Aktun Ha Cenote)
Location: 9 Km from Tulum
Type: Fully-open
Best For: Swimming, snorkeling, diving, relaxing, easy access
The story is that easy access and close proximity to the road gave the Aktun Ha Cenote a local nickname of "Car Wash" because taxi drivers used to wash their cars there. This cenote is one of our favorite Tulum cenotes and so far it hasn't become super touristy which is a big plus.
If you've already been to some of the cave and semi-open cenotes you may not be immediately impressed at your first view of the Car Wash. It's definitely a pretty scene but what makes this Tulum cenote so special lies beneath the surface.
Put on your mask and look below and you'll feast your eyes on a magical underwater garden of colored lily pads. Cenote diving is a popular activity and there are underwater caves here for divers to explore. It's pretty cool watching them appear out of nowhere.
Cenote Akumal (Yal Ku Lagoon)
Location: 30 km north of Tulum at Akumal
Type: Fully-open
Best For: Snorkelling, swimming, beauty, nature, kayaking
Cenote Akumal (also known as Yal-Ku Lagoon) doesn't look like any of the other cenotes on our list. As the alternate name suggests it's a large lagoon that reaches out to the Caribbean Sea.
The water here is brackish (mix of fresh and saltwater) as the lagoon is fed by freshwater cenotes but the seawater also enters. This provides sealife far more varied and colorful than what you'll see at the inland cenotes making it an incredible snorkeling spot.
There are plenty of stairs and platforms to get in and out of the water as well as areas to sit and relax. The water is not overly deep so it's a great spot for kids and beginner snorkelers to see an array of sea life without going in the ocean.
---
What to Bring to a Cenote
Some Yucatan cenotes have facilities and rentals but some have very little other than a person taking your entrance fee. Here's a list of things that will make your cenote experience most enjoyable.
Biodegradable Sunscreen
The Riviera Maya cenotes are part of a very fragile ecosystem so it's vital and mandatory that only biodegradable sunscreen is used. Some places will sell the appropriate sunscreen on-site but of course, you will pay more so it's best to bring your own. If you plan to go snorkeling at any of the parks like Xel Ha it's also required and it's just a good idea for the ocean and sea life in general.
Towel
Of course, you'll want a towel, especially if visiting the cave cenotes where you'll emerge a bit chilly and there may not be any areas for drying off in the sun. We always travel with a lightweight, quick-drying microfibre towel which is perfect for a day of cenote exploring
Snorkel Gear
Many of the cenotes have beautiful clear water so having snorkel gear is a high priority. You can rent gear at the more touristy cenotes but again you'll have to pay at each place so it's well worth bringing your own. You can buy a snorkel and mask almost anywhere in the Mayan Riviera but you'll get better quality and a better price by buying online before you arrive in Mexico.
Life Jacket
If you have small children or weak swimmers in your group a life vest is an important item to have. Even if you're a strong swimmer it's nice to be able to float around the cenote and snorkel with the aid of a flotation device. Many of the cenotes will provide life jackets but don't count on it.
Underwater camera
While you can take some photos of the cenote with a regular camera we've found it great to have a GoPro or something similar. In the cenotes with beautiful clear water, you'll want shots of the magical scenery below. If you're floating inside a cave cenote you can get some incredible photos from the water looking up.
Water Shoes
Some Mexican cenotes are too deep to touch the ground so you'll be fine swimming barefoot. However, the open and semi-open cenotes often require walking on rough limestone or over jungle ground and there may also be submerged rocks to stand on so water or reef shoes can definitely come in handy.
Waterproof Case or Bag
There are rental lockers at some cenotes but many don't have the facility so you'll need to keep your items secure and dry. Unless you have a member of the party staying on dry ground to guard your valuables you'll need to consider bringing them in the water with you. A waterproof phone case and wallet is very handy. You can also buy a waterproof bag to store larger items.
---
Tip: Click here for a full packing list for Cancun and the Mayan Riviera
---
Getting to Mayan Riviera Cenotes & Cenotes Cancun
Hire a Car
If you plan to visit more than one cenote, hiring your own car is definitely the way to go. Most of the Riviera Maya cenotes listed here are off the main Hwy 307 which is an easy drive. Some cenotes require driving a secondary road which can sometimes be a bit rough. But none of the cenotes in this post require a special vehicle to reach so driving yourself is a breeze.
Taxi or private driver
Hiring a regular taxi is another option. The more popular cenotes will usually have taxis waiting at the exit but it may be better to arrange a price for your driver to stay and wait for you, especially for the cenotes more off the beaten path.
If there's a group of you then hiring a van with a driver for the day may be a good option. We have used Mayan Connections several times to visit cenotes and for other excursions. They have always been well priced, professional and prompt.
Public Transportation
For some of the Mayan Riviera cenotes on this list, you can also use public transportation. The ADO bus runs up and down 307 frequently and may stop along the highway if flagged.
Collectivos are cheap and make a good option for some of the cenotes. Collectivos are vans that run like a small bus, picking up and dropping off passengers along the route.
The Carretera Tulum to Cancun collectivo route is perfect for the 3 cenotes we've listed near Playa del Carmen. There is also a collectivo route running from Puerto Morelos along Las Rutas de los Cenotes which will allow you to visit the cenotes close to the road.
Mayan Riviera Cenote Tours
Another option is to take a cenotes tour. If you're limited for time and want to see as much as possible a tour can be a good choice. There are lots of options for visiting a variety of Mayan Riviera cenotes, Cancun cenotes and Playa del Carmen cenotes. You can also include Mayan ruins and other activities in Riviera Maya.
Expedia offers a great tour that takes you to cenotes, Mayan ruins, Tulum and Playa del Carmen.
We've always been happy with tours from Get Your Guide and they also offer tours of ruins and cenotes.
For more Mayan Riviera Cenote tours click the buttons below.
---
Top Tips for Mayan Riviera Cenotes
Mayan Riviera Cenotes are generally on private land so the entrance cost varies quite a bit. Expect to pay as little as $50 MXN pesos and as much as $500 pesos for the popular cenotes with lots of facilities. The average entrance fee is about $150 MXN pesos.
Plan to arrive early morning (right at opening time) if you want to experience the really popular cenotes without lots of people. You may even have the place to yourself for a short time. This can also be true of the last hour before closing.
Bring snacks and water as some places don't have anything on site. Although note that alcohol is not allowed in many of the cenotes.
The more touristy cenotes may take a credit card but many only accept cash so make sure to have some pesos on hand.
The water can be quite chilly in many of the cenotes so don't go expecting spa temperatures. Also some are not open to sun for warming so you may want to bring a light covering in the winter months.
Don't try to visit more than 3-4 cenotes in one day. Cut it back to 2 if they're the larger cenotes with lots to see and do. If you try to visit too many you'll be exhausted and will regret not enjoying each site to the fullest.
Opening times vary so it's best to check before you go but generally cenotes are open from 9 am to 5 pm
Have you been to Mayan Riviera Cenotes, Cancun Cenotes, Playa del Carmen Cenotes or Tulum Cenotes? Do you have a favorite?
Born in England, Sarah developed her wanderlust at a young age as she traveled around Europe with her parents. As a young adult she spent every penny she could on experiences as opposed to possessions. Eventually she found a way to earn a living doing what she loved: traveling, writing and capturing images of the wondrous world we live in. When not on the go Sarah enjoys time in her "sometimes home" of Vancouver.