When people think of Cancun accommodations they often think of all-inclusive resorts. However, after many visits to the Maya Riviera, we have to say that we highly recommend considering Airbnbs in Cancun for your next Mexican vacation.
Sure, all-inclusive Cancun resorts are fun and convenient and everyone should try it at least once. But, if you want to experience more of the culture, food, and beautiful beaches in Cancun, Airbnb may be a better choice for you.
The thing about a resort is that it's so convenient you tend to just stay right there. Swimming at the same pool, eating at the same restaurants, drinking at the same bar with the same people. Of course, there's nothing wrong with that, everyone has their own idea of a perfect vacation! If that's the type of vacation you want then an all-inclusive resort is definitely the way to go.
But, Cancun and the Riviera Maya has so much more to offer it would be a shame not to get out and enjoy some Mayan Riviera excursions. Staying in a private apartment or house gives you the nudge to do more of that and trust us you will not regret it!
---
Why Choose to Stay at Airbnbs in Cancun?
Staying at an Airbnb in Cancun, Mexico offers different benefits to staying at a resort:
Cost: Airbnbs in Cancun offer a huge variety of price points. Not only that but staying in a private rental almost always means having your own kitchen which can save you a lot of money on food costs.
Local experience: Most Cancun Airbnbs are in neighborhoods as opposed to resorts which are always in high tourist areas. This means you can have a more authentic Mexico experience by eating at local restaurants and shopping at local stores.
Privacy: If you select a Cancun Airbnb where you have the whole apartment or house to yourself you'll have the peace and privacy that you won't get at a large resort.
Real Reviews: Airbnb reviews can only be written after a guest stays at the property which means you will read about someone's actual experience. Hosts can respond to a review but are not able to delete or edit them.
Unique Decor: Cancun Airbnbs are privately owned and therefore individually decorated. This means you will usually not have a generic, white-walled, often boring decor. Instead, you'll find special touches, unique features, and more attention to detail.
So, now that you know the benefits of staying at an Airbnb in Cancun how do you choose one? There are lots of filters you can use to narrow down your search when looking for an Airbnb. You can select your price range, number of bedrooms, a list of amenities etc. But the first thing you need to do is choose your location.
Cancun is split into two main areas: Zona Hoteleria (Cancun Hotel Zone) and Centro (central Cancun)
---
Disclosure: As an Airbnb Associate we may earn if you book using a link on this page. We personally have been using Airbnb as our preferred accommodation when we travel since 2013. This is why we feel confident in recommending them to you.
---
Airbnbs in the Cancun Hotel Zone
Zona Hoteleria is the most popular area for visitors to Cancun. It's a long, skinny, beachfront strip shaped like a 7 with a laggon on one side and the Caribbean on the other. You'll find lots of resorts, hotels, restaurants, bars, shops, activities, and of course beautiful beaches. If you want a change from a regular hotel there are some fabulous Airbnbs in Cancun's Hotel Zone. Here are a few of our top choices to get you started:
Budget Airbnbs in Cancun's Hotel Zone
Single Room in a Beautiful Modern Home
Location: Lagoon side, next to a golf course
Host: Javier (Superhost) speaks English and Spanish
Price: Starting at $36 USD
This spacious and comfortable bedroom with a private bathroom is perfect for a couple or solo traveler. Guests have access to a large modern kitchen, living area, balcony, and even an in-home pool table. There is also a lovely community swimming pool in the secure complex.
---
Couples
Caribbean Sea View Studio Suite
Location: Beachfront in heart of Hotel Zone
Host: Rodrigo (Superhost) speaks English & Spanish
Price: Starting at $58 USD
Sparkling clean, modern and centrally located with two queen beds, a kitchenette, and a small dining table, it's perfect for a small family on a budget. The best thing about this condo is the balcony with absolutely stunning ocean views!
Prime Location with Tulum Style
Location: Heart of Hotel Zone, 50 mt from beach
Host: Emmanuel (Superhost) speaks English & Spanish
Price: Starting at $71 USD
Beautifully remodeled 1 bedroom suite in the heart of the Cancun Zona Hoteleria. The king-sized bed, designer details, lovely kitchen, and living/dining space make this a great spot for a romantic getaway. Plus, the prime location near the beach but steps from restaurants and shops is perfection.
Luxury 1 Bed Suite with Lagoon View
Location: Lagoon side heart of Hotel Zone
Host: Cristina speaks English, French, Spanish, Italian, & Dutch
Price: Starting at $156 USD
This modern suite in a charming Mexican style building is a perfect example of why you should stay in a Cancun Hotel Zone Airbnb. The Cancun condo rental is spacious yet cozy and comfortable and the grounds include lush green landscaping, an infinity pool, and a lounge area decorated with Mexican art. There are beautiful lagoon views and it's just a 2-minute walk to the beach.
---
Families or Groups
New Penthouse with Hot Tub Ocean View
Location: Between the lagoon and sea with views of both
Host: Daniel at Spot Team
Price: Starting at $161 USD
This stunning 2 bedroom, 3.5 bathroom penthouse has everything needed for a fabulous family or friends vacation. Additional special features include both indoor and outdoor dining areas, 2 terraces (one with a hot tub), and gorgeous views of both the lagoon and the sea.
Spectacular Beachfront House
Location: Private beachfront close to center of Hotel Zone
Host: Gianella (Superhost) speaks English & Spanish
Price: Starting at $200 USD
You will feel right at home in this lovely Mexican style 3 bedroom, 2.5 bathroom house with your own private beach access. The house comfortably sleeps 6 people and is fully equipped with absolutely everything you need. Enjoy the ocean views from the terrace or step off right onto the soft white sand.
Luxurious 3 Bedroom Condo
Location: Park Royal Hotel grounds in heart of Hotel Zone
Host: Alejandra speaks English & Spanish
Price: Starting at $287 USD
Beautiful 3 bedroom, 3 bathroom condo that sleeps up to 12 people making it perfect for large families or groups. This place has the best of both worlds. It's privately owned but is situated on the same grounds as the Park Royal Hotel so it's fully self-contained with a kitchenette, LR/DR, private deck, and large hot tub/plunge pool but also has access to the hotel amenities.
---
Luxury
Three Bedroom Mimi Beachfront Villa
Location: Private beachfront
Host: David (Superhost) speaks English, Spanish & French
Price: Starting at $629 USD
Your own private villa on the beach with lots of comfy outdoor lounging space. With 3 bedrooms, 5 beds and 3.5 baths you can easily sleep 8-10. Price includes a chef, bartender, poolboy, cleaner and concierge so there's nothing to do except relax and enjoy the spectacular ocean views and have some Caribbean beach fun.
Six Bedroom Beachfront Villa
Location: Gated community on beach
Host: David (Superhost) speaks English, Spanish & French
Price: $1,270 USD
If you're planning a big family reunion or luxurious group getaway this incredible Cancun Airbnb condo is perfect. The price is high but with beds to sleep up to 26 people the cost per person is low for such luxury. A large villa in a gated community with multiple indoor and outdoor living and dining areas, a large pool, private beach and full complement of staff this is a place dreams are made of.
---
Cancun Centro (downtown Cancun)
Downtown Cancun is very different from the Hotel Zone of Cancun. It's a quieter more authentic experience with easy access to traditional food, handicrafts, live music, and markets. You will also find more budget friendly Cancun Airbnbs that are still very comfortable and safe.
Budget Airbnbs in Cancun Centro
Super Location Private Room
Location: Secure complex in center of downtown Cancun
Host: Jonathan (Superhost) speaks English & Portuguese
Price: Starting at $12 USD
A private bedroom with a queen bed perfect for solo or couple Airbnb stay in Cancun centro. The bathroom, kitchen and living areas are shared with your Superhost, Jonathan, who will make sure you have everything you need and advise on things to do in Cancun.
Central Studio
Location: Downtown Cancun near Mercado 28
Host: Alba (Superhost)
Price: Starting at $18 USD
Private studio with a double bed, fold-out sofa, and kitchenette at a very affordable price. The convenient location is close to everything including just 5 minutes to Mercado 28 and 10 minutes to the start of the Hotel Zone.
---
Couples
Downtown View with King Bed
Location: Downtown Cancun near Las Plazas Market
Host: Ting Hao (Superhost) speaks English, Spanish & Chinese
Price: Starting at $63 USD
This apartment does have 2 bedrooms but it's such a romantic spot that you'll likely want it all to yourself if you're a couple. It's in a modern building in centro with 24 hour security, a gym, and a swimming pool. There's also a private rooftop with hot tub and stunning views of the city.
Downtown Loft with Rooftop Pool
Location: Start of Hotel Zone near ferry
Host: Zubzen (Superhost) speaks English & Spanish
Price: Starting at $52 USD
Modern, bright, designer 1 bedroom with queen bed close to both the markets and restaurants of centro but also not far from the entrance to the Hotel Zone. The suite is fully equipped and has a balcony with a hammock as well as a shared rooftop terrace with a pool.
---
Families or Groups
Casa Flores, MX
Location: South downtown near major shopping and streets
Host: Sergio (Superhost)
Price: Starting at $66 USD
Another perfect example of the unique experience you can get when you choose Airbnbs in Cancun instead of a hotel. Casa Flores MX has 3 bedrooms, 5 beds and 3 bathrooms plus a spacious living room and dining room to enjoy group meals and a private plunge pool. The lovely decor is enhanced with murals by local Mexican artists.
Casa Venado
Location: Near entrance to Hotel Zone
Host: Alicia (Superhost) speaks English & Spanish
Price: Starting at $157 USD
This 5 bedroom, 4.5 bathroom house can sleep up to 15 people and is made for memorable family or group vacations. There is lots of natural light in the spacious living and dining areas, a large kitchen, a games area, a frontyard and a backyard with a private pool and BBQ.
---
Luxury
Penthouse with Private Pool
Location: Puerto Cancun Community
Host: Karina (Superhost) English & Spanish
Price: Starting at $500 USD
This 3-storey, 4 bedroom penthouse suite in Puerto Cancun is an exclusive gated community with a golf club, restaurants, shopping and a beach so you have the best of the city and the Caribbean. It is spacious and tastefully decorated with the added bonus of a private rooftop pool with ocean views.
Your Castle in Cancun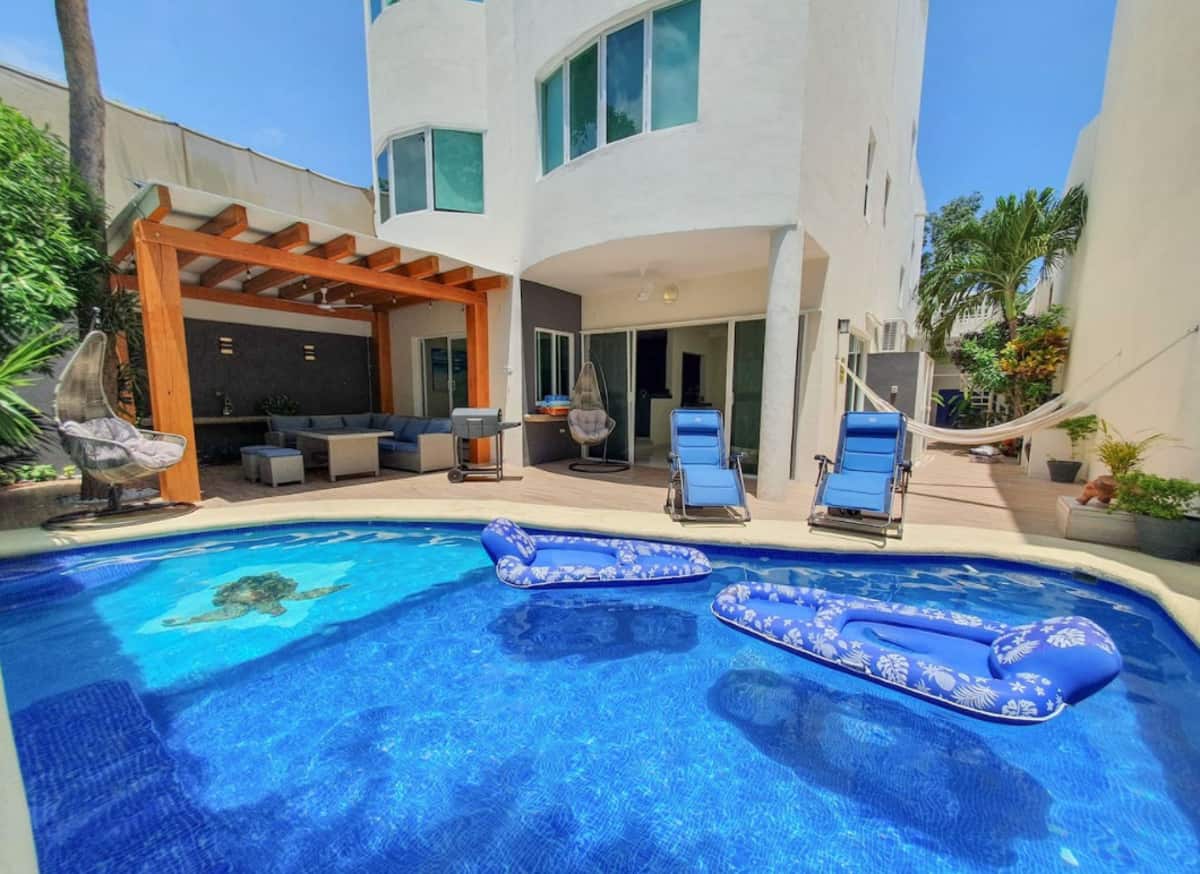 Location: Quiet residential area of downtown Cancun
Host: Alejandro (Superhost) speaks English & Spanish
Price: Starting at $431 USD
Your Castle in Cancun Airbnb is impeccably decorated and outfitted inside and out. The interior has a large modern kitchen, spacious living and dining room and 5 comfortable bedrooms. The outdoor spaces include multiple decks and terraces with a private pool, rooftop views, BBQ, ping pong table and comfy seating and hammocks everywhere.
---
More Tips for Planning a Cancun Vacation
What to Pack for Cancun?
Packing for a beach vacation can be easier than packing for Europe but there are still some good tips and must-haves that many forget. Creating a good list and pre-planning what to bring is essential for any perfect vacation. This Packing for Cancun article offers a great of list of essentials and some special tips.
What to do in Cancun?
The areas of Cancun, the Mayan Riviera, and the Yucatan are overflowing with things to do. Relaxing on the beach, fun watersports, delicious food and of course nightlife are the obvious options. But, if you've decided to book a Cancun Airbnb you're likely looking for the full magical Mexican experience. This article on 35 amazing things to do in Cancun covers everything you've dreamed of ding plus so much you may never have heard of but would hate to miss!
Beaches & Watersports in Cancun
If your idea of a dream Cancun vacation revolves around the white sandy beach and warm Caribbean water you may want to dig into the following articles:
Culture & Adventure in Cancun
If you ever tire of the beautiful beaches in Cancun, hard to do I know, there are lots of other activities to try. Here are some of our personal favorite Yucatan experiences:
Cancun Airbnb Experiences
Airbnb also offers unique experiences in and around Cancun and online. Click on the map below to see options.
---
Pin For Later & Share With Friends
Born in England, Sarah developed her wanderlust at a young age as she traveled around Europe with her parents. As a young adult she spent every penny she could on experiences as opposed to possessions. Eventually she found a way to earn a living doing what she loved: traveling, writing and capturing images of the wondrous world we live in. When not on the go Sarah enjoys time in her "sometimes home" of Vancouver.