Advisory for 2020: Due to the current situation some of the following activities and sites may have closures, reduced hours, and special advisories or restrictions. As with all travel, make certain to inquire in advance and book travel and accommodations with a good cancellation policy.
There really is no limit to the snow-based activities on offer in Jackson Hole in winter. For example, the area is home to some of the best ski resorts in the country. As a result, if you love getting out on the slopes Jackson Hole, Wyoming is probably already on your radar.
However, if you're not a skier don't let that stop you from visiting in the colder months. I'm not a skier myself so I can say from experience there are plenty of other things to do in Jackson Hole, WY in winter aside from extreme winter sports. Think skating, sleigh rides, wildlife, culture, and of course cozying up with some apres ski eating and drinking!
---
More USA Articles for the Outdoor Enthusiast
Whitefish, MT & Glacier National Park
Best Time to Visit Yosemite National Park
---
Things to do in Jackson Hole in Winter
Epic Skiing in Jackson Hole
Let's just get the obvious out of the way. Skiing in Jackson Hole, WY is nothing short of epic! There are three really good ski resorts near Jackson to choose from. Firstly, there's Jackson Hole Mountain Resort. Many consider JHMR to be one of the best ski resorts in the world and there are runs suitable for all levels of skier. But, for advanced skiers, and lovers of back-country terrain, steeps, and powder this resort is heaven.
With a location right in town, Snow King Mountain is very popular with locals and those looking for some night skiing. Lift tickets are half the price of JHMR and kids under 5 ski for free so it's a great option for families. Grand Targhee Resort is a bit further out but is known for consistently perfect powder conditions.
Wherever you decide to ski there are plenty of fabulous accommodations in Jackson Hole and the vicinity that will make a perfect base for the slopes. There are also other great ski destinations in neighboring states which could be added for an epic ski road trip!
Visit National Parks near Jackson Hole, WY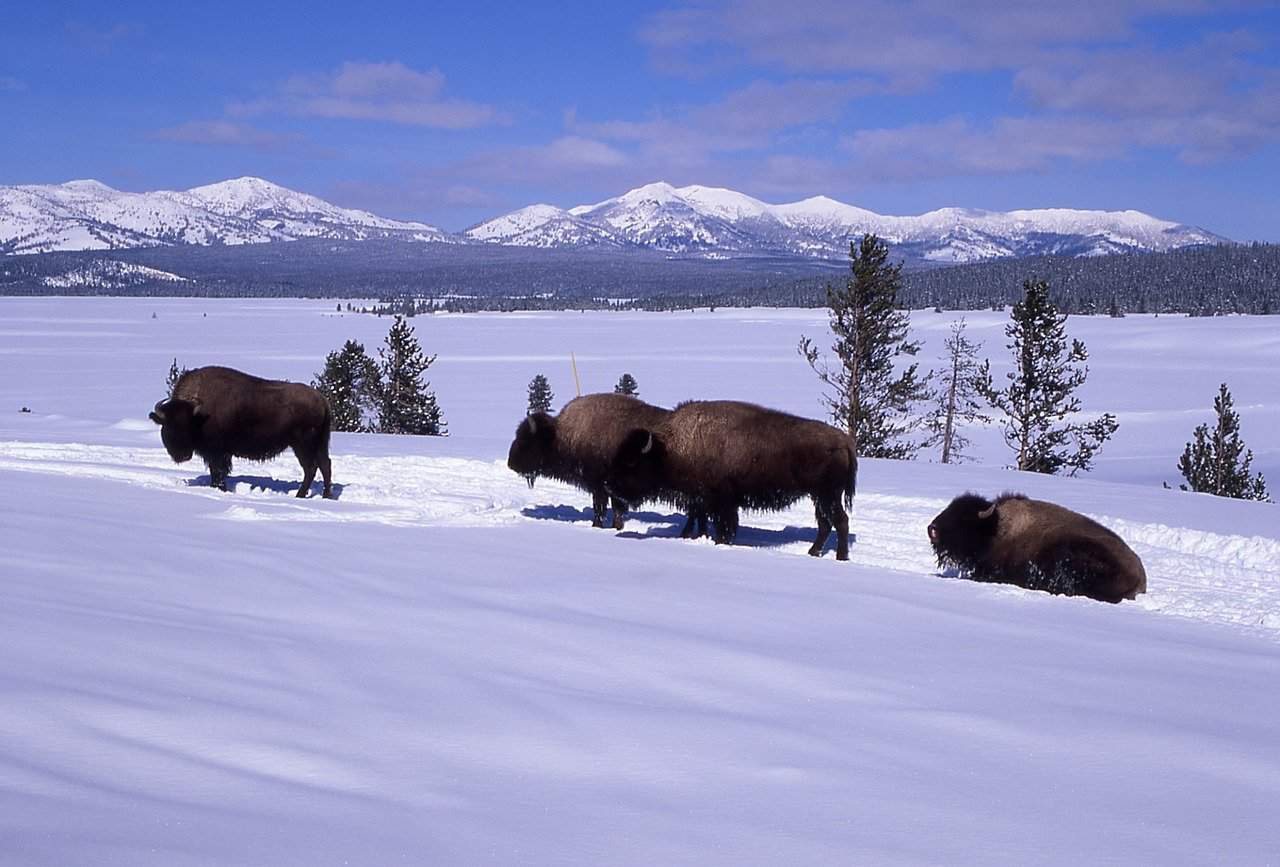 Jackson Hole has the enviable location of being close to both Yellowstone and Grand Teton National Parks. Therefore, Jackson makes a great base for visiting both of these iconic American National Parks. Avoid the crowds that swarm into these national parks in the warm weather and embrace the beauty that winter brings.
Many of the roads in Grand Teton National Park are closed to cars in the winter. But, the park is open to explore by snowmobile, snowshoes, and cross-country skis. As a result of the lack of cars and people, winter is a special time to spot wildlife, get amazing photographs, and enjoy the peace and beauty that a blanket of snow brings to the park.
Similarly, many of Yellowstone's roads are closed in the winter and are navigated by snowshoes, skis or snow coach tours. Aside from the incredible wildlife viewings visitors also have the opportunity to see the parks' geothermal features in a unique way. For example, there's nothing quite like watching a geyser erupt and shower down delicate ice crystals.
Snowshoeing and Cross-Country Skiing
If adrenaline-pumping extreme winter sports aren't for you consider snowshoeing or cross-country skiing. These activities provide all the scenic stimulation and health benefits of downhill skiing to those who don't seek the thrill of speed. Moreover, snowshoeing in particular doesn't require as much skill. If you can walk you can snowshoe!
As noted above, Yellowstone and Grand Teton are both great places for snowshoeing and cross-country skiing. But they are not the only options. For instance, there's Teton Pass for backcountry wilderness, popular Bradley and Taggart Lakes Trailheads, and Cache Creek Canyon which is close to town. In addition, there's Granite Canyon, Teton Canyon, and Darby Canyon all boasting lots of tails and amazing views.
You can rent equipment and explore on your own or join one of the many guided tours. However, unless you're equipped for and experienced in avalanche country it's best to stay away from the backcountry terrain.
Wildlife in Jackson Hole in Winter
Winter in Jackson Hole is a unique time to see wildlife. While hibernating animals, such as bears, are not to be seen there are plenty of other animals around. For example, migrating elk and moose moves to lower levels, wolves and mountain lions are in search of food, and it's mating season for coyotes and eagles. You will likely also see bison, pronghorn, and moose. Moreover, they are all much easier to spot against the snowy white backdrop.
Grand Teton and Yellowstone National Parks are of course great places to see wildlife. In addition, there's also the National Elk Refuge which provides winter habitat for the large Jackson Elk Herd. You're also likely to see bison, bighorn sheep, and birdlife at the refuge.
Jackson Hole Winter Sleigh Rides
If you've ever dreamed of taking a sleigh ride through a winter wonderland Jackson Hole will make those dreams come true. Imagine sitting bundled in blankets on an open sleigh, sipping hot cider as you glide through a breathtaking, snowy landscape.
Mill Iron Ranch and Spring Creek Ranch offer magical evening rides with views of the twinkling lights of Jackson followed by a delicious dinner. Alternately, Double H Bar runs daytime winter sleigh rides through the National Elk Refuge creating a unique wildlife experience.
Try Fat Tire Biking
In case you haven't heard, Fat Biking is an increasingly popular way to combine exercise and fun during the snowy season. Consequently, Jackson Hole in winter is a perfect place and time to give it a try. The bikes are equipped with 4"-5" fat, studded tires that grip the snow and keep you from sliding around. Riding is done on trails of compact snow and as the popularity of Fat Biking increases in Jackson more trails are groomed and packed specifically for this purpose.
At last count there were well over 40 Fat Bike suitable trails around Jackson Hole and Teton Valley. For example, Cache Creek, Elk Refuge Road, Teton Springs, and Darby Canyon to name just a few. Go to JHNordic website for a complete list of trails. The Hub Bicycles and several other bike shops in Jackson rent Fat Tire Bikes. Alternatively you can join a guided tour like those offered by Teton Mountain Bike Tours.
Ice Skating in Jackson Hole
Ice skating is always a fun family activity and Jackson Hole skating rinks are everywhere. If you prefer to be indoors the Snow King Sports and Events Center has a big rink with public skating Mon-Fri. Or you can watch the local Jackson Hole Moose Hockey team play on Friday and Saturday nights.
On the other hand, there's nothing like skating outdoors in the fresh winter air. Possibly the most atmospheric option is skating in Jackson Hole town square in a Winter Wonderland. If you have your own skates you can skate the town square anytime for free. Alternatively, skate rentals are available on evenings and weekends. Teton Village, Powderhorn Park Rink and Rodeo Grounds Rink also offer free outdoor skating.
Arts & Culture in Downtown Jackson Hole
Although the majority of people visit Jackson Hole in winter for snow activities and nature there are also plenty of indoor options in downtown Jackson. For instance, you'll find multiple warm and inviting museums and art galleries to explore.
The National Museum of Wildlife Art is a must-see for the location alone. Built into the side of a hill it offers sweeping views of the National Elk Refuge. Meanwhile, inside are 14 galleries including a sculpture trail and Children's Discovery Gallery. Or, step back in time in the Jackson Hole Historical Society & Museum.
If you love browsing works of art you'll be thrilled to know there are more than a dozen galleries in Jackson Hole. On the other hand if live art is more your thing an evening performance at the Jackson Hole Playhouse should suit.
Relax at Jackson Hole Spas and Hot Springs
Can you think of anything better than relaxing in a spa or hot springs pre or post winter activities? There are several spas in and around Jackson Hole offering a variety of treatments. Massage, facials, acupuncture, and regional Native American traditional treatments are all available for your health and wellness.
How about soaking those tired muscles in therapeutic hot springs? Granite Hot Springs Pool sits in an amazingly scenic location in the Gros Ventre Mountains. During the winter months it's accessed by navigating a 10-mile dirt, snow-packed road by snowmobile, dogsled, or cross-country ski. Daunting? Maybe, but well worth the effort.
Indulge in Apres Food & Drink
Even if you're not a skier partaking in a bit of apres ski food and drink is a must. Luckily there are some good bars and restaurants in Jackson Hole to indulge your appetite. A visit to the famous Million Dollar Cowboy Bar should be on every Jackson Hole itinerary. Located in the center of town this Wild-West themed watering hole and eatery has saddle barstools, cowboy memorabilia and live music.
Cafe Genevieve is a local foodies favorite. It's housed in a rustic log-cabin which is one of the only remaining Town Square historic structures. The cafe specializes in Southern comfort-food perfect for a winter's day and their Fried Chicken and Waffles at brunch is a must-try.
Craft beer, liquor and wine lovers can also enjoy tastings at Jackson Hole Winery, Jackson Hole Still Works, and Snake River Brewing.
---
Are you convinced that Jackson Hole, WY should be on your winter destination list even if you don't ski?
Disclaimer: This article was written in collaboration with Hotels.com which we personally use for checking rates, availability, and reviews as well as for booking accommodations.
Born in England, Sarah developed her wanderlust at a young age as she traveled around Europe with her parents. As a young adult she spent every penny she could on experiences as opposed to possessions. Eventually she found a way to earn a living doing what she loved: traveling, writing and capturing images of the wondrous world we live in. When not on the go Sarah enjoys time in her "sometimes home" of Vancouver.