Notice: As of the time of writing there are some closures and restrictions when visiting the Grand Canyon National Park due to the current health concerns. Make sure you check the NPS website and be prepared to follow guidelines.
Disclosure: This article was written in collaboration with Hotels.com which we personally use for booking. All words and opinions in this article are our own
Visiting the Grand Canyon is must on any USA bucketlist. If you're asking how to get from Flagstaff to the Grand Canyon you've probably decided to make Flagstaff, Arizona your base for visiting this awe-inspiring natural wonder. Either that or you're flying into Flagstaff because it has the closest airport to the Grand Canyon. The fact is Flagstaff is perfect for planning a day trip to the Grand Canyon South Rim.
Whatever your reason for asking the question we have the answer. Along with lots of other Grand Canyon tips.
---
Other National Park Articles
Whitefish, MT & Galcier National Park
Jackson Hole & Nearby National Parks
---
Best Time to Visit the Grand Canyon (South Rim)
As one of the most beautiful places in the USA the Grand Canyon is a spectacular sight any time of year. However, there are definitely some variations to consider in each season.
Spring is our personal favorite time to visit National Parks like Yellowstone, Glacier, and Joshua Tree and we could include the Grand Canyon in that preference. The days are getting warmer and longer, the wildflowers are in bloom and the crowds of summer are yet to arrive.
Summer in the Grand Canyon is the busiest season for visitors and is of course the hottest time to go, especially in lower elevation. But, despite the high temperatures and crowds if you visit in the summer you will be rewarded with a perfect blue sky backdrop, aside from some dramatic afternoon thunderstorms, followed by absolutely stunning sunsets.
Fall follows closely to spring as our favorite season to visit the Grand Canyon. Crowds and temperatures are dropping and it's a great time of year for hiking and stargazing, especially in September.
Winter is the least popular time to visit the Grand Canyon but this season has its benefits. First of all the number of visitors drops dramatically which makes the experience very different from the busier months. The weather can be pretty unpredictable but if you get lucky and hit a clear day after a snowfall there is nothing more beautiful.
---
How to Get From Flagstaff to the Grand Canyon (South Rim)
The best way to get from Flagstaff, AZ to the Grand Canyon is to drive because it gives you the freedom to go at your own pace and make stops whenever you want. It's about 80 miles from Flagstaff to the Grand Canyon's South Rim which will take between 90 minutes to 2 hours.
If you're flying into Flagstaff it's easy to rent a car at the Flagstaff Pulliam Airport.
The South Rim of the Grand Canyon is the most popular area to visit. There are three ways to drive to the South Rim of the Grand Canyon from Flagstaff: I-40 west to Williams then Hwy 64 north to South Rim; or Hwy 180 west to Vale then Hwy 64 north to South Rim; or Hwy 89 north to Cameron then Hwy 64 west to the East entrance of South Rim.
They are almost equal distance and there should be no more than 10 minutes difference in drive time. In the winter it's a good idea to check the road conditions before deciding which route to take.
Once you reach the South Rim you also can opt to park your car in a lot and use the Grand Canyon National Park shuttle buses to get around. Deciding on whether to drive into the park yourself or take a shuttle may depend on the time of year. For example, in high season parking lots may be full but there may also be long waits to enter the park. Also, not all shuttle routes run year-round.
Take a look at this NPS page for updated information.
For more information on getting to the Grand Canyon from places other than Flagstaff check out the National Park Service site.
If you absolutely can't drive, Groome Transportation (formerly Arizona Shuttle) has a shuttle service from Flagstaff to the Grand Canyon and back. As of the time of writing they offered 3 roundtrips daily. Another option, if you don't have a car, is to take a Grand Canyon tour. Finally, there are a few bus lines that travel from Flagstaff to GCNP.
---
Best Place to Stay to Visit Grand Canyon
You probably found this post when searching getting from Flagstaff to the Grand Canyon so we'll begin there. Flagstaff is a small college town with a charming center and is a popular summer getaway from the heat further south. This means there is lots to see and do and plenty of accommodations near the Grand Canyon in Flagstaff, AZ.
Flagstaff has a bit of everything: historic hotels, large chain hotels, quaint B&B's, and easy on the budget motels. Historic Downtown Flagstaff is charming and walkable but accommodations may be a bit higher price. The "South Side" is between downtown and the college and is full of trendy bars and restaurants.
The small town of Tusayan is another option for places to stay when visiting the Grand Canyon. It's located just outside the entrance to the South Rim and at our last count they had 8 hotels and motels to choose from.
Tusayan also has a few restaurants and shops and is where the Grand Canyon Visitor Center and National Geographic IMAX Theater is located. There is a seasonal shuttle service to the National Park but the best way to visit the Grand Canyon from Tusayan is by car.
For the full experience, you will want to stay inside the Grand Canyon National Park in Grand Canyon Village. However, that may be easier said than done. The accommodation options are limited to a handful of places and they're generally booked up months in advance. But, if you plan way ahead and your budget can handle it, consider the historic El Tovar Hotel, Yavapai Lodge or Bright Angel Lodge & Cabins.
---
Best Grand Canyon Views on the South Rim
The South Rim of the Grand Canyon has so many amazing viewpoints it's tough to see them all in one day trip. We highly recommend allowing more than one day at the Grand Canyon but if that's all you have the following list of top South Rim Grand Canyon viewpoints will help you plan your time.
The best viewpoints in the Grand Canyon South Rim are generally spread out along three main areas: Grand Canyon Village and the center area of the South Rim, Hermit's Road (west of the Village), and Desert View Drive (east of the Grand Canyon Visitor Center).
Many of the viewpoints can be reached by car, Grand Canyon Shuttle or hiking trail or a combination of these.
The center area of the South Rim has several spots for views as well as the educational Trail of Time. Mather's Point is the most accessible and therefore most popular (and busiest) viewing spot and is perfect for sunrise. Walk or drive west from Mather's and you'll reach Yavapai Point where you'll find the Geology Museum as well as the most panoramic vistas of the canyon.
Head to the village, by way of the Trail of Time or by car and you'll eventually arrive at the Lookout Studio with good views of the California condor and the iconic El Tovar hotel.
---
Map of Grand Canyon South Rim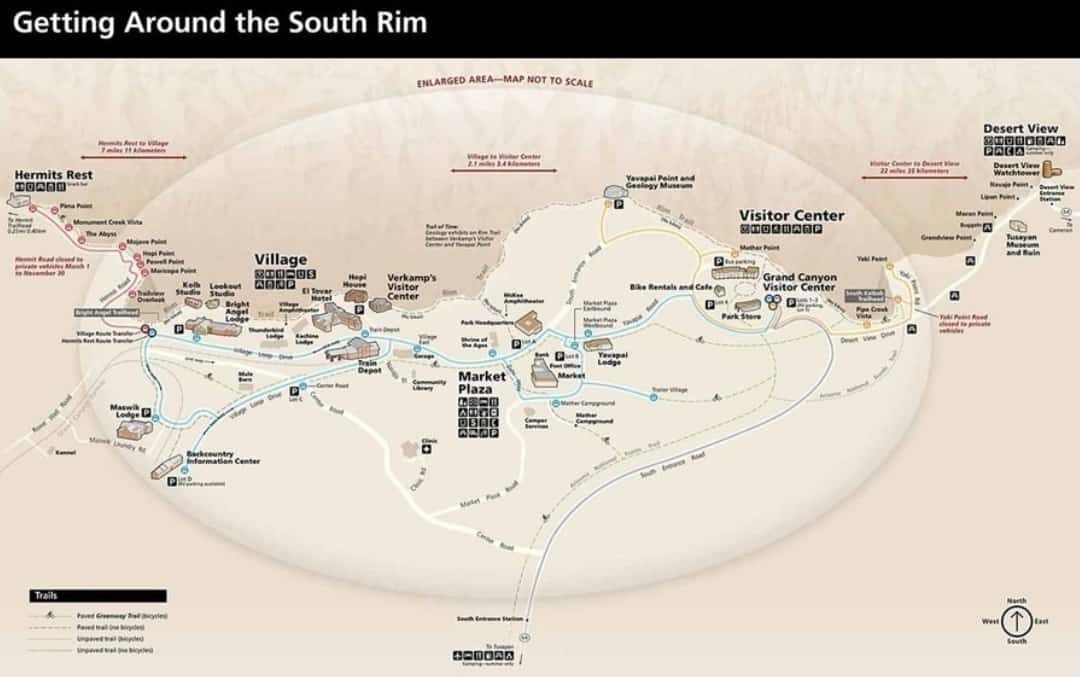 Hermit's Road has a ton of viewpoints but is not open to private vehicles March 1 to November 30. This means you will have to use the Red Route Shuttle (which stops at 9 designated viewpoints), go on an organized tour or hike or cycle along the trail.
Some highlights of Hermit's Road are Pima Point (great for river views), The Abyss (vertical view straight down into the canyon), Mohave Point (a quiet spot for sunrise and sunset), and Hopi Point (arguably the best view in the Grand Canyon)
You will need a car to access the Desert View Drive viewpoints as there is no shuttle here. If you enter the park from the East Entrance Desert View Point will be your first Grand Canyon view. Here you can climb the Desert View Watchtower for spectacular 360-degree views.
Other highlights of this drive are Navajo Point (great views of the Watchtower), Lipan Point (views of the deepest and widest part of the Canyon), and Grandview Point (2nd tallest point on the South Rim).
---
Top Things to do in the Grand Canyon
Hiking is definitely one of the top things to do in the Grand Canyon. It's the best way to fully experience this iconic natural wonder and with hundreds of miles of trails, it's also the best way to escape the crowds. You will receive a free map when you enter but if you plan to do lots of hiking purchase a good trail map one beforehand. One of the most popular hikes in the Grand Canyon is the Bright Angel Trail.
Camping and glamping at the Grand Canyon is a special experience. Once the sun sets, the day-trippers leave and the stars come out you will really feel the magic of this National Park.
Rafting on the Colorado River through the Grand Canyon has to be one of the most epic and adventurous ways to view this amazing example of nature at its grandest. There are lots of companies offering a variety of trips, from a day to a week or more.
Helicopter Tours are another unique way of seeing the Grand Canyon. Viewing this majestic place from above gives you a better sense of the sheer scale of it.
Although the Grand Canyon is all about nature and being outdoors there are some really good museums. Yavapai Geology Museum, Tusayan Museum & Ruins, and Kolb Studio are all worth a visit.
This post is about visiting the Grand Canyon South Rim but we have to add one exception and that is the Skywalk at Grand Canyon West. It's an additional cost but walking on glass 4,000 feet above the canyon floor is definitely a bucket list check.
---
Check out this article for other awesome Arizona Road Trips
Other Grand Canyon Tips
Start early. If you can arrive at the park in time for sunrise you will not only have a full day to explore but you'll also be rewarded with a spectacular experience of a golden glow on the canyon walls.
Entrance to the park is $30 per vehicle which includes up to 5 passengers and is good for 7 days. If you plan on visiting other National Parks within that year you may want to purchase America the Beautiful annual pass.
If you have two days to explore the Grand Canyon take in the IMAX movie "Grand Canyon: The Hidden Secrets" on the first day
In the summer bring sunscreen, a hat and lots of water. The rest of the year bring layers for the sometimes unpredictable weather.
If you plan to drive yourself around make sure you have close to a full gas tank to avoid the high prices inside the park.
The South Rim is open all year long, 24 hours a day.
Try to take in both a sunrise and a sunset as both are a magical and awe-inspiring experience.
If you're driving yourself into and around the park instead of taking the shuttle consider purchasing the prepaid entrance fee or the America the Beautiful Pass. You can then use the designated prepaid lane to bypass lineups during busy times.
There are three shuttle routes in the Grand Canyon South Rim: Red Loop, Blue Loop, and Orange Loop. It's a good idea to be familiar with these shuttles even if you're driving your own car as you may choose to use them for part of your itinerary.
---
Pin It For Later
Born in England, Sarah developed her wanderlust at a young age as she traveled around Europe with her parents. As a young adult she spent every penny she could on experiences as opposed to possessions. Eventually she found a way to earn a living doing what she loved: traveling, writing and capturing images of the wondrous world we live in. When not on the go Sarah enjoys time in her "sometimes home" of Vancouver.