Editors Note: This article was originally written in 2018 listing just 5 beautiful Cancun beaches. Since that time we have returned to the stunning Mayan Riviera twice, including living there for 6 months in 2020/21. So, we decided to update and rewrite this guide to show the 11 most beautiful beaches in Cancun.
Cancun is one of Mexico's top destinations for many reasons. All of the components for a great beach vacation can be found in Cancun: tropical weather, luxury resorts, exciting nightlife, thrilling water sports, great food, tons of shopping and of course the beautiful Cancun beaches.
Situated at the northern point of the Riviera Maya, on the shores of the impossibly blue Caribbean Sea, Cancun has the white sand beaches that dreams are made of. Whether you're looking for a quiet spot to read a book, a lively beach party or a day of water sports, Cancun has it all!
Eastern Cancun Beaches
This is the strip of the Hotel Zone that's flanked by the ocean on one side and the lagoon on the other. Unlike the Northern Cancun beaches, these are not as sheltered meaning that the water is not as calm. If you like playing in the waves this is where you'll want to be, just watch the flags for swimming conditions.
Playa Gaviota Azul (aka Playa Forum)
Location: Hotel Zona KM 9
Highlights: Calm water for swimming, central location, party atmosphere
Tips: Not the best choice for peace and quiet
Playa Forum is one of the best-known party beaches in Cancun which is a big draw for some and a negative for others. What everyone will agree on is that it's beautiful and the lack of wind and waves makes it a great swimming beach.
This Cancun beach has powdery soft, white sand and the water is an unbelievable turquoise. If you're ok with a social atmosphere this is a great beach for all ages. That is until the day heads toward evening when the music gets louder along with the people. Then the party really kicks in.
The central location in the heart of Cancun's Hotel Zone means you have everything you need at your fingertips. Playa Gaviota Azul is surrounded by shops, bars, restaurants and hotels. Plus, if you want to kick it up a notch the sexy Mandala Beach Club is right there. 
Playa Delfines
Location: Hotel Zone KM 20
Highlights: Lots of space, lack of hotels, photos with the Cancun sign
Tips: Bring your own food and drink, not good for swimming
Playa Delfines (Dolphin Beach) is one of the largest and most popular beaches in Cancun. It is also one of the most beautiful Cancun beaches, partly because it's not lined with hotels and restaurants.
Everywhere you turn you're greeted by excellent views of stunning nature around you. To best enjoy these views you can use the convenient observation deck. This viewing deck is the reason this beach is also called El Mirador.
Since there are no hotels or restaurants you will need to bring your own food and drink. However, there are other amenities like shady palapas, nice restrooms and a kids playground. It's also one of the few beaches with a bus stop and free parking making it easily accessible.
The beach is absolutely stunning and is a must-visit but due to a dangerous undertow, it's not the best spot for swimming. There are usually lifeguards on duty but be aware of the flag system and keep a close eye on the kids.
Playa Chac Mool
Location: Cancun Hotel Zone KM 10
Highlights: Good for swimming, quiet beach
Tips: If you're looking for water sports this is the spot
Playa Chac Mool is named after a mythical Mayan figure that can be seen in statue form all over the Yucatan. Its central location, in the heart of the Hotel Zone and the long stretch of white sand and the turquoise Caribbean Sea makes it a favorite of visitors. Especially those looking for a peaceful place to relax and read a book.
Close to the shore the water is shallow and calm making it a great swimming spot. Chac Mool beach is also a good place for water sports and beach activities and equipment like snorkel and dive gear can be easily rented.
There aren't many services on the beach itself but it's just steps from the Hotel Zone and all the lively restaurants, bars and shops. Plus if you've had enough peace and quiet, Playa Forum is right next door.
Playa Marlín
Location: Cancun Hotel Zone KM 13
Highlights: Wide beach, parasailing and other watersports
Tips: Water is often too rough for swimming
Playa Marlin is the kind of beach Cancun is famous for with powder-soft, white sand and azure-colored water. It's a wide beach allowing for plenty of space for everyone. Even on busy days you just need to walk a little to find a good spot.
This Cancun beach is also perfect for watersports. You'll find vendors set up to rent boogie boards and jet skis plus it's a favorite spot for parasailing.
Chairs and umbrellas are available for rent but you'll need to bring your own food and drink or go into the nearby Plaza Kukulkan Mall.
Playa Ballenas
Location: Cancun Hotel Zone KM 14
Highlights: Not crowded, long beach
Tips: Public beach entrance is between two large hotels
Playa Ballenas is a beautiful long stretch of sand sitting between two big luxury hotels. It's usually not crowded so it's a good choice for a nice relaxing Cancun beach day.
This is also a good spot for renting jet skis and enjoying other watersports like parasailing. There are bars and restaurants nearby including the famous Hard Rock Cafe.
The public beach entrance is tucked in between the Hard Rock Hotel and another large hotel and can be a little hard to see.
Playa Punta Nizuc
Location: Cancun Hotel Zone KM 21
Highlights: Snorkeling, quiet beach
Tips: Check out the MUSA and/or bring snorkel gear
This Cancun beach is located in Punta Nizuc, an area known for a coral reef providing gorgeous underwater sights. This is also where the unique MUSA underwater museum is located.
The location at the extreme southern tip of the Hotel Zone means it's far from the more rowdy Cancun party beaches. It's a great place to relax and enjoy the incredibly colorful sea life. You can snorkel just offshore or go diving for an amazing marine life experience.
Playa Punta Nizuc is also a great spot for walking and beachcombing as there's usually an abundance of shells.
Northern Cancun Beaches
The northern Cancun beaches run along the top part of the "7" that makes up the Cancun Hotel Zone. Here is where you'll find calmer waters and docks with boats departing for Isla Mujeres and day cruises.
Playa Caracol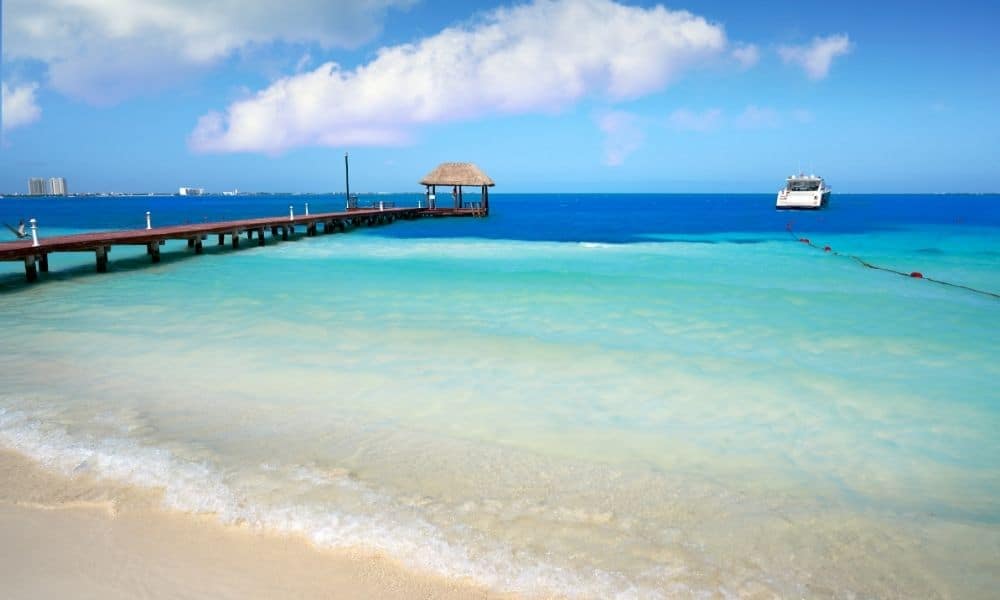 Location: Cancun Hotel Zone KM 5
Highlights: Good for families and swimming
Tips: Grocery store across from the beach is good to grab a picnic
Playa Caracol is a small beach tucked in between two docks at the northern tip of the Hotel Zone. The calm shallow water makes it a favorite of families with small kids and those who aren't strong swimmers.
Despite its popularity, it's rarely crowded and there are sunbeds and shade umbrellas available for rent. This Cancun beach is also a good spot for watersports, plus there's a coral reef nearby so bring your snorkel gear.
Playa Las Perlas
Location: Cancun Hotel Zone KM 2.5
Highlights: Closest beach to downtown Cancun
Tips: There is a convenience store nearby for drinks and snacks
This small beach isn't the best on the list but it's walkable from downtown Cancun making it popular with locals and a good choice for those not staying in the Hotel Zone.
Playa Las Perlas is also a good spot for families since the waters are usually calm for swimming and there are lifeguards on duty. Another plus for families are the tables with shady palapas, restrooms and a kids' playground.
There are a few restaurants nearby, some watersport rentals and this is also the spot to catch a water taxi over to lovely Isla Mujeres.
Playa Tortugas
Location: Cancun Hotel Zone Km 6
Highlights: Calm water, bungee jumping tower, long pier
Tips: Grab a table at a beachfront restaurant
Playa Tortugas is a small but very popular Cancun beach. It's perfect for young families since the water is normally very calm. However, it's not just families who enjoy this beach so it can be quite lively.
If you like the idea of water activities, beach volleyball and jumping off a pier or bungee tower this Cancun beach may become your favorite spot. There are also lots of beachfront restaurants with seating in the sand to enjoy food and drink with a stunning view.
This is another spot to catch a water taxi to Isla Mujeres and the really long pier means that boats don't come into shore as they do in some other spots.
Playa Linda
Location: Cancun Hotel Zone KM 4
Highlights: Revolving viewing tower and marina
Tips: Not great for swimming due to lots of boats
"Pretty Beach" lives up to its name with lovely white sand and stunning views from a 300-foot viewing tower. It's also the location of the Nichupte Channel which is where the freshwater lagoon and seawater meet.
The Embarcadero marina is next to the beach bringing lots of boat traffic taking visitors on excursions and to Isla Mujeres. This makes Playa Linda dangerous for swimming so it's best to just relax on the sand and people watch.
Playa Langosta
Location: Cancun Hotel Zone KM 5
Highlights: Family-friendly, safe swimming, inflatable park
Tips: Bring beach chairs
Playa Langosta is known to be one of the most family-friendly beaches in Cancun. The beach is wide and the water is beautifully calm making it a great spot for young children. It's also a favorite of locals and is a nice escape from the party tourist beaches.
This beach has restrooms, a playground and lots of restaurants. There are sometimes chair rentals but not always so if you need a chair it's advised you bring your own.
Another reason this Cancun beach is so popular with families is the inflatable park just off-shore for hours of climbing and jumping fun.
---
Click HERE for the ultimate Cancun packing list
---
Pin It For Later
Born in England, Sarah developed her wanderlust at a young age as she traveled around Europe with her parents. As a young adult she spent every penny she could on experiences as opposed to possessions. Eventually she found a way to earn a living doing what she loved: traveling, writing and capturing images of the wondrous world we live in. When not on the go Sarah enjoys time in her "sometimes home" of Vancouver.