Looking for fun and unique things to do in Cancun, Mexico? There's so much to choose from it may be easier to ask what Cancun activities not to do. The abundance of resorts, white-sand beaches, vibrant nightlife, and fun things to do in Cancun, make it one of the most popular beach vacation destinations in Mexico.
Ideally situated on the tropical shores of the Mexican Caribbean, within easy reach of Mayan ruins and eco-parks there is something to please everyone. Add the convenience of an international airport and lots of options for Cancun shuttle transportation and it's no surprise this destination attracts over two million visitors a year.
The Hotel Zone, a 14 mile stretch of Cancun accommodations to suit every taste and budget, is where most tourists will stay. You can choose from all-inclusive resorts, boutique hotels, hotels or private Airbnbs in Cancun. Here you will also find a huge selection of local and international restaurants, entertainment, tourist attractions and plenty of nightlife.
If you want a taste of more authentic Mexico head to downtown Cancun where the locals live and spend their time. The main draw for tourists here is shopping, markets and local food stands.
For relaxation and water sports Cancun is ideal. Sitting in between the Caribbean Sea and Nichupte Lagoon means that every form of beach and water activity you can imagine is available. Scuba diving, snorkeling, jet-skiing, parasailing, fishing and adventure parks are just a few of the watery fun Cancun things to do.
The surrounding area of the Yucatan also provides plenty of opportunities for Cancun excursions. Choose from exploring ancient ruins, swimming in cenotes, playing in eco-parks, visiting tropical islands or sailing the turquoise sea.
So, here's our epic list of what to do when in Cancun to get you started on your Cancun to do list!
---
Top Things to Do in Cancun: Best of Cancun, Mexico
Map of Things to Do in and Around Cancun
How to use this map: Click on the top left corner of the map and you will get a dropdown showing all the things to do in Cancun mentioned in this article. We have separated the layers into different categories for easier use at a glance. You can click on any of the icons to get more detail. You can also click on the map for a full-screen view and "star" the map to save in your personal Google Maps for future use..
1. Experience Xcaret Park
A day at Xcaret park is one of our top answers when people ask about the best activities in Cancun, Mexico. It's the first of six amusement parks in Cancun, under the Experiencias Xcaret umbrella, and is one of the largest theme parks in Mexico. It should definitely be on everyone's Cancun to-do list.
The 250-acre eco-park in Cancun holds more than 40 attractions including adventurous aquatic activities, fun, and educational natural and cultural attractions, and impressive live shows.
Easy to get to from downtown Cancun or the hotel zone, it's one of the most popular attractions in the Riviera Maya of Mexico and sees over one million visitors each year from all over the world.
The park itself combines knowledge of Mayan culture with an aim to preserve nature. With both water-based and land activities, it's a perfect day out for families, couples, and friends of all ages.
Within the park, you can take part in ancient Mayan recreations, eat traditional cuisine, explore the warm Caribbean water, and interact with nature.
In our opinion, this is definitely one of the top 10 things to do in Cancun, Mexico. We enjoyed it there so much we created several suggested itineraries for Xcaret to help make the most of your time there.
Where to stay: If you plan to spend time at Xcaret park consider staying at the beautiful Occidental at Xcaret. This all-inclusive resort has 7 pools, 11 restaurants and 10 bars. Plus, they offer special packages that include full access to the Xcaret Park.
Top Tip: Buying tickets at the gate are almost always more expensive. Book online in advance to receive a discount
---
2. Climb Coba Ruins
In terms of Cancun sightseeing, nothing beats the Mayan ruins that surround the area. Of these ruins, those of the ancient city of Coba are definitely some of the best to visit.
Connecting with a modern village that has the same name, the area prides itself on the proper preservation of an ancient culture.
Walking through the ruins, you can see networks of stone streets, monuments that were carved over 1200 years ago, pyramids, everyday dwellings and even traditional ball courts.
Many of the pieces that are still standing welcome visitors to climb and touch them, making a visit to Coba a very hands-on experience. Entrance to the ruins can be had for as little as $6, however, tours, early and late access events, and other additions may increase the price.
Exploring Mayan Ruins is one of the top Mayan Riviera excursions. If you enjoy the ease of taking a tour click here for our suggestion.
---
Learn more with these 80+ Facts About Mexico: The country that has it all!
3. Relax at Playa Delfines
Relaxing on the beach is definitely one of the things you have to do in Cancun. This unique stretch of beach is one of the highest points in Cancun. It makes a great escape from the busy beaches along the Hotel Zone and it is easy to get to by bus, car or taxi.
At Playa Delfines, you will be able to find a quiet spot of your own along the wide stretch of sand and even some shade under one of the many free umbrellas.
The lack of large restaurants and bars along the beach makes for a more peaceful day and the local food vendors offer a more authentic Mexican experience. The sand isn't as fine and white as the northern beaches but the view is spectacular and the lack of loud partiers is a welcome break.
Top Tip: Take a look at this list of the best beaches in Cancun.
---
4. Go Golfing
If golf is your game you will be happy as there are at least 15 golf courses in and around Cancun.
There are courses for every level and many offer unique and interesting terrain and designs that make us of cenotes, tropical jungle, mangroves, lagoons, sand dunes, and even Mayan ruins.
One of the most popular courses is Pok Ta Pok. This course is located in the heart of the Hotel Zone and has 18 holes, a driving range and two practice putting greens as well as roving bars to keep you refreshed.
---
5. Shop in Downtown Cancun
There's more to Cancun than beaches, bars, and watersports. If you want a break from the resorts and Vegas-like Hotel Zone head to downtown Cancun where the locals live and hang out. You will still find some touristy shops and restaurants but the vibe is much more authentic and you will be among more locals than tourists.
Shop at Mercado 28 or Malecon Americas Shopping Center, sit in the Parque Las Palapas and experience a bit of local life, eat at the many tasty taco stands and local restaurants or go in the evening for the less touristy nightlife.
Where to stay: There are lots of great resorts and hotels near downtown Cancun. We always search through Booking.com to find the perfect place at the best price.
If you'd like to be taken on a shopping tour of downtown Cancun click here.
---
6. Party at Coco Bongo
Coco Bongo offers the ultimate in Cancun Mexico nightlife. It is not your typical nightclub with a dance floor, although there are plenty of those in the city, but rather a venue that provides high energy entertainment and music and of course flowing drinks.
At Coco Bongo, you will witness acrobats, impersonators, musicians, DJ's and massive video screens as you interact with conga lines, balloons, bubbles, and confetti. Entrance is not cheap but when you factor in the entertainment and all-inclusive drinks it's a pretty good deal for a great night out.
Top Tip: It gets really crowded in the general admission area so we highly recommend paying the extra for VIP seating. We've done both and would always go with VIP in the future. There is also a Coco Bongo in Playa del Carmen.
---
7. Visit Isla Mujeres
If you're looking for a quiet break from busy Cancun, Isla Mujeres is a great option. Just a 15-minute boat ride from Cancun is a small, tropical island with a slower pace, lovely beaches, fun shopping, abundant watersports, great snorkeling plus plenty of restaurants and bars.
Besides the beach two of the top things to see on Isla Mujeres are the Garrafon National Reef Park and Tortugranja turtle conservation center. It's easy to go on your own by ferry from Cancun but many people enjoy Isla Mujeres on a day tour which includes a fun boat cruise, snorkeling and sometimes lunch at a private beach club.
We think a visit to Isla Mujeres is one of the best Cancun day trips you can do. Click here for tour options if you don't want to make your own way there.
Where to stay: Although accommodations are not as varied on Isla Mujeres there are still plenty of great options. However, since there aren't as many choices as there are in Cancun we suggest reserving in advance with a site like Booking.com. Many of the choices have an option to cancel if needed.
---
---
8. See the View at the Tulum Ruins
Located near Playa del Carmen, the unique Tulum ruins are an easy excursion from Cancun and definitely one that should not be missed.
This site is located about 60 miles away from Cancun and is served by a number of local buses, tour companies, and collectivos.
Click here for some tour options to Tulum.
The Tulum ruins are special because of the stunningly scenic location overlooking a lovely beach and the turquoise Caribbean.
Allow for at least 2-3 hours to step back in time as you explore the city ruins, much of which is still standing as it was centuries ago.
Chances are you'll be a hot mess by the time you're finished so be sure to bring a swimsuit and towel for a refreshing dip in the sea and relaxing on the idyllic sandy beach below.
You can even stay near the ruins at a unique Tulum glamping site.
Where to stay: Tulum has plenty of choices for accommodations ranging from basic hostels to 5 star resorts. For an extra-special, romantic experience we really like the beachfront Mezzanine a Colibri Boutique Hotel-Adults Only.
Top Tip: Take a look at this list of the best Mayan ruins near Cancun.
---
9. Play at Xel-Ha Park
Xel-Ha (Shell-ha) is Mayan for "mix of waters" and is the name of the archeological pre-Columbian Maya site that was found nearby.
It's a massive natural aquarium where fresh crystal clear water from the underground rivers mixes with the warm, turquoise Caribbean Sea. It's definitely one of our favorite suggestions for things to do around Cancun.
This beautiful aquatic network of cool rivers and grottos, mystical cenotes and idyllic blue lagoons are brimming with sea life and have a multitude of water activities.
The marine paradise is surrounded by lush jungle containing nature paths for walking and cycling, adventure parks and children's playgrounds plus plenty of hammocks and beach chairs to enjoy the wonderful array of food and drink. Oh, and did we mention it's all-inclusive?
Where to stay: If you want to be close to Xel Ha, a nice boutique hotel with great reviews is Xcacel Dreams.
Top Tip: Tickets are almost always more expensive at the gate. Book online in advance to receive a discount

---
10. Go Deep-Sea Fishing
The waters around Cancun offer some of the best ocean fishing anywhere. There are plenty of companies offering fishing trips for everyone from beginners to experts in both deep sea and shallower water.
There is also an abundance of fish species in the beautiful blue sea including Barracuda, Grouper, Red Snapper, Sailfish, Marlin and Tuna.
You will be supplied with all the fishing gear and license and the crew will even clean and prepare the fish for cooking should you want to take it home for dinner.
---
11. Have Fun at Playas Tortugas Beach
Known for having a party culture, low-cost food and drinks, and pretty calm water, this is the place to be if you are going to be spending your spring break in Cancun.
Look for the small huts that dot the beach if you want to go snorkeling, windsurfing, ride a jet ski or enjoy one of many other Cancun beach activities. Sometimes locals offer more extreme sporting options as well making it an exciting place to be for adrenaline junkies.
The daytime hours on this beach are great for families, with the warm water and clean sand making it fun for all ages. As the sun goes down, the party starts, with live music and groups of fun-seekers flooding the beach for a real Cancun experience.
---
---
12. Sail on a Catamaran Cruise
A catamaran cruise is a great way to relax and view the various islands in the area. Depending on where you want to go, you can either choose to cruise all day long, spend just a few hours out on the water or enjoy a sunset dinner cruise.
Many of these cruises also offer the option to get off of the boat and enjoy water activities such as swimming and fishing. There are lots of different cruise options to choose from so it helps to know what type of activities you're looking for. Water sports? Relaxation? Dinner and sunset? Island hopping? Or just a party cruise?
Top Tip: A Catamaran Cruise is definitely one of the best things to do in Cancun, Mexico. Click here for lots of Catamaran tour options.
---
13. Visit Famous Chichen Itza
When people ask us what to do in Cancun, aside from partying and going to the beach, we always suggest they get to know the history of the original inhabitants.
Chichen Itza is arguably the most famous and well-preserved Mayan archaeological site in the world and therefore is also one of the most popular. The site was a thriving city back in the 5th century AD and much of it can still be viewed today.
The pyramids, temples and other buildings that are still standing show that this city was actually a fusion of traditional Mayan construction techniques and newer elements from central Mexico. The site is large with much to see and can become very crowded so allow several hours to explore.
You can make your own way to Chichen Itza by car but if you don't have a vehicle a day tour from Cancun is a great option so you can relax on the long drive in air-conditioned comfort. Whichever way you decide to visit this amazing archaeological site we're sure you'll agree it's one of the best things to do near Cancun.
Top Tip: There is very little shade so it is best to go early morning and bring plenty of sunscreen, drink lots of water and wear a hat.
---
14. Swim in Ik'Kil Cenote
Located near the entrance to Chichen Itza, Ik'Kil is one of the most beautiful cenotes in the Yucatan. From above you can look down through the hole in the earth to see a pool of clear, blue water surrounded by sheer rock walls filled with greenery.
Descend down the steps 26 meters, jump into the refreshing pool and look up and around at the vines and roots hanging down and the beams of sunlight streaming through the hole above and making the water sparkle.
Since Ik'Kil is right across from Chichen Itza the two sites are best visited on the same day. This is easy to do if you have a car or you can take a combo tour from Cancun.
Top Tip: Due to the beauty and proximity to Chichen Itza, Ik'Kil is very popular with tour buses and gets very crowded. Our advice is to go as soon as the cenote opens in the morning and possibly enjoy a brief time before the throngs arrive. Having said that it does also make a great stop after the heat of exploring Chichen Itza.
---
15. Chill at Isla Contoy
Isla Contoy is an uninhabited island in the Caribbean just a few hours from Cancun. The cruise over is filled with great food and drinks, while the visit to the actual island is full of fun activities.
Cruise tours to Isla Contoy start at around $100 per person and are all-inclusive. Even the services of a guide, breakfast, transportation to and from your hotel room and the snorkeling equipment that many people choose to use are included.
The island itself is part of a national park, allowing the pristine beaches and perfect waters to remain perfect and untainted. Strict rules of conduct and requirements to pick up after yourself are enforced. The companies that allow access to the island are well versed in regulations and will brief all of their passengers ahead of time ensuring that the area remains pristine and unspoiled for future tour groups.
---
16. Dive at the Cancun Underwater Museum
Those who like to scuba dive or snorkel will want to add the Cancun Underwater Museum to their list of top things to do in Cancun, Mexico. The man-made site is filled with created coral reefs, underwater statues and local species that call it their home.
This ever-evolving attraction boasts an amazing chance to think of a world covered completely in water, to view how the ocean reclaims everything placed within it, and to feel at home within the depths.
Snorkeling and scuba equipment can be rented at the museum, and experienced guides are available for those who feel that they are not yet up to exploring the area on their own. It is recommended that you have at least gone snorkeling before if you want to visit this location.
However, if you feel like you are going to have a very low level of skill a private training session and extended trips to the area can be arranged to ensure that you get as much enjoyment out of your trip as possible.
Top Tip: This underwater museum is definitely one of the more unique things to do in Cancun. Plan to arrive at least 2 hours before closing time to make sure that you really get the best experience.
---
17. Enjoy the Water Sports
Although Cancun is known for resorts and partying there is also plenty for the adventure seeker especially when it comes to water sports. Get your thrills with speed boats, jet skis, para-sailing all of which are available along the beaches in Cancun.
Make sure to wear sunscreen and a life jacket and be prepared for some heart-pounding excitement.
Note: Click through for a list of water activities in Cancun
---
18. Cheer at Lucha Libre
The Mexican people have been cheering on their favorite wrestlers at Lucha Libre matches for well over 100 years. In fact, many of these wrestlers are so popular they're full-blown celebrities in Mexico. Lucha Libre (which means "free fighting") is similar to American pro wrestling in that the moves are usually choreographed and sometimes the outcome is also pre-determined. However, the wrestlers still need to be tough and determined athletes.
The theme is always good guy vs bad guy and they all wear personalized masks like the ones you'll see in all the local shops. Shows happen several times a week at the Arena Cancun and the experience is one of the best local things to do in Cancun.
---
19. Go Cenote Diving or Snorkelling
The Yucatan peninsula is full of sinkholes created by the collapse of the surrounding limestone and fed by a massive underground river system filled with fresh water from the rain. Many of these natural pools are underground and full of fish, lovely underwater stalagmites and stalactites and also caverns and caves. This makes Mayan Riviera cenotes a magical place for snorkeling and even diving.
You can snorkel at any of the cenotes but diving is only available at some spots and requires a guide and open-water diving certification. Dives range from beginner to advanced and can be arranged through tour companies and scuba diving shops.
Whether you're diving or snorkeling in a cenote, the experience is on top of our list of cool things to do in Cancun.
---
20. Explore Nichupte Lagoon
Cancun sits between the Caribbean Ocean and the Nichupte Lagoon which includes a nature reserve and extensive mangrove eco-system. The lagoon area is great for all kinds of outdoor and water activities including fishing, snorkeling, paddleboarding, kayaking, and bird watching but the best way to explore the lagoon is by boat or jet ski.
Whether you join a tour or rent a boat yourself you'll be impressed with the lush jungle, natural scenery and wildlife all around. The lagoon is also an ideal spot to watch the sunset.
Exploring Nichupte Lagoon may not top every list of what to do in Cancun, Mexico but we feel it deserves a spot on ours.
---
21. Learn at Museo Maya & San Miguelito
The sleek and modern Mayan Museum (Museo Maya) is in the heart of Cancun's Hotel Zone and is a great way to add some culture to your beach vacation. The museum houses three exhibit areas where they display over 3,500 artifacts on a rotational basis. Here you can learn all about the ancient Maya and their interesting history and how it relates to the Yucatan Peninsula where Cancun is situated.
The museum entrance also includes access to the San Miguelito Archaeological site that sits on the same property. This site is small and not as popular as the other ruins in the area but it's still worth a visit.
---
22. Go Scuba Diving
Cancun is near the Mesoamerican Barrier Reef which is the second-largest reef system in the world so it's no surprise that divers love this area. The water is warm and clear and the sea life is abundant and amazing so diving is definitely a top thing to do in Cancun.
You can arrange a diving excursion to Cozumel which is a short boat ride away from Cancun or rent equipment at many of the scuba diving shops. If you're not yet certified there are also courses available to get you diving in no time. Again, the warm and clear waters around Cancun are a great place to learn to scuba dive.
Click here for scuba diving courses, tours and rentals.
---
23. Shop at Mercado 28
There are some shops in the Hotel Zone but they're uber-touristy so the prices are high for Mexico. If you want a more Mexican shopping experience and lower prices head into downtown Cancun and visit Mercado 28. It's a huge flea-market-like setting with mazes of stands selling local crafts, souvenirs, clothing, leather goods and pretty much anything else you can imagine.
As with most markets in Mexico the prices are not really set and haggling is expected so be ready to go back and forth and never pay the first price asked. Mercado 28 is also a good spot to try some traditional local food that can be hard to find in the Hotel Zone.
---
24. See Sea Turtles
If swimming with sea turtles is on your bucket list Cancun and Riviera Maya will check that box for you especially if you make a trip out to beaches like Akumal. The warm waters are full of a variety of sea turtles from loggerhead to giant leatherbacks and you'll often find yourself snorkeling or swimming alongside them.
If you're there from May to October you may witness female turtles laying eggs in beach nests and from July to December they hatch and make their way to the sea. You can even participate in sea turtle conservation efforts at many of the resorts or visit the turtle conservation center on Isla Mujeres.
If you're an animal and wildlife lover then this will be a must do in Cancun for you.
---
25. Swim with Whale Sharks
If you visit between June and September you can join a whale shark tour. These massive fish are the largest in the world but don't let the name or size scare you, they are very docile and the babies are even playful. However, they are endangered so there are strict regulations around swimming with them.
Your tour guide will instruct you on these rules and hopefully make sure everyone follows them. One of the main rules is a limited amount of people in the water at one time so it's best to go with a smaller group if possible.
---
26. Play at Ventura Park
Cancun's newest waterfront amusement and water park is a great place for families to spend the day. It's actually six parks in one and each has a different theme. Wet 'n Wild has waterslides, Aaah! is full of adventures like zip-lining, Fun World is great for younger kids, Grand Prix is all about go-karts, and Underworld is full of virtual reality experiences.
Check here for pricing and tickets to Ventura Park.
---
27. Visit El Rey Archaeological Site
Visiting an ancient Mayan archaeological site is one of our top things to do in Cancun. There are many more impressive Mayan ruins in the Yucatan but El Rey is the only site right in the Cancun Hotel Zone. So, if you don't want to go far this site is really accessible if you're staying in Cancun.
The site is more than 1,000 years old and is home to 47 structures including a pyramid temple. Despite being in such a convenient location you could easily pass it by without noticing it's there due to a lack of signage but it's right next to Playa Delfines and close to the colorful Cancun sign.
---
28. Explore El Meco Archaeological Site
El Meco is the closest archaeological site outside of Cancun. You can get there by taxi in 30 minutes and despite being larger and more interesting than El Rey, in the Hotel Zone, it's not nearly as busy. It may just be you and the many iguanas as you wander the grounds and admire the nearly 1,500-year-old ruins that have been taken back from the jungle. You'll only need about an hour or two at the most to explore El Meco and there are no guided tours.
---
29. Learn to Surf
Cancun may not be on the radar of highly experienced surfers like Sayulita on the Pacific coast since the waves don't get really big. However, on the northern side of the Hotel Zone, you'll get some decent surfing waves, especially from June to November.
The combination of moderate-sized waves plus warm water and spectacular scenery make Cancun a great place to learn to surf. There are several surf schools and board rentals around Cancun to show you the ropes and get you started.
---
30. Have a Tequila Tasting
Despite what you may experience at the many touristy bars Mexicans take their tequila seriously, like wine or craft beer lovers back in the USA. Good tequila is meant to be sipped not slammed back with lime and salt.
A good tequila tasting will explain all about the history of this potent drink as well as introduce you to the many styles and types. If you think you don't like tequila give it another try, you'll likely change your mind when you taste a quality product.
---
31. Experience Xoximilco
If you've been to Mexico City you may have taken a day trip to the UNESCO site of Xochimilco. The Xperiencias Xcaret family of theme parks has created a tribute to that site with a similar version of the colorful, cultural Mexican tradition.
Here you can spend a few hours floating on a brightly colored Mexican gondola and have fun in a carnival atmosphere complete with traditional music, dancing, singing and games. Of course, no authentic Mexican experience is complete without plenty of local food and drink and Xoximilco has that covered as well.
Top Tip: As with all the Xperiencias Xcaret parks it's best to book online for the best pricing.
---
32. Try a Temazcal (teh-mas-kal)
Experience an ancient Mayan purification ceremony led by a shaman in a tiny domed hut. The shaman pours water and herbs over hot rocks to create a sauna or sweat lodge as they chant or play music to induce a meditative state. The ritual lasts from 30-90 minutes and is meant to get rid of toxins and cleanse the body, mind, and spirit leaving you with a sense of well-being and healing.
Several of the resorts around Cancun offer Temazcal and there are also companies who offer it as a tour including transportation and refreshments. It's a perfect way to detox after the indulgences of Cancun.
---
33. Have a Drink at Senor Frogs
Ok so it's loud, touristy and cliche but Senor Frogs has been a sort of cheesy Mexican institution since 1969 so you really should experience it at least once. The food and drinks are expensive for Mexico but are consistently good and the atmosphere and service always create a festive atmosphere. Go before 8 pm if you have kids or aren't into too much of a party scene.
After 8 pm Senor Frogs becomes more of a nightclub with themed shenanigans like foam parties and open bar options.
---
34. Have a Ziplining Adventure
For adventure seekers, ziplining is one of the most popular things to do near Cancun and it's a fun experience for almost all ages. Xplor is another Xcaret Xperiencias park that's all about adventure and they have 13 thrilling zip lines as well as other activities that take place in and around the jungle, caves and waterways of the park. Another popular place to zip line is Selvatica which has a 10 zip line course.
---
35. Take a Taco Tour
You really can't go to Mexico and not try street tacos. Downtown Cancun is the place to do it and if you've only ever had tacos in a restaurant you're in for a real treat. In fact, we believe that eating tacos is one of the best activities to do in Cancun!
The tortillas are always made fresh and the fillings can be the familiar beef, pork, chicken and seafood or the more unusual like goat, tongue, pigskin, tripe or even goat head. Even if you stick with the familiar be sure to try the traditional and delicious Tacos al Pastor.
It's easy to go on a self-guided tour by starting at Parque de las Palapas and venturing into the streets around the square, especially Avenidas Tulum.
However, if it's your first time eating street tacos you may be more comfortable taking a street food tour and there's plenty of those to choose from. For anyone that loves Mexican food, doing a taco tour is one of the best things to do in Cancun, Mexico.
---
As you can see there is almost no end of things to do in Cancun, Mexico. It really is so much more than beaches and parties. There's truly something for everyone!
Pin It For Later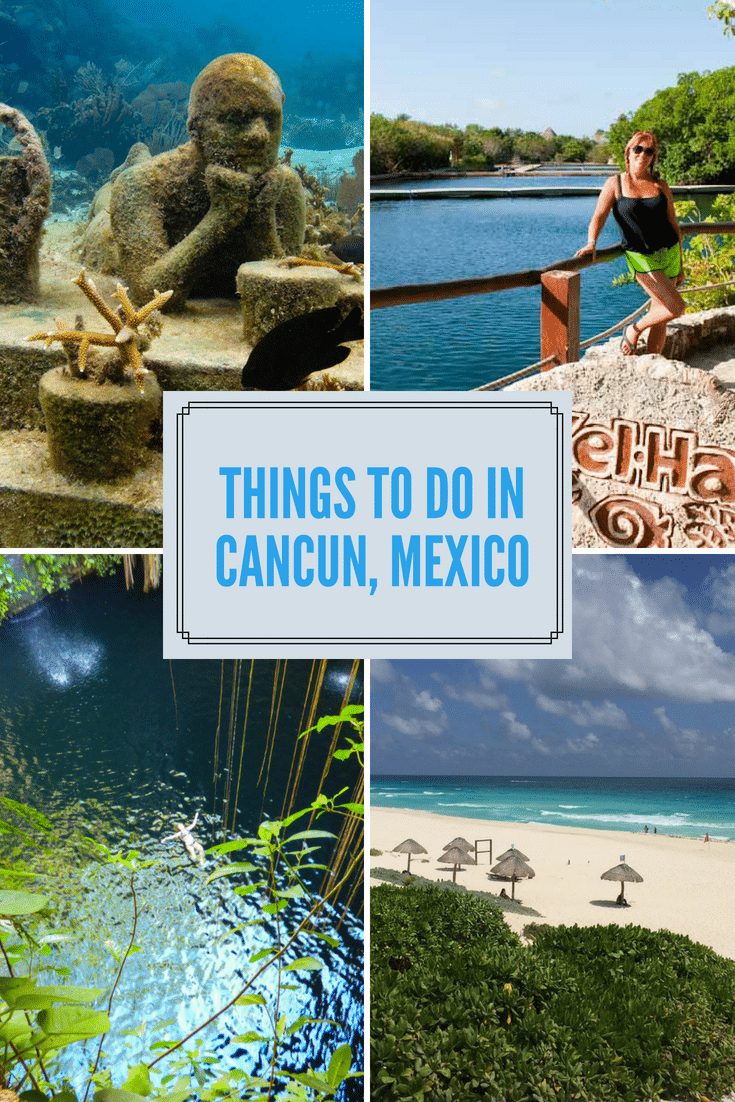 ---
Disclosure: This post may contain affiliate links. This means that if you make a purchase through one of these links we may receive a small commission at no additional cost to you. This is one way that we earn an income that allows us to keep this site running. We are grateful for your support.
Live Dream Discover is a participant in the Amazon Services LLC Associates Program, an affiliate advertising program designed to provide a means for sites to earn advertising fees by advertising and linking to amazon.com, amazon.co.uk, amazon.ca. Amazon and the Amazon logo are trademarks of Amazon.com, Inc. or its affiliates.
---
Do you love Mexico as much as we do? Or have you just started to explore the many awesome destinations this vast country has to offer? Either way the following articles may be of interest.
What to Pack for Cancun and Yucatan, Mexico
Many people make the mistake of thinking that packing for Cancun vacations doesn't require much thought. Throw a couple of swimsuits and a sundress in a bag and good to go! However, we have found that is not the case. Check out our ultimate packing list for Cancun.
---
3 Days in Mexico City Itinerary
If you are like we were, you may be reluctant to select Mexico City as a travel destination because you've heard it's nothing but a big, dirty, crowded, and dangerous city that is best avoided. Well, we're determined to convince you to throw those notions out the window and start planning an unforgettable Mexico City itinerary.
---
Xel Ha vs Xcaret Eco Adventure Parks
So, you've booked your Mexican vacation and you're looking for things to do in Riviera Maya? Having spent many months in this beautiful part of the country we can tell you from personal experience that a day at one of the Experiencias Xcaret Parks is a must. But, which adventure eco-park should you pick? Well, we hope to help with that decision by comparing the two most popular parks: Xel Ha vs Xcaret.
---
Cenote Scuba Diving
If you like to scuba dive the Yucatan of Mexico is a perfect place to be. Not only can you experience superb ocean dives but also the unique sport of cenote diving. Take a look at this intensive list of the best cenotes in Mexico and get ready for an otherwordly adventure!
---