What is
Xel-H
a?
Xel-Ha eco park is an aquatic theme park just 30 minutes south of Playa Del Carmen and it truly does have something for everyone. The biggest challenge is fitting all the Xel Ha activities into one day. That's why we wrote this Xel Ha review containing several itineraries based on our own personal experience. If you plan to visit the park this post will help you make the most of your time there without feeling rushed or like you missed out on something.
Xel-Ha (Shell-ha) is Mayan for "mix of waters" and is the name of the archeological pre-Columbian Maya site that was found near-by.  It is a massive natural aquarium where fresh crystal clear water from the underground rivers mixes with the warm, turquoise Caribbean Sea. This beautiful aquatic network of cool rivers and grottos, mystical cenotes and idyllic blue lagoons is brimming with sea life and has a multitude of water activities. There's a reason it's a top Yucatan, Mexico experience.
The marine paradise is  surrounded by lush jungle containing nature paths for walking and cycling, adventure parks and children's playgrounds plus plenty of hammocks and beach chairs to enjoy the wonderful array of food and drink. Oh and did we mention it's all-inclusive?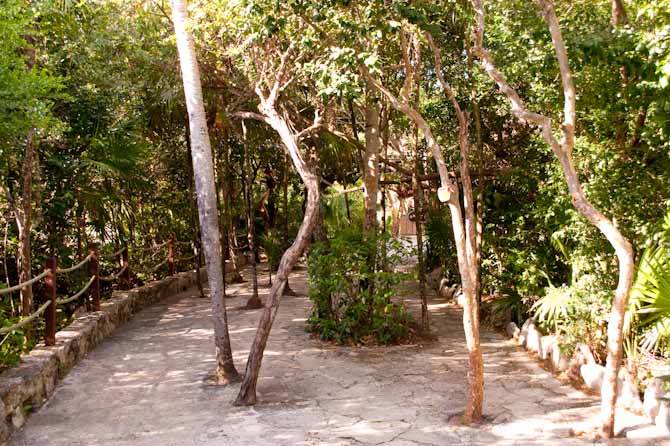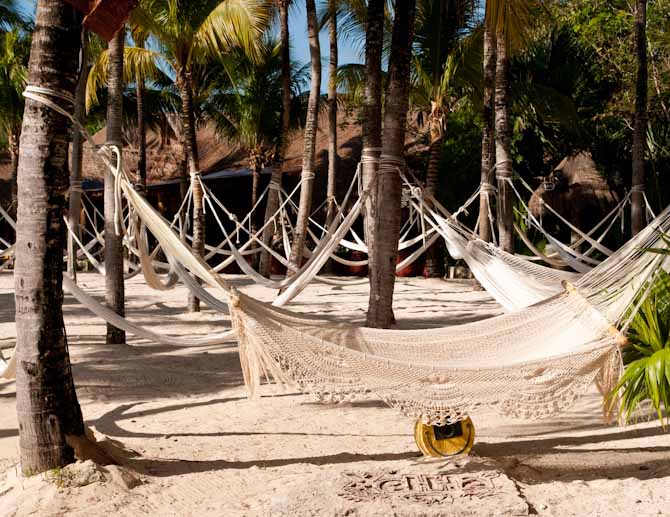 Xel Ha Prices
Xel Ha All Inclusive Tickets: $89.99 USD
Xel Ha Total: $147 USD (adds an optional activity like Snuba, Sea Trek or Adrenalina)
Xel Ha Discount Tickets: Kids (age 5-11) are 50% off, Kids (under 4) are Free! See below for more discounts.
Note: We advise you to book online in advance as you will receive a 10-15% discount. Plus if you use our special Live Dream Discover link you will get a discount plus we will also make a small commission at no extra cost to you. This  will make our day and help us keep this dream alive so thank you, thank you, thank you!

What is included in Xel Ha Park Admission?
Use of the following:
Snorkeling equipment
Lockers and water bags
Life jackets
Towels
Bikes
Inner tubes
Zip lines (except Zip Bike)
Adventure and children's parks
Beach chairs
Hammocks
Food and drink
There are also optional activities at additional cost such as swimming with the dolphins or manatees, Snuba, Sea Trek and even a spa. They can be purchased separately or one activity is included in the Xel Ha Total package.
 Xel Ha Transportation

You can add first class bus transportation to your admission for $30 USD.
The local ADO bus also makes stops at Xel Ha. Check at the Cancun and Playa del Carmen bus stations for the schedule.
Collectivos (shared vans) run up and down the main 307 Highway and will stop at Xel Ha
If you are staying in Playa del Carmen or Tulum a taxi is a viable option but from Cancun it would be about $80-$100 USD
If you have a car the drive is quite easy and there is free parking on site.
What to take to Xel-Ha

A swimsuit is probably the #1 item on this list
Don't forget a change of clothes to put on when you've finished your water activities.
A waterproof bag comes in really handy to carry your phone and some cash. Click here to see our favorite phone pouch dry bag.
Sunglasses are a must when you're on land although you won't need them when you're snorkeling.
A waterproof camera is highly recommended as you will be spending most of your time in the water. We captured so many great photos & video at Xel Ha with our GoPro and couldn't imagine traveling without it. The good news is the prices have dropped since we purchased a couple of years ago. Click here for pricing and reviews.
Water shoes or flip flops are a good idea because you'll be in and out of the water and having to dry your feet to put on shoes every time is a pain. You can pick up a good pair pretty inexpensively if you plan ahead.
A hat is a good idea as the Mexican sun is really strong and you don't want to ruin your day with sun stroke. We love these waterproof, sunscreen hats when we travel in hot climates. They are lightweight, durable and fold up into nothing.
Eco-friendly sunscreen is vital at Xel Ha water park, in fact it is required that you only use the reef safe type. They do sell it at the park but it is more expensive than buying your own before you go. You will need it in other protected areas on the Maya Riviera so it's definitely worth purchasing a bottle.
Note: Lockers and towels are provided so you can safely store your camera and clothing when not in use.
How to make the most of your time at Xel-Ha

It's impossible to do everything in one day but with a bit of planning you can certainly cover a lot and not feel too rushed.  Read through our suggested itineraries below and pick the one that best suits your own priorities.
However you decide to spend your day you should definitely try to get to the park for opening time. Xel Ha Park hours are 8:30 am to 6:30 pm. Also if possible go on your own or try to go with a smaller tour company rather than arriving on a big coach with sixty other people.
The Live, Dream, Discover Itinerary
Although we could have easily spent another three hours here we feel we did pretty well in experiencing a good portion of what Xel-Ha offers. The only thing we would have changed for ourselves was less time tubing and more time zip lining and cliff jumping…oh and maybe an extra siesta on a hammock with a Pina Colada. This is how our day went:
Arrived at 8:30
Took the opportunity of a near empty park for some photos.
Made our way to the Yellow Station to get a locker key. There are several stations (red, brown, purple) and they are all near to the restaurants and dolphins but the best location is the yellow station as it has the easiest access to everything.
The snorkel gear booth closest to the yellow station wasn't open yet so we took 20 min to recon the park, study the maps and take some more photos.
Picked up our snorkel gear at 9:15am.
At 9:30 we headed to the International buffet ('B' on the map) for breakfast.
After breakfast we locked up everything other than our snorkel gear, grabbed a life jacket (there are many locations throughout the park) and hopped the train to the start of the river. You can also take bikes to the river but it would take a bit longer to get there.
You have two options at the start of the river: tubes or snorkel. We chose to tube all the way down the river to the entrance to the large lagoon but you can hop off anywhere along the way and just leave the tube in the water . If we went again I think we would have hopped off the tube right after the mangroves or skipped the river all together because it took about 90 minutes and we would have preferred more time for zip lines or snorkeling.
At the end of the river we ditched the tubes and snorkeled around the lagoons ending up at the floating bridge. Tip: Snorkel close to the rocks and coral formations to see the most fish.
We then exited the water and walked across the floating bridge (pretty difficult on a windy day) and headed back towards the restaurants and bars for our first Pina Colada of the day and lunch.
Storing our snorkel gear we walked the jungle path to the cliff jumping and zip lines. By now it was be around noon and there were some line ups but they weren't too bad. I would imagine though that during Spring Break or on a Sunday it would be pretty busy.
After we'd had our fill (for now at least) of adrenaline and our arms were tired from rope walks and ladders we swam and then walked up river and crossed the bridge towards the cenotes. Here we swam in cenotes and grottos and jumped off the rope swing. For an extra $30 USD you can also ride the Zip-Bike but that wasn't in our budget. We didn't speak to anyone who did it so no idea if it's worth the hefty price.
Hungry and thirsty again headed back to the restaurant area for lunch and refreshments (aka rum and pina) followed by a short siesta in a hammock.
It was 2:15pm by this time and we were ready for more zip line and rope walk time so that's exactly what we did until 3:30pm.
We had to be at the meet-up for our transport home at 5pm so we had one last meal and a margarita, returned our snorkel gear and reluctantly left wonderful Xel-Ha.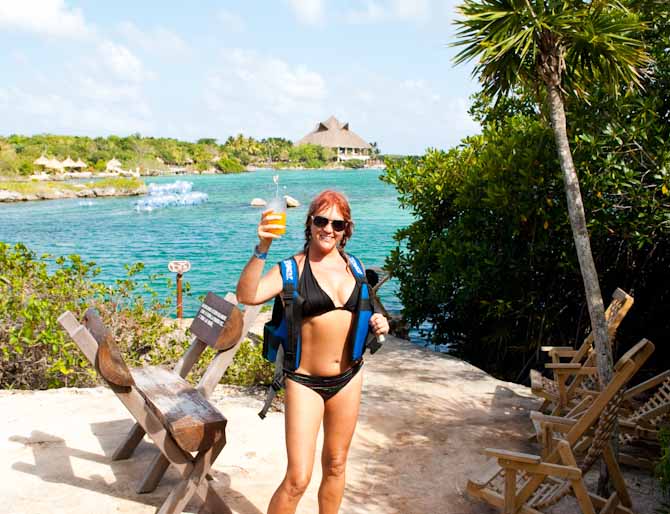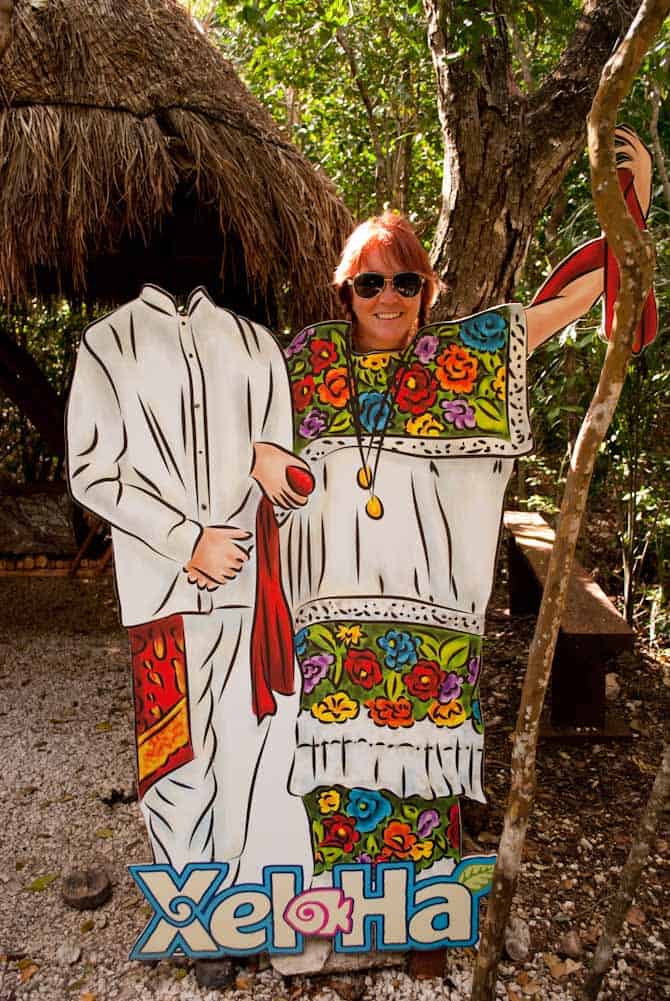 The Family Plan
Depending on the age of your kids you may just want to follow our itinerary above. We saw lots of families together enjoying everything we did. Be prepared to have your kids kick your butt at some of the activities though!
If they're younger or a little less adventurous you could leave out the zip lining and cliff jumping and replace it with time at the Children's Playground. There is plenty to keep them entertained including a small waterslide, playground equipment and a tree top adventure course which we actually wanted to do.
If they are old enough to go off on their own then you parents can spend more time lounging on the beach chairs or hammocks or even sitting at the bar…hey you don't have to drive right?
The Adrenaline Junkies Plan
Xel-Ha Cancun isn't necessarily the best place to go if all you want is an adrenaline rush and you're not at all interested in nature, snorkeling, water activities or all you can eat and drink…if this is the case then you should probably go to Xplore instead. However if you're open to something less strenuous or you've been convinced to go by your spouse or family don't worry there is still plenty to keep you entertained. You will not be hungry for stimulation or food!

For a bit of a faster pace try these suggestions:
Skip the tubing or shorten the time snorkeling (you're in a giant aquarium, you have to do at least some snorkeling!) and spent most of your time on the cliff jumps and Xel Ha zip lines. Also the rope obstacles over the water are definitely challenging and fun and it may take you more than one try to complete.
Plus if you have the funds try the Zip-cycle, the Snuba Cenote or Sea Trek.
The Nature Lovers Plan
If you're a big nature lover then you are in for a treat as you are literally immersed in it! Aside from everything I've listed in the above plan and itineraries there is so much more:
Apiary
Viewpoints
Plant Nursery
Interpretative Path
Chacah's Garden
Native birds and animals
Marine Forest
Jungle tour
Swimming with the dolphins or manatees
Stingray encounter
Temaxcal Maya spiritual cleansing
---
Xel Ha Review
Well as you can see I wasn't exaggerating about there being something for everyone. Still, many people have asked us: "Is Xel Ha worth it?" After going twice in the past few years we can honestly say it was worth every penny to us. It's true that you can find some pretty spectacular beaches and snorkeling spots in the Maya Riviera and some of them are completely free. However, Xel Ha adventure park offers so much more than just a day at the beach. The setting is pristine, there are no pushy vendors, there are options for relaxing, playing and learning and if you want some excitement there is the Xel Ha zipline. Plus being all-inclusive means you can eat and drink all you want without having to take off your swimsuit or take out your wallet.
So who wouldn't love a day at Xel Ha? To be honest, the only people we wouldn't recommend it to are those who really dislike water and swimming or those looking for more extreme adventure. To the first group we would suggest Xcaret which lets you experience the Mayan jungle and ancient culture through live shows and activities. And to the second group we would say go to XPLOR which is a high energy adventure park with zip lines, ATV's, and caves. If none of these appeal there is also Xenotes which takes you through the underground world of ancient cenotes plus several other excursions and tours offered by the Experiencias Xcaret group. If you want to get a taste of what these other parks can offer you can check out their YouTube channel here.

Tip: If you are interested in reading about Xcaret we have written a similar review and guide. Click here to read it. Also, if you are trying to decide between Xel Ha and Xcaret we have also written a comparison guide to help with the decision. Click here to read it.
Pin It For Later

Disclaimer: This article contains affiliate links. This means that if you make a purchase through one of these links we may receive a small commission. This is just one of the ways we make a living which enables us to keep this blog going and keep our dream alive and we are truly grateful for your support. All opinions in this article are truthful and are 100% our own.
---
If you love Mexico or are just starting to explore the possibilities this beautiful country offers you may want to check out some of our other articles:
Packing List for Cancun and Yucatan Mexico
If you're planning your trip to Cancun or anywhere else in the Yucatan part of Mexico you will need a good packing list. After many trips there ourselves we have realized that there is more to packing for Mexico than just swimsuits and sun glasses!
---
What do you like to do on vacation? Relax poolside? Try adventurous watersports? Play on the beach? Party all night? Visit Mayan ruins? Whatever the ultimate beach vacation looks like to you chances are you can find it in and around Cancun.
Born in England, Sarah developed her wanderlust at a young age as she traveled around Europe with her parents. As a young adult she spent every penny she could on experiences as opposed to possessions. Eventually she found a way to earn a living doing what she loved: traveling, writing and capturing images of the wondrous world we live in. When not on the go Sarah enjoys time in her "sometimes home" of Vancouver.