Would you like to have a Yucatan, Mexico experience without actually leaving home?
Welcome to the first installment of an ongoing series on how to Create a Travel Experience at Home. The fact is there are many reasons why we can't always travel where and when we want to. Traveling locally is one way to scratch that itch when we can't go far from home. But, we also don't need to stop dreaming about visiting and even exploring a new and exotic destination without actually going there.
Are you a solo traveler or a couple itching to go on your next adventure? A group of friends looking for a unique and fun way to spend time together? A family who loves to teach your kids about the world? We want to feed your wanderlust right now and help build your travel appetite until you can get out and immerse yourself for real.
Whether you've been to a destination before and want to re-live the experience or whether you're researching your travel bucketlist in anticipation we want to inspire you to jump right in and explore the world.
This article is going to take you to the Yucatan. You will learn about this very unique part of Mexico: the history, the culture, the music, the food, the sights and activities, all the things that make the Yucatan special. Then we're going to help you create a traditional Yucatan, Mexico experience right at home.
Meet the Yucatan
The Yucatan Peninsula is in the far south of Mexico and has the distinction of separating the Caribbean Sea and the Gulf of Mexico. It comprises the Mexican states of Yucatan, Quintana Roo and Campeche and even extends into Guatemala and Belize. This geographical location, along with an interesting past, creates a magical mix of vibrant culture, tropical beaches, lush jungle, nature reserves, historical sites, colonial cities, and uniquely delicious food and drink.
Merida is the capital of the Yucatan and is a fascinating place to visit. The colonial city's rich heritage includes Mayan and Spanish influences creating a Mexican experience like no other. People go to Merida to explore the cobblestone streets, admire the impressive architecture, enjoy the European-style squares and plazas and indulge in the incredible cuisine.
In contrast to the state of Yucatan, Quintana Roo is all about the Riviera Maya beaches and the lively tourist destinations of Cancun, Playa del Carmen, and Tulum. Understandably this area attracts millions of visitors every year who are seeking a tropical beach vacation, fancy resorts, adventure parks, watersports and vibrant nightlife.
Learn more with the 80+ Facts About Mexico: The country that has it all!
Then there are the many mind-boggling ancient Maya ruins and mystical cenotes! With almost 200 Maya ruin sites throughout the three states of the Yucatan peninsula, history lovers will never run out of temples to climb and architecture to ogle. Some of the best-known are the incredibly preserved Chichen Itza, the scenic waterfront Tulum and the impressive Uxmal.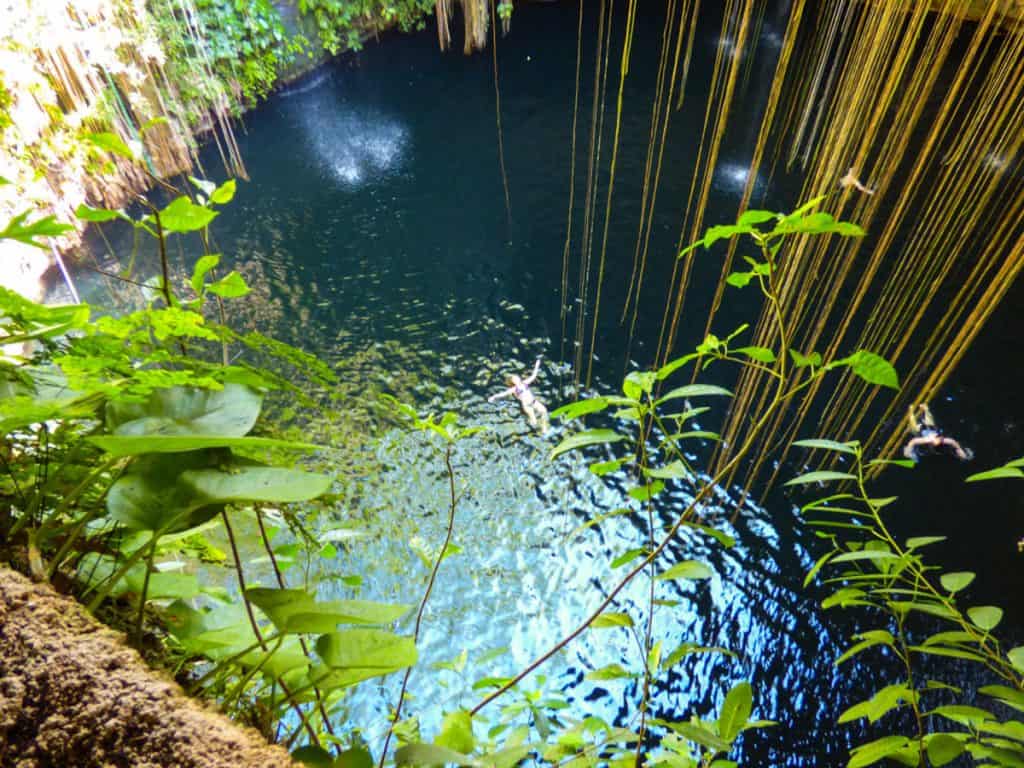 You could spend months exploring the Yucatan Peninsula and still not see every cenote since there are more than 2,400 of them. And those are just the ones that have been registered. It's estimated that there are more than 6,000 in the area. These water-filled natural sinkholes all have their own unique beauty and were a huge part of the Mayan culture.
Watch and learn about the Yucatan
There are so many interesting facts about Mexico and the Yucatan is definitely one of the most interesting historically. Whether you've been to the Yucatan in the past and want to relive the experience or whether you've always dreamed of going there, these films, videos and articles are a great way to immerse yourself visually.
We've chosen some great pieces that will take you away and teach you about the amazing history, nature, culture and food of the area. We suggest you watch/read them in preparation for your at home Mexico experience.
The documentary "YUCATAN The Culture Is Nature, The Culture Is Maya" is a beautiful journey through the Yucatan peninsula. You'll be taken to the beaches and tourist towns of the Mayan Riviera, ancient architectural sites, pristine nature reserves and colorful colonial cities.
Learn about traditional Mayan food with this video that takes you to a small jungle Mayan village 3.5 hours outside of Playa del Carmen. The video by Mark Wiens shows and explains the process of preparing and cooking traditional foods like cochinita pibil (pork slow roasted underground), tok-sel (bean dish cooked with hot rocks), and a variety of tamales.
"The Pib" is a lovely short video which gives a peek into the life of a young girl as her mother and grandmother cook a traditional meal called The Pib. The Pib is prepared for deceased loved ones who come to feast every year.
History.com

has a quick and easy to read run-down of the history of the Yucatan from the days of the Maya until present day.
Here's an awesome video from the Fall of Civilizations Podcast called "The Mayans-Ruins Among the Trees." It looks at the life and ultimate fall of the Mayan civilization with stunning film, dramatizations, and images of some of the ancient ruins of the great Mayan cities in the Yucatan peninsula.
Creating a traditional Yucatan Mexico experience at home
So, you've learned about the unique and mystical Yucatan and have watched some wanderlust-inspiring and educational videos, now it's time to create your own Mexico experience at home.
Of course, you could keep it simple and cliche by getting take-away Mexican food, making frozen margaritas, wearing a sombrero and playing La Bamba. However, we don't think that's why you're here since you can probably do that without our help.
Instead, we're assuming you came looking for inspiration and ideas for a more authentic Mexico experience.
Whether you want to go all out and cook a full traditional meal to enjoy with your partner in a tasteful Mexican ambience, or lay out some botanas (Mexican appetizers), sip some mezcal, and dance to lively Jarana music with your friends or family we've got your covered. This is your adventure so make of it what you like!
To help inspire you we've put together some ideas for creating your traditional Yucatan Mexico travel experience at home including menus, music, decor, and entertainment.
Experience Yucatan food
Mexcian food is loved all over the world but many people don't realize how varied the food is depending region. Although there are some familiar items and ingredients, traditional Yucatan food is very different from what you'll find in the rest of Mexico.
First, there's the Mayan influence which dates back many centuries and relied on corn, chilis, tomatoes, cacao, pumpkin, and wild turkey. Then the Spanish arrived and introduced herbs, spices, rice, pork, and bitter orange.
During the times of colonization the Yucatan was cut off from the rest of Mexico and was influenced more by the French, Dutch and Caribbean. This explains the unique flavors of the Yucatan and why the cuisine differs so greatly from other parts of the country.
Traditional Yucatan Menu
Starter
Sopa de Lima (lime soup)
A tasty soup made with chicken broth, lime juice, chillies, garlic, onion, tomatoes, and usually topped with fried tortilla strips, cilantro and avocado. It's the Yucatan version of the more familiar tortilla soup and can be found at almost every restaurant in the Yucatan peninsula. Here's the full recipe for Sopa de Lima.
Main courses (choose 1 or 2 for a full meal)
Cochinita Pibil
This is a slow roasted pork dish that is marinated in a Seville orange and achiote, wrapped in banana leaves and cooked in the ground for many hours. Since it's unlikely that you have a cooking pit this Cochinita Pibil recipe from The Venturists will provide something deliciously close to the traditional method.
Al Pastor Tacos
Tacos are a staple all over Mexico and the Lebanese influenced Al Pastor variety are especially popular in the Yucatan peninsula. Authentic Al Pastor is marinated pork slices roasted on a spit like a shawarma or donair. Assuming you don't have a shawarma spit this Al Pastor recipe will give you the alternative cooking method. Here's another recipe that's really quick and easy.
Yucatan Style Shrimp or Chicken
Queso Relleno
Originally from the Caribbean this recipe consists of a round of Edam cheese stuffed with a ground pork mixture and baked to delectable gooeyness. It's not the easiest meal to make but this Queso Relleno recipe is definitely doable.
Dessert
Marquesitas
You will generally only find this unusual sweet treat at street stands in the Yucatan. It's a crispy crepe rolled up and stuffed with an assortment of fillings. The most traditional (and slightly strange) filler is Nutella and shredded Edam cheese. Here's how you can make Marquesitas at home.
Flan
Flan is not specific to the Yucatan but you'll rarely find a restaurant in Mexico without this dessert on the menu. It's very similar to creme brulee. Here's a recipe for Mexican style flan.
Botanas (snacks or small appetizers)
Sikil P'ak (Mayan Pumpkin seed dip)
Toasted and then ground pumpkin seed mixed with roasted tomatoes, habanero peppers and other spices creating a delicious dip for tortilla chips or pita bread. This Sikil P'ak recipe is super easy.
Salbutes
These yummy snacks, similar to a tostada, are served at most cantinas in the Yucatan. To make them at home just fry small tortillas in hot oil until crispy them top with a variety of things like beans, shredded turkey, and pickled onion. To be authentic you would make your own tortillas but this salbutes recipe uses store bought pre-made corn tortillas.
Yucatan style condiments
No Mexican meal is complete without salsa and the Yucatan have their own version which uses roasted habanero peppers which give quite a kick. Another popular condiment in the Yucatan is pickled onion which is used to top pretty much anything. Here's some recipes for Yucatan condiments.
Traditional Yucatan drinks
Agua fresca
This is a cold refreshing drink that comes in dozens of flavors and sold on the streets everywhere you go. It's just water, a small amount of juice and sugar. Agua de Jamaica is very popular and is made from hibiscus flowers.
Michelada
Micheladas are enjoyed all over Mexico and are simple to make. It's a mix of beer, tomato juice and spices served over ice in a salt rimmed glass. Here's a Michelada recipe to try.
Mezcal
Mexico has always been known for tequila but recently the formerly poor man's tequila, mezcal has enjoyed a new life and is now very trendy to sip or make into delicious cocktails. It tastes similar to tequila but with a wonderful smoky flavor.
Decor & Atmosphere
View this post on Instagram
Like the rest of Mexico the Yucatan is colorful so even if you don't have access to traditional Yucatan decor it's easy to emulate the general ambience. However, for an authentic look try to avoid using sombreros and other cliche items. Think more tasteful and artistic.
If your experience is going to include food and/or drinks (a major componant of all Mexican celebrations) a wood topped table is a perfect start as is a simple white or solid colored tablecloth. Go to your cupboards and pull out any colorful plates, cups, bowls, glassware, napkins and vases and lay them out on the table. They don't have to match, in fact it can be even better if they dont. If you have any stoneware pieces they'd also be a nice addition.
Then gather up small plants, greenery, cacti, and flowers to add a tropical feel to the table. Although live and fresh is always nice the traditional Mexican brightly colored paper flowers can also be used. Colorful embroidery is also a very traditional accent in the Yucatan so if you have any definitely put it to use.
View this post on Instagram
If you want to continue the Yucatan theme throughout the room consider buying some colorful Papel Picado or really immerse yourself in the Yucatan Mexico experience and try making your own. Plus if it's the evening some fairy lights are never a bad idea.
View this post on Instagram
Another thing you can do to add to the theme is pick up some posters or prints of tropical beach scenes, Mayan pyramids, old maps, or people of the Yucatan in traditional dress. Even better, if you've been to the Yucatan yourself and have pieces you brought home or some favorite photos print them up and make an art wall or table of your memories. Check out Etsy for some awesome Yucatan-themed prints.
The overall thing to keep in mind is to go for a colorful, casual, warm and inviting feeling. Stay away from tacky and cliche but also don't overthink it or make it too formal. A true Mexican experience is all about fun, food, music and laughter.
View this post on Instagram
Activities/Entertainment
Movies
Watching a movie after your delicious Mexican meal is a fun and relaxing way to immerse yourself into your Mexico experience. For a delightful coming of age drama set in the natural land and seascape of the Yucatan "Alamar" is a good choice. It's a story of a young Italian boy with a Mexican father whom he goes to visit every year. During their time together the father teaches his son about his simple life living in peace and harmony with nature.
Alternately, if you'd like to get really deep and dark into your experience consider watching the movie Apocalypto Directed by Mel Gibson this is a fictional story based on an interpretation of what life may have been like towards the end of the Mayan Kingdom. It's definitely more of an action drama than a historical film and it's quite intense and often violent but also full of beautiful imagery.
---
Music & Dance of the Yucatan
Similar to the food and style of this region the traditional music of the Yucatan is also quite different from the rest of Mexico. Major influences include Spanish and Caribbean music and the result includes "son Yucateco", "trova Yucateca", and "musica Jarana."
Son Yucateco is said to have been a major influence for todays Cuban bolero music and bolero is widely performed in the Yucatan. The roots of bolero are from 18th century Spain as a slow tempo dance done to the music of guitars, castanets, tambourines and often accompanied by singing. The most familiar comparison is something similar to the rumba.
Trova is performed by trovadores which is a group of musicians, generally with guitars who travel around performing certain styles of music like bolero, bambuco, and jarana. Yucatan Living has a great post on these different styles including clips from songs dating back to the 1920's up to current day.
Jarana is a dance and a style music of the Yucatan but it's also a string instrument similar to a guitar. It's a form of "son jarocho" which inspired the famous Ritchie Valens song "La Bamba." You can catch a performance of the traditional dance every week in Merida's main square and other parks. It's rhythmic, cheerful and lively with a sexy Caribbean beat. It makes a perfect backdrop for a traditional Yucatan Mexico experience.
Check out Last.fm for a taste of Jarana and pick up a cd to complete the musical ambience.
Spotify also has a good selection of music from the Yucatan.
---
Hopefully, you've enjoyed this journey to the Yucatan and are inspired to create a festive and traditional Mexican experience at home that will hold you over until you can go and experience the real thing.
We'd really love to hear what you did and see photos of your fabulous event so please message us anytime!
Gracias y adios amigos!
---
Pin It For Later
Born in England, Sarah developed her wanderlust at a young age as she traveled around Europe with her parents. As a young adult she spent every penny she could on experiences as opposed to possessions. Eventually she found a way to earn a living doing what she loved: traveling, writing and capturing images of the wondrous world we live in. When not on the go Sarah enjoys time in her "sometimes home" of Vancouver.