Do you want to know where to eat in Playa del Carmen? This fun-loving town is more than just beaches and bars. It's also a food lovers paradise with an overwhelming selection of eateries. But how do you weed out the mediocre tourist traps from the best restaurants in Playa del Carmen?
Well, after spending months tasting our way around town we've come up with a list of our personal best places to eat in Playa del Carmen, Mexico. We cover breakfast, lunch and dinner options for every type of local and international food at every price point, both on 5th Ave and in more local neighborhoods.
Are you looking for a traditional Mexican breakfast? Maybe a taco lunch near the beach? Perhaps a special romantic seafood dinner? Whatever you desire, in the way of food, we've got it covered with our list of Playa del Carmen restaurants. We've even listed our favorite dishes if you need help deciding what to order.
Best Breakfast in Playa del Carmen
The Mexican people tend to eat breakfast a bit later than you may be used to, almost more of a brunch. Maybe this is why you will often see locals at taco stands around the time you're venturing out in search of bacon and eggs. When they do sit down to breakfast it's more likely to be scrambled eggs with refried beans and tortillas or chiliquiles.
Whatever your preference in the morning you won't have to worry about going hungry in Playa del Carmen. Local and international food can be found at any time of day.
Note: Chiliquiles are a traditional Mexican breakfast dish consisting of fried tortillas covered in red or green salsa, sour cream, cheese, onion and avocado. They are often served topped with shredded chicken and a side of refired beans and eggs.
La Ceiba de la 30 at 30th Avenue, between Constituyentes and Avenida 20
The restaurant is part of the DAC market, an upscale farmers market selling fresh produce, local, imported  and specialty products. Our favorite breakfast here is the Chiliquilas with both red and green sauce. They also serve fresh juices and American style breakfast.
El Nativo on 30th Ave, just north of Constituyentes
Our favorite place for fresh fruit smoothies any time of day but also a great choice for all types of breakfast. If you want to start the day with a healthy meal, aside from smoothies, El Nativo also serves fresh fruit plates and juices. Want something more substantial? Order up an American style bacon and eggs or omelette or the local favorite of Chiliquiles.
---
Best Seafood in Playa del Carmen
As you would expect of an ocean-side town the seafood is abundant and usually fresh and delicious. I say usually because as with any high tourist destination some places care more about the mighty dollar than serving up the best food.
But don't worry, we've found the following restaurants to be consistently good quality seafood at fair prices.
La Bamba Jarocha on 30th Avenue near Calle 34
This seafood restaurant is far from 5th Ave and is very popular with locals so you know it's going to be good. You'll recognize it by the bamboo beaded curtains along the front of the restaurant. They serve every kind of seafood dish you can imagine from ceviche to cocktails to fried fish.
In our opinion though you really can't go there without trying the Cazuela Camerones con Queso, a heavenly casserole overflowing with big shrimp and gooey cheese. Be sure to ask for a side of bread to mop up the delicious broth. This dish is honestly on our list for some of the best food in Playa del Carmen.
Las Hijas de la Tostada on 5th Ave and Calle 2 Nte
Las Hijas is a trendy, happening place popular with visitors and young locals. It also happens to be one of our favorite Playa del Carmen restaurants on 5th Avenue. Creating a modern, fusion twist on the traditional seafood tostada, Las Hijas is a great choice for a tasty, healthy lunch or dinner.
The menu is pretty much all seafood with hot and cold, raw and cooked options of tuna, shrimp, octopus, marlin and many other options for topping their crispy, tasty tostadas. They also have great fish and chips if you want something a bit more familiar.
Los Aguachiles on Calle 34 between Avenues 25 and 30
This casual and fun seafood restaurant has been a favorite with locals and tourists for quite a while. There are actually two locations but we prefer the one on Calle 34.
They offer a variety of seafood dishes but in our opinion their best menu items are the seafood tacos and their namesake, aguachiles. Plus they serve a selection of ice cold local craft beer which is a perfect complement to your meal.
El Pirata on Calle 40 between Avenues 5 and 10
El Pirata is busy, loud and a favorite of locals. The casual setting of plastic chairs and tables and bright blue paint may not draw you in but the fresh seafood should. It's been a staple in Playa for years for good reason.
The best things to order here are the whole fried fish and the shrimp ceviche. It's a great place for lunch but it will be busy so be prepared to get a number and wait for a table. They may slow down later in the day but keep in mind they're only open until 7 pm.
Chiltepin on Calle 34 and 20th Avenue
The off the beaten path location means it's also off the average tourist radar, which to us is a good thing! It's an outdoor venue with a small pool in the center giving it a quirky, fun feel.
Go here for some of the best fried shrimp tacos in town and pair it with a Michelada. This is a traditional drink of beer, lime juice, tomato juice, seasonings and spices served in a salt and chili rimmed glass.
Portions here are large and well priced compared to many other seafood places in town.
Blue Lobster at 5th Ave and Calle 12
The location on 5th Ave can make it feel like a tourist trap, and some may argue the Blue Lobster is exactly that. However, our personal experience here was great and we would definitely go back.
With funky Caribbean decor, friendly and efficient service and an open or glass front for people watching it's the kind of place you'll enjoy spending some time. Plus the food is great!
We were in the mood for lobster and selected fresh tails from a tray brought to our table. They range in size and are priced accordingly. Many are so big you can share. The lobster risotto and lobster linguine were also delicious.
NAU Mediterranean Seafood on 15th Ave between 8th and 10th
NAU is the only restaurant on our list that we haven't actually visited ourselves but we've included it because several people we know and trust recommended it. In fact, it's advisable to make a reservation at least the day before as it's quickly becoming one of the top restaurants in Playa del Carmen.
If you're looking for an upscale, modern, gourmet restaurant NAU will likely wow you. As the name suggests, their specialty is Mediterranean style seafood. All the fish is brought in fresh from Puerto Morelos and the dishes are beautifully presented. As we haven't eaten there we can't give you our favorite dish but we've heard great things about the grilled octopus!
---
Best Tacos in Playa del Carmen
There are literally hundreds of places to get tacos in Playa del Carmen and rarely have we had a bad one. We could actually write an entire article just on eating tacos…hhmmm maybe we will! For now, though, we'll just list a few of our favorites spots.
El Fogon at Constituyentes Ave between 25th Ave and 30th Ave 

El Fogon Playa del Carmen has been a consistent favorite for many years with good reason. The food is well priced, fresh and delicious and the staff are friendly and efficient. However, due to its fame you may have to line up and wait for a table.
We highly recommend the Al Pastor tacos and the chorizo Alhora Los Alambres but honestly anything you order is guaranteed delicious!
Don Sirloin: numerous locations around Playa
Another casual and popular eatery where grilled meat and tacos are the main draw. They have a similar menu and style to El Fogon but with the addition of spit with layered beef as well as the traditional al Pastor.
Note: Al Pastor is marinated slices of pork layered and cooked on a spit similar to a the Middle Eastern donair or shwarma.
El Rey de Taco: Usually outside Mega on 30th Avenue
This is a food truck not a sit down restaurant so there's no tables and you order to go right at the window. There always seems to be plenty of local customers in line which means the food is fresh and good.
Choose from beef, chicken or chorizo tacos but our favorite are the carne asada with cheese and grilled onion. Yum!
---
Best Burger in Playa del Carmen
Although we love burgers, for some reason we rarely eat them in Playa del Carmen. Probably because the Mexican food and seafood is so good and we can always get great burgers back in the Pacific Northwest.
3XL Comida Grande at Calle 8 Norte between Ave 25 & 30
When we do want a burger we head to 3XL. All they do is burgers here which may explain why they're the best in town (in our opinion anyway) First you choose your protein (beef, chicken, pork or veggie), then you choose your cooked additions (various cheeses, mushrooms, onions etc) then finally you go to the fresh toppings bar and load up on whatever other toppings and sauces you like.
---
Best Italian Restaurants in Playa del Carmen
Wherever we travel in the world we can always seem to find a good Italian restaurant. Playa del Carmen is no exception. As much as we love Mexican food sometimes we crave pizza or pasta and so we've tried quite a few Italian restaurants in Playa del Carmen. Here are a few of our favorites.
Don Chendo  30th Avenue between Calle 24 & 26
This cozy little spot on busy 30th Ave is run by ex New Yorker, Russel. He is well loved in the community and he's passionate about serving authentic Italian home cooking.
Don Chendo is casual but charming complete with red and white checkered tablecloths and friendly service. If you like Chicago style pizza we know you will not be disappointed.
Papa Charly on Calle 30 between Avenues 25 and 30
This open air restaurant is colorful and welcoming and make you feel like you've stumbled across a hidden gem with its location off the beaten tourist path.
Papa Charly is open for breakfast lunch and dinner but lunch time is when you get the great deals. Between 12:30 pm and 4:30 pm they have a combo deal where for just over 100 pesos you get a drink, a salad or pasta, a main and dessert. What a deal!
We went for dinner and had the cannelloni and the chicken parmesan and both were delicious.
Cheesters on 40th Avenue near Calle 4
A world away, yet still walkable, from 5th Ave is the locals and ex-pats favorite pasta joint. The garden setting is cozy and romantic yet everyone is treated like family.
The menu consists of salads and pastas of such large portions that they're meant to be shared, family style. They have a huge selection of pastas and sauces from classic Italian to specialty and even Mexican style.
It was just the two of us and as the portion sizes are so large we only ordered one pasta and it was really difficult to choose. In the end we went with Rigatoni Boscaiolo, a delicious and decandent sauce of bacon, ham, portobello mushrooms, onion, garlic and cream.
La Famiglia at 10th Avenue between Calle 10 and 12
Just like the name says this is a family run Italian restaurant with a great atmosphere and hearty, home-cooked comfort food. It's just a block from 5th Ave but it's far from the busy street in feel.
They serve all the traditional Italian fare, including maybe the best pizza in Playa del Carmen, and we've heard great things about their gnocchi and cheese sauce. We love wood fired oven pizzas and this one did not disappoint with the perfect amount of crispiness, tangy sauce and golden, gooey cheese.
---
Best Rotisserie Chicken
Rotisserie chicken is super in Mexico and you can find dozens of places selling this delectable dish around town. Most of them are nothing more than a small kitchen with a window to order from where you can see the chicken roasted golden on spits in the background. All the ones we have tried have been good but we've only found one that has a lovely sit down restaurant.
La Brocherie at Ave 15 between Calle 4th & 6th
This charming little restaurant is owned by Parisienne Fabian and his lovely Mexican wife and they serve the most delicious roast chicken with rice and tortillas. Also once a week they make a special beef bourguignon but you have to reserve ahead for this meal.
---
Best Steak in Playa del Carmen
500 Gramos in Plaza San Pedro, off 5th Ave near Calle 34 & 38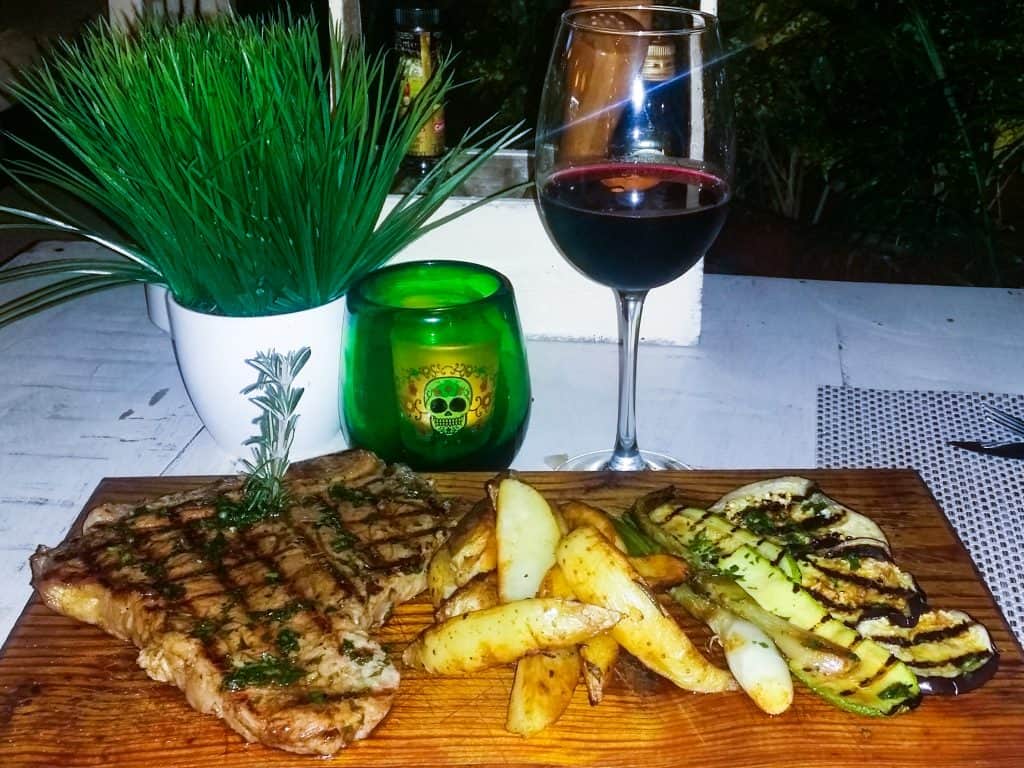 There are plenty of restaurants to get a decent steak in Playa but we really like 500 Gramos for their simple, unpretentious but charming setting and style. Plus of course their delicious steaks!
Josie and Maury are a husband and wife team that take immense pride in serving the best steaks in Playa del Carmen paired with perfectly roasted vegetables and rosemary potatoes. Josie is a chef from Italy so she knows her food and will often leave the kitchen to personally check that customers steaks are cooked to their liking.
---
Best Food Experience
The Traveler's Table: Secret Location
The Traveler's Table is so much more than a meal, although the food is amazing, it's a full sensory experience! You are picked up at your hotel and driven to a secret location at a private beach club where you are served sparkling wine while you watch the sun set.
What follows is an educational but fun-filled night of socializing, drinking and eating some of the best Yucatan food you will find anywhere near Playa del Carmen.
We will be writing a full review on this magical dining experience soon but for now we'll just say it's something not to be missed when visiting Playa del Carmen.
Note: This dining experience must be booked in advance with Cancun Adventures
---
Best Restaurant With a View in Playa del Carmen
Catch on 5th Ave on the Thompson Hotel Rooftop
Not only is Catch Restaurant, Playa del Carmen a great choice for a gourmet meal but it's also a swanky, trendy place to be seen with the best view in town. If you don't want to spring for a full dinner it's also a perfect place for sunset cocktails!
---
Most Unique Restaurant in Playa del Carmen
Alux on Avenue Benito Juarez
Alux is a fine-dining restaurant and lounge set in a 10,000 year old cavern. Does it get more unique than that? The space is full of cozy nook and crannies, caves and caverns, all strategically lit to display the beautiful natural rock formations, stalagmites and stalactites.
There is an elegant restaurant with a pricey, impressive looking menu if you're up for a special meal. However, we chose to go to the bar for cocktails which were as pretty as they were delicious. Either way, take time to look around the impressive space and search fro the cenote and waterfall.
Note: It's advisable to book in advance.
---
Best Meal You Cook Yourself
If you like to cook as much as you like to eat then Co Co's Cooking School is a great way to do both. They offer a variety of classes, from Mexican to Asian to Mediterranean, that will teach you how to create beautiful and delicious dishes.
The class we took involved a full evening of fun while learning about Mexican cuisine, peppers and Mezcal and cooking then eating a delicious 3 course meal. We've found that taking a cooking class is a great way to learn about local food and culture while having a good time.
---
Looking for accommodations in Playa del Carmen?
For hotels of hostels we always got to Hotels Combined first. This search engine will show you all of the booking sites and their rates so you can get the absolute best price.
If you are wanting  more of an apartment or a room in someone's home then Airbnb is the place to go.
Disclaimer: If you purchase any Xcaret tickets online with our links above we will receive a small commission and will be very grateful to you and you will save 15%. Win Win!
Pin It For Later
Looking for activities and things to do in Playa del Carmen?
Playa del Carmen makes a great home base for exploring the many wonders of the Yucatan and Riviera Maya. Click through to this article for the best day trips and excursions from Playa del Carmen.
If you're yearning for a quiet piece of beachy paradise away from the crowds of Mamitas Beach and 5th Avenue, Xpu-Ha is the place to go. Click through to read all about what to do at Xpu-Ha Beach and how to get there.
There are several amazing parks under the Xcaret umbrella full of adventure, culture and nature. But which one is the best? Well, that depends what interests you. We have compared two of the most popular parks, Xcaret and Xe-Ha, to help you decide.
Cancun is one of the top beach destinations in Mexico because of the abundance of beautiful beaches, fun activities, wild nightlife and variety of food. Click through to this article with tips of what to do in Cancun so you don't miss out on any of it.
Save
Save
Save
Save
Save
Save
Save
Save
Save
Save
Born in England, Sarah developed her wanderlust at a young age as she traveled around Europe with her parents. As a young adult she spent every penny she could on experiences as opposed to possessions. Eventually she found a way to earn a living doing what she loved: traveling, writing and capturing images of the wondrous world we live in. When not on the go Sarah enjoys time in her "sometimes home" of Vancouver.