The blossoming town of Palenque in the state of Chiapas, Mexico is a perfect home base to explore the area. The Palenque ruins, jungle treks and visiting stunning Palenque waterfalls, including the Agua Azul waterfall, are just a few of the things to do in Palenque.
On our recent visit to Chiapas we did all of this and more. Leaving us wondering why it had taken us so long to visit this spectacular state full of so much natural beauty.
Things to do in Palenque, Mexico
Town of Palenque
We have seen some guide books refer to the town of Palenque as "a sweaty, humdrum place without much appeal." While we agree that it may not be a top destination itself, it's clear this little town is working hard to create a more appealing home base for the many wonderful sights in the area.
In fact, Palenque has earned the title of a Pueblo Magico by the Mexico's Secretariat of Tourism.
Avenida Juarez, in the center of town, is buzzing with local life as well as many restaurants and shops for the ever growing influx of tourists. It's a great place to find a decent, cheap meal or sit in the square with an ice cream and listen to a marimba band.
La Cañada is a pretty, leafy, street west of downtown created for tourists. As with Avenida Juarez there are hotels, restaurants and shops. However, these have obviously been designed for visitors as opposed to locals. This is not a good or bad thing, it's just a different vibe than the downtown area.
The street is very pleasant for a stroll or to take a break in one of the open air, shaded restaurants and enjoy a tasty meal or refreshing drink.
Note: See below for restaurant suggestions.
---
Palenque Ruins
The Palenque Mayan ruins are a UNESCO World Heritage Site and are the biggest draw to the area for tourists. Although it's growing in popularity it's still nowhere near as touristy as places like Chichen Itza in the Yucatan. So get there soon!
We have visited many Mayan ruins in Mexico and Guatemala as well as temples and ruins in Southeast Asia and can say that Palenque is now one of our top three. Along with Tikal in Guatemala and Angkor Wat in Cambodia.
This mysterious archaeological site is surrounded by tropical jungle. It's said that 90% of the ancient Mayan city is still buried in the thick vegetation that reclaimed it centuries ago. However, the buildings that have been excavated are nothing short of spectacular.
The ancient Mayan city was thought to have been named Lakamha (big water) in its heyday, and was one of the most important cities of the Classic Maya (600-900 A.D) It has also become one of the most important cities for modern day archaeologists because of the abundance of fine architecture, epigraphy (inscriptions) and recorded history found on the stone structures.
The pyramid known as the Temple of Inscriptions is one of the most impressive and important structures. It houses one of the longest glyphic texts ever found and records about 180 years of the city's history.
The temple is also where, in 1952, Roberto Ruiz discovered the massive sarcophagus of King Pakal. Elaborately carved on the lid of the sarcophagus is what would later become known as the "Palenque Astronaut" in the controversial book "Chariots of the Gods" by Eric Von Daniken. Read more about this bizarre theory here.
What's really interesting about this find is that it shows that the Mayans buried their rulers in a similar fashion to the Egyptians, even though it's believed that neither civilization knew about the other.
There are many other fascinating structures around the site including the Temple of the Cross Group. This group of buildings consists of three beautiful temples sitting on top of stepped pyramids. Inside each of these temples you can see elaborately carved reliefs depicting figures performing rituals.
In order to get the most out of your visit to the Palenque Ruins we highly recommend having a guide like the one we had through Karma Trails. You will learn about the ruins and history of the Maya which makes the whole experience much more rewarding and enjoyable.
Aside from learning about the city through the incredible architecture that has been unearthed, one of the most exciting things is that you can climb the Palenque pyramids. You'll arrive at the top hot and sweaty but it's worth it for an awesome view of the site and the engulfing jungle. Again, we say visit soon before this is no longer possible, like in Chichen Itza.
Good to know:
The Palenque ruins site is open seven days a week from 8 am to 5 pm. The best times to go to avoid the crowds is early morning and mid week.
Entrance to the National Park is 32 pesos for the whole day. Entrance to the ruins is 70 pesos. *Prices as of 2019
The ruins are a 15 minute drive from the town of Palenque. You can catch a taxi or one of the many colectivos with "Ruinas" written on the front window. If you're nervous about flagging one down make your way to the ADO bus station and the colectivos will stop in front.
If you have the time and want a little taste of the jungle get dropped off at the entrance of Motiepá. From here you can walk along a jungle path for about 10 minutes before entering the ruins of Palenque.
Allow at least two hours to visit the ruins and add more time if you want to explore more of the National Park.
When you're ready to leave the ruins look for the exit near the bathrooms. This will take you along a scenic path, past a pretty waterfall, and some more ruins that are only partially excavated.
Just outside of the ruins is a small but interesting museum displaying original and replicas of artifacts found at the Palenque site. Admission is included.
---
Jungle Trek
The National Park in Palenque is mostly jungle and if you love nature, like we do, then a jungle trek is a must. There are plenty of public paths to explore and you'll come across waterfalls, small ruins and larger ruins disguised as hills covered in lush jungle foliage. Also, be on the lookout for howler monkeys, toucans and other wildlife.
If you want to immerse yourself in nature even more fully there are ways to go deeper into the jungle. However, this should not be done alone, straying off the path should only be done with a knowledgeable guide.
We actually experienced two jungle walks and each was amazing. One was with our Palenque ruins guide arranged by Karma Trails. He took us on an hour-long walk prior to entering the ruins site and showed us some of the more hidden 90% of ancient Maya city.
We climbed a hill to a partially buried ruin of a palace that our guide said was the resting place of the parents of a king. He also guided us to an old aqueduct that he and Nathan actually clambered through and we spotted a family of howler monkeys and a toucan!
On another day we had an adventure worthy of a scene from Indiana Jones. Okay, it wasn't a death-defying, adrenaline-pumping scene but it was still amazing. Our guide was named Gabriel and he's been exploring this jungle since he was a small child. You can get in touch with Gabriel on his Facebook page.
Our adventure started at the entrance to one of the public pathways where he spoke a little about the history of this jungle and the Maya, of which he is a descendant. We were asked to take a moment to speak to the jungle and ask permission to enter and promise no harm.
Before long we were led off the path and asked to remove our shoes as the ground was soft underfoot and we would do less damage with bare feet. We were a little uncertain at first but Gabriel showed us how to "walk like a jaguar" so that if there were any sharp branches or thorns on the trail we would feel them before actually stepping down.
Gabriel led the way and ensured the path was clear of any potential threats and we felt complete trust in his ability to do so.
The next four hours we swam in waterfalls, climbed through caves, visited buried Mayan structures, had a fish pedicure and ate fresh avocados and mangoes. It was an experience nothing short of magical and one that we would definitely suggest when asked what to do in Palenque.
---
Agua Azul Waterfalls
Chasing Palenque waterfalls is one of the top things to do in Chiapas, Mexico and the Agua Azul waterfall is arguably the most famous. Of course, this also means it can be busy with other tourists. But don't let that stop you from going, it's too beautiful to miss.
Agua Azul translates to "Blue Water" and it's obvious why it was so named when you see the color. This blue waterfall is actually a series of falls which cascade over soft-rolling rocks shaped by the high mineral content which deposits on them and also creates the bright blue hue.
In between the falls are inviting pools which are perfect for swimming so definitely bring a swimsuit! But, be sure to pay attention to the roped off areas, which have dangerous undercurrents and slippery rocks, regardless of the teen-aged locals showing off their skills.
*Remember the locals have been doing this their whole lives and appear as sure-footed as mountain goats and know exactly where those currents are…or so it would seem.
Be sure to take a walk up the boardwalk, stopping at the viewpoints, and then further up the trail to see where the small falls combine to create the larger cascades you see further down.
There are also many small, simple restaurants and stands selling drinks and food as well as souvenirs. Some would say there are too many, but such is the nature of tourism.
We spent almost three hours exploring Agua Azul and took dozens of photos of the stunning natural wonder which reminded us a lot of Semuc Champey in Guatemala.
Here's a little taste of what you can expect to see at this beautiful natural site!
Video of Agua Azul
Agua Azul Waterfalls is about 40 miles (65 kms) from Palenque and about 80 miles (129 kms) from San Cristobal de las Casas. However, the roads are windy and full of pot holes and many, many topes (speed bumps) so it takes at least 90 minutes to drive from Palenque.
We went as part of a day tour arranged by Karma Trails which was very convenient as it also included Misol Ha and the Palenque, Chiapas Mayan ruins. If your time is short in this area of Chiapas a tour is the way to go, you can book ahead or stop in at one of the hotels or travel agencies in town for booking information.
You can drive there yourself if you have a car but take a look at the tips below for driving in Chiapas. You can also take a taxi but make sure to settle on a firm price beforehand.
The least expensive option is to go by colectivo. It's easy to get one from Palenque heading to Ocosingo and ask to be let off at Agua Azul. The drop off point is quite a hike to the park entrance but there are usually taxis waiting there if you don't want to walk.
To return you will need to head back to the drop off point and wait on the other side of the road to flag down a colectivo going to Palenque. Don't wait too late in the day to do this as some colectivos will be full and you'll have to wait for one with room.
The best time to go is in the dry season which in November to May when the water will be clear and bright blue. In the rainy season it becomes quite murky.
Entrance fee is 40 pesos ($2 USD)
Opening hours are roughly 8 am to 8 pm
Camping and overnight parking is allowed and is supposedly covered in the entrance fee. However, we spoke to a couple of people setting up a tent and they had been asked to pay a small fee, which may or may not be a regulated thing. Also, keep in mind that the bathrooms are closed at night.
---
Misol Ha Waterfall
Another stop high on the list of Chiapas points of interest is the Misol Ha Waterfall. This single cascade fall is 35 meters (115 ft) high and creates a large pool below which is perfect for a refreshing dip. The water is clear and a beautiful blue-green color and with the surrounding jungle vegetation it makes for quite the stunning sight.
Misol Ha (meaning Sweeping Water) is a very popular spot on the tourist route though so don't expect a peaceful paradise. But, if you wander off a little you can find a quiet spot to sit while watching and listening to the mesmerizing falling water.
Fun fact: If you've seen the movie Predator you'll probably recognize this waterfall from a scene in the film.
If you follow the path towards the falls itself you'll find you will actually walk behind the cascade which is a pretty cool experience. Continue on and you will come to the entrance of a small cave.
Entrance to the cave is an additional 10 pesos but this includes a flashlight to see your way as it's almost pitch black inside. You'll be walking through foot-deep water as you navigate the cave so be sure to wear water shoes or go barefoot.
Towards the end of the cave is a small waterfall and pool that you can dip in if the thought of swimming in dark water doesn't bother you.
The cave would have been a place for Mayan rituals in the past as caves were considered to be the gateway to the underworld. Still today you may see some offerings inside to the Rain God, Chac.
Good to know:
Misol Ha is only 45 miles (20 km) from Palenque but it will take about 40 minutes to drive there.
This waterfall is often combined with Agua Azul on tours from Palenque or San Cristobal.
If you are going alone the routine is similar to Agua Azul, Catch a colectivo in Palenque heading to Ocosingo and get off at Misol Ha. You will then have to walk about 1.5 km downhill to the entrance. Remember, you will have to walk back uphill!
Total entrance fee is 30 pesos but it is split into two payments. The first payment is 10 pesos for entrance to the Salto de Agua eco park and the second is 20 pesos for the falls themselves. Plus an additional 10 pesos if you want to enter the cave.
Tip: Both Misol Ha and Agua Azul waterfalls are on the way to San Cristobal de las Casas so if you're planning to go there it's worth considering visiting them along the way.
---
Cascadas Roberto Barrios
Unfortunately, we didn't have time to go to Cascadas Roberto Barrios but we have fallen in love with the natural beauty of Chiapas so we will definitely be returning.
The Roberto Barrios waterfalls have yet to become a top tourist spot so now is the time to go! From what we have been told and seen they are just as beautiful as the more famous Chiapas waterfalls. Perhaps even more so because they are still off the beaten tourist path.
Similar to Agua Azul there is a series of falls, six in fact, each with its own special attraction. Some are perfect for the adventurous who long to jump from a waterfall and others flow into a calm, clear pool perfect for a serene float.
There are also caves to explore and natural water-slides to play on and the mineral deposits make the surface of the rocks textured so that the brave can even climb up the falls from one to the next.
Good to know:
Tour companies are starting to offer tours here for about 160 pesos per person but personally we will make our way on our own when we return so that we have a better chance of being there with less people.
It takes about 40 minutes to reach the falls from Palenque.
You can take a colectivo part of the way but you will then need to hitch a ride about 13 km in from the road.
If you don't have a car the best way to go is to hire a taxi and arrange for them to stay with you until you're ready to return. This will likely require some decent Spanish to ensure you're on the same page as far as cost and duration. We have talked to several people going this way and the price they paid differed a fair bit but the average was around 160 pesos per person plus the entrance fee, assuming at least three people in the car.
Entrance to Cascadas Roberto Barrios is 20 pesos.
Once you're on site you will be approached by guides wanting to show you the falls. Many of these "guides" will be young kids. You can, of course, explore on your own but we would suggest taking a guide to get the full experience.
Take little of value with you as you will need to leave your belongings in the car (if you have one), in the taxi or just on the ground as you head off to explore the six falls.
---
How to get to Palenque
The Palenque Mayan ruins are increasing in popularity with tourists, so getting to the town of Palenque has become much easier. Depending on where you're coming from flying is the preferred option but driving or taking the bus are also very doable.
Flying to Palenque
Palenque now has its own airport and Interjet flys in direct from Mexico City, although not every day of the week. You can also find connecting flights through Mexico City from Cancun, Merida, and Oaxaca although these are not the most convenient (often taking up to 20 hour of travel time) or cost effective.
Flying into Villahermosa is often a better way to go if you're coming from anywhere other than Mexico City. Interjet, Viva Aerobus and AeroMexico all offer flights from many destinations around Mexico and although they may not be direct the total travel time (usually about 6 hours total) is many hours less than flying into Palenque. Flights are generally much cheaper as well.
If you fly into Villahermosa you will then need ground transportation to Palenque. The cheapest way to go is by bus. ADO runs regular buses on this route which are comfortable, air conditioned and well-priced. Prices from the airport run about 350 pesos. Taxi is also possible which will take a bit less time but will cost at least 1300 pesos.
The easiest way to find flights is on Skyscanner where you can see availability and pricing for all the major and minor airlines.


Bus to Palenque
ADO or their sister company OCC operate from most major centers into Palenque. Travel time from Cancun, Oaxaca or Mexico City ranges from 12-15 hours. That is a long time on the bus but Mexico does have some pretty comfortable buses and they do make stops for breaks and food. Cost for a bus from these major cities will run about anywhere from 600-1300 pesos.
Note: The ADO website is great for looking up schedules and pricing but it doesn't seem to accept anything but Mexican credit cards. You will need to but tickets at the station or travel agency.
Driving to Palenque
If you have a car driving yourself is another option which gives you the freedom to go at your own pace and make stops as you like. However, driving in Mexico comes with some precautions.
First of all the road conditions can vary greatly within a very short distance. You can go from smooth well-maintained highways to rough, pot-hole strewn roads that can cause big damage to your car.
Then there's the topes! Topes are essentially speed bumps that are mostly found in the many small towns all over Mexico. If they are legit topes there will be signs ahead of them as warning so definitely watch out for those. But, many of them are "homemade" meaning that they can be pretty rough and not sign-posted at all.
These topes are created by the locals and are often a way for them to get you to slow down as you pass their stand selling produce or other goods.
Finally, there is the safety factor, especially in the poorer states of Oaxaca and Chiapas. There are two main issues to be aware of. First are the poor locals who wait on the roads with a rope or chain which they pull up blocking the road and forcing cars to stop.
Their intention is generally to get you to buy something or even just give them money. It's highly unlikely that you need to be concerned about violence but it's best to just give them a few pesos and be on your way. Remember that these people have very little so even a couple of dollars is a big thing for them.
The second concern is the ongoing separatist movement by a group known as the Zapatistas who are fiercely against the Mexican government and law. In the past some of the roads around and between San Cristobal de las Casas and Palenque have had issues with separatist road blocks.
This happens rarely these days but if it does they may demand some money or prevent people from getting through just to show their force to the government. Once again, violence is very unlikely but it could be very frustrating.
We are in no way trying to talk you out of driving in Chiapas, 99% of the time everything is fine. Just avoid driving at night because of the potholes and topes and be prepared to be stopped or turned around and have some small bills ready to pay the "tolls" and move on.
As for our own personal experience, we were driven in multiple shared transit vans all over the Palenque area and on to San Cristobal and didn't see or hear of any incidents along the way.
Tours to Palenque
If all this sounds like too much work then maybe a tour is the right thing for you. There are companies that will arrange everything for you including transportation to and within Chiapas, tours to the Palenque ruins and waterfalls and many other amazing sites in this beautiful state.
We had the pleasure of being the guest of Karma Trails while we were in Palenque and although we only had one day with them we were very impressed. They arranged pick up at our hotel, a tour of the Palenque ruins, transportation to Miso Ha Falls and Agua Azul waterfalls and transportation at the end of the day from Palenque to San Cristobal de las Casas.
Also, as we had to check out of our hotel in Palenque that morning they even securely handled all of our luggage so we were free to enjoy the tour.
Karma Trails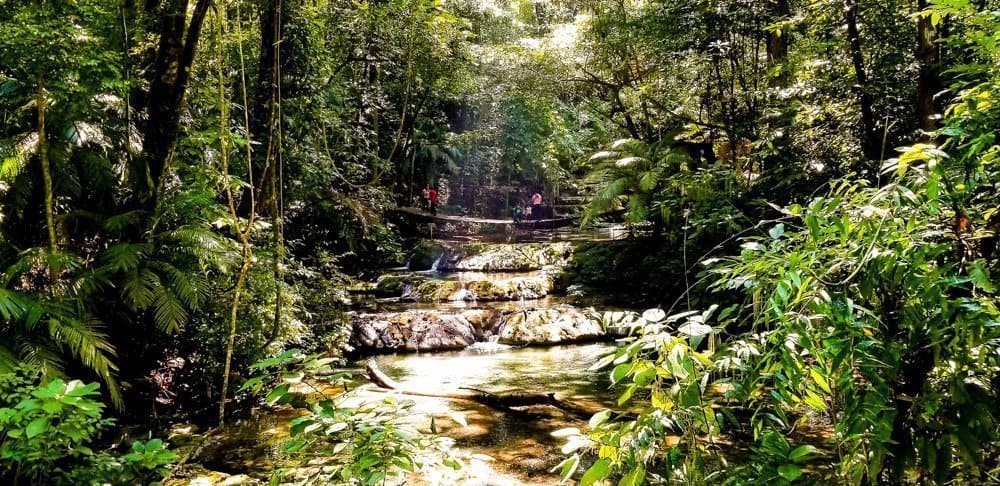 Karma Trails is a local tour operator that celebrated their 10 year anniversary in 2018. They specialize in tailor made trips and are very focused on personalized customer care which is something that is top priority for us when we chose to work with a company.
The professionals at Karma Trails can arrange as little or as much as you want, including transportation, tours and accommodation. They cover all of Mexico with their main destinations being the Yucatan, Chiapas, Mexico City, Puebla, Oaxaca, Cancun, Riviera Maya, Barrancas del Cobre and Baja California.
---
We also did a jungle tour on Mexico's Pacific coast near the cute town of Sayulita.
Where to stay in Palenque
There are three quite different areas to stay in Palenque.
First is in town where you will found some inexpensive, basic accommodations as well as a few mid-priced hotels with more amenities and comfort.
Yaxkin Hostel is a top choice for budget accommodation in town so you may need to book in advance. They have private rooms, bungalows and dorm beds.
Hotel Cañada Internacional Is where we stayed this recent visit and we found it to be a good choice. It's a mid-priced hotel in a great location in the La Cañada tourist zone so there's lots of restaurants close by and it's a 5 minute walk to the ADO station. There's also a nice pool!
Hotel Chablis Palenque is a bit higher in priced, but still quite reasonable, the Chablis Palenque is in the heart of La Cañada. They have full amenities such as a restaurant, pool, hot tub, air conditioning in the rooms and king beds.
Second is a more rustic option of staying in the tiny village of El Panchan. Not only does this feel like a more authentic experience but it's also right outside the entrance to the National Park and Palenque ruins which means you can walk to the ruins early in the morning before tours start to arrive.
Margarita and Ed's Cabanas is possibly the most popular choice for those looking for the jungle experience. Rooms are basic but comfortable and clean and the cabanas are literally immersed in the Palenque jungle. Prices are very reasonable and they have a fun restaurant called Don Muchos serving up delicious pasta and wood fired oven pizza. The only downside is it's difficult to connect to make reservations so you will likely need to just show up and hope there's availability.
Jungle Palace is a very affordable, basic accommodation with cute little cabanas in the jungle. They don't take online reservations and it's best not to leave anything of value in your room as the windows are just mosquito netting, not glass.
Thirdly, and maybe the best choice, are accommodations on the road from Palenque town to the ruins which offer a nice blend of the first two options.
Cabanas Kin Balam are a great budget option with private, bright, cute cabanas as well as dorms. They are located just outside of El Panchan which means you can walk to the restaurants there plus they have a pool!
Casa Lakyum is in a great location within walking distance to El Panchan. They have lovely cabins as well as rooms with balconies and hammocks with a stunning view of the jungle. There's also a nice pool and activities for the kids.
Hotel Quinta Chanabnal is the top choice for luxury in the jungle. It was built in the style of a Mayan palace and the suites are beautifully decorated with rich woods and fabrics, some even have four poster beds. The setting is gorgeous with pools and waterfalls surrounded by tropical flowers and plants.
Airbnb is another option for accommodations in Palenque. Pick from entire homes or private rooms in someone's home either in town or close to the ruins. If you haven't signed up with Airbnb yet you can get up to $40 in credit on your first booking. Just use this link for your discount.
---
Where to eat in Palenque
Avenue Juarez in the centro part of Palenque is the place to go if you want to eat traditional Mexican food with the locals at really budget friendly prices. Here you can fill up on tacos, gorditas and fire roasted chicken for just a few dollars.
For cheap eats around Avenue Juarez try Tropi Tacos, Chivos Tacos or Mr Taco. Good Mexican food at great prices! If roasted chicken sounds good to you there are also a few of those around such as
The area of La Cañada caters more to the tourists so the restaurants are going to be more upscale with a mix of more international menu items at higher prices.
El Huachinango Feliz is the go to place for delicious seafood. Try the shrimp cocktail, which is huge, or the delicious Cazula Camerones con Queso.
Maya Cañada is a favorite for traditional dishes in a lovely setting with live music. The palapa roof and open-air layout make it a great spot to spend the evening and watch people stroll along La Cañada.
Cafe Jade is another popular spot with a good ambiance and a varied menu. It's open for breakfast, lunch and dinner.
Closer to the ruins the choice is either very basic or it's a hotel restaurant. Strangely two of the most popular restaurants in this area are Italian.
Monte Verde is the choice for a lovely, peaceful, jungle setting with delicious Mediterranean food. Don Mucho's is a lot more lively and caters a bit more to the party crowd but is known for great wood fired-oven pizza.
For a special dinner head to Restaurant Bajlum with an interesting, upmarket menu including rabbit and duck. The food is a fusion of Mexican and Latin and much of the produce used is locally grown.
---
Pin It For Later
Disclaimer: Karma Trails hosted us for a one-day tour which covered a guided tour of the Palenque ruins, transportation to Agua Azul and Misol Ha and transportation from Palenque to San Cristobal de las Casas. We paid for all other expenses including accommodations, food, the four-hour jungle tour and all other transportation. As always, all opinions and suggestions are 100% our own and based on our personal experience and research.
Born in England, Sarah developed her wanderlust at a young age as she traveled around Europe with her parents. As a young adult she spent every penny she could on experiences as opposed to possessions. Eventually she found a way to earn a living doing what she loved: traveling, writing and capturing images of the wondrous world we live in. When not on the go Sarah enjoys time in her "sometimes home" of Vancouver.