The Surprising Island of Flores
Like most people, our plan was to use Flores as a base for exploring the ancient Guatemala Mayan ruins of Tikal. We hadn't researched much about the town itself,  the only thing that had stuck with us from our quick scan was that we should be prepared for the Flores coyotes (I'll explain later). We were therefore surprised to find that Flores, Guatemala is definitely more than just a place to dump your bags and catch a nights sleep.
The capital city of the Petén region of Guatemala is actually an island attached to the mainland by a causeway. From an aerial view it reminded me a bit of one of my hometown favorites: Stanley Park, Vancouver. Except that the island is all buildings and the surrounding mainland is green…it's the reverse in Vancouver.
To our delight Flores, Guatemala turned out to be photogenic and hospitable with its pretty, narrow and safe cobblestone streets and pastel colored, red roofed Colonial buildings. It even has a Spanish plaza, a historic church and plenty of cute little restaurants. Also, being an island it's surrounded by water and although the town itself has very little greenery there is a 360' view of the lush Guatemalan jungle on the mainland. All the ingredients for a very pleasant stay when visiting the Mayan ruins of Guatemala.
At Home in Los Amigos Hostel
Knowing that it was peak season we booked ahead at the popular Los Amigos Hostel in the center of town. We had been a little hesitant at booking because it can be known as a bit of a party hostel when the right (or wrong depending on your view) crowd fills it. As we had plans for some early morning sightseeing we wanted to sleep well. Thankfully we found Los Amigos to be really charming and a perfect home base.
The common area of the hostel is really lovely with a peaceful courtyard filled with hammocks and greenery and a full restaurant and bar with some of the best valued food and drinks on the island. There is also Los Amigos 2 just down the street and this could offer a quieter option if the main hostel is in a party mode.
They also seem to have the best travel agency in town where they offer fair priced tours and transportation plus you can rent kayaks at the bar for dirt cheap. If you have time be sure to either take one of the many lanchas or rent a kayak and tour around the island stopping at El Mirador for a wonderful sunset view of Flores.
The Guatemalan Mayan Ruins of Tikal
The peace and beauty of Flores was an unexpected bonus. Our main event was a visit to the UNESCO site of the Guatemalan Mayan ruins of Tikal.
The Tikal Guatemala Mayan ruins National Park is one of the largest archeological sites of the pre-Columbian Maya civilization. It contains massive limestone temples towering above the jungle, some rising to over 230ft in height and dating back as far as the 4th century BC. The site itself is over 23 sq mi so you can easily spend a full day exploring the ruins and walking through the jungle trails trying to spot howler and spider monkeys.
Definitely wear comfortable shoes, sunscreen and bug spray and bring lots of water and a packed lunch. There is a restaurant at the entrance but not much inside the site itself in the way of refreshments.
Fun Fact: Tikal was used in the filming of Star Wars: Episode IV A New Hope
How To Visit Tikal National Park
When visiting the Guatemala Mayan ruins site of Tikal you have the option of taking a guided tour or going DIY.
A guided tour will cost about Q110 ($14USD at time of writing) plus the entrance fee of Q150 during regular hours. Sunrise and sunset tours and admission are also offered but as this is outside of normal park hours there is an additional charge.
Although seeing the sunrise above the temples can be a spectacular sight it can sometimes be a bit disappointing. As with most natural sites it is dependent on weather and at Tikal there is always a chance that the sun is blocked by misty clouds. This was the case for us, however even without a spectacular sunrise the experience of hearing and watching the jungle come alive is still worth the early hour.
Tip: If you want to go in the early morning when it's cooler but don't want to pay for a guided sunrise tour you can take a 5am shuttle for about $8USD which will get you to the site about 6am. It's cutting it a bit close for sunrise but if you make a beeline for Mundo Perdido instead of the more popular sunrise viewing temples you can climb to the top in time for the jungle to come alive. We did this and we had the temple all to ourselves to enjoy the sounds of birds and howler monkeys starting their day.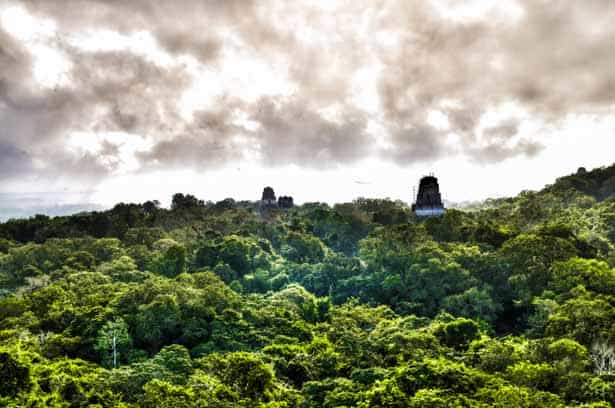 Where to Stay
There are plenty of accommodation options right on the island of Flores or over on the mainland in the town of Santa Elena. Hotels Combined is usually our first stop as they allow you to shop around all of the other booking sites. Booking.com is another good choice for booking accommodations in Central America.
We really enjoyed Flores for it's charm and peacefulness but if you want to be closer to transportation and larger amenities then Santa Elena may be your preference.
How to Get to Flores
By Air: Mundo Maya International Airport is just 2km from Flores and receives flights from Guatemala City, Belize City and Cancun. Check Skyscanner for the best deals.
By Bus: Travel time is 8-10 hours and there are several options of companies and times leaving from Belize City and Guatemala City for about $30USD.  We booked a first class overnight bus with Linea Dorado and were really happy with our choice. The bus was safe and comfortable and even included a snack. Just be prepared for a very early morning arrival which is why it's a good idea to have a room booked so you can at least rest in the lobby until things open.
Note: As mentioned previously you need to be prepared for the Flores Coyotes. This is what they call the hard sell pushers who will pounce on you when you arrive in Flores and will try to convince you to buy tours, transportation or accommodation from them. Be warned that at best they are generally overpriced and at worst have even been known to sell fake tickets. Buy only from a legitimate agent or hotel/hostel staff and always shop around for the best price.
If you enjoyed this post why not Pin it for later!
Disclaimer: This post was originally written in 2014 and was updated and republished in April 2016 to reflect price changes and update links.
Born in England, Sarah developed her wanderlust at a young age as she traveled around Europe with her parents. As a young adult she spent every penny she could on experiences as opposed to possessions. Eventually she found a way to earn a living doing what she loved: traveling, writing and capturing images of the wondrous world we live in. When not on the go Sarah enjoys time in her "sometimes home" of Vancouver.