Updated July, 2019
If you like nature, adventure and adrenaline-pumping experiences then you will love taking a tour to Semuc Champey caves and pools in Guatemala!
Incredibly, we did not originally have Semuc Champey on our Guatemala trip itinerary. Thanks to a suggestion from a friend we added it in as he said it wasn't to be missed…he was so right! It quickly became one of our absolute favorite travel experiences and definitely our first choice for an adventure in Guatemala.
Semuc Champey, Guatemala is a series of stepped, turquoise pools sitting atop of a natural limestone bridge carved out by the river below. There is also a challenging hike that leads to a spectacular view of the pools and for the adrenaline junkies a spine-tingling swim-trek through the KAN'BA Caves.
Sitting in the middle of the country, about a two-hour drive from Coban, it is not the easiest destination to get to, however, it is well worth the effort. It's definitely one of the most beautiful spots in Guatemala.
---
How to get to Semuc Champey caves & pools
Semuc Champey is a remote spot in the central Guatemalan mountains It lies 11 km south of the small village of Lanquin which makes a good base for trips to the caves and pools.
To get to Lanquin you can take an 8 to 10-hour shuttle from Antigua or a slightly shorter trip from Flores. We took a shuttle from Antigua with Atitlan Tours. There are no airports close by so shuttle van or chicken bus are the only choices short of hiring a private vehicle. The shuttle vans are better than the bus but still be prepared for a somewhat uncomfortable journey as the vans are usually packed, old, and not air-conditioned.
From Lanquin there are a couple of options for visiting Semuc Champey National Park. You can arrange for transportation only and pay individually for the pools, river tubing, and caves, or you can go with a tour from Lanquin. We normally prefer to explore on our own, but in this case, we decided that a tour was the way to go, especially since you can't enter the caves without a guide anyway.
You can arrange the tour or simply transportation at your hostel, which most people do, but you can often save a little money by going to one of the travel agencies in Lanquin. Tours start at about $40 USD and the do-it-yourself option will run about $30 USD. There are also companies that you can book with online that include all the transportation to and from Lanquin but the price jumps substantially.
We went with a tour booked by through our hostel and were picked up by an open bed truck. After the bone-rattling, butt bruising (if you're lucky enough to be seated), hour-long ride through the jungle we arrived at the park and happily jumped off the torturous transport.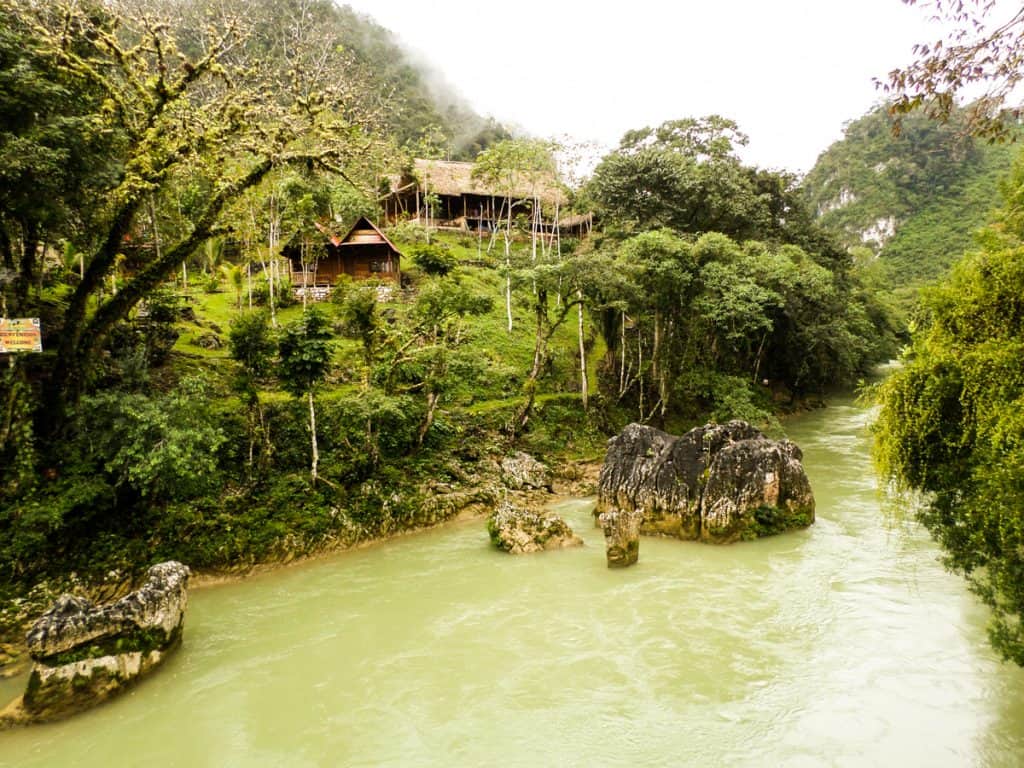 ---
The KAN'BA Caves
The first part of our Semuc Champey adventure was exploring the Kanba Caves. On arrival, we were instructed to strip down to nothing but our swimsuit and were given a locker to hold the rest of our items.
Note: One very important bit of advice is to bring some sort of water shoes (not flip flops) as you will be wading through water and clambering over rocks in a dark cave. My water sandals did the job ok but after stubbing my toe a few times I made a decision to buy better sports shoes for future adventures like these Keen waterproof sandals with a closed toe. Also if you have a headlamp it will save you from trying to hold a candle above the water which at times can be over your head.
With candles lit, we were led down stone steps into the water-filled Kanba Caves. It becomes dark very quickly and all you have is your candle and a guide rope to help find your way…a bit scary at first. At one point the tour guides stopped each of us in turn and painted our faces with a black coal-like substance taken from the cave walls. Some of us got warrior stripes, others full camo and some a clown face or cat whiskers. Of course, you had no way of seeing what had been drawn on your own face, something the guides, of course, found hilarious.
Sidenote: One thing we noticed about many younger Guatemalans…they laugh a lot. Not sure if it's often at our expense but it's contagious nonetheless.
For about 1.5 hours we waded and swam through chilly water, climbed over rocks, up ladders and waterfalls and jumped off ledges into tiny pools, all lit only by candlelight. For the most part, the Kanba Cave walls are not too closed in which was a big concern for a slight claustrophobic like myself but there are a couple of tight spots.
The biggest adrenaline rush came when we were taken one at a time to a really small hole where our guide tells us where to place each hand and foot (which entails turning around in this tight space). Then he says hang our legs down through the hole and let ourselves drop into the dark water below. I'm sure it must be much safer than it felt and sounds otherwise they wouldn't have you do it right? Hmmm…well, as far as I know, everyone survives.
Speaking of which, we were surprised at the variety of people on the tour with us. Almost every age bracket was covered and people of all shapes, sizes and physical fitness level joined in and everyone came out of it with a big grin on their face. I would say that if you're severely afraid of water, dark or somewhat enclosed spaces you might want to think twice however it may also be the perfect time to face those fears and have a blast doing it!
Note: Don't miss the video of the whole day further along in this post!
---
Water Swing
After exiting the Kanba Caves we headed for the massive rope swing which propels you into the river. It was a lot of fun but I have to say it was probably the most painful part of the tour. You fly up pretty high and hit the water quite hard. Add to that the almost unavoidable flailing you do when you leave the swing and you're almost certain to hit the water with your face or stomach or in my case inner thigh? No idea how but I was left with a massive bruise. The rope swing is of course totally optional so feel free to pass on it…however it is fun. You will also get the chance to jump off a bridge from about 20m into the river, again not mandatory. Nathan did it of course but I decided to pass on this one…see Mom if everyone else is jumping off a bridge I'm not necessarily going to do it too.
---
Semuc Champey Pools
Next up we hiked to the mirador (view) of the pools of Semuc Champey. It's a fairly steep hike and is slippery in sections but there are steps and handrails for a lot of it so it's fairly easy other than the cardio and burning legs aspect. I know I've said it before but it's totally worth it. The view of the pools below is breathtaking even on a cloudy day like we had.
Following the hike, we were hot and sweaty and more than ready for a swim. Perfect timing for the crystal clear pools we'd viewed from above. We had an hour or two to explore and play in the natural staircase of idyllic turquoise pools surrounded by lush green walls of the jungle. The natural waterslides going from pool to pool were especially fun although they did provide for some more butt bruising.
---
Bridge Jumping and River Tubing
By this time I have to say I would have been happy to end all the excitement but that was not to be. We still had bridge jumping and river tubing. I have to admit I passed on the bridge jumping, not wanting to add to the colors already blooming on my inner thighs but Nathan, of course, took part.
Unfortunately, after this very full day of activity, we still had the hour-long bumpy ride back to the hostel. Somehow we picked up three more people for the return trip so Nathan and a fellow Kanba Cave survivor had to hang off the back bumper for the first 30 minutes of the journey. Not easy to do on those roads.
---
Video of Semuc Champey Adventure

---
Where to Stay Near Semuc Champey
Accommodations in Lanquin are fairly basic and quite rustic but that just adds to the adventure. We didn't book in advance and on arrival decided to stay in a double room with private bath at the El Muro Hostel right in town. We chose El Muro quite randomly but as you can read in our post "Is it Safe to Travel to Guatemala" we were really glad we did.
El Muro is right in the village which was convenient but there are some other really lovely hostels further out and they will meet you at the shuttle in town. Zephyr Lodge and El Retiro are two that we've heard good things about. There are also a few options on Booking.com You could do as we did and wait until arrival which in slower season is a fine option. However, during the busy months, it's a good idea to book as it is a small village.
Pin It For Later!
---
Closing Thoughts on Semuc Champey
For Live Dream Discover the tour to Semuc Champey and the Kanba Caves was so very worth every bump, bruise and hour spent getting there. It has many of the things we look for when deciding where to travel: nature, fun, adventure, beautiful scenery, exercise, and interaction with the local people. If you're looking for an unforgettable experience in Guatemala don't miss this one!
Save
Born in England, Sarah developed her wanderlust at a young age as she traveled around Europe with her parents. As a young adult she spent every penny she could on experiences as opposed to possessions. Eventually she found a way to earn a living doing what she loved: traveling, writing and capturing images of the wondrous world we live in. When not on the go Sarah enjoys time in her "sometimes home" of Vancouver.