Are you planning a visit to Merida, Mexico? Do you want suggestions for things to do in Merida and day trips from Merida? Over the past five years we have spent several months in this capital city of the Yucatan and have put together all of our discoveries and experiences. We're sure it will help you create an awesome itinerary and have you falling in love with the White City as we have.
Excerpt from an article written after our first visit to Merida in 2014:
Even in the pre-dawn dimness and with eyes blurred from sleep we knew we were going to like the "White City" as Merida, Mexico is known. Our taxi drove through the quiet streets and boulevards from the bus station to Centro Historico, passing impressive architecture and colorful houses along the way.
I could barely contain my excitement when the driver pulled up in front of the Hostal Zocalo which was to be our home for the week. A beautiful Spanish colonial building with a sandstone facade, columns and pediments and intricate wrought iron balconies overlooking the Plaza Grande.
It was barely 5am and we were unable to rouse anyone at the hostel to let us. However, as Merida is known to be one of the safest cities in Mexico we felt perfectly secure sitting on the steps in the little alcove waiting for the sun to rise. It was actually a great opportunity to see the city at that strange cross over time as night turns into day.
We watched as a young couple snuggled on a bench in the square, early morning workers set off to start their day and trucks pulled up to unload tents and tables. It was Sunday and we would later find out that they were setting up for Merida en Domingo.
Fast forward to 2019 and we have returned to Merida twice since that first experience. Do we still love it? Absolutely!
---
Reasons to go to Merida, Mexico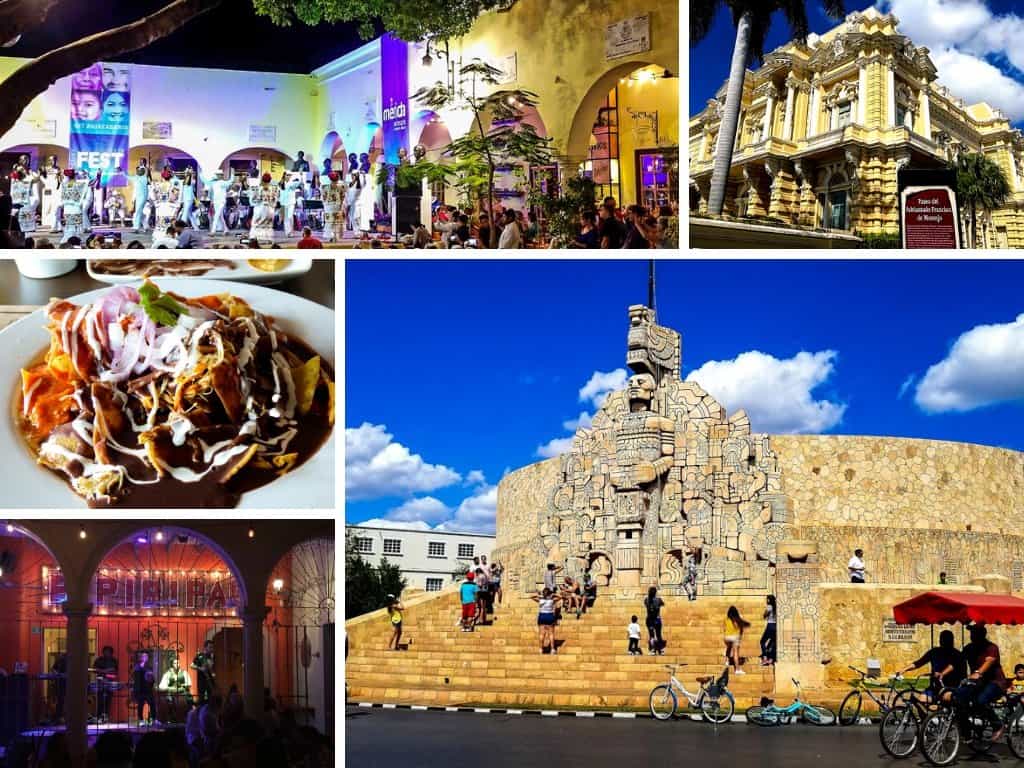 Merida is charmingly laid back yet cultural and cosmopolitan with some very obvious European influences. In fact, for many years it was relatively cut-off from the rest of Mexico and instead looked to Europe as an example. However, many of the locals are descended from the Maya and portray a strong respect and connection to their ancient ancestors.
It is a very safe city full of a love for life, color, music, food and drink and we have found it wins the hearts of almost everyone who steps foot on the stone streets.
Here are just a few of the many reasons to love this capital city of the Yucatan.
---
Free things to do in Merida, Mexico
Some of the best things to do in Merida are actually free! This city is full of life and the local people love their music, art and culture so it's made certain that there's always plenty going on in the plazas and neighborhoods for everyone to enjoy. You could easily be entertained every day of the week without spending a penny.
Take a free walking tour
We like to take a walking tour of a city as soon as we arrive to get an overview of the area and the history. This also helps us determine where we may want to spend more time. There are two free walking tours of downtown Merida, Mexico and we tried them both.
Free Tour Merida is our first recommendation because the group was much smaller making it easier to hear and follow along. Plus our guide was knowledgeable, fun and didn't speak strictly from a script. For this tour you meet at 10 am at Plaza de Santa Lucia in front of the big chairs. The plaza is at the corner of 60 and 55 just around the corner from the Gran Plaza. Just look for a pink umbrella.
The other option is run by the Merida Tourism Office. You meet at the office in the Gran Plaza at 10 am. On the day we went the group was at least 40 people and since half the people spoke Spanish and half spoke English the guide had to narrate in both languages. For such a large group it seems it would have been better to split it up by language preference as it made for a somewhat frustrating tour for everyone.
Both tours run about 2 hours and although it is free the guides do get paid by tips so please give appropriately. We tipped 100 pesos per person (about $5 USD)
Get lost in the maze of streets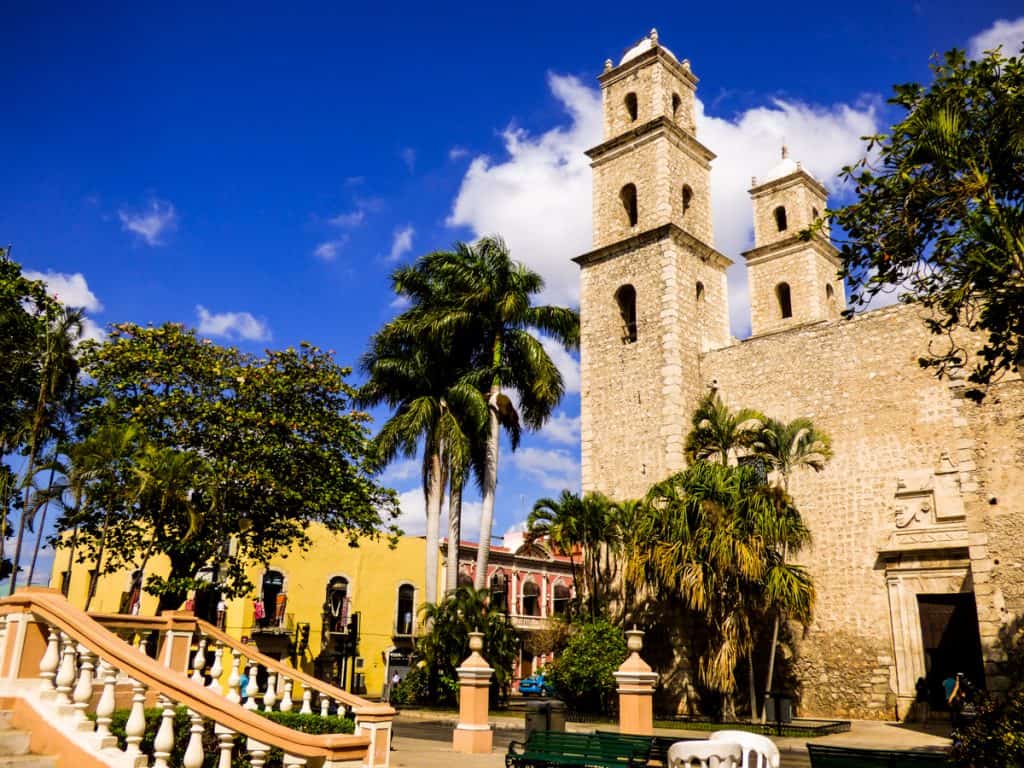 The colonial city of Merida is full of beautiful architecture, colorful buildings, lovely parks and lively plazas. One of our favorite things to do is just wander around, without a plan, and take in the real life of the city.
There are also some surprising things behind the colorful walls so don't be afraid to take a peek if given the chance. We have seen some absolutely gorgeous gardens and courtyards by stepping away from the main roads. People are very friendly in Merida so always give a polite greeting and a big smile and you may just get invited to see what lies just out of sight.
Stroll down Paseo Montejo
The wide, beautiful, tree-lined avenue of Paseo Montejo was modeled after the famed boulevard in Paris. This street was once home to several of the worlds millionaires during the 19th century and the impressive mansions are a reminder of that era.
No visit to Merida is complete without a stroll along Paseo Montejo. Start your walk where the avenue begins at the Santa Ana neighborhood at the Monument de Montejo and continue all the way to the Monumento a la Patria. It may seem like a long way, especially in the heat, but there's plenty to occupy you and many cafes and restaurants to take a break.
Many of the mansions are now businesses or museums. Watch out for the Casa Museo Montes Molina (mentioned below), the Palacio Canton and the identical Casa Gemelas (twin houses.)
The lovely Paseo Montejo closes to cars on Sundays and opens up to bikes creating an event called the Bici-ruta. There are bike rentals set up and everyone cycles, walks, skates or jogs along the now pedestrian road.
Learn more about this amazing country with these 80+ Fun Facts About Mexico
Watch the light show at the cathedral
Every Friday night the facade of the Cathedral Ildefonso becomes a canvas for a spectacular light show. The technique is called Videomapping and it can be seen on historical buildings all over the world. The mesmerizing show is a combination of high-tech light and sound which creates an artistic vision of vivid color and images depicting the region's history and culture.
The show begins at 8:30 pm and lasts about 20 minutes. We suggest you get there by 8:00 pm to get a good view, especially if you want to take photos.
Relax and socialize at Plaza Grande
As with all Mexican towns and cities, much of the social life revolves around the squares and plazas. The Plaza Grande in Merida's historic center is a beautiful example of this and is a great place to take it all in. Locals and tourists alike come to the plaza to relax, socialize, have a snack or just sit and watch the world go by. There's always plenty going on every day of the week but on weekends it's especially full of activity.
Enjoy Merida en Domingo
Sundays in Mexico are family fun day and Merida residents know how to enjoy it fully. Shortly after dawn vendors arrive at Plaza Grande to set up their tents and stands in preparation to sell food, crafts, clothes and souvenirs. The roads around the plaza close to traffic and all day and evening people eat, drink, shop and enjoy the free entertainment. It's a perfect way to experience the real life of Merida and its people.
Explore the Lucas de Galvez Market
If you want to have an authentic experience in Mexico going to a local market is a must and Lucas de Galvez is fabulous place to do it. The market is massive, running on for city blocks just a few minutes walk from the Plaza Grande. It's split into sections of produce, fish, meat, household goods, clothing, and ready-to-eat-food stands.
Our personal favorite area to explore is the hundreds of fresh produce stands because everything is so colorful and artfully displayed. It gets pretty busy and the aisles can be quite narrow so be prepared to be patient and courteous.
Remember that this is not a tourist attraction, it's a regular day in the life of the locals who are there to sell or buy their goods. Having said that, they are used to visitors looking lost and amazed and are usually really friendly and helpful.
If you see something new and exotic feel free to ask about it, they will often offer you a taste. Of course, they will likely respond in Spanish but don't let that stop you if you don't speak the language, half the fun is trying to communicate.
Admire the Catedral de San Ildefonso
The Cathedral with its imposing yet gorgeous architecture is the star of Plaza Grande. Built in the 1500's, over a former Maya temple (from which stones were used), it was the first cathedral to be completed in the Americas. Unfortunately, the interior is rather plain, as cathedrals go, due to damage done by an anticlerical uprising during the Mexican Revolution.
However, it's still well worth stepping inside to see the impressive Gothic vaulting and the massive crucifix behind the main altar. It's named the Cristo de la Unidad meaning Christ of unity to symbolize the agreement between Spanish and Maya heritage.
There's also the unusual blackened Jesus (Cristo de las Ampollas or Christ of the Blisters) which is said to have been carved from a tree that was struck by lightening. There are tours on Saturday mornings and services on Sundays in English.
Explore the buildings around Plaza Grande
There are several lovely and interesting buildings around Plaza Grande and they are free to explore. Palacio de Gobierno is our favorite with its many courtyards, masses of marble, Baroque arches and amazing murals by Fernando Castro Pacheo.
Casa de Montejo gives you a look at the Victorian days of the hacienda in Mexico with period furnished rooms and displays. Museo Fernando Garcia Ponce-Macay is a former archbishop's palace, now museum, that displays permanent and temporary exhibits mainly from Mexican artists.
Above the Merida tourism office is the Palacio Municipal which was built in 1542 and has a gorgeous balcony with marble checkered flooring and many arches opening up to a view of a view of Plaza Grande.
Visit a colorful cemetery
I personally love cemeteries, which may sound odd to some of you, and I seek out unique and beautiful examples wherever I go. Cemeteries in Mexico are some of the most colorful I've seen. Even if this isn't normally your thing you're really missing out if you don't pay a visit to the huge Cemetario General (Panteon Florido).
The cemetery dates back to 1821 and is home to 25,700 vaults, mausoleums and graves, many of which are incredibly ornate and/or colorful. Go armed with water and sunscreen and allow yourself time to wander and get lost among the maze of paths intertwining between tombstones and trees.
Many of the monuments and statues will be unique as it used to be tradition to create a tribute to the deceased and their home. However, you will also see many statues duplicated throughout such as the Angel of Silence who has one finger at her mouth and the other hand pointing to the heavens.
The Cemetario General is located outside of centro at calle 66 and 81a and you'll need to drive or take a taxi to get there. Hours are between 8 am and 5 pm but there are tours held in Spanish on Wednesday evenings at 8 pm.
---
Cultural things to do in Merida, Mexico
As we already mentioned Merida is a hub for all things arts and culture so there's no shortage of ways to learn, enjoy and interact with the local traditions and activities. Check out the calendar on the Yucatan Living website for days and times of cultural events.
Enjoy traditional dance
Merida loves its music and dance and there's something happening musically almost every night of the week. On Mondays is Vaqueria at the Palacia Municipal where you can watch the Ballet Folklorico perform.
Tuesday at Parque de Santiago you can join the mainly retired community as they dance to the old classics. Thursday is Serenata en Santa Lucia at Parque Santa Lucia where you can be entertained by traditional dance, song and storytelling.
Noche Mexicana is on Saturday night and there is usually some form of music, dance and talent show. All these events are free as well!
Go to the theater
Teatro Jose Peon Contreras is a lovely century old theater with a beautiful interior including a grand marble staircase. It's free to visit during the day when there are no performances but for a real experience its worth considering purchasing tickets for one of the musical events.
The symphony often performs on weekends and ticket prices are very reasonable. It;s a great excuse to dress up a little and go mingle with the culture loving Merida locals.
Watch a Mayan Pok ta Pok game
Every Saturday night at 8:30 pm in Plaza Grande a group of Mayan men, adorned with body paint, feathers and animal masks, play an exhibition game of Pok ta Pok. This ancient Mayan game requires crazy skills and hips of steel from which they bounce a hard rubber ball back and forth in an attempt to get it through a ring at center court several feet in the air.
The game is preceded by a ceremony performed by a Shaman who cleanses the field with much chanting, drums, fire and burning sage. The two teams then take to the court for another ceremony including the blowing of conch shells.
Then the match begins and picks up pace as the talented players smash the ball with their hips, often scraping them along the concrete to get the low balls. This goes on for about 20 minutes with, understandably, very little scoring but lots of close calls.
Once the main event is over they move on to a new game which consist of setting the ball on fire and passing it by hand! Luckily the ancient tradition of beheading the winning captain isn't adhered to here in Merida.
It's a mesmerizing spectacle that gives some insights into the Maya culture and is a must see when visiting Merida.
Video of things to do in Merida
Learn at the Gran Museo de Mundo Maya
This modern and unique looking building, 20 minutes outside of centro, houses an amazing collection of artifacts and galleries. There are actually over 1,100 artifacts in the Museo de Munod Maya that depict the history of the Yucatan peninsula from today, all the way back to the time of meteor that killed off the dinosaurs and created the thousands of cenotes in the area.
If you are planning to visit, or have already visited, any of the ancient Maya ruin sites in the Yucatan this museum is a fabulous place to go before or after. It will really help to explain everything you see at the famous sites like Chichen Itza and those along the Ruta Puuc.
Visit the Casa Museo Quinta Montes Molina
Take a tour through the Montes Molina mansion and get a taste of the wealth that used to reside in Merida. It was built in 1902 by a wealthy Cuban named Don Aurelio Portuondo who also organized the completion of the Peon Contreras Theater.
When he was forced to move back to Cuba the house was bought in 1915 by Don Avelino Montes Linaje whose descendants still own it today. The family has kept the original building, furnishings and decor in mint condition for these past 100+ years and in 2003 opened it up to functions and public viewing.
The house is only open to viewing by guided tour at specific times so it'd necessary to plan ahead.
---
Things to do in Merida Map

---
Things to do in Merida Mexico in the evening
Merida weather can get pretty hot and humid so many of the activities are best enjoyed in the somewhat cooler evenings. Some of the free and cultural events listed above often take later in the day but here are more activities that can be enjoyed after sunset.
Listen to live music
The people of Merida love music which makes the city a perfect place for enjoying some live entertainment. On any given evening you can find Mariachi bands roaming the streets, traditional music being performed in the squares and restaurants and dance, rock, Latin, jazz and blues bands in the bars and cantinas.
Some of our favorite spots are Parque Santa Lucia for traditional Mexican music, Pipiripau for Cuban/Latin dance, Mayan Pub for rock and the Delorean for a variety of bands with great acoustics.
Go on a cantina crawl
Merida doesn't top the list of party cities in Mexico but the cantina scene is awesome. Cantinas are traditional, neighborhood bars that can be found all over Mexico. They are often a bit dark and seedy and cater mainly to men. However, many cantinas in Merida are different in that they're open to women and are often dressed up a little to reflect that.
This means that Merida is a great place for a cantina crawl regardless of the group or partner you're with. Keep in mind though that most cantinas close early (around 10 pm) and start filling up in the late afternoon.
There are many cantinas of all shapes and sizes but a few not to be missed are La Negrita, El Cardinal, and Dzalbay.
Enjoy some craft cocktails and craft beer
Aside from the traditional cantinas there are plenty of watering holes for the crafty crowd. Merida is getting on board with the craft brewery craze that has hit many other parts of the world and now has at least six craft breweries of their own.
Our favorite is Hermana Republica. They now have two locations in Merida serving up eight, at last count, of their own brews on tap as well as offering a delicious food menu.
For craft cocktails we always head to Malahat. This tiny, hidden, speakeasy-style bar serves up high-end craft cocktails in a dark and sexy room tucked away behind Santa Lucia Park. Get there early evening or you'll have to wait for a seat.
See a movie
It may sound strange to hear us suggest going to a movie theater as a top thing to do in Merida but hear us out. Merida, as with all cities in Mexico, is a great place to go and see newly released movies including Hollywood blockbusters.
First of all it gives you a nice break from the heat which, for most months in Merida, can be pretty intense. But even more enticing is that fact that going to the movies in Mexico is not a big expense like it is back in the USA and Canada.
Venues like Cinepolis and Cinemex offer multiple theaters and showings, state of the art sound and projection systems and uber comfortable seating as good or better than what you find at home. Plus, all of this comes at a fraction of the cost. Regular prices are about $3 USD and can get even cheaper for matinees and special discount days.
Oh and the concessions are cheaper as well and offer the standard buttered movie popcorn as well as flavors like cheese and caramel all for the same price! Many of the movies are in English with subtitles but some are dubbed so be sure to double check unless you're looking to practice your Spanish!
Eat dinner al fresco
Merida is hot much of the year meaning that evenings are perfect for dining al fresco. There are many great restaurants with hidden, peaceful courtyards or charming verandas and for something a bit more lively there are restaurants in the numerous squares and even tables along the sidewalks.
Parque Santa Lucia has several restaurants in the square including Rosa Sur 32 and La Recova but we think Apoala is the top choice. Mercado 60 is like an upscale outdoor food court with numerous places to eat and drink as well as live music. Amaro has a lovely courtyard just a block from Plaza Grande and Los Trompos centro is budget friendly and on Friday and Saturday nights the street closes to traffic and tables are set up.
Go Dancing
As you already know music is a big part of life in Merida and so it's not surprising that there's plenty of opportunity to get your body moving to it. Nightlife here is not the techno-DJ, flashy nightclub scene, however, so if that's your taste you may be disappointed.
What you will find in Merida are bars and clubs full of people of mixed ages socializing, drinking and dancing to some amazing live bands and DJ's. A couple of our favorite places for dancing are Pipiripau, La Mezcaleria and La Pura.
---
Merida food & drink
There is a wide variety of food options in the many Merida restaurants. You can find plenty of international options such as Italian, Spanish and American. Of course, you can also find plenty of familiar Mexican dishes such as tacos and quesadillas. Btw almost all of the aforementioned can be found at Mercado 60.
However, no trip to Merida is complete without trying the delicious traditional Yucatan cuisine and less familiar Mexican food.
Eat al pastor tacos
Everyone knows that tacos are a staple of Mexican cuisine but have you heard of al Pastor tacos? You will see the layers of red meat rotating on a vertical spit (called a trompos) and may at first think it's the donair or gyro meat popular in Europe and Middle East…except it's bright red! This is al Pastor and it's a deliciously seasoned pork dyed with achiote.
The meat is cooked in the same way as gyros but the flavor is very different and it's shaved off onto small tortillas and topped with cilantro, onion and grilled pineapple. If you want to go even further ask for a Gringas taco and they will melt cheese on top which makes it even more drool-worthy.
Our favorite spot for these tacos is at Javis al Pastor, tucked away behind Lucas de Galvez mercado.
Try traditional Yucatan Cuisine
The Yucatan peninsula of Mexico is unique in many ways and the cuisine is no exception. Yucatan food is a fusion of Mayan, Spanish, Dutch and Caribbean influences which means it has a rich and interesting history just like the region itself.
The food here tends to be colorful, fragrant and spicy with a strong use of a habanero chilli, achiote and sour orange. There are many good restaurants in Merida serving Yucatan cuisine so be sure to try at least a couple of traditional dishes. If you can only go to one Yucatan cuisine restaurant make it Manjar Blanco.
Some of our favorites are Conchinita Pibil (slow-cooked, marinated pork), Quesos Rellenos (Edam cheese stuffed with meat and spices), and Marquesitas (a crispy crepe rolled up and stuffed with cheese and Nutella).
Dine on Botanas
Botanas are essentially free Mexican appetizers or tapas that are served when you order a drink at a cantina and some traditional restaurants.
With the first drink the botanas will be fairly simple consisting of things like bean dips and little wieners in pickles. But with each additional drink ordered the snacks will become more and more elaborate and tasty ending up with delicious dishes like quesadillas, salbutes and panuchos.
If you plan on staying a while and having a few drinks there's often no need to order anything off the menu. Some good places for botanas are Eladio's, El Nuevo Tucho and El Porvenir Cantina.
Cool off with a Chelada or Michelada
Beer is a hugely popular drink in Mexico and when you feel the heat you can understand why. Even non beer drinkers, like myself, will find themselves craving an icy cold one on a hot afternoon. However, beer is not always served straight up.
At every bar, restaurant and drink stand you will find Cheladas and Micheladas. A Chelada is simply beer poured over lime juice and ice in a salt rimmed glass…it's really quite refreshing.
A Michelada is also beer-based but with a more complex recipe. It's served in a chilli and salt rimmed glass containing tomato juice, spices, hot sauce, Worcestershire sauce and sometimes soy sauce and clamato juice.
Do a Mezcal tasting
Mezcal is similar to tequila but with a bold, smoky flavor. Mezcal and tequila lovers may shoot me for simplifying it that way but if you've never tried it I find that's really the best description. Both liquors are made from the agave plant but mezcal is an ancient spirit, steeped in tradition, but with much more variation due to the way it's produced.
Personally I prefer mezcal over tequila, especially in cocktails. Either way, although not as prominent as in the city of Oaxaca, a mezcal tasting is a must-do when in Merida. The traditional way to serve mezcal is with a slice of orange and some spicy worm salt and it's to be sipped rather than shot.
Most cantinas, bars and restaurants will have a good selection of mezcal and often will have special tasting menus and events. La Fundacion Mezcalaria is a given for selection if you can't find any special tastings around town and they serve up some amazing smoky mezcal cocktails.
---
Day Trips from Merida Mexico
As you can see there is plenty to see and do in Merida itself, but, the truth is the city is also a perfect base to explore the many sights in the Yucatan. The central location makes it a hub for buses traveling to surrounding cities, towns and tourist sites and the roads are fairly easy to navigate if you have your own car.
Renting a car in Mexico is relatively inexpensive and is usually our preferred way to do road trips. However, if you're not comfortable driving yourself there are buses, taxis and organized tours. We're in the process of creating a detailed guide to these day trips which will soon be linked here.
Here are just a few of the many interesting places you can visit on a day trip from Merida, Mexico:
Mayan Ruins near Merida
The Yucatan is full of ancient Mayan sites and some of the best examples are close enough to visit in a day trip from Merida.
Dzibilchaltún is the closest of the Mayan ruins being just a 15 minute drive away from the city.
Mayapan is less visited making it a good option to avoid crowds and is about 40 minutes from Merida.
Uxmal is our personal favorite Mayan ruin site near Merida and it takes just 45 minutes to drive there.
Chichen Itza is probably the most well-known of the many Mayan ruins in the Yucatan and it's only a 90 minute drive from Merida.
Ek Balam is the furthest away of all these options and takes about 2 hours to drive there but it's still very doable as a day trip from Merida.
The Ruta Puuc is a driving route connecting the three ruin sites of Labna, Xlapak, and Sayil. At the end of the route is also the larger site of Kabah. It's about 90 minutes from Merida to Kabah so all four sites could be visited in one day.
Note: If you don't have a car the best way to visit most of the Mayan ruins is by organized tour. These tours make it super easy as they include your pick up and drop off, transportation to and from the sites, a professional guide (which makes it much more interesting, trust us) and often even lunch.
Click here to check availability, details and pricing for Mayan Archaeological site tours.
---
Cenotes near Merida
One of the most unique things to do in the Yucatan is to visit cenotes. If you've never seen one before you're in for a treat! Cenotes are natural sinkholes, filled with water, that are believed to have been formed when a massive asteroid hit Earth 66 million years ago.
It's unknown exactly how many Yucatan cenotes there are but it's definitely well into the high thousands. These sinkholes are filled with water by an immense system of underground rivers and many have been set up for visitors to enjoy the natural wonders and a refreshing swim.
Xlacah is the closest cenote to Merida and is in the middle of the Dzibilchaltún ruins site.
Cuzuma is a series of three different cenotes which you are taken to by an old mining cart pulled by a donkey. There's a great full-day tour to Cuzama from Merida if you don't want to drive yourself.
Homun town has at least 15 cenotes so if you only have time for one area this may be a good option. However, not all of them are worth the effort so stick to a few of the best like Santa Rosa, Yax Bacultun and Canunchen.
Cenote Ik Kil is just outside the Chichen Itza ruins which makes it very popular and busy. If you can beat the crowds in the morning though it is one of the most beautiful cenotes near Merida.
Yokdzonot is about 25 minutes from Chichen Itza and it far less touristy than Ik Kil and is also really pretty.
Valladolid is about 2 hours from Merida and has several wonderful cenotes nearby. Our favorites are Zaci, Suytun and San Lorenzo Oxman.
Click here to check availability, details and cost of Cenote tours.
---
Towns near Merida
Merida is a beautiful city but there are several other lovely colonial towns and fishing villages worth a visit within an easy drive of the White City.
Valladolid is a quaint colonial town two hours from Merida with historic and colorful architecture, pretty plazas and several cenotes.
Izamal is known as the "yellow city" because of all the gorgeous ochre-colored colonial buildings. It's less than an hour from Merida and makes for some great photos. There are a couple of good options for tours to Izamal from Merida.
Campeche is a historic walled city on the coast just over two hours from Merida. If you enjoy viewing and photographing colorful buildings you will get more than your fill here. There is a really good full-day tour to Campeche from Merida.
Click here for availability, details and cost of tours around the Yucatan.
---
Beaches and nature near Merida
Merida is not a Mexican beach destination like Cancun. But although it's inland it is close enough to the coast to make it easy to escape the city and have a beach day or nature experience. The beaches are not on the Caribbean Sea so don't expect the turquoise waters of Cancun beaches but they are far less crowded and have their own unique, natural beauty.
Progreso beach is just 20 minutes away making it an easy break from the city heat. There are some good seafood restaurants tables, chairs and umbrellas on the beach. Buses leave Merida every 10-15 minutes throughout the day.
Celestun is a cute, sleepy beach town but the real draw are the hundreds of flamingos at the nearby Reserva de la Biosfera Ria Celestun. Easy to drive by car or take a 2.5 hour bus ride from Merida Noreste terminal. But some good tours to Celestun are also available.
Rio Logartos Biosphere Reserve is a rich and diverse Eco-system full of mangroves, forest, marshes, lagoons and birdlife.
Click here for availability, details and cost of nature tours around the Yucatan.
---
Haciendas
The Yucatan is full of 17th and 18th century Haciendas which are similar to the plantations in the southern USA. They were once used by the producers of henequen (a fiber similar to sisal) and as ranches but many have now been restored and are open to the public as museums, restaurants or boutique and luxury hotels.
Following are some Haciendas that are open to the public rather than just hotel guests.
Hacienda Sotuta de Peon is probably the most popular of the Haciendas near Merida but it's also the most expensive and is only available to visit by pre-arranged tour.
Hacienda Yaxcopoil is a well-preserved museum and example of life in the height of the henequen industry. It's open daily and is inexpensive to enter.
Hacienda San Pedro Ochil is full of Moorish arches and palm trees giving it an exotic feel. There's also a cenote, amphitheater, museum and an open-air restaurant.
Note: You really need a car to visit the Haciendas as public transit is not really feasible. If you prefer not to drive there are some great tours that will take you to some of the Haciendas near Merida. Some even include a cooking class!
Click here to check availability, details and cost for Hacienda tours.
---
Save this information for later by Pinning to your Pinterest Board!
Disclaimer: This article may contain affiliate links. That means that if you purchase anything through a link on this page we may get a small commission. There is no extra charge to you! This is just one small way that we make a living and we are really grateful to you. All opinions and suggestions on this page are entirely our own and are based on our personal experience and research.
Other places to see and things to do in Yucatan, Mexico
If you're planning a Caribbean beach vacation in Mexico this article on what to do in Cancun will be a big help, regardless of where you decide to stay.
Staying in Playa del Carmen and looking for the best day trips and excursions in the Yucatan? Click through for lots of great suggestions.
Born in England, Sarah developed her wanderlust at a young age as she traveled around Europe with her parents. As a young adult she spent every penny she could on experiences as opposed to possessions. Eventually she found a way to earn a living doing what she loved: traveling, writing and capturing images of the wondrous world we live in. When not on the go Sarah enjoys time in her "sometimes home" of Vancouver.