Did you know there's actually a town named Tequila in Mexico and this is where most of Mexico's national drink is made? Did you also know that this historic libation is not just for slamming back with salt and lime to get the party started? And, just as there are wine and whiskey aficionados there are also tequila connoisseurs who would shudder at the thought of doing anything other than sipping 100% agave made tequila. Tour Tequila, Jalisco and you will gain a whole new respect for this Mexican liquor.
Tequila has come a long way and unlike well-known labels such as Cuervo Especial (formerly Cuervo Gold) top shelf tequilas are made from 100% blue agave and are full, sweet and buttery. They are perfect for sipping and there's no need to kill the taste with a lime chaser…oh and the best part, in our guides own words "It won't give you a hangover like the less than 100% agave varieties."
ⓘ This article is a must-read if you're interested in learning more about the history of tequila!
A new breed of tequila has garnered attention from around the world and today Mexico exports well over 200 million liters to more than 120 countries. This love affair with tequila, the drink, has also opened the doors to new tourism opportunities for Tequila, Jalisco, the town. People are now flocking to see the once sleepy village near Guadalajara, the surrounding fields of blue agave, and also to tour the many tequila distilleries in the area.
Our Tequila Tour
We had been told of the Tequila tours while on our house sit in Lake Chapala and as the town sits only 30 miles northwest of Guadalajara (our next stop) we, of course, had to add a visit to our itinerary. There are several ways to get there which I've listed below but we chose to go with Tequila Tours as they had good reviews on Tripadvisor and offered a discount for online booking.
At 9 am we were picked up at our hotel by a minivan along with six other visitors, the driver and our bi-lingual, and very funny, tour guide, Alejandro. After a scenic and informative 40-minute drive the landscape changed and we found ourselves in the highlands of Jalisco surrounded by fields of blue-green, spiky agave plants.
Here we made our first stop at an agave farm just outside of Tequila, Mexico where we learned all about the farming and harvesting process. A very very precise and arduous task. Our host, Ismael is a maestro Jimador (the name for an agave farmer) for Jose Cuervo. Ismael had been taught to farm agave by his Father and had been hard at it for over 45 years. His pride and passion for his work were obvious as he demonstrated the various stages and tools required to farm this ancient plant and prepare it for the distillery.
The 'pineapple', or heart, of the agave is the part of the plant that gets cooked down and distilled to create tequila. Good tequila is 100% agave whereas as some other tequila (like Cuervo Gold) is only 51% agave and the rest is other sugars such as beet. This is what contributes to the bad hangovers.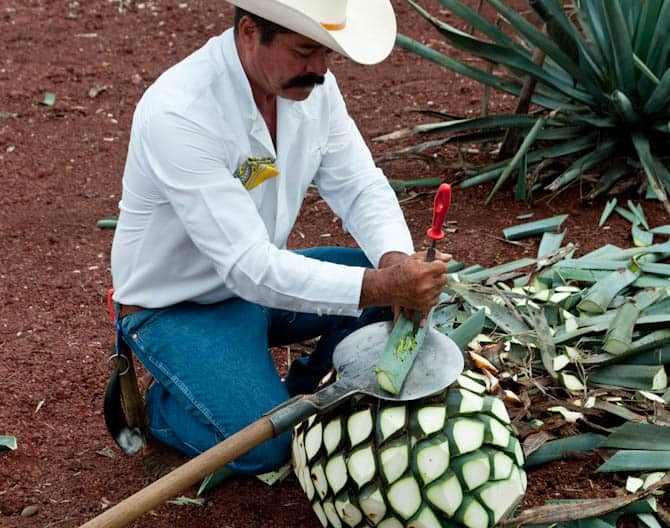 The leaves of the agave are not used in making tequila but the juice is extracted and used for other purposes such as cosmetics and health foods. Ismael actually makes a moisturizing agave cream which I couldn't resist buying.
The raw meat of the agave heart is crisp and slightly sweet, similar to jicama.
From the farm, we continued on to the quaint town of Tequila, Jalisco which sits in the valley of the ancient Volcan de Tequila. This is where both the name and the fertile soil perfect for growing blue agave come from.
In keeping with the growing popularity of tequila, the drink and the place, the little town has undergone a bit of a facelift over the past few years but so far has still managed to maintain its small-town traditional Mexico feel. It is also listed as one of Mexico's "Pueblo Magicos." The "Magical Towns" program selects towns that offer visitors a "magical" experience through their natural beauty, cultural richness, traditions, folklore, historical relevance, cuisine, art crafts and great hospitality.
We had about an hour before the distillery tour which was enough time to walk around the compact town and visit the square with all of its eateries and food carts, the historic stone cathedral and the little marketplace. Other than that the main attractions here are really the tequila distilleries, most of which do offer tours.
The distillery tour on our agenda was at Mundo Cuervo…home of the famed Jose Cuervo tequila. Mundo Cuervo is a beautiful facility and with its elegant courtyards and upscale cantinas, it rivals wineries of the Napa Valley at least for ambiance.
We were quite happy to be able to enjoy one of these scenic spots while sipping a complimentary margarita as we waited for the tour to begin. The tour itself was very interesting and included behind the scenes of the whole process along with generous samplings of the different Cuervo tequilas…except unfortunately for the Reserva de la Familia which runs over $100 per bottle.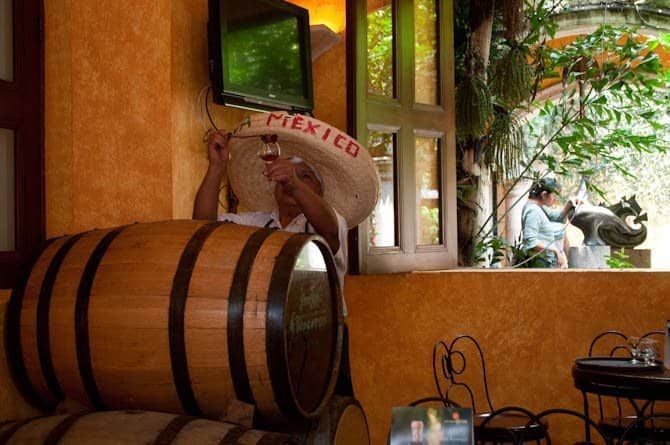 Cuervo means crow in Spanish which is why an image of a crow is used.
Back in the day they actually got into the barrels with the tequila…something about the minerals from the skin? Just glad that isn't done anymore.
How to Get to Tequila, Mexico: DIY
If you ever find yourself in Guadalajara or Lake Chapala we would definitely suggest adding in a trip to Tequila and here are some tips on how to get there:
By Car: It's an easy 45 min  drive from Gaudalajara and having a car gives you the advantage of stopping at numerous tequila distilleries and agave farms. However as with visiting wineries you'll want to make sure you have a designated driver.
By Public Transit: There are public buses that run from Guadalajara and once you are in the town of Tequila it is easy to walk around to the sights and many distilleries. The downside is that the drive will take longer, you won't be able to stop at the agave fields and if you sample too much tequila it may not be the most pleasant ride home.
How to Tour Tequila
We generally prefer to sightsee on our own as we like the freedom of not being on a set schedule however this is one of those times where a tour made more sense to us. Here are some options:
Tequila Tours

: Small groups taken in a minivan with a cost is $600 pesos per person. It includes transportation from Guadalajara and back, a tour guide, a stop at the agave farm, a tour of Mundo Cuervo, two margaritas and tequila samples.

Tequila Express: After a Mariachi welcome reception you will travel by bus from Guadalajara to Tequila, Jalisco stopping along the way at an agave plantation. In Tequila you will tour Casa Sauza where you will learn the process and taste the product. Prices start at $1250 Pesos for a seven-hour tour.
Jose Cuervo Express Party Train: You travel in comfort by deluxe train from Guadalajara to Tequila where you have a tour of Jose Cuervo. It sounds really nice but with prices starting at $2,000 pesos per person it was too much for our budget this time around. It does, however, include dinner and bar service on board the train. Note that it only runs on weekends and holidays.
Experience Tequila: This is a multi-day custom-designed tour of the Ruta de Tequila which will cover as many distilleries and sites as you like. Of course, the cost is much higher than the standard day tours but if you have the budget you will see much more of this beautiful valley and have access to places that the general public that cannot get into.
Tequila Source is also a great place to find more details on tours and the town of Tequila.
Where to Stay in Tequila, Mexico
Most people visit the town of Tequila on a day trip from Guadalajara. However, we think Tequila is charming enough to warrant an overnight stay, and possibly more, with all the interesting things to see nearby. Unfortunately, we didn't stay overnight but next time we will! The accommodations are mainly basic hotels and hostels although there is the 5-Star Hotel Solar de las Animas and the unique Matices Hotel de Barricas.
We always suggest checking with Hotels Combined to compare pricing.
Pin It For Later
---
Other Posts that may interest you:
Cancun is more than beaches and parties. Take a look at this ultimate list of things to do in Cancun!
The Yucatan is known for ruins and beautiful beaches but the real star is the
Save
Save
Born in England, Sarah developed her wanderlust at a young age as she traveled around Europe with her parents. As a young adult she spent every penny she could on experiences as opposed to possessions. Eventually she found a way to earn a living doing what she loved: traveling, writing and capturing images of the wondrous world we live in. When not on the go Sarah enjoys time in her "sometimes home" of Vancouver.