Guadalajara, Mexico may be the second largest city in the country, and the home of the mariachi, but it is often overlooked as a tourist destination. I suppose it is excusable since the country of Mexico is so vast and there is so much to see and do. However, after spending some time experiencing all the things to do in Guadalajara we have no hesitation putting it on the list of places to go in Mexico.
If you have been to Mexico City you may expect Guadalajara to be similar, but that is not the case. As much as we love Mexico's capitol city we were pleasantly surprised at how different the country's two biggest cities are. Aside from being much smaller, Guadalajara is also newer with its own unique character, a more laid back vibe and a touch of European atmosphere.
Following is a list of what to see and do in Guadalajara, Mexico based on our research and the time we spent in this colorful Mexican city.
Things to do in Guadalajara: Centro Historico
Unlike Mexico City, where the sights are quite spread out, the main sights of Guadalajara are clustered in the easily walkable Centro Historico. At the heart of the Colonial Centro Historico is the massive Guadalajara cathedral which is bordered by four plazas in the shape of a Latin cross.
1. Guadalajara Cathedral
The main feature of the lovely Plaza de Armas is the Guadalajara Cathedral. Originally built in the 1500s but rebuilt several times, due to fire and earthquake, this beautiful building has a mix of architectural styles. The predominantly Baroque exterior houses a mostly Gothic interior with many chapels and an impressive display of paintings.
---
2. Instituto Cultural Cabañas
Once a large hospital and orphanage, this UNESCO World Heritage site is now home to some of Mexico's greatest modern art. You will want to allow at least a couple of hours to admire the gorgeous architecture and impressive collection of murals by Jose Clemente Orozco including the famous Man of Fire (El Hombre del Fuego.)
---
3. Palacio del Gobierno
Also in the Plaza de Armas stands the Palacio del Gobierno (Government Palace.) You can explore this impressive Baroque building free of charge and stand awestruck under the imposing giant figure of Reverend Miguel Hidalgo, another mural by Orozco.
---
4. Rotondo de los Jalisciences Ilustre
The Rotondo is located in a park outside of the cathedral and is hard to miss. The circular pillared monument is surrounded by statues of Jalisco's most famous artists, architects and philosophers and houses the remains of 98 important past residents.
---
Learn more about this amazing country with these 80+ Fun Facts About Mexico
5. Museo Regional de Guadalajara
Once a seminary in the 18th century, then a prison during the War of Independence, this building is now a museum. Here you can view many Pre-Columbian finds and exhibits, an 800-kilogram meteorite, and a huge mammoth skeleton as well as some more modern pieces.
---
6. Teatro Degollado
This Neoclassical theater stands across from the cathedral and is Guadalajara's most important performing arts venue. Catching a performance here would definitely be a highlight of any visit but if that's not possible at least take a look inside. Performances include the Philharmonic Orchestra, Ballet and Mariachi competitions.
---
7. Enjoy the Plazas
Spend some time relaxing and people-watching in the four plazas in Centro Historico. Plaza de Armas and Plaza Guadalajara are the largest and busiest, Plaza de la Liberacion has a great view of the cathedral and Plaza Tapatia is known for its craft stalls. Our favorite evenings were spent sitting at one of the outdoor cafes in Plaza Guadalajara where you can also find a tourist center.
---
More Activities in Guadalajara
8. Explore Mercado Libertad/San Juan de Dios
This indoor market, known by two names, is absolutely massive. Allow at least a couple of hours to explore the three levels full of every type of goods you can imagine. From food and spices to clothing and leather goods to souvenirs and electronics and, of course, Mexican wrestling masks this is a one-stop shop.
---
9. Experience Avenida Chapultepec
The busy Avenida Chapultapec has a tree-lined walkway down the center. In the evenings it is a top spot for bar hopping and restaurants and on the weekends it becomes pedestrianized and home to a fabulous market. Definitely worth a stop in to experience the lively side of Guadalajara.
---
10. Visit the Parks
There are two main parks in greater Guadalajara. Parque Aqua Azul and Bosque Colomos. Parque Agua Azul is a large area with landscaped gardens, trees and a butterfly house and orchid house. Bosque Colomos has lush woods, waterways and paths perfect for strolling or exercising.
---
11. Churches
There are many lovely churches to see in Guadalajara. Some of our favorites are Templo Expiatorio, Templo de Santa Monica and Templo de San Agustin. Santa Monica and San Agustin were built in the 16th and 17th centuries in the Baroque style. The stunning Templo Expiatorio was built in the early 1900s and is one of the finest examples of the neo-Gothic style in Mexico.
---
Day Trips from Guadalajara
Guadalajara is well situated for easy day trips. From charming villages to lakes and Pueblo Magicos, there is plenty to see and do within an hour from the city.
12. Tlaqueqpaque
This charming village once stood alone but has since become a neighborhood of Guadalajara. Just 10 km from downtown you'll find a charming, cultural hotspot, with cobblestone streets full of trendy restaurants, bars, boutiques and art galleries. Tlaquepaque is also the best place to enjoy authentic Mariachi and buy the famous clay pottery produced here. Easy to get to by bus #275.
---
13. Tequila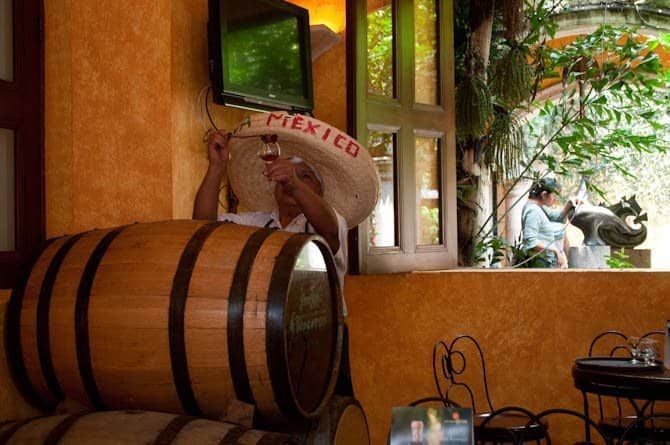 Tequila, Jalisco is designated as one of Mexico's Pueblo Magico and is also a major producer of tequila. An easy 45-minute drive will bring you to this charming little town where you can explore and taste tequila from many top distilleries. If you don't want to drive yourself there are tours and even a tequila train that will get you there. Regardless of how you go make sure to stop in at one of the agave farms to see how it all begins.
---
14. Lake Chapala
The lovely fresh-water Lake Chapala is just one hour south of Guadalajara and makes for a great day trip from the city. The lake area, and especially the town of Ajijic, has been a haven for North American ex-pats for nearly 100 years and you will know as soon as you arrive. Beautiful scenery, ideal climate, pretty towns with colorful houses and cobblestone streets and easy access to every amenity you need makes it a great place to live or visit. It's an easy drive from Guadalajara but if you don't have a car there are direct buses regularly.
---
Guadalajara Transportation
There is a large international airport 30 minutes from downtown and from there you can get a taxi for about $20 USD. Buses are also available for about $1 USD but they are often crowded and may be hard to negotiate with lots of luggage. Once in the city, you can get around quite easily on foot, if you are staying downtown, or by taxi or bus if the walk is too much. We do recommend using Uber wherever possible in Mexico as the taxis are the most likely people to try to rip you off.
---
Where to Stay in Guadalajara
Centro Historico is a great location, as you can walk to almost everything and there are plenty of restaurants and shops around. The Centro is beautiful and convenient, but if you want a hipper neighborhood, go for Chapultepec, where you will find all the funky bars and markets and it's only a 20-minute walk from the Centro.
Wherever you decide to stay we suggest starting your search with Hotels Combined. This site searches and lists the majority of reputable booking sites and then lists for you the lowest price on each site allowing you to find the best deal quickly and easily.
We stayed at the lovely Hotel Morales in Centro Historico. The history of this hotel begins in the late 1800s when the original private home was turned into a guest house by the Morales sisters. Years later the sisters passed on the guest house to their nephew who renovated and extended the building into a larger hotel. Today it is one of the best hotels in the historic district and the location is ideal for exploring Guadalajara. We found a fantastic deal through Hotels Combined and highly recommend this historic accommodation.
---
Pin It For Later
---
Are you looking for a tropical beach vacation after your city break? Take a look at this list of awesome things to do in Cancun.
Born in England, Sarah developed her wanderlust at a young age as she traveled around Europe with her parents. As a young adult she spent every penny she could on experiences as opposed to possessions. Eventually she found a way to earn a living doing what she loved: traveling, writing and capturing images of the wondrous world we live in. When not on the go Sarah enjoys time in her "sometimes home" of Vancouver.