When we read about the Traveler's Table Yucatan food and drink experience with Cancun Adventures we knew we had to try it.
The tour description listed many of the things we look for when choosing activities to write about. There were promises of a beautiful setting, a fun and social atmosphere, delicious Yucatan food and drink and learning about the ancient Maya and Yucatan Peninsula. It sounded like a perfectly balanced evening and we weren't disappointed.
Paradise near Playa del Carmen
We were picked up at our hotel and joined 12 other travelers in a comfy, air-conditioned van. About 20 minutes out of downtown Playa del Carmen we turned onto a dirt road. The van weaved through the jungle until the trees gave way to reveal an idyllic, tropical paradise: a private beach club sitting on a stretch of sand dotted with palm trees and palapas with a backdrop of Caribbean blue Sea sparkling in the late day sun.
As we stepped out into the warm sea air we were greeted with smiles and chilled, sparkling wine to sip while we watched the sunset from ocean-side bean bag chairs. All signs pointed to this being a very special evening.
---
What is the Traveler's Table?
The Traveler's Table concept is the brainchild of long-time travelers and friends who missed the social aspect of staying in hostels as they got older. They wanted to re-create the feeling of camaraderie and new-found friendship that hostel travel can provide and combine it with a more upscale but fun, educational and delicious adult-only evening.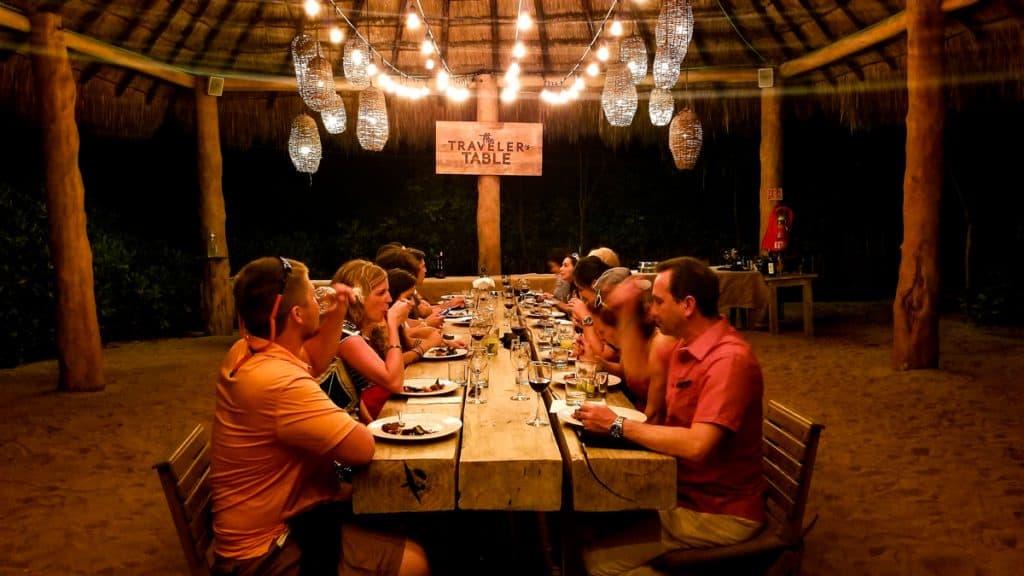 With this in mind, the evenings' events began with an ice-breaker game. We won't spoil the surprise, we'll just say it involved testing our sense of smell and related to the upcoming meal. It was a fun way to get everyone loosened up and by the time we were seated at the long, wooden communal table we were no longer strangers.
---
Yucatan Food & Drink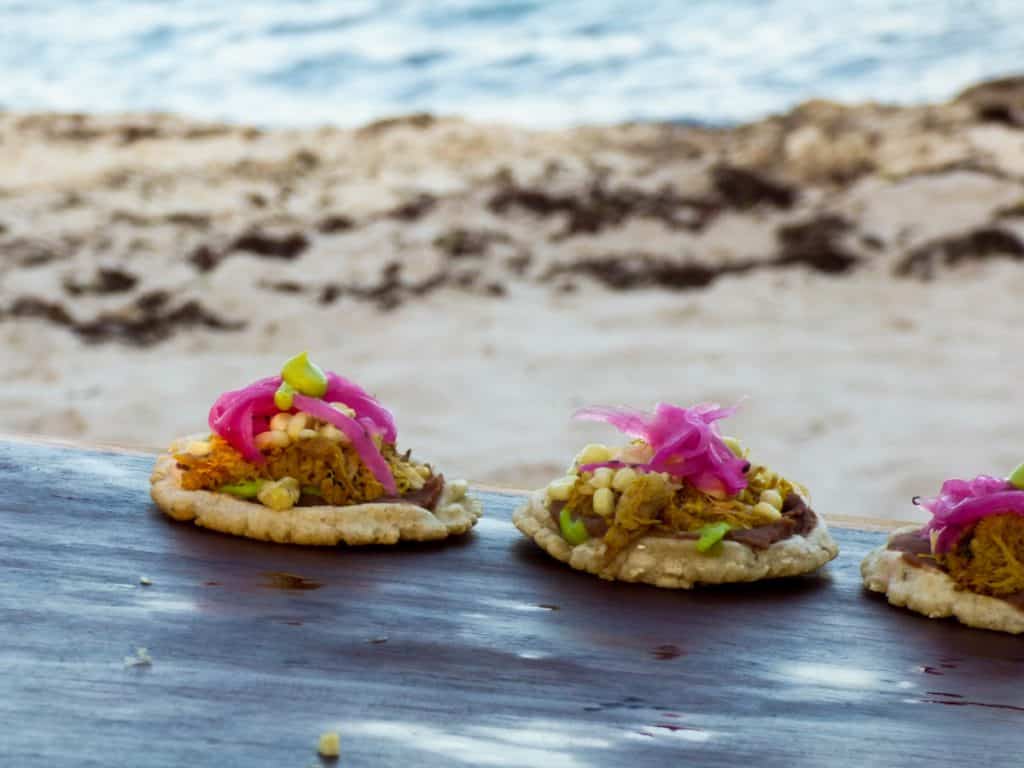 The rest of our evening consisted of making delicious cocktails and enjoying a 5-course meal, that took us on a gastronomic journey through the cultural influences on the Yucatan, paired with boutique wines, tequila, and mezcal
Each taste sensation was introduced by our host who explained the ingredients and cooking techniques along with some interesting historical facts. We found it quite fascinating, for example, to hear how the regional food was so influenced by Spain, Africa, and the Middle East: something which became more clear as the courses were served.
Learning to make a Mayan Mojito was another great way to get to know our dining companions, partly because it came with the twist of having to create the drink for our neighbor rather than ourselves.
With ingredients such as mezcal, Chaya leaves, and xcatic chili it was definitely far from a traditional Mojito but it won me over with the first sip. It was a great introduction to a fun Mexican party.
Next up was an assortment of Mayan starters including a fresh and delicious octopus tostada, a satisfyingly crunchy sweet potato roll called Flauta de Comote.
The starters were followed by the aromatic and unusual Rock Soup. The black bean and onion soup, taken from a 700-year-old recipe, is poured into a clay bowl containing hot river rocks…hence the name.

Our main course was a melt-in-your-mouth oxtail stew with couscous and pickled red onion. The African and Middle Eastern influence was deliciously portrayed in this dish.
The Maya were one of the first to use cacao in their food and so it's no surprise that chocolate was the star of the dessert presented to us. Despite being quite satisfied with the amount of food already consumed there was no way we were going to pass on the five chocolate-based tastes that were so beautifully displayed and paired with a smooth and silky tequila.
Note: Vegetarian options are available upon request with advanced notice. For the full menu click here.
---
Farewell to New Friends
Sadly, all good things must come to an end and although the evening had not been at all rushed we still were a little sad when it was over. The ride to the beach club had been fairly quiet as we were a van full of strangers. However, the atmosphere was quite different on the way back to our hotels as everyone chatted like old friends about their travels, home-life and of course the fabulous evening we had just shared.
If you are someone who enjoys meeting new people while experiencing a relaxing evening of fun, food, drink and a little education in a stunning setting, then Cancun Adventures Traveler's Table is an absolute must next time you're in the Yucatan. It will be a night to remember!
---
Pin It For Later
Born in England, Sarah developed her wanderlust at a young age as she traveled around Europe with her parents. As a young adult she spent every penny she could on experiences as opposed to possessions. Eventually she found a way to earn a living doing what she loved: traveling, writing and capturing images of the wondrous world we live in. When not on the go Sarah enjoys time in her "sometimes home" of Vancouver.