Budapest, Hungary is one of our favorite European cities. So much so that we have returned four times, and that's not including the 18 months I lived there as a young child. There are many famous sights to see in this historic center but if you have more than a couple of days, which we highly advise, you should seek out some of the more fun and unusual things to do in Budapest.
It's a destination that will wow you with impressive architecture and structural beauty like the Chain Bridge and Buda Castle. Not to mention the famous Gothic-style Parliament Buildings reflected on the Danube, an image that will forever stay in your memory. But there's so much more than the Budapest attractions you see in the travel brochures. Don't worry though if you can't see it all in one visit, with the cheap flights to Budapest from many cities in Europe.
Budapest is a city with two sides, literally and figuratively. There are physically two parts: Buda and Pest, which are separated by the River Danube. But that's just the beginning of the dual personality. Budapest is an intoxicating blend of vintage and modern, it's both classy and a little rough around the edges, it's touristy and livable, traditional and vibrant. It's everything a European capital city should be!
So, once you've checked all the must-sees off your list take some time to go deeper with some of our favorite fun and unique activities and sights.
Unusual Things to do in Budapest
Learn about the past at the House of Terror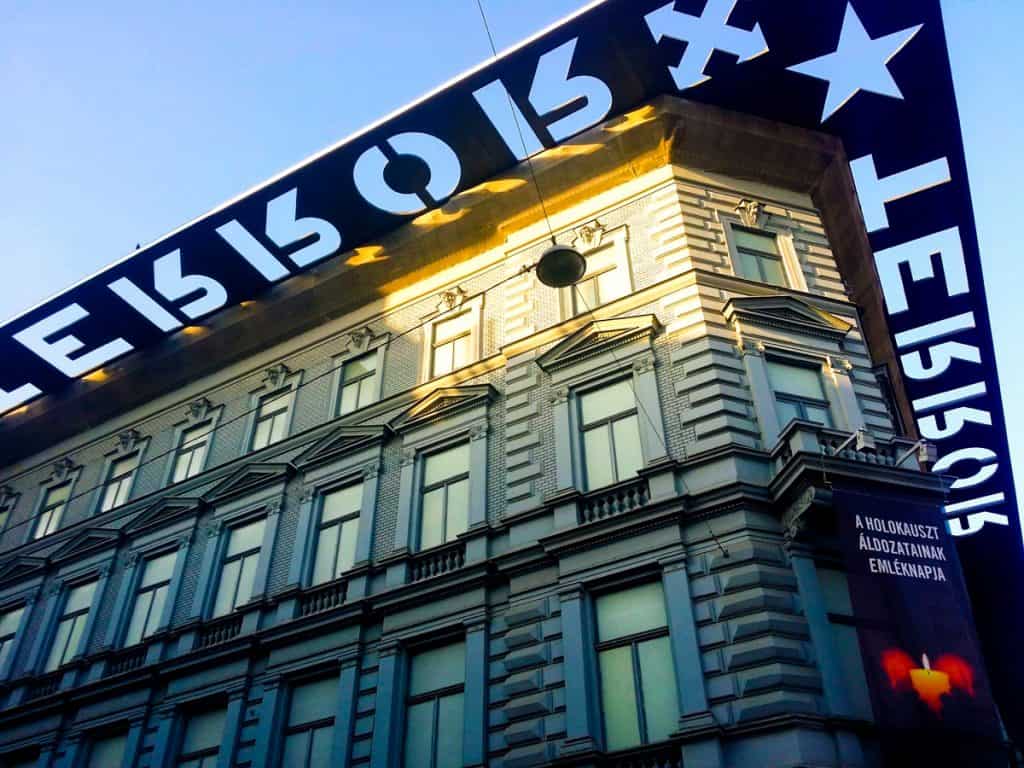 Despite the name, this is not some sort of haunted house or museum of ancient torture devices. The House of Terror was once the headquarters for the Hungarian Secret Police and the Arrow Cross party during the two consecutive Communist and Fascist regimes that brutalized Hungary.
Today it is a memorial to those who were imprisoned, tortured and killed by these regimes as well as a museum that exhibits the sad and dark history of Hungary over the course of more than four decades. Visitors can read testimonials and view photos of some of the victims, tour the basement prisons and learn about the country's past and how many fought to eventually free themselves of this tyranny.
It may sound like a macabre thing to do on vacation but if you're interested in getting to know this beautiful country and its people it's well worth a visit. It's definitely one of the most meaningful places to visit in Budapest.
In the words of George Santayana…"Those who cannot remember the past are condemned to repeat it."
Location: Budapest, Andrássy út 60, 1062 Hungary
---
Visit a cave church
Another unique use of Budapest's cave system is the Cave Church inside Gellert Hill. The church was founded in 1926 by a group of Pauline monks but it feels much older. It was named Saint Ivan's Cave after a hermit monk who lived there and was said to have healed many people.
During the Communist regime, the monks were arrested, their leader executed and the church sealed up with a think concrete wall. In 1989 the church was re-opened and given back to the Pauline monks who hold services there 3 times a day. Visitors are welcome but are required to dress modestly or wear a shawl supplied at the entrance.
Location: Gellert Hill Budapest, 1118 Hungary
---
Reflect at the Shoes on the Danube Bank
The Shoes on the Danube Bank is a memorial to the Jewish victims of the brutal Arrow Cross militia and it will likely be one of the most moving tributes you'll see anywhere in Europe. Artists Gyula Pauer and Can Togay created a simple but incredibly poignant scene of 60 pairs of iron cast shoe sculptures lined up along the bank of the Danube.
The shoes represent the Jewish people of all ages who were also lined up along the river banks and ordered to undress before being shot and subsequently falling into the Danube to be washed away. There are also iron plaques in the ground with the words: "To the memory of the victims shot into the Danube by Arrow Cross militiamen in 1944–45. Erected 16 April 2005."
Location: Budapest, Id. Antall József rkp., 1054 Hungary
---
Read about taking a cruise on the River Danube HERE
---
Take a tour with a local
Budapest Urban Adventures offers interesting and unique tours led by locals. The intent of these tours is to show visitors a more local side of Budapest away from the standard high touristic sights. Guides are selected based on their knowledge and enthusiasm for the city and their desire to share this with guests. The group is always on the lookout for new and authentic experiences and ways to contribute to and support the local community while giving visitors an insiders view.
There are several tours to choose from focusing on things like food and drink or markets and shopping as well as themes like "Bohemian Budapest" and "Controversial Budapest." If you don't see a tour description that covers what you want your Budapest Urban Adventure can also be custom designed just for you.
---
Shop at a Ruin Bar Sunday market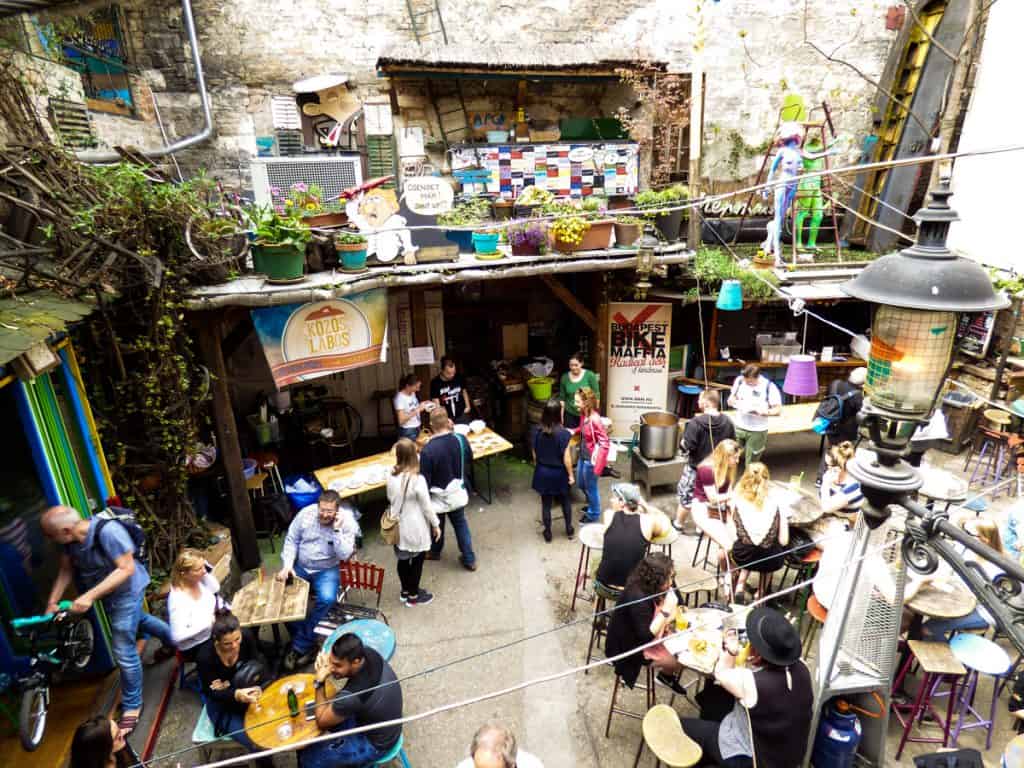 Szimpla Kert is one of the many Ruin Bars in Budapest but it's the only one with a weekly market. Every Sunday from 9 am to 2 pm local artisans and food producers set up tables inside Szimpla Kert giving an opportunity to see the bar in a whole new way.
Shop for handmade crafts, baked goods, and organic produce or enjoy a tasty brunch. Some of the things you can buy here are locally grown, or made, cheeses, cured meats, jam, honey, spreads and seasonings or head upstairs for Szimpla Brunch (Saturday and Sunday). This is also a good spot for finding vegan food and products in Budapest.
Another option is to eat at the Common Cauldron where non-profit organizations use the market vendors ingredients to create meals served by donation. Either way, you will be entertained with live music and a social atmosphere.
Location: Budapest, Kazinczy u. 14, 1075 Hungary
---
Highlights of Budapest Video
---
Relax at a Turkish Bath
Budapest is known as the "City of Baths" so many visitors are familiar with the Art Nouveau Gellert and the large, Széchenyi Baths. However, prior to the creation of these gorgeous places, by the Austro-Hungarian Empire, the Ottomans made use of Budapest's mineral-rich thermal waters by building Hamams (Turkish baths)
Today you can still visit some of these thermal bath hamams such as the mostly men-only Rudas Baths, the historic and lovely Császár Baths (Veli Bej), the small Király Baths, and the local favorite Lukács Baths.
---
Take a cooking class
There are hundreds of fabulous places to try Hungarian cuisine in Budapest but why not learn to cook some meals yourself? Chefparade Cooking School offers the opportunity to cook with local chefs and learn all about the ingredients and techniques that go into Hungarian cooking.
Learn to cook a typical Hungarian 3-course meal with dishes like Chicken Paprikash and Goulash soup plus sweet treats like Hungarian Palacsinta. There's also the option to start at the Central Market Hall in the morning and shop for ingredients with the chef. It's a fun and unique way to spend a few hours in Budapest learning about culture and food and then enjoying a delicious meal.
Location: Budapest, Sas u. 21, 1051 Hungary
---
Check out an unusual museum
Like any major European city, Budapest is full of traditional museums showcasing art and history. However, there are also many more unusual and unique museums to explore. Here are just a few:
Inside Buda Castle, you'll find the House of Houdini which is full of props and details of the famous illusionists' life. The Pinball Museum has over 130 pinball machines that you can actually play. Get insight into being visually impaired at the Invisible Exhibition. Or if medicine intrigues you view wax cadavers, shrunken heads, and a 19th-century pharmacy at the Semmelweis Medical Museum.
---
Go caving
We've already mentioned that Budapest has an abundance of thermal spas. What you may not know is that over millions of years the hot springs that feed these spas have created an intricate network of caves under the city and some are open to tour.
The Pálvölgyi Cave is the longest and possibly the most beautiful with all the stalagmite and stalactite formations. Semlőhegyi Caves are also lovely, in a different way, with walls lined with floral-looking crystals and mineral forms. Then there's the Buda Castle Labyrinth where it's said that Vlad the Impaler (aka Dracula) was imprisoned.
Location: Several caves are open to guided tours
---
Read about a Cave Castle in Turkey HERE
---
Eat at a DIY restaurant
The Budapest Makery is a DIY Kitchen and Bar. You make a reservation for just yourself, or a group, and when you arrive you're given a menu to choose from. Each person can select their own meal, just like in a regular restaurant, and then you'll be given the prepared ingredients and a tablet with video instructions.
Once you've prepared your meal you can sit enjoy it at your table and the staff will do all the cleanup! The prices are reasonable, the menu is varied and it's a very unique way to have a meal in Budapest.
Location: Budapest, Dob u. 38, 1072 Hungary
---
See the largest synagogue in Europe
The Dohány Street Synagogue is not only the largest in Europe, but it's also the second largest in the world. The beautiful Moorish-style building can seat almost 3,000 people and sits on what used to be the border of the old Jewish ghetto during WWII.
Take some time to admire the impressive architecture, the intricate detail of the carved stone gate, the stone-tablet and rose windows, and the Oriental-Byzantine decoration. You can also visit the Hungarian Jewish Museum, the Heroes' Temple and the Garden where a metal leaves of a weeping willow sculpture bear the names of the many Jews killed during the war.
Location: Budapest, Dohány u. 2, 1074 Hungary
---
Visit an underground hospital
The Hospital in the Rock was built around 1940 in a natural cave system under Castle Hill and it has an interesting history from some of Hungary's darkest times. Initially, it was a refuge and hospital during WWII.
From 1945-1948 it was used by the Vaccine-producing Institute. In the 50's it was turned into a Top-Secret Institution and was also used as a Revolutionary hospital. Expansion took place during the Cold War and it became a nuclear bunker and civil defense forces store until 2007 when it was opened as a public museum.
Location: Budapest, Lovas út 4/c, 1012 Hungary1012 Budapest, Lovas út 4/c1012 Budapest, Lovas út/c 012 Budapest, Lovas út 4/c
---
Fun Things to do in Budapest
Go on a Ruin Bar crawl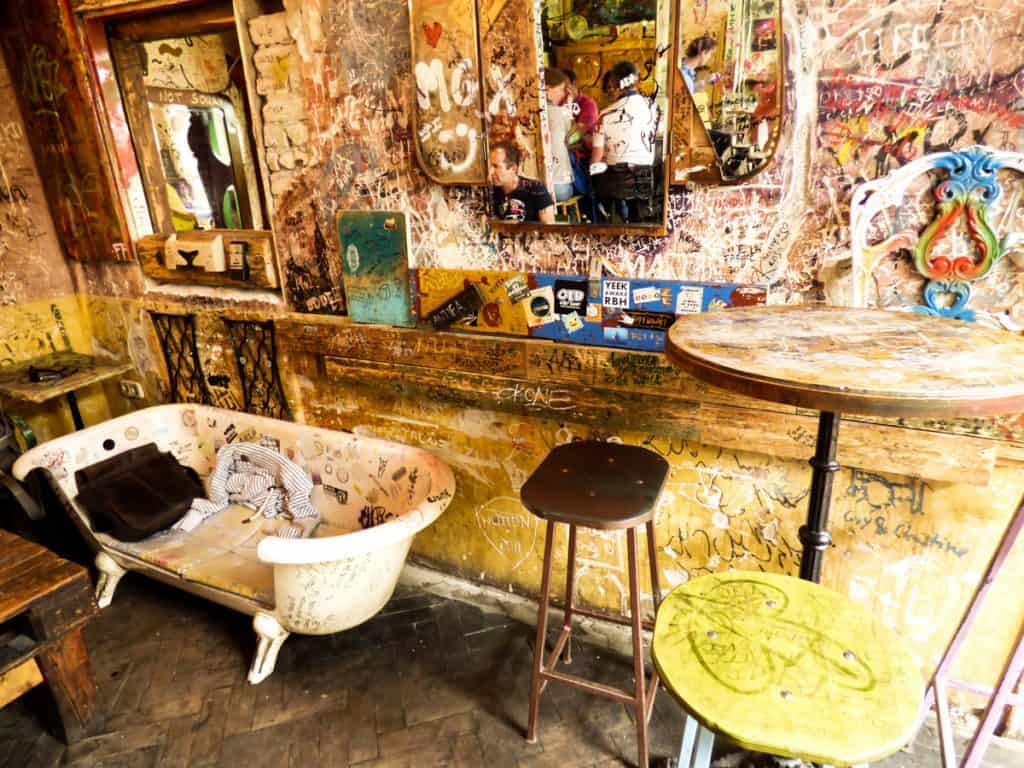 Ruin Bars started in the early 2,000's in dilapidated old buildings in the Jewish Quarter. What started as a fun experiment: offering a pop-up bar with cheap drinks, a funky atmosphere, and an eclectic decor of found and vintage pieces are now a huge part of the city's culture. Visiting a Ruin Bar is a must if you want to sample the unique and vibrant Budapest nightlife.
The first to open, and now the best known, is Szimpla Kert (home of the Sunday market.) This bar consists of both indoor and outdoor space, a dozen unique rooms, rusted iron stairs, peeling paint and crumbling brickwork adorned with makeshift, quirky furniture, artwork, and lighting made out of random items found in flea markets or even dumpsters.
Other Ruin Bars to check out are Fogas Has with its cool courtyard, the massive Instant with more than 20 rooms, and the trendy Anker't.
---
Take in an unusual Budapest festival
There are plenty of festivals year-round in Budapest including more traditional themes of food, drink, art, and music. They even host the famous Sziget Festival which brings music lovers from all over the world.
But the city is also known to have some more unusual festivals and events. The Picnic Liberty Bridge is an event where the bridge is closed to all traffic allowing picnics and entertainment. Budapest Urban Games is an annual sports competition within the city with a different unique theme every year. The National Gallop is a one-of-a-kind horse race around Heroes' Square and the Night of Art Cinemas where several art cinemas show films all night long.
---
Enjoy the local craft beer scene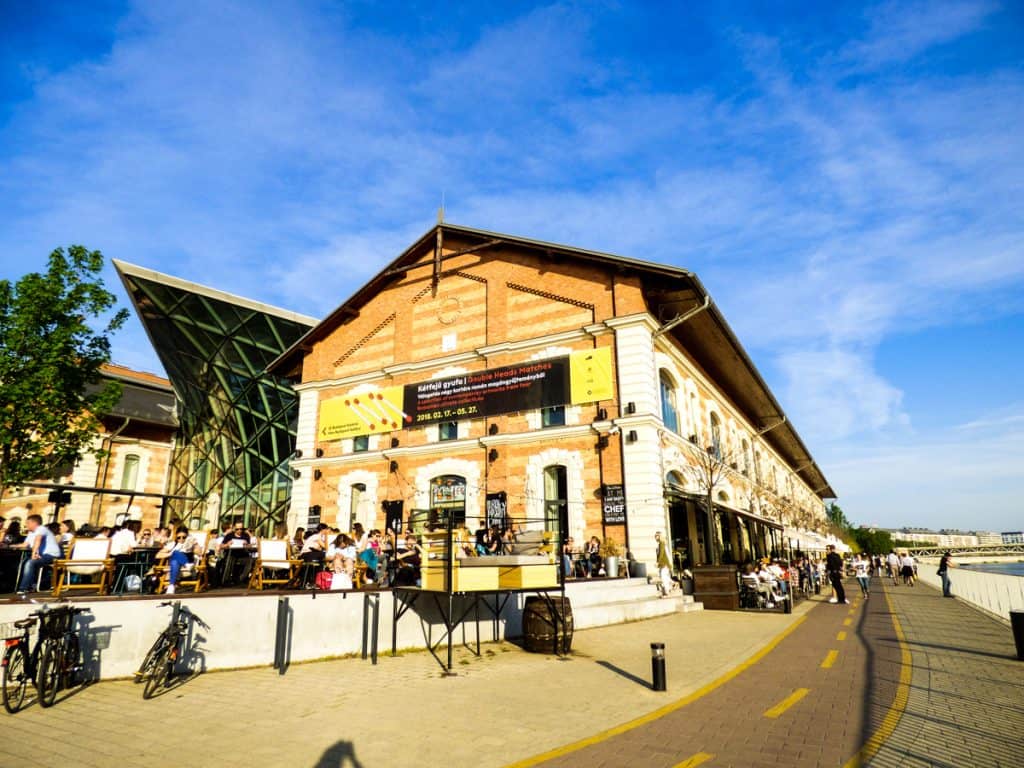 Craft beer has become the trend in many parts of the world and Budapest is no exception. There used to be very little reason to visit District IX but it's quickly becoming the beer hub of the city. In fact, the area boasts "…over 20 bars serving from 99 taps within 1999 meters." Plus there are dozens more Budapest bars pouring local craft beer all over the city.
Some favorites include: the scenic riverside Jonas Craft Beer House and the cosy Skanzen Club where patrons pour their own beer, the Kandallo Artisanal Pub with 16 rotating taps, First Craft Beer Company which has their own brews on tap plus some guest taps, and Eleszto which was a pioneer in the Budapest craft beer scene.
---
Try to escape
The first Live Escape Room games started in Asia but Hungary was one of the first to introduce Escape Rooms to Europe. The experience requires players to be "locked" in a room where they need to find clues and solve puzzles in order to escape.
Many of the Escape Rooms in Budapest are housed in basements giving them a spooky, authentic feel. There are dozens of these game rooms to choose from with themes like George Orwell's "1984", Harry Potter, an Egyptian burial chamber, Pirate Bay, and Heaven & Hell. We think playing an Escape Room game is one of the most fun things to do in Budapest.
---
Have a drink in an igloo
The 360 Rooftop Bar sits atop the tallest building on Andrassy Avenue offering amazing panoramic views of the city. However, that's not what makes it a unique thing to do in Budapest.
In the cooler months, you can still enjoy drinks on the roof in one of the igloo rooms. Each igloo has a different decor, one has a tropical theme, another a cozy ski lodge and another is lit with Edison bulbs. All the igloos are heated and can seat up to eight people.
Location: Budapest, Andrássy út 39, 1061 Hungary
---
Ride the Children's Train
This is not necessarily a train for children, although kids do love riding it, but rather a train run by children. Other than the role of engineer all other jobs are held by youngsters aged 10-14 and they have to have excellent grades at school and undergo a pretty rigorous four-month training period.
The Children's Railway Train runs between Hűvösvölgy and Széchenyi Hill stations in the Buda Hills and offers a scenic 45-minute ride. It's definitely one of the most unique activities in Budapest.
---
Explore Margaret Island
Margaret Island is a favorite spot of locals to escape the city, especially in the warmer months. The small island sits in the middle of the River Danube and is easily accessible by public transit.
It's a great place to enjoy a nature walk, have a picnic, go for a jog or rent a bike or golf cart to ride around the island. There's also a musical fountain, a pool, thermal baths, medieval ruins and an aviary for rescued birds.
Location: Budapest, 1138 Hungary
---
Go to a SPArty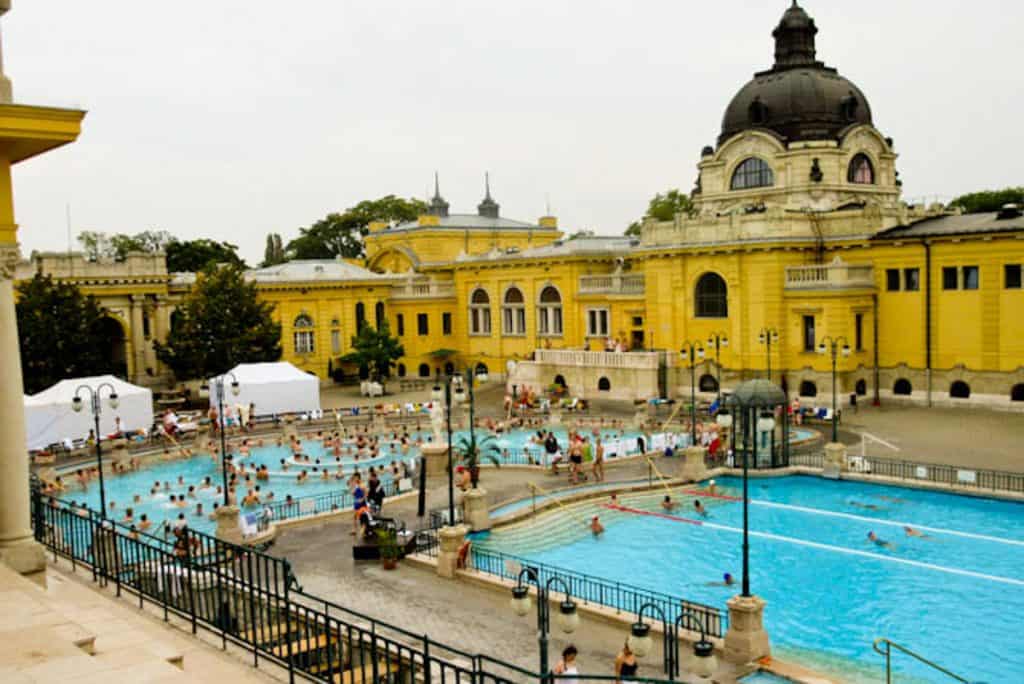 We've already mentioned the many thermal baths in Budapest but the famous Szechenyi Baths offer something a little different. The unique Budapest activity is called SPArty and it's one of the coolest things to do in Budapest at night.
Most Saturdays throughout the year (yes, even in winter) Szechenyi hosts a nighttime party from 10 pm to 3 am. There's music, dancing, video projection mapping and of course bars for party drinks and snacks. The SPArtys are hugely popular and even though there's capacity for 2,000 party goers it's advisable to get your tickets prior to the event, especially in the winter season.
Note: There a many thermal baths and spas in Budapest so even if you're not interested in the SPArty option be sure to visit at least one of these relaxing places.
Location: Budapest, Állatkerti krt. 9-11, 1146 Hungary
---
Take a scenic tram ride
One of the ways to get around Budapest is by tram. There are more than 40 tram lines running through the city and they're a fun and easy way to get around. Aside from being a convenient form of transportation, there's a couple of lines that double as an inexpensive scenic tour.
Tram Line 2 follows the River Danube on the Pest side of the city passing by several major landmarks like the Chain Bridge, Parliament and Central Market Hall. It's a really scenic ride with beautiful views of the river and Buda Hill ending near Margaret Island. Tram Lines 19 and 41V also offer a pretty ride along the Buda side of the river.
---
Pin It For Later
Born in England, Sarah developed her wanderlust at a young age as she traveled around Europe with her parents. As a young adult she spent every penny she could on experiences as opposed to possessions. Eventually she found a way to earn a living doing what she loved: traveling, writing and capturing images of the wondrous world we live in. When not on the go Sarah enjoys time in her "sometimes home" of Vancouver.