Are you looking for touristic, fun and unique things to do in Puerto Vallarta, Mexico? Well, you're in the right place!
Puerto Vallarta was our first temporary home when we began our life of travel in 2013. We not only fell in love with the Pacific coast beach town, but we also began an on-going love affair with the beautiful country of Mexico.
Since then we have explored the magical Yucatan peninsula, the vibrant cities of Mexico, Guanajuato, and Merida, the natural wonders of Chiapas, several Pueblo Magicos and much, much, more.
Fast-forward six years and we finally returned to our first love. To be honest, we were a little anxious at the thought because we'd heard this city on Banderas Bay had grown and changed, as most tourist destinations do. Would we still love it? We're happy to say the answer is definitely YES!
Puerto Vallarta is well established as one of the most popular destinations on Mexico's Pacific Coast for good reason. Despite the growth in popularity the town still retains a special charm and character that many other beach towns don't have. Plus, there's such a variety of things to see in Puerto Vallarta there's little fear of getting bored.
So, what to do in Puerto Vallarta? Do you want to relax on golden sand beaches, enjoy water activities, have an adrenaline-pumping adventure, explore cobblestone streets, watch live performances, shop at local markets or eat, drink and dance the night away? You can do all this and more.
Whether you've been to this popular destination a dozen times or whether you're planning your first visit, this list of Puerto Vallarta activities is sure to inspire an amazing itinerary suited just to you.
Most popular and unique things to do in Puerto Vallarta
---
Get to know Puerto Vallarta
---
Stroll the Malecon
Many Mexican beach towns have a Malecon (waterfront promenade) but Puerto Vallarta's is one of the best. This scenic walkway is a mile long and is lined with shops, restaurants, and bars. Some of which have tables right on the sand, a perfect pit stop for an icy-cold cerveza or margarita.
In the evenings the Malecon really comes alive with both locals and tourists sampling the wares of cart vendors, watching the street performers and socializing with friends old and new. Sundays are also especially fun as it's the day when local families enjoy walking the Malecon together.
---
Wander around Old Town
The pretty, cobblestone streets of Old Town and Zona Romantica are a joy to explore and get lost in which is one of the best things to do in Puerto Vallarta. Venture off the beaten path in Old Town and climb the hilly roads to find pretty pastel-colored homes covered with tropical flowers and vines and get a feel for life in Puerto Vallarta before tourism.
On the flatter ground of Zona Romantica, you'll find dozens of restaurants, bars, shops and art galleries to visit or get refreshed. This area is also very popular with the LGBT crowd so there's plenty of color and lively happenings to keep you entertained.
---
Take a non-touristy tour
If you want to get off the tourist path for a look at the more authentic side of Puerto Vallarta then you'll love the "Hidden Mexico" tour. This full-day tour will take you into the beautiful Sierra Madre mountains where you'll visit a private botanical garden, walk the cobblestone streets of Tuito, see ancient petroglyphs and have an al fresco lunch under the shade of trees with your feet in a cool stream. It's a day full of culture, tradition, heritage, and amazing local cuisine.
---
Explore Cuale River Island
This small island sits in the middle of Cuale River just south of downtown and easily accessible from the Malecon. Take some time to explore the colorful market stands full of local goods and souvenirs, fins a shady spot to sit, under the bizarre but beautiful rubber trees, and people watch or grab a table at one of the bars or restaurants. Whatever you do you're sure to enjoy the atmosphere and quiet retreat from the busier a Malecon.
Note: If you go to the island in the evening you'll see dozens of street cats ready for a night of prowling. It was a bit of an eery experience the first time we witnessed this but they all seemed to be fairly friendly and well-fed so we assume their somewhat taken care of by local residents.
Learn more about this amazing country with these 80+ Fun Facts About Mexico
---
Take in the View
If you're looking for the best view of Puerto Vallarta you'll need to put in a little effort, but it's so worth it. Seek out Calle Galeana or Abasola Street in Old Town and climb the stone stairs to the Cerro de la Cruz viewpoint. You will pass some really pretty houses on the way up and may see some residents using the private outside lift to carry goods up and down.
Once at the top you'll be rewarded with a stunning view of Puerto Vallarta and the Bay of Banderas. Try to go at sunrise or sunset for the best photos and to avoid the midday heat.
---
Visit Marina Vallarta
A short bus ride north of Old Town is Marina Vallarta. This area was built up specifically for tourists and ex-pats so it is much newer than downtown Puerto Vallarta and the Romantic Zone. If you want to stay in high-end resorts and condos this is the place for you. Even if you are not staying here it's worth a trip to walk around the marina and maybe stop in one of the trendy restaurants or bars.
You'll know you're at the entrance to Marina Vallarta when you see the giant whale sculpture and King Neptune statue. Oh and watch out for the resident crocodiles that often lounge at the water's edge.
---
Visit Our Lady of Guadalupe Church
The pretty pink church of Our Lady of Guadalupe can be seen from almost everywhere in downtown Puerto Vallarta. Sitting on the edge of the Old Town's main square it's often part of festivals and events, especially in December when there's a 12-day pilgrimage and celebration of Our Lady of Guadalupe. During this time there'll be parades, candlelight processions, fireworks, and feasts. Any other time of year you can attend a mass in the church which is a great experience even if you're not religious.
---
Puerto Vallarta Adventures
---
Have fun ziplining
If you're looking for heart-pounding thrills you should definitely check out Vallarta Adventures. They have been offering fun, nature, and cultural experiences for over 20 years so they know how to show you a good time.
One of their most popular adrenaline tours is the Outdoor Zip Line Adventure. The tour includes an ATV ride into the Sierra Madre, a mule ride up the mountain, water slides, zip lines and the brand new Roller Coaster Zip Line which is one of just a few in the world.
---
Go deep-sea fishing
The waters off the Puerto Vallarta coast are teeming with fish and there are plenty of organized tours and fishing boats ready to take you out. If you have the budget there are luxury fishing yachts with all the amenities onboard but there are also simple private fishing boats that you can hire for a few hours at a very reasonable rate.
Either way, you will more than likely return to shore with your quota and there will be someone ready to clean and prep the fish for cooking up later.
---
Get hiking
If you love hiking and immersing yourself in nature there's a fabulous hike not far from Puerto Vallarta's Old Town. This hike follows the coast from Boca de Tomatlan to Las Animas and winds through jungle paths, along beaches, and past local houses.
The views are spectacular and there are several opportunities to stop for a swim or relax on a secluded beach under a palm tree.
Note: For the full details on how to do this hike read this post.
---
Go Golfing
Warm weather year-round plus beautiful mountain, ocean and jungle scenery make golfing in Puerto Vallarta a popular pastime.
There are several good golf courses in Mexico's Riviera Nayarit. Punta Mita has a Jack Nicklaus course with spectacular ocean views. The course at Marina Vallarta is a favorite of nature and wildlife lovers. And the El Tigre Golf and Country Club near Nuevo Vallarta is a great choice for golfers of all levels.
---
Chase waterfalls
There are several waterfalls close to Puerto Vallarta, some are easy to get to while others require a mix of transportation and hiking. Our two favorites are the falls in Yelapa and Quimixto. Both destinations will require a water taxi to get there and then a hike or mule ride up the hill.
Yelapa is more of a town with restaurants and little shops whereas Quimixto is much quieter with not much to do other than the beach and waterfall. At Quimixto there's a large swimming hole under the waterfall and a natural water slide down the falls themselves for the adventurous.
---
Enjoy some water sports and activities
If you like to be in or on the water then you'll love Banderas Bay. Para-sailing, jet skis, surfing, paddleboarding, kayaking, and sailing are just some of the water-based activities in Puerto Vallarta.
The water is also teeming with sea life and there's plenty of opportunities to get up close and personal. Choose from large boat tours all the way down to small fishing boats and head out into the blue for snorkeling, scuba diving or whale watching.
---
Things to do at night in Puerto Vallarta
---
Rhythms of the Night
Rhythms of the Night is definitely one of the best things to do in Puerto Vallarta and is well worth the splurge. You will be taken on a sunset boat cruise to the private island of Las Caletas which is lit by candles and tiki torches.
As you step on the island you'll be greeted with traditional music and dance, before being escorted to a romantic table on the beach or deck where you'll dine under the stars with the sound of the waves lapping at the shore. After dinner, you can explore the island before being entertained by a spectacular show.
Note: To check pricing and availability click here. For more details on the entire Rhythms of the Night, experience click through to this article.
---
Watch the sunset
The Pacific Coast of Mexico provides stunning sunsets all year long and Puerto Vallarta is situated perfectly for viewing. Head up to the Cerro de la Cruz viewpoint, take a sunset cruise, find a patio at the marina or in Old Town and enjoy the show. Our favorite way to watch the sunset is on the sand with a margarita at a place like the Sea Monkey or join the other sunset lovers on Los Muertos Pier.
---
Check out the nightlife
There's plenty of nightlife in Puerto Vallarta, from casual bars with live music to loud and trendy nightclubs. In Zona Romantica, you'll find some really cool little cocktail bars like Bar la Playa, sexy rooftop lounges like The Top Sky Bar, live music bars like the Roxy Rockhouse and anything goes favorites like Andale's.
If you head over to the Malecon and Isla Caule areas you've got Mandala and La Vaquita dance clubs, live music at Incanto lounge and Murphy's Irish Pub (where our favorite band La Trez Cuartoz plays)and jazz or Latin music at The Jazz Club and La Bodeguita del Medio. These are just a few examples of the many different varieties of nightlife options.
---
Puerto Vallarta food & drink
---
Take a food tour
If you want to get a real taste of local food then Vallarta Food Tours will not disappoint. Their motto is "Local Food, Local Places, Local People" and they have several tour options to choose from.
We went on their Original Downtown Tour which covered both sides of the river and provided a look at the history and culture of Puerto Vallarta as well as an abundance of absolutely delicious food and drinks from street vendors and restaurants. Next time we plan to try the "Mex-ology" tour which covers tacos and tequila or "The Street" which takes you on an evening taco tour.
---
Drink craft beer
Like the rest of North America Mexico is seeing an increasing interest in craft beer and there are now several craft beer pubs and breweries in Puerto Vallarta. There's even an annual craft beer festival! The two local craft breweries are Monzon and Los Muertos. Both have their own brews on tap and a good food menu for bites.
You can also find Mexican and international craft beer at many of the bars in town. Some good places to try Murphy's (with 14 lines of craft beer on tap!), La Cervecaria Union, Devil's Bar, and Tacos Revolution.
---
Taste Tequila
There is much more to tequila than the cheap, gasoline tasting shots being poured at the bars and clubs. Tequila has a long history in Mexico and comes in many varieties and qualities. Step inside one of the many tequila shops along the Malecon and do a tasting. You will likely be surprised at how different, and how good, quality tequila tastes. Be prepared for some high-pressure sales but don't feel obligated to buy anything, although you may be tempted when you taste the good stuff.
Note: You can read more about the town of Tequila and how the drink is made in our Tequila, Mexico article.
---
Eat street food
OK, so we know this can cause some disagreement but personally, we feel that if you don't try the street food you haven't fully experienced Puerto Vallarta. In fact, we would add that trying street food is a top Mexico experience that shouldn't be missed. We can happily say that after living in PV for six months and eating tons of tacos, seafood, fruit, and doughnuts from street and beach vendors we did not have one stomach issue. Of course, we can't guarantee you won't get an upset stomach but that is true of pretty much anywhere in the world.
We do suggest you take some precautions like choosing places that are busy so you know the food is fresh and of course vendors that keep a clean space. Also, if you do have a sensitive stomach bring a supply of Pepto and take one daily and stay away from the really hot stuff. If you're still unsure try a food tour. This way you can get a taste of local street food with people who know where to go.
Note: Craving those street tacos back home? Here's a fish taco recipe we got from Puerto Vallarta.
---
Entertainment & Art in Puerto Vallarta
---
Be entertained at Act II Entertainment Stages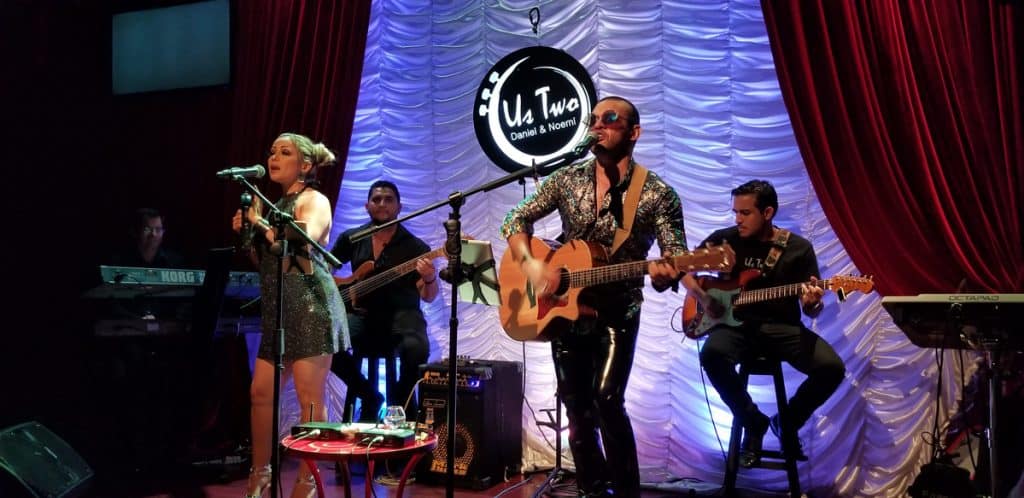 Act II Entertainment is the place to go for top-quality entertainment. The venue has a theater and a cabaret lounge which show well-known theater productions, fun, and quirky cabaret acts, impressive concerts and other music, dance, and comedic performances.
From November to May there are performances almost every night and even though things slow down drastically in the summer there are still some fun acts at least once per week.
---
Join the Southside Shuffle
On every other Friday evening from November to April head to Basilio Badillo for the Southside Shuffle. Numerous art galleries and boutiques open their doors late to the public and offer up refreshments and music to enjoy while perusing the fabulous artwork and local artisan goods for sale.
There is also live entertainment on the street and special deals at restaurants and bars. It's a great way to experience a local community event and it's all free!
Note: One of our favorite stops is Galleria Dante for their incredible, diverse collection of art.
---
Listen to live music
Puerto Vallarta is full of live music performances of all types and much of it's free to enjoy. As mentioned above in the nightlife category there are bars with live rock bands like Roxy, Murphy's and Nacho Daddy that generally don't have a cover charge.
If you want something more relaxed head to Incanto for an evening of great music and entertainment. They have both a cabaret/theater for larger ticketed performances as well as an intimate piano bar for a romantic cocktail and song.
Plaza de Armas, which sits between the Malecon and Our Lady of Guadalupe Church, has a bandstand that's often the scene of musical entertainment. Here you can enjoy free concerts as well as learn traditional Danzon dancing. Just across the road on the Malecon, there's Los Arcos Amphitheater which also has free concerts and entertainment.
Note: Check out Vallarta Tribune for a great live music calendar.
---
Other top things to do in Puerto Vallarta
---
Go to the beach
It's no surprise that going to the beach is one of the top Puerto Vallarta activities and there are plenty of beaches to choose from. These are just two of our favorites:
For a day of fun on the beach with a lively atmosphere, Playa Los Muertos is the place to go. This beach is in the heart of Zona Romantica and has dozens of restaurants, bars lining the shore as well as beach vendors delivering drinks and food right to your beach towel.
Just a 15-minute bus ride away from the busy Los Muertos Beach is the peaceful Playa Las Gemelas. The sand is whiter and the water is bluer here and there are plenty of trees for shade. Plus, the lack of resorts and restaurants make it a perfect place to escape the crowds and activity of centro Vallarta.
---
Help the dogs of Puerto Vallarta
If you like dogs and cats seek out the Puerto Vallarta SPCA stand at the weekend market in Old Town. They will arrange for you to visit a hidden animal sanctuary in the hills where you can visit and give comfort to the rescued dogs and cats.
The people who volunteer and work at this sanctuary are amazing and the animals they care for are so very happy and grateful. Their goal is to find new homes for the dogs, mainly in Canada, and you can volunteer to escort one back on the plane. I just can't say enough about this sanctuary. Please take the time to visit or donate in some way to this amazing place.
---
Enjoy the Vallarta Botanical Gardens
Vallarta Botanical Gardens is an interesting and unique attraction that is often overlooked by visitors to Puerto Vallarta. Those that do take the 40-minute bus ride are rewarded with a great day full of nature, learning, swimming, hiking, relaxing and delicious food. The gardens are cultured in a way that allows visitors to view all of the beautiful, indigenous flora and fauna as its natural state.
You will likely get a bit hot walking the many trails but luckily there is a chance to cool off in a lovely natural pool so bring your swimsuit and towel. When you get hungry head to the scenic restaurant for some unexpectedly amazing food.
Note: Click through to this article for more details on Vallarta Botanical Gardens.
---
Follow Elizabeth Taylor and Richard Burton
This famous couple had a deep love for Puerto Vallarta and that love affair had quite an effect on the future of the beach town. It all started in 1963 with the filming of John Huston's Night of the Iguana in Mismaloya. Take a short trip to the sleepy village of Mismaloya for great views of Los Arcos, which are seen in the movie. Unfortunately, the set built for the film has been left to crumble and is not open to the public.
Burton and Taylor also owned homes in Puerto Vallarta which were connected by a pink "lover's bridge." Elizabeth's house was called Casa Kimberly and she continued to visit right up until the late 90's. Today Casa Kimberly is a boutique hotel with nine suites, a tequila bar, and an open-air fine dining restaurant with a spectacular view.
There's also a star for Elizabeth Taylor on Olas Atlas and a statue of John Huston on Caule River Island.
---
Take a day trip
Although there's plenty of reasons to just stay in Puerto Vallarta there are also so many great spots to visit on a day trip. Go north and you'll find charming beach towns like Bucerias, Sayulita and San Pancho. Go south for sleepy villages like Mismaloya, Boca de Tomatlan. Take a boat over to Yelapa, Las Animas and Quimixto. Or drive inland for a taste of the Sierra Madre and old Mexico in towns like San Sebastian del Oeste, El Tuito, and Mascota.
The easiest ways to take these days trips are to you can hire a car and self-drive, or hire a driver to take you on a personalized tour. You can also take a bus to many of these places which will give you a real local experience but will also take much longer.
Note: To read more about a day trip to Sayulita click here.
---
Pin It For Later
Thank you for following along on our adventures. If you enjoyed this article please share.
---
Popular Tours in Puerto Vallarta

Disclaimer: This article may contain affiliate links. This means that if you purchase something through one of these links we may receive a small commission at no extra cost to you. This is one way that we make a living that allows us to keep this site running and we thank you for your support.
---
Disclaimer: This article may contain affiliate links. This means that if you purchase something through one of these links we may receive a small commission at no extra cost to you. This is one way that we make a living which allows us to keep this site running and we thank you for your support.Save
Save
Born in England, Sarah developed her wanderlust at a young age as she traveled around Europe with her parents. As a young adult she spent every penny she could on experiences as opposed to possessions. Eventually she found a way to earn a living doing what she loved: traveling, writing and capturing images of the wondrous world we live in. When not on the go Sarah enjoys time in her "sometimes home" of Vancouver.