UPDATED: July, 2019
Northern Ireland may be small in size but it's a giant among destinations in the United Kingdom for natural beauty, historic sights, and delicious food and drinks. The best way to fully explore this country is by car on an ultimate Northern Ireland road trip from Belfast to Derry.
Driving a car in Ireland, rather than taking a bus tour, gives you the flexibility and independence to discover Ireland's true magic, off the beaten path and in your own time. Just remember that driving in Ireland requires some adjustment if you are not used to driving on the left side and along very narrow country roads. Take your time and pull over often to breathe in the clean Irish air and stunning vistas.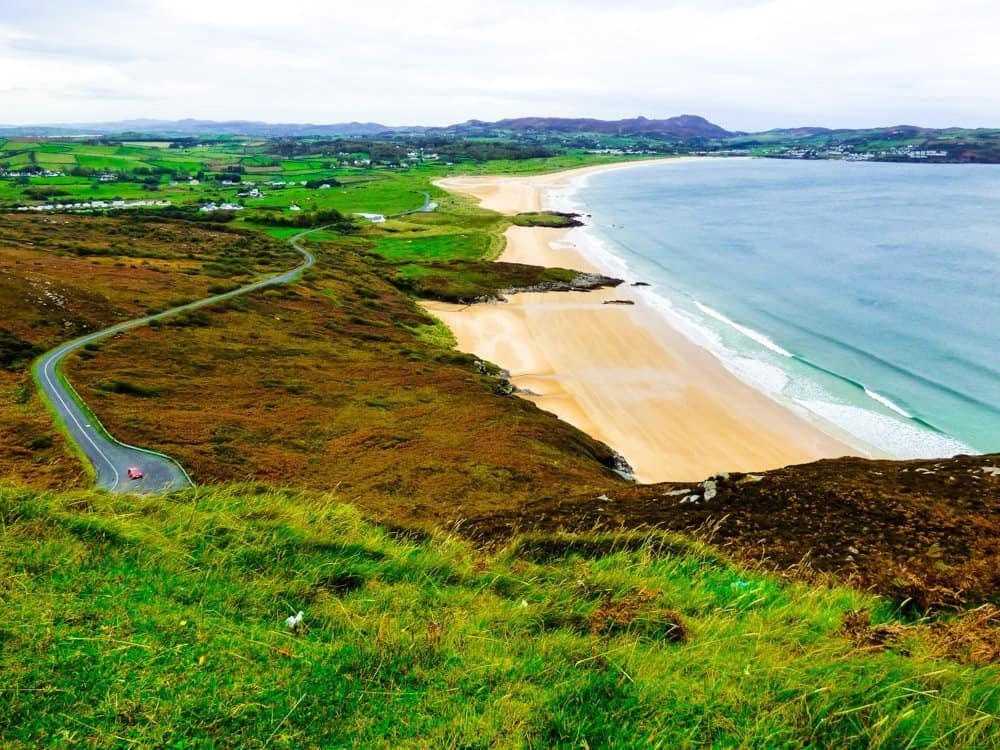 Note: We decided to rent a car with Hertz for our road trip from Belfast to Derry, Northern Ireland because it's a company we have used before and feel comfortable with. Plus they had locations convenient for us. We actually picked up our car in Dublin and drove to Belfast and have to say that we were really impressed with the efficiency and ease of their pick up and drop off procedure and the overall service and quality of the vehicle.
---
How Many Days to See Northern Ireland?
This Northern Ireland self-driving tour is circular and it starts and ends in Belfast. Ideally, you would spend two nights in Belfast, either split (one at the start and one at the finish) or both together at the beginning. We then suggest stopping for an overnight somewhere halfway like Ballintoy or Bushmills. Finally, you would spend a night or two in Derry before returning to Belfast or going south into the Republic of Ireland.
Four to five nights will give you time to see everything along the Coastal Causeway and in Belfast and Derry without feeling terribly rushed. Five to six nights would be even better as it would give you the time to go inland and see even more amazing Northern Ireland tourist attractions.
If you're really tight on time you could feasibly do it in three nights. You would spend the first night in Belfast before leaving early the next morning to drive the full Coastal Causeway to Derry in one day. You would make as many stops as you could along the way, ending in Derry for the night and seeing some of the city the next day before driving back to Belfast for the night. It's definitely possible but it will leave you feeling rushed and wanting more Northern Ireland sights.
---
Belfast, Northern Ireland
Thanks to Venturists for this image
Belfast, one of the top places to visit in Northern Ireland, has emerged from its troubled and turbulent past as a welcoming, interesting city making it both a worthy destination for tourists and a great place to live. Although this resilient city and its residents are putting their sad history behind them, it's never a good idea to completely forget the past or some say we are doomed to repeat it. For this reason, many of Belfast's most interesting sights tell the story of the troubles they have faced. However, it's done in a way that teaches and entertains rather than depresses.
It's not just history you'll find in Belfast but also great food and entertainment. There is an array of trendy new restaurants and bars alongside more traditional Irish pubs and eateries and the city seems to have a great love for live music and dance.
The city of Belfast is divided into quarters and each section has its own unique character and flavor. The Queen's Quarter is home to the Queen's University and Botanical Gardens. The Titanic Quarter is where you'll find its namesake museum and upscale harborfront. The Gaeltacht Quarter is the cultural and political hub and the lively Cathedral Quarter is where you'll go for nightlife and funky restaurants.
---
Things To Do in Belfast
Titanic Belfast
Belfast is where the fated Titanic was built and it's now home to the largest of 187 Titanic museums. The Titanic Belfast exhibit spans six floors and is the most popular sight in the city so be prepared to spend some time. If for some reason you don't have the time to visit the actual museum still try to go to the Titanic Quarter to view the impressive metal building that locals nicknamed The Iceberg.
Tip: Book in advance online and arrive early morning or late afternoon to avoid a wait.
---
Belfast Black Taxi Tour
Tour the city in an iconic black taxi and get a fun and sometimes one-sided commentary on the Troubles. The tour will include the street murals called the Peace Walls which kept the Protestants and Catholics apart.
---
St George's Market
If you are in Belfast on a Friday, Saturday or Sunday don't miss a trip to St George's Market. In 2014 this Victorian market was named the best large indoor market in the UK and it has been running since 1890.
Tip: Friday is the traditional fish and variety market (go very early for the best experience) while Saturday and Sunday are crafts and food.
---
Crumlin Road Gaol
Guided tour is the only way to see the inside of the infamous Victorian Crumlin Gaol. You will hear chilling stories and visit the underground tunnel, the condemned man's cell, the flogging room and the execution cell where 17 men were hanged between 1854 and 1961. If you have the guts take it a step further with the Paranormal Tour for 18's and over only.
---
Cathedral Quarter
This area is best explored in the evenings when the charming, rambling streets are buzzing with activity spilling out from the pubs and restaurants. Take some time between bar stops to explore the alleyways and crannies painted with bright and fanciful murals.
---
Hop-On, Hop-Off Bus Tour
We often like to start a visit to a new to us city with a Hop-On, Hop-Off Bus Tour because it gives a great overview and helps us decide where we want to spend our time. The Belfast City Sightseeing Tour is a good one because the on-board guides are brilliantly knowledgeable and will keep you both entertained and educated.
Tip: If you only have one day in Belfast this would be our suggestion. Remember to dress for the weather though as it is an open-air bus and you are in Northern Ireland.
---
Watch for Game of Thrones Stars
We actually saw Kit Harrington, who plays Jon Snow of the popular Game of Thrones, walking down the street when we were there. Game of Thrones does a lot of filming in the Titanic Studios although since they are supposedly on the last season you'd better get there soon.
Tip: Any of the above tours plus many more can be booked in advance through a booking agent. In Europe, we often recommend Get Your Guide because they are the world's largest online booking platform for tours and activities plus they have the best price guarantee.
---
Where to Drink and Where to Eat in Belfast
Belfast is fast becoming a player in the foodie scene as there has been a surge of world-class cuisine and hip new eateries popping up in the past few years. Add to this the classic and traditional drinking establishments and you have a great evening out or weekend away. Here is just a taste of what you can find.
Crown Liquor Saloon
A stop in a pub is a must when you visit Northern Ireland and this spectacular example of a Victorian Gin House is a favorite of locals, tourists and even visiting celebrities. Get there early to grab one of the traditional private seating areas called "Snugs" and enjoy a beer or cocktail while admiring the gorgeous wood and glass interior.
---
The Duke of York
This historic tribute to Belfast sits on a picturesque cobblestone street in the heart of the Cathedral Quarter. The original Duke of York pub was blown up during the Troubles but was rebuilt and decorated with murals, pictures, and Northern Ireland slogans. It also often has good live music.
---
The Dirty Onion
If you're in Belfast in the summer The Dirty Onion is a must for an evening of drinks and music. They have a fabulous large outdoor area with wooden benches and high top tables, a huge selection of whiskey and beer and live music every night of the week. They are known as the home of traditional Irish music and are housed in one of the oldest buildings in Belfast. There is also the Yardbird upstairs for great roast chicken.
---
The Muddlers Club
"The Muddlers Club" was a secret society 200 years ago but now it's the name of a much-respected eatery in Dublin's Cathedral Quarter. The menu is full of fresh, seasonal ingredients used to create a modern take on traditional Irish fare.
---
The Barking Dog
Young and hip meets posh and traditional in this brick-walled, candlelit eatery that serves food on wooden boards. They are known for their slat and pepper scampi, the 3-day prep Beef Shin Burger and fancy cocktails.
---
Mourne Seafood Bar
Deservedly popular for well priced, fresh, seafood dishes that are deliciously simple. Be sure to try the chowder and the shellfish dishes that are taken from their very own shellfish beds in Carlingford Lough. The downside is it's hard to get a table for dinner, lunch is usually easier.
---
Maggie May's
A visit to Belfast is not complete without starting your day with a real Ulster Fry Up. Maggie May's is a favorite for this hearty breakfast consisting of bacon, egg, sausage, beans, hashbrowns, tomato, potato bread, soda bread, mushrooms, and pancakes. The perfect hangover cure after a night at The Duke of York.
---
Where to Stay in Belfast
There are lots of accommodation options in Belfast with a full range of prices and as it is a relatively small city it's easy to get around however to be most central we would suggest staying in the Central, Cathedral or Queen's Quarters.
Like most destinations, Airbnb is a great option if you like the idea of having a kitchen and more of a homey feel but they will mostly be found in the Queen's Quarter. This is what we did on our recent stay and we had a huge one-bedroom apartment for about $75 USD.
Tip: If you have not yet booked with Airbnb you should really give it a try. We can even offer you a $35 credit on your first booking, just use this link to sign up.
If you prefer more traditional accommodations here are some places we either looked at ourselves or had recommended to us by fellow travelers. We always start our search on Hotels Combined as this site shows pricing from all of the other booking sites giving you a good comparison.
Economy & Central
Ibis Belfast City Center is a very centrally located 3-Star hotel easy walking distance to most of the sights listed
above. The rooms are clean and comfortable and the hotel is modern with an on-site restaurant and bar.

---
Moderate & Hip
The Bullitt Hotel is a funky, boutique accommodation in the lively Cathedral Quarter which means close to lots of restaurants and bars. The decor is simple but with quirky touches throughout. Rooms aren't huge but they're comfortable and have King beds.
---
Award-Winning Luxury
The Merchant Hotel is a 5-Star luxury-boutique, award-winning accommodation in the Cathedral Quarter. The
overall decor is grand Victorian but the rooms have splashes of Art Deco and 70's style. It really has to be seen to be appreciated. This is a full-service hotel with a spa, gym, rooftop hot tub, and several swanky drinking rooms.
---
Things to See Between Belfast and Ballintoy, Northern Ireland
Following this suggested itinerary you will be taking the 120-mile Causeway Coastal Route between Belfast and Derry, Northern Ireland. Along the way, there are so many incredible sights that you may have to make some tough decisions on what to leave out or what to cut short depending on how much time you spend at each stop.
The actual driving time taking the route we suggest is just under four hours but of course, with stops, it will be at least double that. If you have the time to stretch into five or more nights you should consider spending a night about halfway in a town like Ballintoy.
Glenarm Castle
Glenarm Castle is one of Northern Ireland's most beautiful estates and has been the family home of the McDonnells for 400 years. Walk through the beautiful walled gardens along a path that leads to the impressive castle which is only occasionally open for viewing. We highly recommend having a meal or snack in the Tea Room as the food is fresh and delicious and very well priced.
---
Carrick A Rede
Carrick A Rede rope bridge swings between the mainland and Carrickarede island. It was originally strung up in 1755 by salmon fishermen but now it is a fun tourist attraction with a stunning view and is maintained by the National Trust.
---
The Dark Hedges
If you're a Game of Thrones Fan you will know the Dark Hedges as The King's Road. There are many filming sites in Northern Ireland but this is one of the more popular because it has such a unique look. Again be prepared to wait a bit if you want that perfect shot with no people in the way.
Note: This stop is not on the Coastal Causeway but is a short detour inland.
---
Where to Stay in Ballintoy or Bushmills
Ballintoy
Ballintoy is a charming small coastal village with a picturesque fishing harbor which offers a perfect taste of Irish rural life. Game of Thrones fans will also recognize it as the location of the exterior Pyke shots and Iron Islands. Being a small village there is not a huge choice of accommodations so it's best to book in advance during the busy seasons.
Fullerton Arms
Located right in the village of Ballintoy, the Fullerton Arms is a family-run guest house with a full bar and
restaurant on site. There are 12 rooms, most with en-suites and some with a sea view.

---
Bushmills
Bushmills is a picturesque town and a good choice for an overnight stay on this itinerary. If you choose to stay here rather than Ballintoy then you can either visit the Giant's Causeway before checking in or take the shuttle in the morning leaving your car at the hotel.
Bushmills Inn
Without a doubt, the famous and much loved Bushmills Inn is our top pick to stay in this area of Northern Ireland. This luxury hotel has 41 lavish rooms, a gaslit bar, cozy fireplaces, a secret library and an award-winning restaurant. This is another of Ireland's Blue Book collection.
---
ⓘ Planning a trip to Ireland? Here are 50 things to know about traveling to Ireland.
What to See Between Ballintoy and Derry, Northern Ireland
The Giant's Causeway
The most famous of Northern Ireland's sights is the Giant's Causeway. Of course, this means sharing the natural wonder with hundreds of other tourists on any given day, but it is definitely still worth a stop. The upside of having a car means that you can linger and try to wait for a break in the groups on bus tours.
Insider tip: When you drive to the Giant's Causeway you will be confronted with a sign for a pretty high parking fee that includes entrance. Be warned that it is actually free to visit the Giant's Causeway so the only way they can charge you is for parking. One way of avoiding this is to park in the village of Bushmills and take the shuttle service to the Causeway.
---
Bushmills Distillery
The village is picturesque and charming in its own right but the main attraction here is the Bushmills Distillery. Founded in 1608 this 400-year-old icon is the oldest whiskey distillery in the world and if you have the time it's well worth doing the distillery tour.
---
Dunluce Castle
The ruins of this Medieval Irish Castle strike a dramatic pose on the edge of the coastal cliffs of north County Antrim. You can enter and explore what is left of the castle for a fee but it's worth a stop even if you don't go inside to view such an iconic image.
---
Mussenden Temple
Perched dramatically on a 120-foot cliff top above the Atlantic Ocean, the Mussenden Temple and the surrounding area of Downhill Demesne offer stunning views that are some of the most photographed in Ireland. The temple was built in 1785 and was inspired by the Temple of Vesta in Tivoli, Italy.
---
Derry~Londonderry, Northern Ireland
Yes, this city goes by two names and it's a bit of controversy to some and a source of jokes to others. We won't go into the history and politics here but if you're interested you can learn more about the Derry~Londonderry name in this article. We will just say that you're probably best to call it Derry in Ireland.
Derry is a perfectly preserved 17th-century walled city, is Northern Ireland's second-largest, and is one of the finest walled cities in all of Europe. Aside from the walls, this historic city also boasts a beautiful setting and architecture and a thriving arts and culture scene. It's also a great place to eat and drink which is a huge plus for us.
Note: For more information and images go to the website of Visit Derry.
---
What to See in Derry ~ Londonderry
The City Walls
Possibly the number one thing to do in Derry is to walk the walls themselves. The Derry walls are a 20 foot high, mile-long oval complete with gates and watchtowers and everything you would expect of a defensive city wall. They have actually never been breached earning Derry the nickname of the Maiden City.
---
Tower Museum
Housed over five floors of a Norman Tower, the Tower Museum's main displays are the history of Derry and An Armada Shipwreck, the story of one of the Spanish Armada's largest ships, La Trinidad Valencera. It's also worth visiting for the view from the top looking over the city's rooftops.
---
Guild Hall
A beautiful Derry landmark sitting on a picturesque square in the heart of the city. Guild Hall is worth a visit for the stunning stained-glass windows alone but if you have time stay for tea and a traditional Northern Irish traybake called a "fifteen".
---
Peace Bridge
The Peace Bridge crosses the River Foyle to the former military barracks of Ebrington, which is now a bustling square and the site of many cultural events and concerts. The view of the city from the bridge is awesome, especially at night.
---
St Columb's Cathedral
Dating back to 1613 St Columb's Cathedral was one of the first buildings constructed in Derry. The 221-foot tall spire can be seen from all over the city and the stone walls contain some fascinating artifacts including the original keys to the walled city.
Insider's Tip: Derry is one of the best places in the world to be for Halloween. The spooky holiday of Halloween is actually descended from the ancient Irish festival of Samhain and Derry celebrates in a big way. Take part in the Foyle Halloween Carnival, the Carnival Parade, the Gothic Ball, the Awakening of the Walls and a haunted house tour. But whatever you do come in costume.
---
Where to Eat & Drink in Derry
You may be surprised at the array of food choices found in Derry, especially for a city of its size. It is up and coming on the foodie scene and there is something for every budget and taste and proprietors pride themselves on their legendary hospitality.
Browns Restaurant & Champagne Lounge
Winner of more awards than we have time to list and recommended in the Michelin Guide, Browns is a must if you're looking for one of the best meals in Northern Ireland. Chef Ian Orr is a genius at using fresh local ingredients like Monaghan duck, Donegal seafood and Fermanagh lamb to create simple but delicious meals and tasting menus.
Mama Masala
Boasting a unique combination of Indian and Italian food Mama Masala is a popular restaurant with a menu that is sure to please everyone. Classic curries and tandoori live in harmony with pizzas and pasta in a cozy setting overlooking the Quay. Try for a window seat.
Quaywest
The Quaywest gastropub sits on the banks of the Foyle River in what used to be a 19th-century boathouse. The menu is European fusion meals accompanied by a fabulous craft, beer, wine, and cocktail list and the atmosphere is fun and lively.
Walled City Brewery
Said to be the first brewery and restaurant combination in Northern Ireland the Walled City Brewery is quickly becoming a top choice in the city of Derry. Pair one of their expertly brewed craft beers with a delicious hose-smoked, beer-braised pulled pork sandwich.
Peadar O'Donnell's & Gweedore
Peadar O'Donnell's is the place to go in Derry for traditional Irish music and right next door is Gweedore, a live band venue. Both offer live traditional and contemporary music every night of the week. Enjoy a pint or two in a friendly Irish setting while listening to a scheduled or impromptu session of local and visiting talented musicians.
---
Where to Stay in Derry~Londonderry
Derry does not offer as much of a selection as Belfast but there is still something for every budget. As we mentioned before if you like the idea of a more homey setting usually in a residential neighborhood then Airbnb is the place to start. For more standard accommodations here are some to get you started.
Within the City Walls
Bishop's Gate Hotel is in the heart of the city within the historic city walls themselves. The Edwardian Hotel was built in 1899 and is a stylish blend of luxury and contemporary decor and amenities. The service is top-notch and there is an on-site restaurant and champagne bar.

---
Central and Well-Priced
The Maldron Hotel is within the city walls allowing for easy access to all the main sights of Derry and the price is
very reasonable. They have a mini gym and sauna and restaurants and bar on site and even a small hotel parking lot which is rare in the center.

---
Peaceful Country Retreat
The Rathmullan House is not right in Derry, it's actually in Donegal County Ireland but it's close enough to make it a romantic home base and is our top pick to end this trip. This gorgeous country house with peaceful gardens leading down to a mile-long sandy beach is one of several very special accommodations in Ireland's Bluebook collection. Make sure to have dinner in the award-winning Cook and Gardener Restaurant. It was one of the best meals we had in all of Ireland.
---
About Ireland's Blue Book
The Rathmullan House and Bushmills Inn are just two of the gorgeous accommodations available through Ireland's Blue Book. They have many stately homes, manor houses and castles in their collection and in fact you could plan a full tour around Northern Ireland and the Republic of Ireland staying in their selected properties. If you like the idea of a romantic getaway that makes you feel like you've stepped back in time and emerged as royalty (without the huge price tag) then you must take a look at Ireland's Blue Book.
Note: When you leave Derry you can take the faster inland route back to Belfast (less than 2 hours) or head southwest and explore Ireland's Wild Atlantic Way.
---
More Things to See in Northern Ireland
As we said earlier this itinerary covers most of the must-see stops along the Causeway Coastal route but that is not the end of Northern Ireland's sights. If you have more time here are some other spectacular places to add to your drive.
The Gobbins Cliff Path
This is a challenging, two-mile cliff walk along the edge of the Irish Sea offering up spectacular vistas. It is open seasonally and must be booked in advance.
Rathlin Island
The six-foot-long by one-foot wide Rathlin island is just six miles from the Ballycastle by ferry. Walk or cycle around the beautiful island and watch for seals and puffins.
Game of Thrones Sites
Northern Ireland is home to many Game of Thrones filming sites like the Dark Hedges and Ballintoy. Others include Portstewart Strand, Downhill Beach and Castle Ward. See the list of Game of Thrones filming sites in Northern Ireland here.
---
If you follow this itinerary you will be assured of seeing the top sights of Northern Ireland and will undoubtedly fall in love with this stunning country just as we did. However, please take our advice and don't look at this road trip as just a checklist of must-sees. As we said before having a car gives you the opportunity to really explore and discover your own new favorite spots. If you see a side road, a village, a local pub, an overlook or anything else that calls to you, do yourself a favor and answer that call. Some of the best memories are made when you get off the beaten path and Northern Ireland is a perfect place to do that.
If after all of this we haven't convinced you to hire a car and do a self-guided road trip you can still see the wonders of Northern Ireland with a tour while using Belfast as a home base. Click here to see some options for guided tours from Belfast.
Map of Northern Ireland Road Trip
Pin It For Later
---
Popular Tours From Belfast

Disclaimer: We were hosted by Hertz rental car as well as Rathmullan House in order for us to review and share the experience with our readers. However, as always every word and opinion in this article is 100% our own. This article may also contain affiliate links which means that by purchasing through these links we may receive a small commission at no extra cost to you. Although we make no guarantees for products and services purchased we do only suggest things that we have researched or experienced ourselves. This is just one way that we generate an income with our business which allows us to continue providing great travel tips, guides and stories. We thank you for your support.
Born in England, Sarah developed her wanderlust at a young age as she traveled around Europe with her parents. As a young adult she spent every penny she could on experiences as opposed to possessions. Eventually she found a way to earn a living doing what she loved: traveling, writing and capturing images of the wondrous world we live in. When not on the go Sarah enjoys time in her "sometimes home" of Vancouver.