Dublin, the lively capital of the Republic of Ireland. Known as a destination with a vibrant social scene, interesting tourist sites, music and culture, hearty meals, friendly people and of course home of Guinness. But, what may not be as well known is that there's an abundance of outdoor activities and adventure day trips from Dublin. This makes Dublin County an ideal destination for us as it offers the variety we look for when trying to maintain a good life balance while we travel.
There's a reason for Dublin's tagline "A Breath of Fresh Air." Situated on the shores of Dublin Bay and surrounded by the Dublin Mountains, this city and county has plenty to offer the outdoors enthusiast and adventure seeker. We experienced this out first hand when we were invited to Ireland to speak at a TBEX conference and join Discover Ireland on a few days of Dublin adventure.
Adventure & Cultural Day Trips From Dublin
Hiking the Howth Cliff Walk
At the edge of Dublin city, on the northern boundary of Dublin Bay, is the charming little fishing village of Howth. The village itself is one of the best day trips from Dublin with wonderful places to stroll, shop, and have lunch with a view of the fishing trawlers coming and going. But Howth, Ireland also offers great hikes and walks for the visitor looking for a more active experience. And hiking is one of the great activities of Ireland travel.
We were guided by Rob, of Shane's Howth Hikes, on an inspiring two-hour version of the Howth Cliff Walk starting near Howth Castle. Our adventure took us through enchanted woodlands and Rhododendron gardens up to a panoramic clifftop view of the heathlands, harbor and Howth village below. A view that HG Wells called the most beautiful in the world.
Along the way, we were mesmerized by Rob's tales of myth and legend dating back 4,000 years and sights like ancient Aideen's Grave and druidic stones as old as the pyramids.
There is no doubt that this hike is moving and beautiful but it was the expert knowledge and passion displayed by our guide and storyteller, Rob, that made this one of our most memorable experiences. If you like nature, hiking, history and mythical tales you really should not miss one of Shane's Howth Hikes.
---
Eating in Howth, Ireland
As mentioned earlier, Howth is also a great place for a meal. We had the freshest of fresh seafood lunch at Octopussy's Seafood Tapas Bar. Here you will enjoy a taste of the Mediterranean using locally caught seafood in a casual, friendly spot with a view of the harbour.
For dinner, we went to the award-winning seafood restaurant, Aqua. With massive windows all around offering views of Howth Sound, impeccable service and delicious, fresh menu items it's a perfect way to end the day.

---
Zipit Forest Adventures
Zipit Video
*Subscribe to our Youtube channel to see more of our adventures.
If you're looking for serious adventure activities in Dublin then Zipit Forest Adventures at Tibradden Wood will thrill you. Zipit is a high wire forest adventure park that is great for all ages. During the three adrenaline-filled hours we spent there we witnessed ages from seven to almost 70 laughing and screaming like kids (whether they were or not) as they climbed, swung and flew through the air.
At Zipit you can climb to the tops of the trees, swing into cargo nets, ride a bike across a narrow bridge and zipline from tree to tree in complete safety. The staff ensures you are well trained and monitored and there are various levels of difficulty so whether you're looking for just a little excitement or a full-on adrenaline rush you can find it here. Also, the location is a beautifully forested hilltop so if you're a nature lover who prefers to say on the ground there are plenty of trails to keep you happy as well.
---
Sea Kayaking in Dalkey, Dublin
The Dublin heritage village of Dalkey is loved by tourists, as well as several celebrities who call it home, for its charm and scenic location. However, it is also an ideal spot for sea kayaking. We enjoyed a three hour guided tour with Kayaking.ie which included instruction for beginners plus all gear and equipment, including wet suits.
We paddled our two-person, colorful kayaks from Bullock Harbour, following the coastline for a while and admiring the gorgeous houses, trying to decide which one belonged to Bono of U2. Soon it was time to get some exercise as we had to paddle against the wind to cross the stretch of water between the mainland and Dalkey Island watching for the many seals along the way.
Dalkey Island was an unexpected thrill for us as we were able to pull the boats up onto the pebble shore and explore the island on foot. There was something peaceful yet mystical about this now uninhabited tiny island with a very rich history.
There are signs of human occupation dating back to the neolithic period plus the remains of pagan altars as well as a Christian Church and it is believed that Dalkey Island also served as a Viking base. Today it is home to a family of wild goats and many wild rabbits who roam the island freely and happily.
---
Food and Culture in Dalkey, Ireland
Visiting the town of Dalkey was one of our favorite day trips from Dublin, Ireland. It was easy for us to balance our adventure with some culture in Dalkey. At Dalkey Castle and Heritage Center, we watched history come to life as actors portrayed characters that would have lived at the height of Dalkey Castle.
This historic village also has an impressive literary story laid out in the Writer's Gallery where you can see works from the likes of Bono and novelist Maeve Binchy. You can even feel like the rich and famous yourself by staying in beautiful Fitzpatrick Castle, on of many castle hotels in Ireland.
We chose the Dalkey Duck for lunch and were very impressed. The rich and cozy interior of woods and crimson walls covered with both beautiful and quirky artwork made us feel at home right away. The menu didn't disappoint either with offerings of traditional and contemporary European and seafood dishes. We really wanted to return in the evening for dinner and live music but we'll have to save that for another visit.
---
Trekking up to Hell Fire Club
The Hell Fire Club in south Dublin is probably one of the most famous haunted landmarks in the Dublin Hills and it's also said to be the most haunted. We were guided by Terry from Hilltop Treks who offer a great selection of guided and self-guided day trips and walking holidays around Ireland. Unfortunately, we didn't have time for a full Hilltop Trek but Terry impressed us with his knowledge of the history, geography, flora, and fauna of the area so much that we plan to return for more.
On this shortened trek the highlight was the ruins atop Mont Pellier (aka Hell Fire Club) which we hiked to. The sweeping views were indeed impressive but probably our favorite part was Terry's telling of the Hell Fire Club history in front of the haunted ruins themselves.
The ruins were once a hunting lodge that was said to be cursed from the start when stones from a sacred, ancient cairn were used to construct the building. In the mid-1700's it became a meeting place for the Irish Hell Fire Club. An exclusive club with high society members known for acts of debauchery and occult practices. Watch and listen to the video below as Terry spins the tale.
Hell Fire Club Video
---
Horse Riding in the Dublin Hills
The Dublin Hills are perfect for trekking but if you prefer to be carried horse riding is also a great way to see the natural beauty of the Irish County of Dublin. On the outskirts of Dublin, just outside the village of Enniskerry, we found Killegar Stables. The stables are one of Ireland's longest-running riding schools but aside from lessons they also offer guided treks and pony camps.
We were outfitted and matched with a horse for our riding level (which in our case was very low) and then assessed and instructed in the yard before heading off into the hills. As we rode through the wooded hills along the gradually climbing trails we did indeed enjoy "A Breathe of Fresh Air."
---
Lunch Stop
If you are touring Dublin County by car, as we were, it's definitely worth adding a stop for lunch or a drink at The Hazel House. Located in Tibradden in the Dublin Mountains, this popular cafe also has an Irish craft shop, a petting farm and a woodwork school. They serve breakfast and lunch from a simple, fresh, home-cooked menu from local ingredients many of which are grown or made on site.
---
Cycling From Malahide Castle
Just minutes from the center of Dublin city is Malahide Castle and Gardens. This 12th-century popular tourist site is well worth a visit. But if you want to balance your day with some exercise and, of course, a breath of fresh air, look for the Irish Center for Cycling just inside the Malahide Castle visitor center.
This convenient center offers rentals to do your own sightseeing or guided tours that last from a couple of hours to a few days. We did a short tour which took us along the stunning Irish coastline stopping at viewpoints and historic Martello towers along the way. Although we only had time for a brief taste of cycling in Dublin, it was enough to have us planning to do more of it on our next visit.
Find out more about Castles near Dublin
---
Avoca Cafe at Malahide Castle
Avoca is a family run business that has grown into one of Ireland's most famous retail and food stores and they happen to have a very impressive cafe at Malahide Castle. The lovely bright and airy space manages to be both homey-comfortable and elegant at the same time and the food is seasonally fresh and amazing. We were treated to afternoon tea complete with finger sandwiches, cakes and of course scones and fresh cream.
---
Hurling
Hurling is one of the old Gaelic Games, some say the oldest and fastest field sport in the world. One thing is certain, the Irish are passionate about their Gaelic Games and the O'Driscoll brothers, who founded and run Clash, are no exception. Clash is a place for both kids and adults to go and learn all about Hurling.
In the brothers' own words they "…aim to give visitors to Ireland an authentic and unrivaled experience of Irish culture and sport. At Clash you won't merely watch our games, you'll play them and make Irish memories to last a lifetime."
We can personally attest to this claim having spent a few hours at Clash. We learned all about the history of the game, from a very passionate and animated Gareth, and were then taken out to the pitch to get geared up and learn the basic skills. After an hour of practice and drills, we were all exhausted both from the physical effort and from the laughter.
It really was an unforgettable experience and a great team builder. The brothers' passion for the game is truly contagious and they make learning a ton of fun.
---
Want to see our Dublin adventures in action?
Discover Ireland, Adventure Dublin Video
---
Day Trips from Dublin Transportation
As with the Republic of Ireland and Northern Ireland, in general, having your own car is the best way to explore these beautiful countries. They are small and therefore it's easy to cover a lot of ground with a car and there are plenty of rental agencies around.
However, if you prefer not to drive, there are Dublin public transportation options for most of the day trips from Dublin listed above. From the city center of Dublin, you can take the handy DART (Dublin Area Rapid Transit) which covers the city itself then runs along the coast of the Irish Sea to Malahide, Howth, Greystones, and Wicklow. You can also take the Dublin Bus from Talbot Street.
---
Where to Stay in Dublin
Dublin has a wide range of accommodation options from cozy B & B's to large full-service hotels. We usually start by checking Hotels Combined as they compare prices from all of the other top booking sites. If you like the idea of having a place in a neighborhood with the convenience of a kitchen then check out Airbnb. They have lots of great options in and around Dublin and if you're a first timer and use this link you will receive up to $40 off your first booking.

We have stayed both in the city center and in the quieter suburbs of Dublin and enjoy both for different reasons. Obviously staying in the center is best if your plan is to mainly take in the top sights, nightlife, and restaurants and if you don't have a car. However, if you have your own car and plan to get out and explore some of the adventure day trips from Dublin you may enjoy a more relaxed setting. Here are a couple of our personal suggestions.
---
Portmarnock Hotel & Golf Links
During our adventure Dublin experience we stayed at the Portmarnock Hotel & Golf Links just 13 km from Dublin city center. The hotel sits right on the beach so many of the rooms and common areas enjoy spectacular views of the sea, sand dunes, and golf links. There is a spa, a gym, and several bars and restaurants on-site if you don't feel like going out after a day of adventure.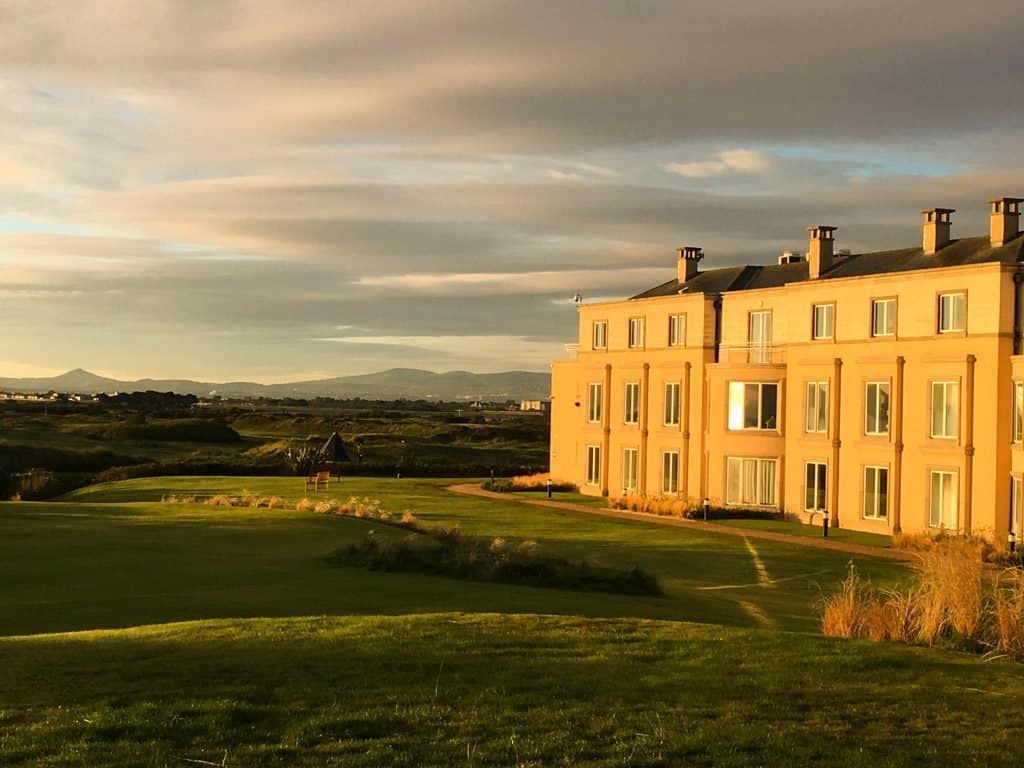 ---
Ariel House
The Ariel is a converted Victorian townhouse which, despite being very centrally located, is a nice quite respite from the buzz of the city. There are three beautifully restored buildings housing very comforatble and elegantly decorated rooms at an affordable price. Oh and the brekafast is one of the best in the city.
---
The Clarence
This hip hotel is owned by Bono and the Edge of U2 fame so it attracts some attention for that alone. However, it is also deserving of its popularity due to the location on the banks of the Liffey and proximity to Dublin's sights and nightlife. The Clarence is also stylish and comfortable at an affordable price.
---
Pin It For Later
---
Popular Tours from Dublin

Disclaimer: We were hosted by Discover Ireland for some of these adventures, however, as always our opinions and reviews are entirely our on based on our personal experience. There may be affiliate links within this article to businesses that we have used ourselves. By clicking through to these sites we may or may not receive a small commission at no extra cost to you. This is just one of the ways we make a living and are able to keep providing travel tips and stories and for this we thank you..iscaliner

d experience of Irish culture and sport. At Clash you won't merely watch our games, you'll play them and make Irish memories to last a lifetime.
Born in England, Sarah developed her wanderlust at a young age as she traveled around Europe with her parents. As a young adult she spent every penny she could on experiences as opposed to possessions. Eventually she found a way to earn a living doing what she loved: traveling, writing and capturing images of the wondrous world we live in. When not on the go Sarah enjoys time in her "sometimes home" of Vancouver.