We recently completed a road trip from Seattle to Yellowstone and Glacier National Parks where we chose Walla Walla, WA and Twin Falls, ID as overnight stops. We'd visited Walla Walla before so we knew we'd love it but the only Idaho destination we'd been to was Couer d'Alene. So, as first-timers to this part of the state, we were pretty impressed with the abundance of things to do in Twin Falls, Idaho.
This Idaho town of about 50,000 residents is perhaps best known for its proximity to natural wonders like Snake River Canyon and Shoshone Falls. While it's true that these are two of the top sights in Twin Falls they are far from the only reasons to visit. Whether you seek adventure, nature hikes, mountain biking or water sports you'll find it here plus a great selection of places to relax over a meal and a drink at the end of the days' activities.
One of the first things we suggest you do is stop in at the Twin Falls Visitor Center. The modern structure is mostly windows to best take in the spectacular views of this prime location overlooking Perrine Bridge and Snake River Canyon. Inside you'll be greeted warmly by the staff ready to answers all your questions and provide maps, brochures and an abundance of information.
---
Top Things to do in Twin Falls, Idaho
1. Admire Shoshone Falls
As mentioned, Shoshone Falls is one of the top Twin Falls attractions and it's with good reason. Often called "Niagara of the West" these 212 foot high and 900 foot wide falls are actually 45 feet higher than the famed Niagara. The falls are open year-round from dusk to dawn but flow fluctuates seasonally. Spring is when the falls are the most spectacular with fall generally being the lowest flow. However, we visited in early September and it was pretty amazing!
Good to know: There is a $5 per car entrance fee from March 2nd to September 30th which includes entrance to Dierkes Lake. You can park just a few feet from the viewing deck and the path is ADA accessible.
2. Explore Snake River Canyon
The second most popular sight in Twin Falls is Snake River Canyon. This spectacular canyon is over 50 miles long and was carved out of ancient lava flow by the Snake River. There are many ways to explore and view the canyon such as overlooks, hiking and walking trails, parks and lakes or even kayaking the river or by climbing the canyon walls. We'll be going into more detail about specific canyon sights and activities as we go down the list but however, you choose to do it be sure to take some time to admire this natural beauty.
Tip: If you like the idea of enjoying a meal or drink while admiring the canyon check out the Canyon Crest or Elevation 486.
3. Walk across Perrine Bridge
The Perrine Bridge is a stunner and maybe the most iconic of Twin Falls, Idaho attractions. You're sure to have seen images of it if you've done any research on Twin Falls but in our opinion, the photos can't live up to the real thing. The bridge spans 1,500 feet and rises 486 feet above the impressive Snake River Canyon floor. You will cross it by car if you come to town from Boise but we highly recommend crossing by the pedestrian walkway as well for the amazing views.
Tip: The Twin Falls Visitors Center is next to the bridge and offers a great view.
4. Watch death-defying BASE Jumpers
The video below is of the two BASE jumpers we saw in Twin Falls
Speaking of the Perrine Bridge…you can also jump off it! Well, only if you're crazy enough to be a BASE jumper that is. This is the only bridge in the USA where you can legally BASE jump and about 500 adrenaline chasers do it every year. This means you have a pretty good chance of witnessing this exciting, if dangerous, sport like we did.
Tip: Jumpers often suit up at the Visitors Center so if you stop in there you may be able to get a heads up of when they're taking the plunge.
5. Remember Evel Knievel?
If you're old enough to have heard of Evel Knievel you might be interested in visiting a small monument to this iconic daredevil. Back in 1974 he attempted to leap the canyon on a special rocket bike he called a skycycle. Unfortunately, his parachute malfunctioned and the jump was unsuccessful. However, despite falling nearly 500 feet to the canyon floor he walked away with just a broken nose.
Trivia: 42 years later a stunt man named Eddie Braun successfully made the jump on a similar cycle built by the son of the original skycycle creator.
6. Zip the Snake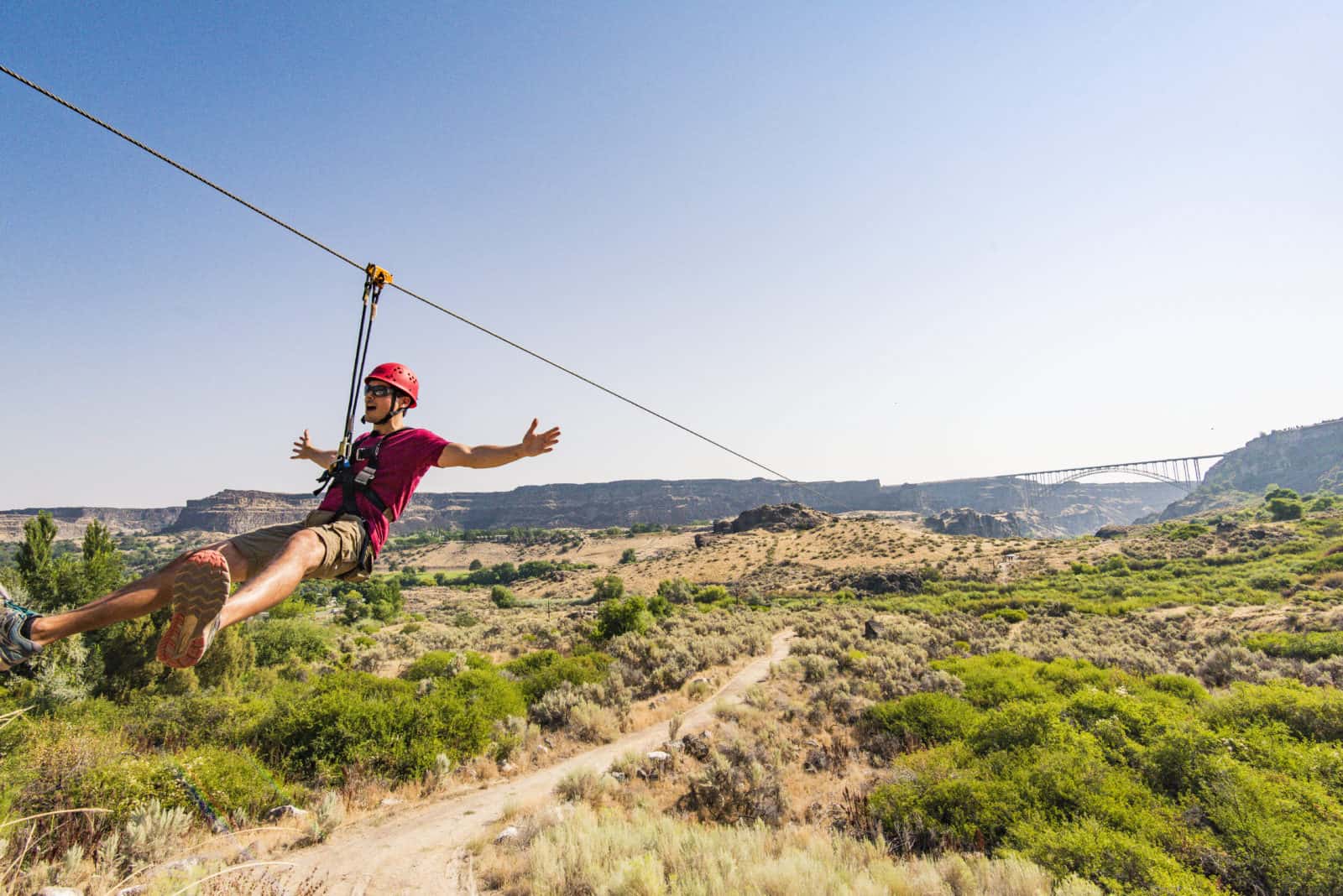 Next to BASE jumping the most unique and exciting way to experience the Snake River Canyon is by ziplining across it. The AWOL Adventure Sports Zip the Snake course offers a safe but exhilarating ride for all ages. After safety training your experienced and fun guides will have you flying along a 1750 foot span at 45mph high above the canyon floor. It's definitely one of the most fun things to do in Twin Falls, Idaho.
7. Relax at Dierkes Lake
If you visit Twin Falls in the summer, a day at Dierkes Lake is a must. The lake sits in a 190-acre park with picnic tables and a playground making it a perfect place for a family BBQ. You can also swim, fish or have some fun in a non-motorized boat or kayak.
8. Walk, cycle, or hike Twin Falls trails
Whether you're looking for an easy, scenic stroll or a more challenging hike the Twin Falls area has a trail for that. Here are some of the most popular trails: Canyon Rim Trail runs along the edge of the canyon for seven miles with great views of the Perrine Bridge. With more than 10 miles of trails, the Auger Falls Trail System is a great place for all ages and physical levels to walk or cycle with stunning vistas of waterfalls, the river, and canyon. Other trails to check out are the one at Shoshone Falls, Perrine Coulee Falls and Pillar Falls.
9. Go Kayaking at Centennial Waterfront Park
Another popular way to explore the waters of Twin Falls is by kayak. AWOL Adventure Sports provide kayak and paddleboard rentals at their kiosk in Centennial Waterfront Park. Enjoy a leisurely paddle along the calm section of Snake River where you can float underneath the Perrine Bridge and watch for BASE jumpers or continue up to pretty Pillar Falls. If you're up for a full day of adventure you can go all the way to Shoshone Falls, about 3.5 miles each way, for an up-close look.
10. Explore downtown Twin Falls
Historic downtown Twin Falls has undergone a revitalization over the past few years and is quickly becoming a very hip and trendy place to hang out. With several blocks of boutiques, shops, restaurants, cafes and a restored historic theater there's plenty to keep you busy. If you enjoy beer you'll be pleased to hear that the craft brewery scene that's sweeping the nation is alive and well in Twin Falls.
11. Visit a Hummingbird sanctuary in Sawtooth National Forest
About an hour south of Twin Falls is a special place in the Sawtooth National Forest that is a sanctuary for hummingbirds as they migrate from Mexico to Canada. Local volunteers care for the spot by maintaining more than 20 hummingbird feeders with sugar water.
To get to this hidden gem you drive the Rocke Creek Road towards Magic Moutnain Ski Resort then turn onto Oakley Rogerson Rd (Forest Rd 500) across from the Magic Mountian Lodge. After about 9 miles you'll see a handmade wooden sign saying "Home of the Hummingbirds"
Tip: Hummingbird Sanctuary is best visited late spring through early fall due to weather and road conditions as well as the migration of the hummingbirds.
12. Enjoy a sunet view and cocktail
Watching the setting sun over the canyon is always a good way to end the day. The best spot for a happy hour or sunset drink with a view is Elevation 486. The name comes from the fact that this restaurant and bar sits on the rim of the canyon 486 vertical feet above Snake River and the canyon floor. If you want to hit Happy Hour go between 2:30 pm and 5:00 pm or after 9:00 pm.
---
Where to stay in Twin Falls Idaho
We like to stay in boutique hotels or cozy bed and breakfasts whenever we can so we chose the Fillmore Inn Bed & Breakfast in downtown Twin Falls. The Inn is a beautifully converted Tudor style home with an impressive gourmet kitchen, a comfy lounge with a big screen TV and a lovely dining room where sumptuous breakfasts are served. The suites are luxurious and romantic and the one we chose even had a fireplace and jetted tub. There's also a lovely garden but sadly the weather didn't allow us to make use of it.
We highly recommend the Fillmore Inn to anyone looking for comfort and luxury in a central location. However, if you have kids under 10 or pets you'll have to stay elsewhere. When you see the gorgeous décor and furnishings you'll understand why.
Twin Falls Idaho Hotels
The majority of hotels in Twin Falls tend to be the familiar chains that you see across America. You'll find Hilton, Marriott, Best Western, and La Quinta to name a few. We always check reviews and availability with Hotels Combined which checks all the booking sites for the best price.
Click here to check reviews, pricing, and availability on hotels in Twin Falls, Idaho
Airbnb in Twin Falls
Sometimes we enjoy having our own apartment so we can cook meals or do laundry and then we book with Airbnb. It's also a good option if you're on a tight budget and just want to rent a room and there are quite a few options in Twin Falls. If you've never stayed in an Airbnb you should really give it a try.
---
Places to eat in Twin Falls
If you feel like pizza we suggest Slice downtown. We ate there and found the pizza to be super fresh and tasty and the service excellent. It's casual and family-friendly with a warm and welcoming décor of wood and brick, a really cool bar top covered in beer caps and several beer taps. They also make an awesome Moscow Mule. If you don't want pizza, the pasta and salads also looked great.
A couple of doors down from Slice is the fun and friendly KOTO Brewing Company. We just went in for a drink but the food looked amazing! They have a good selection of craft beer with regularly changing taps. Nathan really enjoyed the Firebird IPA and the food menu had us drooling for things like pulled pork nachos and queso fundido. KOTO also has a great set up for live music and other entertainment.
For breakfast, lunch or an evening snack the Twin Falls Sandwich Company is our top choice. They serve up a huge selection of deli, hot, grilled, panini and specialty sandwiches in a casual and comfy setting. Check their website for jazz evenings and other events.
Tip: We also heard great things about the Buffalo Cafe but didn't have the chance to try it ourselves.
---
So there it is, our top 12 things to do in Twin Falls, Idaho plus choices for lodging and dining. We really enjoyed our visit and will definitely return to try the canyon ziplining and do some more hiking. Have you been to Twin Falls? Did we miss anything?
---
Pin It For Later
Born in England, Sarah developed her wanderlust at a young age as she traveled around Europe with her parents. As a young adult she spent every penny she could on experiences as opposed to possessions. Eventually she found a way to earn a living doing what she loved: traveling, writing and capturing images of the wondrous world we live in. When not on the go Sarah enjoys time in her "sometimes home" of Vancouver.