Creating video content is becoming more and more an essential part of our business and so we've been upping our game in this area over the last couple of years. We use a variety of equipment such as GoPro, drone and smartphone to create travel and promotional videos both for our own social media and blog as well as for clients.
Recently we started talking about trying our hand at vlogging as there's been big growth in that medium and it's something we'd like to add to our resume. So, when Joby reached out and asked us to try their GorillaPod Mobile Rig it seemed like a perfect fit.
What is the Joby GorillaPod Mobile Rig?
In case you're not familiar with Joby they've been a leader in Gorillapod tripods since 2006. They're known for their durable, flexible yet lightweight products and continue to be a favorite of photo and video content creators. It seems a big reason for this is that they really listen to the feedback of their users when producing Joby products.
With the incredible advancements in smartphone cameras, it's becoming pretty common for content creators to use their smaller and lighter phones over heavier and bulkier camera options. This is where the GorillaPod Mobile Rig phone tripod shines.
The Mobile Rig has the traditional tripod legs which flex and bend to stand or attach to objects leaving the users hands free while also stabilizing the camera. Where it differs from regular tripods is that it's built specifically for use with a smartphone. There are also two additional arm attachments with the same design as the legs but with mounts instead of feet. These arms can be used to attach an action camera and/or lights and microphone.
Uses for the Mobile Rig
We used it on a recent trip to beautiful British Columbia so we had plenty of amazing photo and video opportunities and found the GorillaPod really handy to have along. It's small and lightweight making it super easy to carry in a backpack or even a purse and the multi-functionality meant we didn't have to carry a bunch of other accessories.
The first thing we used it for was a selfie. We are terrible at getting photos of the two of us because we hate selfie sticks and stopped carrying a regular tripod long ago due to the pain of traveling with a heavy and bulky accessory. The Mobile Rig is perfect for unobtrusively setting up your phone on any flat surface or wrapping the bendy legs around a tree or post or whatever else you can find.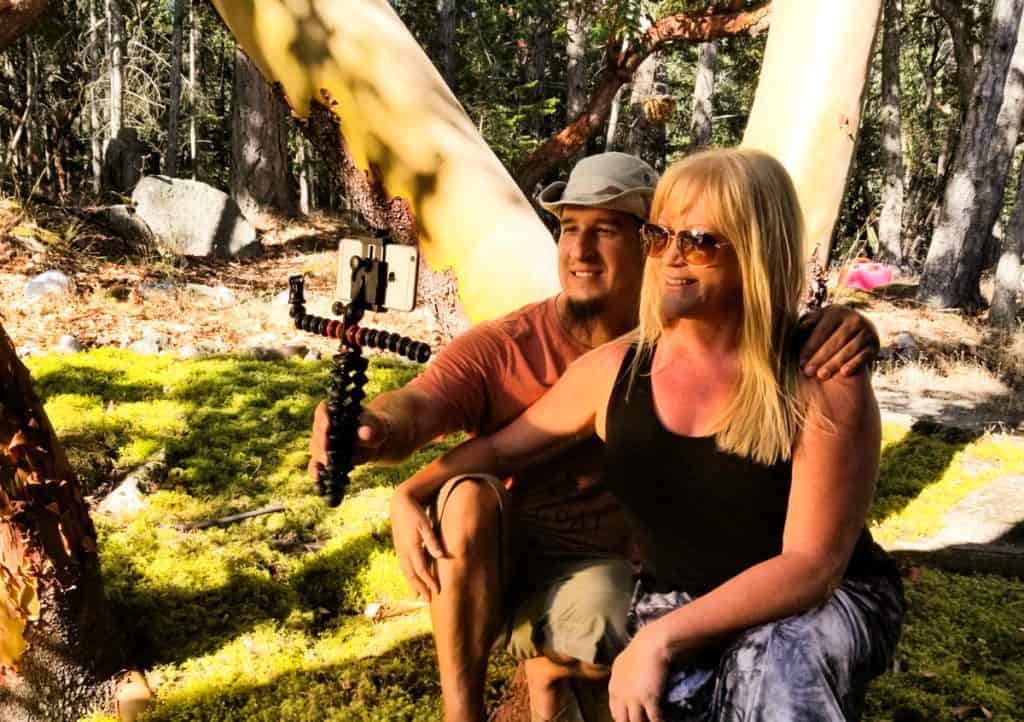 Next, we used it for a bike ride around Stanley Park in Vancouver. I was excited to try wrapping the legs around the handlebars and getting some first-person video. Nathan told me this was not the ideal use for the Rig but I insisted we try it. Well, he was right. It was a fail. It's not a stabilizer so the footage was really bumpy and not usable.
However, we did stop at a spot along the way and we filmed a short exercise video for Nathan's adventure travel and fitness site, Fit Living Lifestyle. This was test number three and it was a winner. It allowed him to set up the Mobile Rig with his phone plus the GoPro and attach it to the bars of the equipment he was using. We also watched the Pride Parade in Vancouver and closed the three legs to make a monopod which allowed us to hold the camera high and shoot over the heads of people in front of us.
The fourth thing we used it for was for scenery. We played around with still shots and video using the GorillaPod in a few different ways. As a mini tripod set on a surface for shots that require stability it's great. There's a feature that allows you to tilt the phone angle and create landscape or vertical images. We also liked putting the legs together to create a monopod which makes it so much easier to hold the phone and take photos. Nathan even tried using it as a makeshift stabilizer to pan across a landscape. Again, this is not the ideal use for the Mobile Rig but in a pinch, it could work.
Finally, we used the Mobile Rig for its primary purpose as a vlogging tripod. As mentioned we're new to vlogging but we can see how it's definitely an ideal tool for this purpose. Since this is something new to us we didn't have lights or a microphone to attach but we did use the arm for the GoPro which allowed us to get two different looks. The one thing we do see that may be an issue is that the arm attachments are a bit too short which made it tough to set the GoPro in an ideal position.
Our thoughts
For anyone who does a lot of content creation using their smartphone, the Joby Gorillapod Mobile Rig is a must-have. Its light weight, durability and versatility make it an essential tool that's really easy to carry and convenient to use.
We found it great for selfies and group shots, stabilizing the phone for that perfect photo (especially where there are no flat surfaces) and of course it's awesome for creating mobile video.
What the Mobile Rig is not good for is mounting a heavier camera like a DSLR but Joby has some excellent products for that. It's also not much use for video while moving, you need a stabilizer for that. For its intended use, the only minor issues we found were the slightly short arm attachments and the dual-action knob on the phone mount which could cause a problem if not tightened correctly. However, neither of these things are deal-breakers and we would still highly recommend this product.
---
Disclaimer: This article may contain affiliate links. This means that if you purchase something through one of these links we may receive a small commission at no extra cost to you. This is one way that we make a living which allows us to keep this site running and we thank you for your support. 
Born in England, Sarah developed her wanderlust at a young age as she traveled around Europe with her parents. As a young adult she spent every penny she could on experiences as opposed to possessions. Eventually she found a way to earn a living doing what she loved: traveling, writing and capturing images of the wondrous world we live in. When not on the go Sarah enjoys time in her "sometimes home" of Vancouver.