Even when we come home to the Pacific Northwest to visit friends and family we don't stop exploring and searching for new adventures and experiences and have often found some of our favorite places right in our own back yard…or that of a neighbor. This summer has been no exception and our newest find was in the neighboring state of Idaho in a town called Coeur d' Alene.
A week-long family vacation had been planned by Nathan's parents as they wanted to enjoy some quality time with their three sons and their significant others plus two lovely granddaughters. The ten of us comprised a pretty broad spectrum ranging in age from three to sixty-five which as travel bloggers gave us the perfect scenario for a well-rounded review of Coeur d' Alene.
The holiday started with nine of us piling into three cars filled with luggage, coolers and various beach necessities and heading off on a caravan style six-hour road trip along the I-90 from Everett, Washington. Our tenth member (son #3) would be following the next day after a harrowing overnight drive filled with violent electrical storms, smoke from forest fires and herds of deer attempting suicide. It turns out that Highway 2 is not the best option especially on a smoky, stormy night.
For the nine of us, however, the drive was smooth and scenic. We traveled through the Cascade mountains blanketed in a myriad of greens to the flat farmlands, orchards, and ranches of Eastern Washington and back up into the forested hills and mountains of Northern Idaho giving us a taste of all the natural beauty this part of the world has to offer. A little over halfway through the journey we reached the Columbia Basin which is a sight that is well worth pulling over for. It's like a mini Grand Canyon and offers spectacular vistas so naturally, we spent some time snapping photos even though there was a slight haze from the distant fires.
It was at the peak heat of the day when we arrived at our destination; the beautiful turn of the century "Benson House". Despite the sweltering heat of 106 degrees we excitedly scrambled out of the cars to explore what was to be our home for the next seven days.
The four bedrooms, two bathroom house is on a large lot and is equipped with everything you could possibly need for a fun-filled week including a gorgeous wraparound deck with a porch swing and a shed full of backyard games. Well actually not quite everything…a pool would have been very welcome in the heat but we managed to cool off with sprints through the sprinkler and trips to the lake.
The town of Coeur d' Alene is a decent size and has all the amenities so we were able to wait until we arrived to get groceries and beverages. There are all the usual chains such as Safeway and Walmart but we found Super 1 Foods to have a good selection and great prices. After two hours of shopping (we had ten mouths to feed) we were finally free to explore the town.
The "Benson House" sits just a few blocks from downtown Coeur d' Alene and the lake so it was an easy walk even in the heat. Since we arrived on the weekend the town was bustling and as it also happened to be the Bite of Coeur d' Alene there was a festive mood in the air.
The main street of Sherman Ave was closed to traffic for the festival and was lined with dozens of booths selling all kinds of goods and goodies and the adjacent City Park offered up beer gardens, food stands, and live music. Needless to say, there was plenty to do for all of the various ages in our entourage. Even without the festival, there was still plenty to do downtown with the numerous shops, restaurants, parks, and beaches.
Over the course of the next six days, we found no shortage of things to do and could have easily spent another week. We rented a pontoon boat and went tubing, swam and floated in the lake, spent a day at Silverwood, went hiking on Tubbs Hill, played all sorts of backyard and board games, shopped on Sherman Ave and of course ate and drank very well both at home and in town. Even the pre-teen and three year old were easy to keep entertained with the abundance of parks and playgrounds and kids activities going on.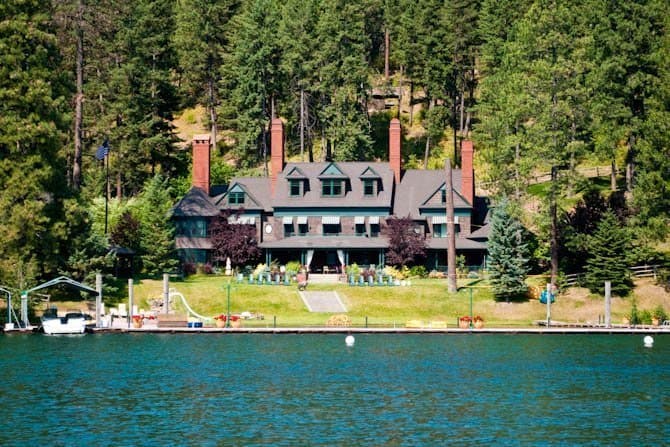 Overall we can honestly say that this was one of the best vacations we've had to date and we give a huge thumbs up to Coeur d' Alene and recommend it to people of all ages. There truly is something for everyone in this charming town.
How to get to Coeur d'Alene
Coeur d'Alene sits just 32 miles east of Spokane, Washington which has an International airport with daily flights to and from all hubs. It's also an easy and beautiful 5 ½ hour drive from Seattle.
Where to stay in Couer d'Alene
There are plenty of choices in Coeur d' Alene from camping and inexpensive motels to resorts, B&B's and holiday home rentals. The Coeur d' Alene website is a good source for all types of accommodations and we used VRBO to book the fabulous "Benson House". If you want to be lakeside try the Coeur d' Alene Resort with their spacious water view rooms.
Where to eat in Coeur d'Alene
Again there are plenty of options. Just walk down Sherman Ave and you'll find well over a dozen great restaurants, cafes and bars or head away from the water and check out some of the side streets for more hidden away local faves. If you feel like driving there are many more options in mid-town including all the popular chains. We only dined our three times while we were there and we enjoyed them all.
From our own experience we can attest to the fabulous BBQ steak and ribs at the Texas Roadhouse on Neider Ave, the delicious guilty pleasures at Roger's Ice Cream & Burgers on Sherman Ave and the stunning views and top notch food at Tony's On The Lake. Oh and if you want a great breakfast at a hole in the wall diner with possible celebrity sightings try The Breakfast Nook on 4th St. The day that we ate there they had a crab benedict on special and we were seated next to Constance Shulman from Orange Is The New Black Netflix series.
Where to drink in Coeur d'Alene
If you're staying within walking distance of Sherman Ave you'll have no problem finding a bar to your liking without the need of a DD or taxi. We ventured out on a couple of nights and found a huge variety of watering holes including neighborhood pubs, tap houses, trendy lounges, jazz and blues halls, smoky dive bars and rowdy night clubs. Many of the bars also have food and live music and we didn't come across any cover charges even on the weekend.
What to do in Coeur d'Alene
Wow, where to begin? There is so much to do in Coeur d' Alene any time of year and you can find some listings at the Coeur d' Alene website.
Spring, Summer, Fall:
Go to the beach (they are scattered along Northwest Blvd.)

Swimming (definitely pick up some floaties if it's hot)

Rent a boat or other water toys

Play in the numerous parks

Go cliff jumping, hiking or find a secluded beach around Tubbs Hill

Golfing (Coeur d' Alene is a big destination for golfers)

Silverwood Theme & Water Park (about 40 min drive away)

Fishing

Parasailing

Horseback riding

Cycling around town or along North Idaho Centennial Trail

Shopping

Spa day

Camping
Winter
Skiing

Snowshoeing

Festival of Lights

Shopping

Spa days
Staying fit in Coeur d'Alene
Sticking to a fitness routine is easy in Coeur d' Alene. There's jogging, walking, cycling and hiking around town, through Tubbs Hill or along the North Idaho Centennial Trail. In the warmer months you can swim or paddle board on the lake and in the winter months there's skiing and snowshoeing.
There are also tennis courts next to the resort and several playgrounds and parks to play sports or set up your own little boot camp. There really is no excuse not to exercise during your stay and with the abundance of great restaurants, you will likely need to balance the scales.
Save
Born in England, Sarah developed her wanderlust at a young age as she traveled around Europe with her parents. As a young adult she spent every penny she could on experiences as opposed to possessions. Eventually she found a way to earn a living doing what she loved: traveling, writing and capturing images of the wondrous world we live in. When not on the go Sarah enjoys time in her "sometimes home" of Vancouver.