Disclosure: This post may contain affiliate links. This means that if you make a purchase through one of these links we may receive a small commission at no additional cost to you. All opinions and suggestions are our own and we are grateful for your support.
Split vs Dubrovnik may be a no-brainer for Game of Thrones fans due to the abundance of filming locations in Dubrovnik. However, if that isn't important to you there's much more to consider when deciding whether to spend time in Split or Dubrovnik, Croatia.
Tip: If you are a GOT fan there are actually several recognizable spots in Split including the dungeon where Khaleesi kept her dragons for a time.
During our eight-month tour of Europe, we had to carefully calculate our time so as not to overstay in the Schengen zone. This is a border-free zone within Europe whose regulations allow North Americans only a total of 90 days out of every 180 in the 25 Schengen countries.
Although Croatia is a part of the EU and is likely to join in the Schengen agreement in the near future, as of now it's still outside of this zone.
This, along with its famous natural beauty, made Croatia a natural choice for us to slip out of the Schengen zone for a few weeks. But where to go in Croatia?
After doing some research and reading tons of other blogs we narrowed it down to Dubrovnik or Split as our home base from which we would do day trips. But in which of these beautiful Croatian cities would we choose to spend most of our time?
Both of these top cities in Croatia are water-side towns meaning beaches, fresh seafood, and epic views. Each has a compact historic center with interesting sites and cobblestone streets to wander. And both attract a ton of tourists. At first glance, it seemed like a toss-up between Split and Dubrovnik but we had to make a choice.
In the end, we decided that Split would be best for our stay on Croatia's Dalmatian Coast with a short visit to Dubrovnik. Did we make the right decision?
Well, we were lucky to have enough time to see both destinations. Now we can share our experience and comparisons to help you decide between spending your time in Split or Dubrovnik.
---
Split vs Dubrovnik Comparison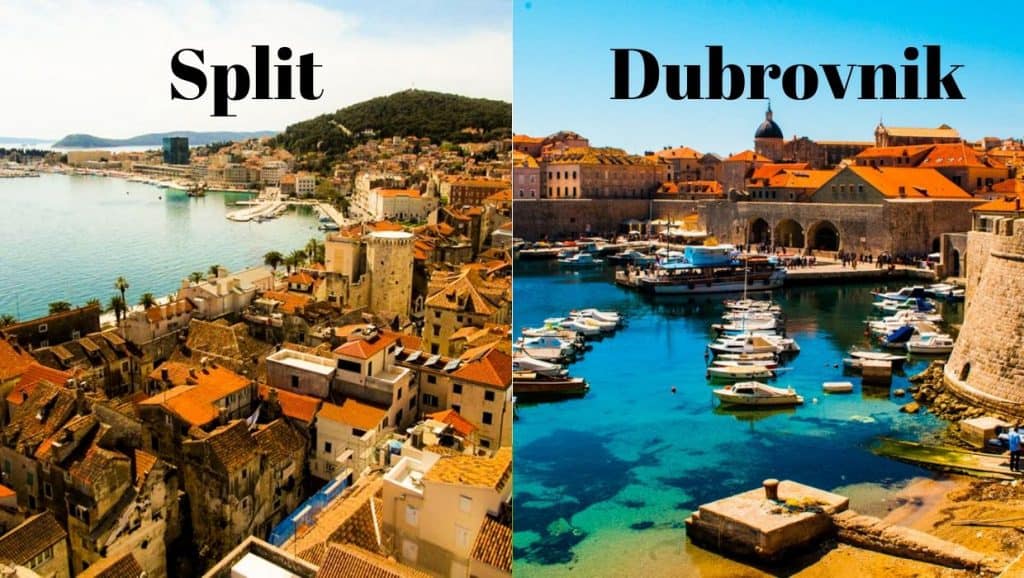 ---
Best Location: Split or Dubrovnik?
Split and Dubrovnik are both enviable locations for different reasons. But the central location of Split makes it easy to come and go from other destinations in the Balkans. Also, sitting as it does on the Dalmatian Coast it's a perfect home base from which to explore other parts of Croatia on a day trip.
Sibenik, Trogir and Dalmatian islands like Hvar and Brac can all be done as day trips from Split. So can the spectacular national parks inland from this beautiful city. Even Dubrovnik is possible in a day trip from Split although an overnight stay is highly recommended.
The well-maintained roads make having a car a good option to visit the surrounding areas inland and along the Croatian coast but there is also a decent bus and ferry from Split and a good selection of local tour providers.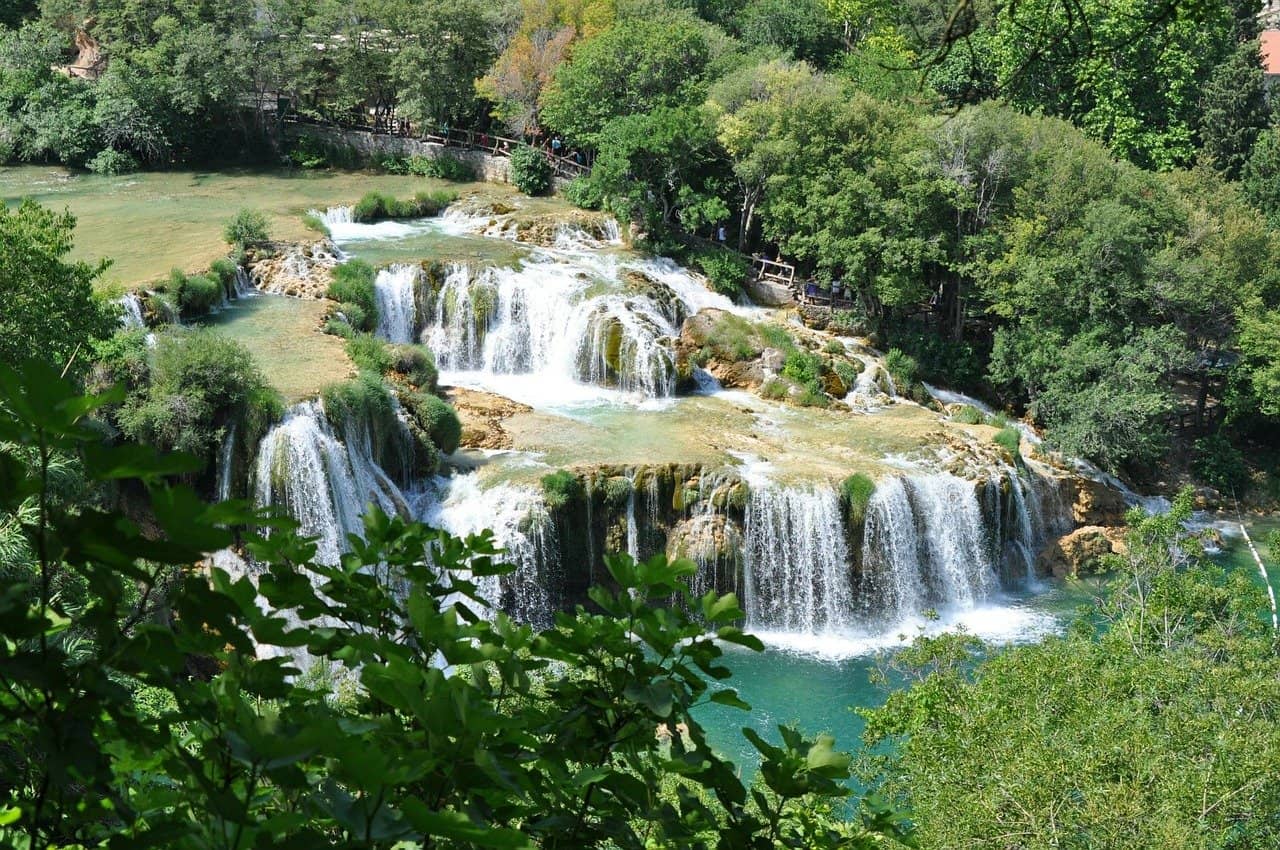 During our time in Split, we did day tours of the UNESCO site of Plitvice Lakes National Park and also the beautiful Krka Falls national park. Both are brilliant examples of the natural beauty that abounds in Croatia and are highly recommended as day trips from Split.
We found Adriatic4You, Get Your Guide, and Viator to be good choices for guided tours.
You can see a short video of the lovely Krka falls below. Keep in mind that we took the tour in winter so expect it to be even more spectacular in the spring through fall months!
Our choice: When comparing Dubrovnik or Split based on location we would definitely choose Split for better accessibility.
---
Authentic Experience: Split vs Dubrovnik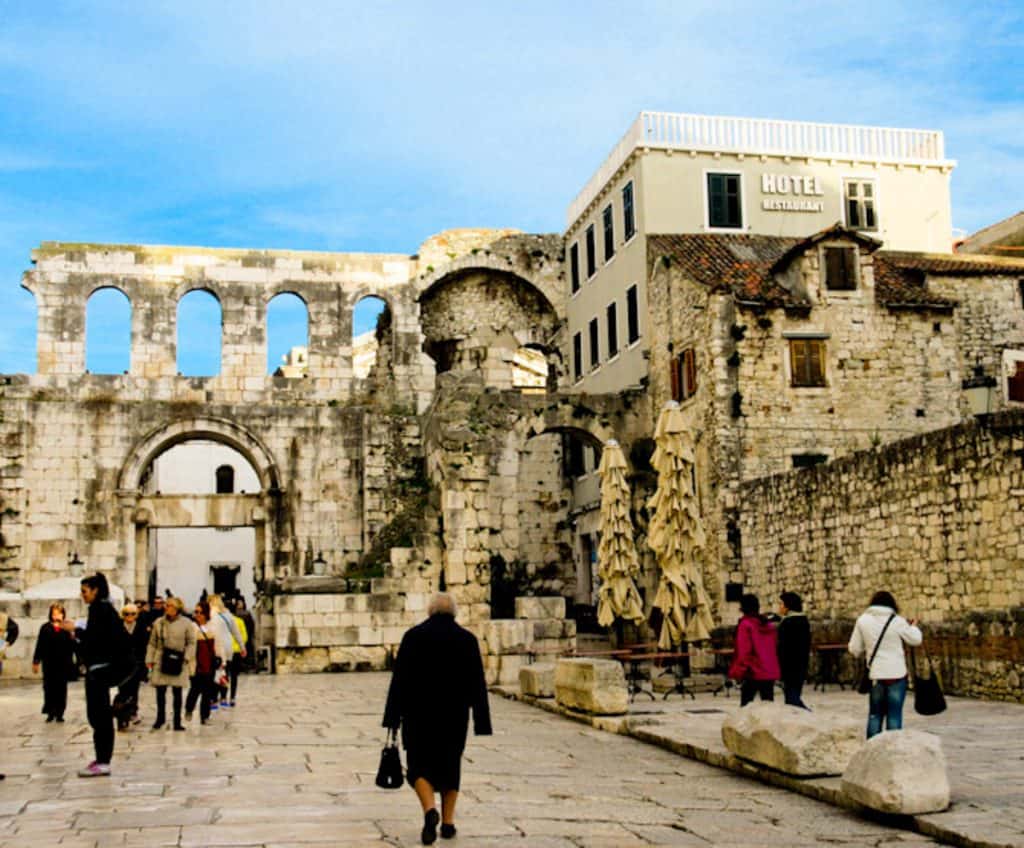 Split is the second-largest city in Croatia and it feels more authentic than its incredibly beautiful, but smaller and more touristy sister, Dubrovnik. In Split, you'll find a harmony of old and new and you can feel the buzz of a city that is alive, flourishing and actually lived in as opposed to being mainly a tourist destination.
The best example of this balance is the old city center of Diocletian's Palace. A UNESCO World Heritage site that houses not only the old cathedral and bell tower but also homes, shops, restaurants and bars within its ancient walls and somehow makes it all feel cohesive.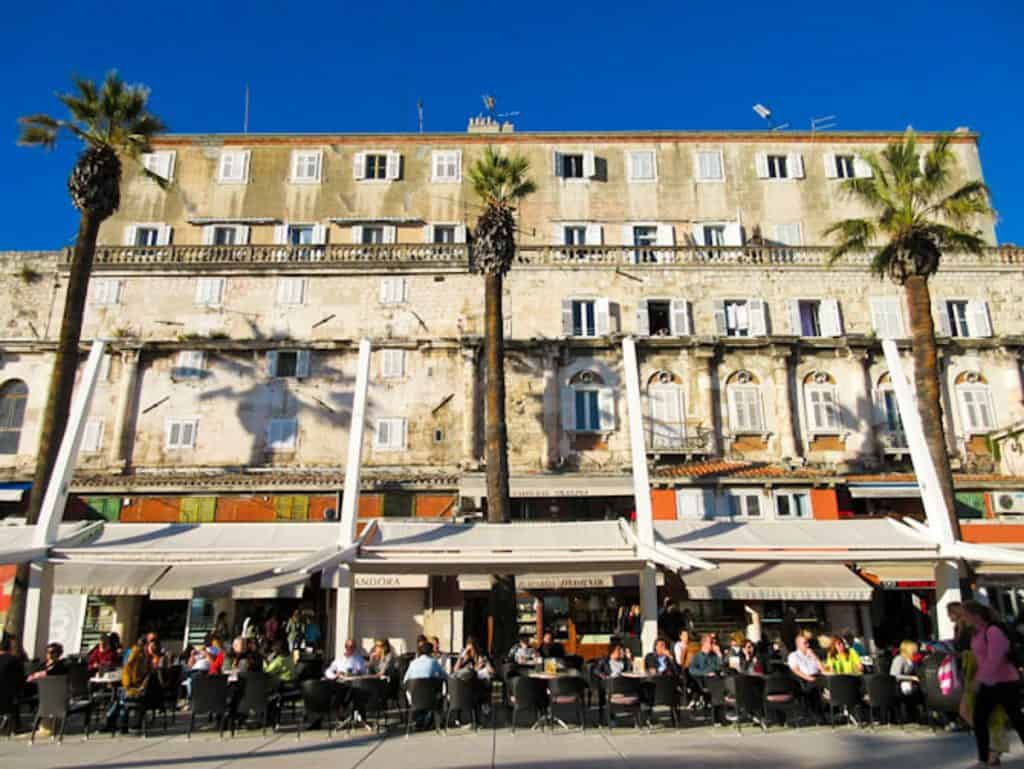 In Split, you can get a taste of real Dalmatian life and if you stay long enough you will likely want to become a part of it. From the daily fish market to the walks in Marjan park and the hours of sipping coffee at the many cafes, it's easy to fall in love with life in Split.
Our choice: When looking at Dubrovnik vs Split for a more authentic experience we would definitely choose Split.
---
Most to Offer: Split vs Dubrovnik
Dubrovnik, you are indeed drop-dead gorgeous! But, when looking at Split vs Dubrovnik the tipping point for us was that we found Split to be so much more than just a pretty face. The city is a perfect balance of old and new, vibrant and chill, fantasy and reality.
Tourists: Dubrovnik is beautiful but it's also very touristy and is starting to feel a bit forced. Plus, in the summer the flood of crowds from cruise ships really overwhelms the walled historic center. Split is more spread out so although it has its share of tourists and cruise ships peopel aren't crammed into such a small area.
Diversity: In Split, within minutes you can go from strolling along the very modern Riva on the waterfront to getting lost in the ancient cobbled streets of Diocletian's Palace.
Nature: The Croatian coastline is stunning so ocean views are equally impressive in both cities. The beaches in Split are mostly pebble beaches just as they are in much of Croatia. However, Bacvice Beach is sandy and on the edge of Old Town Split. Dubrovnik also has a small sandy beach close to the historic center called Banje Beach. Although both places are pretty much tied in the beach category, Split won us over with easy access to nature. With mountains as a backdrop to the city plus Marjan Forest Park with all the trails and epic views Split is the clear winner.
Food & drink: For foodies, there is an abundance of restaurants in Split serving everything from modern sushi bars to traditional seafood taverns along with an abundance of cafes and gelaterias to satisfy every taste. Within the walls of Dubrovnik, it's more difficult to find small local restaurants that don't have inflated prices and touristic menus.
Cost: Although Croatia is far from the budget destination it used to be, there are still more deals to be found in Split vs Dubrovnik…although that seems to be changing.
Very little missing: Add to all this the marina, the nightlife, the trendy boutiques and the modern and traditional markets and there really isn't much missing.
Our choice: For us Split is the winner when it comes to having the most to offer visitors.
---
---
Our Choice: Split or Dubrovnik?
If you've read through to this point it's pretty obvious that we were happy with our decision of Split over Dubrovnik for the bulk of our time in Croatia. Overall we found Split to be more authentic feeling, less crowded, more conveniently located, slightly less expensive and with more variety of things to do and places to eat.
Having said that, Dubrovnik is an exceptional beauty and a trip to Croatia is really not complete without seeing this walled city. So, ideally, we'd say visit both. But, if your time is limited we'd suggest making Split your home base with a night or two in Dubrovnik. Unless it's the height of summer and you can't tolerate crowds, then we'd stay away from Dubrovnik entirely.
---
Where to Stay in Split, Croatia
There are plenty of options for accommodation in Split from basic rooms to historic and luxury hotels plus self-catering Airbnbs. You'll also find some very cool hostels in Split. Whatever you're looking for you're sure to find something for your personal budget and taste but during the high season be sure to book in advance.
Airbnb Split Croatia
This Airbnb Panoramic City View with Sunset Balcony with 2 bedrooms sleeps 3 people in 1 double and 1 single bed. It's light and airy and beautifully decorated. The location is convenient to all amenities and just a short walk to the old city center.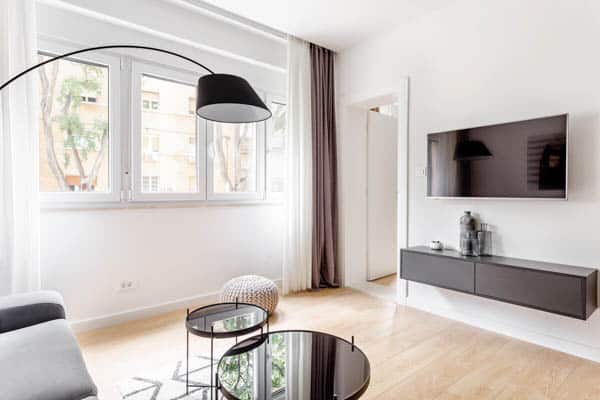 This modern and bright Gem in the Heart of Split is a 1 bedroom with a king-sized bed perfect for a couple. There's a full kitchen but it's so close to many great restaurants you may not use it too much.
This luxury Old Town Studio blends traditional charm and detail with modern comforts and amenities. It's a perfect place for a couple as a home base for exploring beautiful Split.
---
Split Historic Center Accommodations
Hotel Vestibule Palace is a luxury boutique hotel situated right inside the Diocletian Palace making it one of the most popular places to stay in Split. The combination of the original stone Palace walls mixed with contemporary furnishings and design creates a beautiful balance and ambiance that will make you feel like royalty.
Marmont Heritage Hotel is an adult-only hotel located in the heart of Old Town Split near to the Diocletian's Palace. The perfect location, elegant decor, gorgeous Brazilian hardwood floors, good-sized guest rooms, and fabulous rooftop terrace and bar make it a top choice in Split.
---
Split Accommodations at the Beach
Radisson Blu Resort Split is a top pick for a beach vacation but it is located close enough to the Old Town that it's a quick trip in for sightseeing or dinner within Diocletian's Palace. However, being located just steps from the soft sand and with stunning views, a luxurious spa and a gorgeous pool you may find it hard to leave.
Hotel More is a family-run property just 2 minutes walk from one of the prettiest beaches in Split and only 2 miles from Diocletian's Palace. For the active vacationer, there are bike rentals, beach volleyball, tennis and the seaside promenade perfect for jogging or walking close by. Check here for details & prices.
---
Best Value Split Accommodation
Design Hostel Goli and Bosi is housed in a newly renovated 19th Century Warehouse in the heart of Old Town. Choose from dorm rooms, small private rooms or suites at a very affordable price in a location you can't beat. They also boast a great pizzeria.
Damira Rooms is a great basic hotel option situated 350 feet from Diocletian's Palace and a 7-minute walk to the beach. All rooms come with AC, TV and private bathroom, and the staff is friendly all for a very reasonable price.
---
For us, the Adriatic town of Split, Croatia was a perfect home for five weeks and one which we could have happily lived in for much longer.
Whether you are looking for a long-term stay in Croatia, a home base for exploring the surrounding areas or a few days stopover, if you are deciding between Split or Dubrovnik we would choose the 1,700 old city of Split every time.
---
Pin It For Later
Save
Save
Save
Save
Save
Save
Save
Save
Save
Save
Save
Save
Save
Save
Save
Save
Save
Save
Save
Save
Born in England, Sarah developed her wanderlust at a young age as she traveled around Europe with her parents. As a young adult she spent every penny she could on experiences as opposed to possessions. Eventually she found a way to earn a living doing what she loved: traveling, writing and capturing images of the wondrous world we live in. When not on the go Sarah enjoys time in her "sometimes home" of Vancouver.