Day 2
Filosofou Monasteries (old & new) and Prodromou Monastery
Exhausted from the first day (read about it here) of our Mythical Peloponnese tour we slept well and awoke refreshed and ready for day two. Our second day consisted of hiking through the mountains in Arcadia and across the Lousios river gorge to visit the cliff side monasteries of Filosofou and Prodromou. Christos from Arkas Travel was again our guide and was a wealth of knowledge as we had come to expect. For Nathan and I it was an absolutely perfect day as it combined nature, exercise, stunning vistas and historic sites. I would rate the hike itself as medium difficulty and I think that most people with average fitness level could manage it no problem. The trails are pretty well maintained and it is a good mix of incline and decline so you can pace yourself quite nicely. It can certainly be done without a guide but I would recommend having someone like Christos to lead you especially if you want to see the old Filosofou monastery and hear some stories from a local.
Our first view of these amazing cliff side sanctuaries was of the byzantine Filosofou monastery which dates back to the 17th century. It is still in use and is accessible by car from Dimitsana. After donning appropriate clothing (women must wear long skirts which are available at the entrance) we toured the monastery which houses some exceptional frescoes. We were then ushered into a small room by a smiling monk who looked like Hagrid's brother (from Harry Potter). He proceeded to serve us cold water and Turkish delight one by one with a small bow, a smile and an accented 'your welcome' in response to our timid thank you's. Hagrid…I mean our host monk…had a really beautiful and serene energy about him and it was quite of a humbling experience. One that I won't soon forget.
From the new Filosofou monastery there is a path that leads along the cliff side to the ruins of the perfectly camouflaged old Filosofou or 'secret school' which is dated circa 970. We walked through ancient stone doorways, along crumbling corridors and into roofless rooms that told a story of what life must have been like living behind these hidden walls. The monasteries actually used to serve a purpose other than being a sanctuary for priests to live and worship. During times of war and oppression the monasteries were also used to hide from the enemy which is why they were often built into the side of the cliff out of the same materials so as not be be easily found. Even if the enemy could find them it would be extremely difficult to attack due to the rugged terrain and lack of access. Of course this also made for a very challenging life for the monks.
Continuing on from the ruined monastery we headed back along the path to the mountain trail which meandered it's way down to the bottom of the gorge where a bridge crossed the Lousios river. From there the trail moved uphill, sometimes quite steeply, before arriving at the incredible Prodromou monastery. As much as we were in awe of the incredible sanctuaries of the monks we were equally enamored with the landscape itself. Hailing from the Pacific Northwest, Nathan and I were in our element with all of our senses being fed. The air was fresh and pine scented and the only sounds were that of crunching leaves underfoot, birds chirping in the trees and donkeys baying in the distance and the visual beauty of the landscape had us stopping in awe every 10 minutes to take it all in.
After about 2 ½ hours at a comfortable pace we arrived at the Prodromou monastery named after John The Baptist. It was definitely a 'WOW' moment as we emerged from the trees and looked up from the trail to see an impossibly perched structure literally hanging from the side of the cliff face. This jaw dropping example of the mountain monasteries in Arcadia dates back to the 1100's and is also still in use as was evident by the clothing hanging outside the windows of the precariously situated building. Prodromous played a large role in the Greek revolution during the 18th and 19th century as a medical and supply station for the Greek soldiers. The original door is still intact and the bullet holes are indicative of the fighting that occurred in this area. It really is difficult to understand the dedication it takes to live this life now but it's virtually impossible to imagine what it was like back in the twelfth century.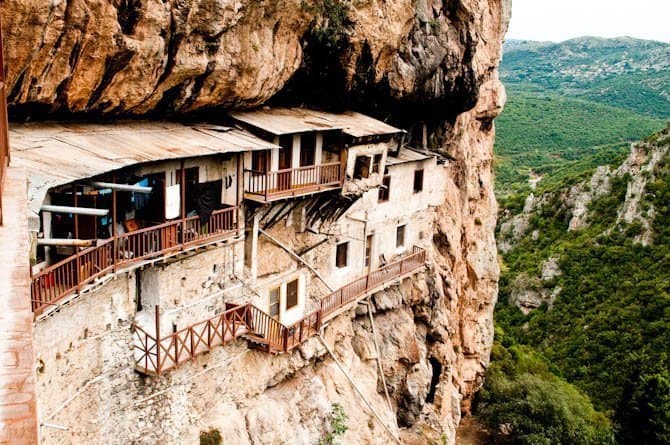 After more Turkish delight and this time some Greek coffee we bid farewell to the gracious monks and headed for the ancient site of Gortys…and lunch!
The site of Gortys dates back 2500 years and is merely ruins now but its proximity to the monasteries makes it worth a visit. I have to admit though that we did not spend a lot of time at this location as we were all beyond ready to eat. Thankfully our hosts were well prepared for and had set up an amazing picnic on the riverbank…a delicious end to a great afternoon.
Check back soon for the third and final day of our Peloponnese tour..it involves bikes, wine and caves!
Born in England, Sarah developed her wanderlust at a young age as she traveled around Europe with her parents. As a young adult she spent every penny she could on experiences as opposed to possessions. Eventually she found a way to earn a living doing what she loved: traveling, writing and capturing images of the wondrous world we live in. When not on the go Sarah enjoys time in her "sometimes home" of Vancouver.