If all you see when you visualize Greece is pristine beaches and the Acropolis you aren't seeing the whole picture. I have been to Greece four times over the years but until now my experience has been limited to, like the majority of visitors, Athens and the Greek islands…not that I'm complaining. The history and energy of the capitol city and the picture postcard beauty of the islands was more than enough to keep me coming back. However thanks to the Greek National Tourism Organization and  Mythical Peloponnese  during this most recent visit we were able to spend three very full days (again not complaining) touring the mythical Peloponnese region. It really opened my eyes to how much more this ancient and diverse land has to offer. Yes, there is much more to Greece than laying on the beach all day and drinking ouzo all night.
For a country roughly the size of the state of Alabama, Greece has a disproportionate melange of offerings. Contained within its borders are thousands of miles of coastline with idyllic beaches, ancient and historical sites and architecture, mountains, vineyards, orchards and farmland plus bustling cosmopolitan cities like Athens. The Peloponnese region itself boasts all of this and more. In my view it could also be called the land of legends since great legendary names such as King Agamemnon, Helen of Troy and Hercules are all associated with this areas rich history.
Our guide for the three day Peloponnese tour was Christos Panagiotopoulos from Arkas Travel, owner of Discover Peloponnese and we could not have asked for anyone better. Christos was full of knowledge and energy and always had a smile on his face and a can do attitude. The itinerary itself was full, as I said, and contained all of the components that we look for when planning our travel…food for the mind, body and spirit. It was a perfect balance of sightseeing, education, exercise, nature and of course delicious Greek food and wine!
Here is the first installment of what we managed to squeeze into three tiring but fascinating days. It's just too much for one post! This is truly just a taste of what the Peloponnese region has to offer and I would highly recommend spending at least five days exploring the area.
Day 1
Ancient Mycenae (UNESCO World Heritage Site)
Our first stop was at ancient Mycenae. This UNESCO World Heritage Site has the multiple distinctions of being one of Europe's first ancient civilizations, the focus of Homer's the Iliad and Odyssey plus home to the palace and tomb of Agamemnon. The ruins of the palace are situated atop a hill so comfortable shoes are advised  and be prepared for some steep inclines. Believe me though it's worth it for the view alone.
The tomb of Agamemnon (although some say it may not actually be his tomb) is the most well preserved of several in the area and it is estimated to have been constructed as far back as 1500 BC. It is quite a large and airy space for a tomb and was believed to have contained great treasures that were pillaged over the centuries. The most amazing part to me was the massive monolithic stone above the door weighing about 120 tons…how the heck did they get that up there?
Epiduarus (UNESCO World Heritage Site)
After Mycenae we visited Epiduarus which is the site of one of the most well preserved and beautiful Greek theaters in all the country. In the summer it is still used as a site for plays and festivals. With the stunning setting, the amazing acoustics and the ghosts of ancient decades I would imagine that attending an event here would be quite the experience.
The healing center of Asclepios is also at Epiduarus and was a place where ancient Greeks would go to pay tribute to the Gods and ask for healing of their physical ailments. I found the history of the healing center really fascinating as the ancient Greeks believed in treating the mental, physical and spiritual self as one. Did you know that the word holistic comes from the Greek language? I embarrassingly found that out when I asked our Greek guide if she knew the meaning of 'our' English word holistic.
People would come to the healing center to be cured of various ailments and would be put through a series of 'treatments'. They would first need to make a sacrifice to the Gods and pay for the upcoming medical treatments. Of course only the wealthy could afford these services but they would also sponsor the less fortunate as a sort of form of taxation. Patients would then attend a performance at the theater after which they would be bathed. Then came the watching of races followed by rest. Finally they would be treated by hypnosis to determine whether they were healed or required further treatment of surgery or medicinal care. They would continue this cycle until deemed healed and were then free to leave. Personally I think we could learn a thing or two from the ancient Greeks when it comes to caring for our well being.
Nafplio
Ready for lunch we set off for the romantic and mythical town of Nafplio. Sitting proudly on the edge of the Argolic Gulf it was insanely picturesque on a grey fall day so I can just imagine how it must shine with a blue sky backdrop in the summer. Greek mythology says the town was founded by Nafplios, the son of Poseidon and Danaida and it has a long and interesting history shows in it's unique varied architecture.
Centuries of battles and occupations have left a melange of architecture including ancient roman walls, medieval castles, fountains, churches and other buildings and structures in various Venetian, neoclassical and Ottoman styles. Probably the most iconic structure is the small Venetian fortress of Bourtzi which sits on the tiny island of Agio Theodoroi and can be reached by boat in the summer. We really wanted to climb the 999 steps to the Palamidi Castle high on the hill above the town but unfortunately we ran out of time.
Modern day Nafplio offers an impressive array of restaurants (including great seafood of course), charming coffee shops and bars, boutique and souvenir shopping, lovely squares and scenic walks. We tried our best take it all in and walk off the delicious and bountiful fresh seafood meal we had at the waterfront restaurant and even managed to squeeze in a coffee in Syntagma Square before driving on to Vytina. Here we checked into the luxury 4 star Art Mainalon hotel and slept like Agamemnon in the comfortable pillow topped bed.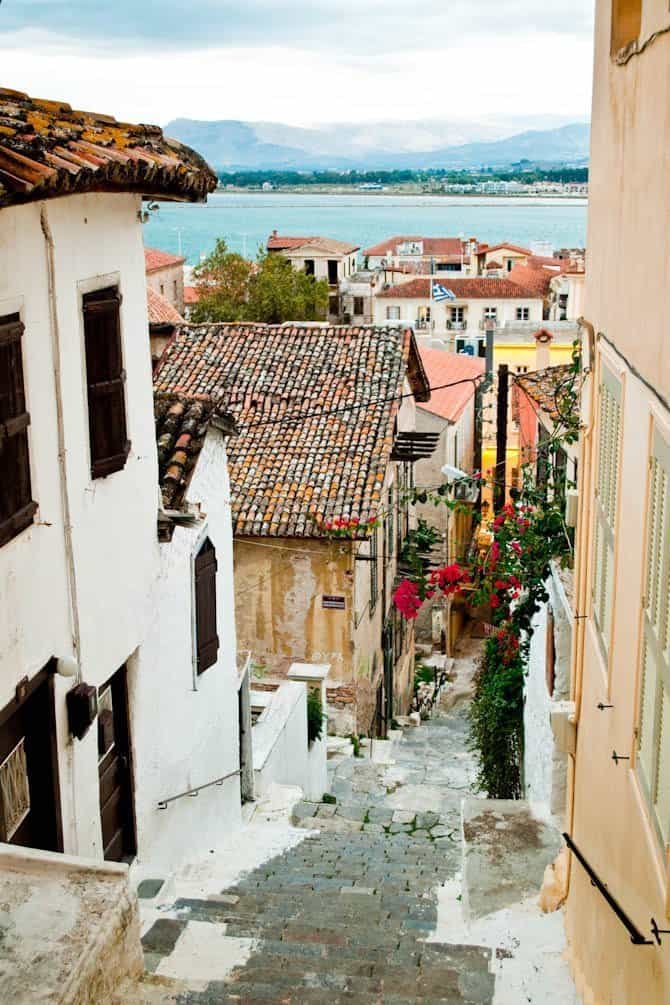 Check back soon for Day 2 of the great Peloponnese tour, believe me there is so much more to see and do in this legendary region.
Born in England, Sarah developed her wanderlust at a young age as she traveled around Europe with her parents. As a young adult she spent every penny she could on experiences as opposed to possessions. Eventually she found a way to earn a living doing what she loved: traveling, writing and capturing images of the wondrous world we live in. When not on the go Sarah enjoys time in her "sometimes home" of Vancouver.