Location, Location, Location! Bangkok is a big, bustling city where the dense traffic can make it challenging to get to your dinner reservation or tour meet up on time. Whenever we visit a large city we look for accommodations that are centrally located either close to sites or public transit so we don't have to spend our holiday sitting in traffic. The Hotel Windsor Suites & Convention in Bangkok offers a prime location plus a whole lot more.
Whether staying for a family holiday, a weekend getaway, a business trip or a convention this 458 room all suite hotel literally has it all. The kids can enjoy playing in the pool while mom relaxes in a lounge chair and dad works out at the fully equipped gym. A couple can have a romantic day at the full service spa followed by a candlelit dinner in their expansive suite. The busy businessman can enjoy a cocktail in the lounge before his dinner meeting at one of the three international restaurants. Or the Windsor Suites can simply be a perfect home base for experiencing all that the vibrant city of Bangkok has to offer.
Windsor Suites Bangkok Location
In case I haven't already mentioned it the Hotel Windsor Suites & Convention is perfectly located in the heart of Bangkok. Situated on a smaller, quieter street just meters from the busy Sukhumvit Main street. We were just steps from the action but yet felt removed from the frenzy as soon as we approached the impressive lobby.
Being just a short walk to both the Asoke BTS sky-train and the MTS subway station means we could hop on transit and be across the city in minutes. We were able to visit the city's famous temples and sites and stop for lunch at the open air markets, then fly back home at top speed to our luxurious suite all without melting in the heat of a Bangkok traffic jam.
As travelers we're not big shoppers, but if we were this would be the place to stay. You have your choice of both Terminal 21 and Emquartier Emdistrict shopping malls just a 5 minute walk away. For yet more retail therapy you can hop a hotel shuttle or transit to take you to the massive MBK, Central World or Siam Paragon Center. Despite not needing to shop we still ventured in to a couple of the malls for the lovely air conditioning and surprisingly good food courts.
Rooms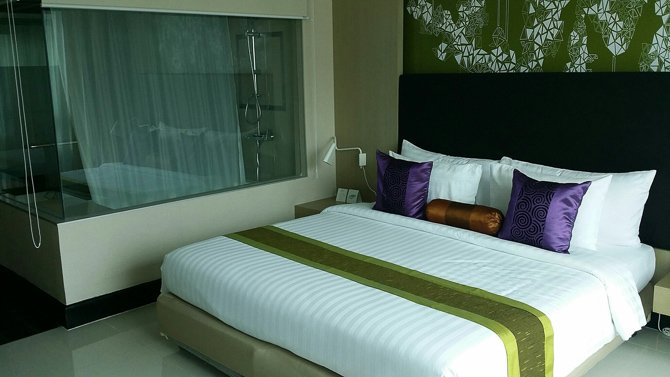 All 458 rooms at the Hotel Windsor Suites & Convention are suites of an impressive size of 484 sq ft (45 m2). The bedroom is a separate room with a view of the city and a choice of very comfortable bed options. The spacious and comfortable living room is furnished with cozy sofas and a mini kitchen complete a counter top, fridge and coffee/tea making equipment. The bathroom is roomy and fully equipped with a tub and shower, plush towels and of course comfy robes and slippers.
The layout of the suites is perfect for couples and families on holiday as well as business people. The bathroom separates the bedroom and living room which allowed one of us the privacy and quiet to take a nap on the heavenly bed while the other watched TV or worked in the living room.
Amenities
The amenities at the Windsor Suites are so impressive we actually had to push ourselves out the door to explore the city.
The pool is like a tropical oasis overlooking the metropolis of Bangkok. With the waterfalls and palm trees we felt more like we were at a beach resort rather than in the center of the capitol of Thailand. Also the design of the pool creates small pockets to lounge almost privately and we never had a problem finding sun beds. Add the fact that there was a full service bar and snack food at our fingertips and you can see why it was hard to leave.

Neva Spa is renowned in Bangkok for offering some of the best relaxing and rejuvenating treatments in the city. An array of massages and beauty treatments are available at Neva all performed in peaceful and relaxing zen surroundings. We opted for the romantic couple massage followed by a steam and we practically floated back to our room.

The Clark Hatch fitness center is on the roof next to the pool so you can get all pumped up to look good in your swimsuit! But seriously, a gym is an important item for us when we are selecting a hotel and this facility really won us over. I do have to add that it is a bit of a strange layout as it's comprised of three separate rooms but once you sort out where everything is located it actually works quite well. Plus it is definitely one of the best equipped hotel gyms we have come across in our travels. There is every piece of machinery, cardio and free weights you can imagine and they also offer daily yoga and Muay Thai sessions.
Food and Drink
There are three full service restaurants to choose from at Windsor Suites and we tried them all as well as the lounge of course. Luckily we were able to balance the food and drink with a session at the gym and pool!
The Windsor Suite Cafe offers an international buffet for breakfast, lunch and dinner. As breakfast is included with the room we had the pleasure of dining there every morning and there was enough choice to eat a different breakfast every time.
The Golden Palace Restaurant serves Chinese food and specializes in ala carte or all you can eat Dim Sum. We went for the all you can eat Dim Sum and rolled out of there in a blissful food coma, thankful for the comfortable bed awaiting us upstairs.
Pizza Connection is not attached to the hotel building but sits adjacent to it. The building and decor are very simple and in fact a bit misleading as the Italian themed food is far from plain and is quite simply superb! We sampled the wood fire oven pizza, the salmon with pasta and the tomato & boccocini salad and every dish was perfection.

The Atrium Lounge with it's two level high ceilings, marble floors and solid wooden bar is a great place to relax with a refreshment and listen to live music. We spent time there every evening during their fabulous happy hour before heading for dinner.
Our Thoughts
We would definitely recommend the Hotel Windsor Suites & Convention to anyone looking for a 4 Star hotel in downtown Bangkok as it is suitable for most people including couples, families, solo and business travelers of all ages. It offers all of the amenities we look for in a full service accommodation at a reasonable price, plus the staff are friendly and efficient without being stuffy so there is a relaxed feeling to the property. The only people that may not find it to their liking are those that prefer a small boutique style hotel or something out of the busy downtown core.
Hotel and booking information
Hotel Windsor Suites & Convention
GPS: 13.7341952, 100.5640581
Sukhumvit Rd Khlong Toei – 10110 – Bangkok – Thailand
Phone: +66 2 262 1234 – Fax: +66 2 262 1329
You can book directly at the Windsor Suites website or through sites like Agoda or Hotels Combined.
We would like to thank Hotel Windsor Suites & Convention Bangkok for hosting us. As always the opinions in this article are 100% our own.
Born in England, Sarah developed her wanderlust at a young age as she traveled around Europe with her parents. As a young adult she spent every penny she could on experiences as opposed to possessions. Eventually she found a way to earn a living doing what she loved: traveling, writing and capturing images of the wondrous world we live in. When not on the go Sarah enjoys time in her "sometimes home" of Vancouver.