When we were told of a mountain town reminiscent of a European alpine village we knew we had to pay it a visit. The Pueblo Magico** (Magic Town) of Mazamitla Mexico is in the pine forested Sierra del Tigre about an hour away from Jocotepec and 125 km south of Guadalajara. Pueblo Magicos are towns that have been deemed by Mexico's Secretariat of Tourism to have something special to offer visitors. Mazamitla definitely lives up to that title.  
It was an easy and scenic one hour bus ride from Jocotepec but if you have a car there are plenty of opportunities to stop and take some photos of the lake and countryside. We were there in May at the end of dry season and although still beautiful it would be even more so during rainy season where everything turns lush and green.
There are several quaint little villages along the way but unfortunately we didn't catch the name of the little town that was home to this lovely church.
This was the first building we saw when we exited the bus and walked down the hill to the town square.
It was a Friday afternoon and the streets were quiet so we were able to get unobstructed photos of the quaint alpine style buildings. On the weekends the town fills up with visitors from Guadalajara Mexico as it is a favorite spot to get away for the heat and bustle of the city and breathe in the fresh alpine air.
The square is home to a the lovely church Parroguia de San Cristobal. There is a bandstand in the center of the square which emanated music from hidden speakers. On the weekends it will host live music.
There is a small but very nice market just off the square selling all sorts of fresh meat and produce as well as crafts and homemade jams and sweets.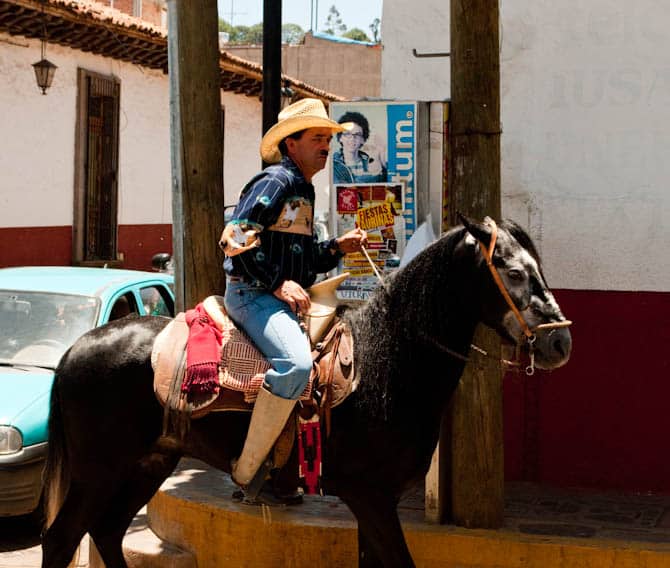 As it was still early on a Friday afternoon and visitors from Guadalajara had yet to arrive many on the restaurants were closed. We did manage to find a traditional Mexican restaurant with a pretty little courtyard and we filled up on Chile Rellanos and Carne Asada.
As a way of working off the food we just gorged on we decided to take a walk and find the Los Calzos waterfall. I had read about it on another travel blog and it sounded like it wasn't far out of town. We also stopped in at the tourism office at the square and they confirmed that it was only a ten minute walk.
After walking through town we came to a hill and the clusters of buildings receded behind us and were replaced with larger properties on which sat some very elegant and expensive looking homes and also the popular Hotel Cabanas Monteverde.
The paved road then gave way to dirt and stone and we were greeted by several cabelleros and their horses. They of course were trying to convince us to take their horses up to the waterfall and at first we were adamant that we would walk. Although none of them spoke English we managed to get the idea that the walk was much longer than we thought. Not sure if we were being taken for a 'ride' we nonetheless decided to take them up on the offer and after some negotiating we mounted the horses and paid our guide $300 pesos. Boy was it worth it!
It turned out to be a windy, rocky, up and down  path which took us almost 45 minutes by horseback. Not only would we have been tired and late for our bus but we likely wouldn't have find the waterfall at all as there were several turns that were not clearly marked. It was a lovely ride though, through pine forests and past gorgeous homes and rental cabins all waiting for the flood of Guadalajarans.
When we finally reached the entrance to the falls we had to dismount, leave the horses with our guide and hike in the final 1o minutes through the woods and up and down wooden stairs.
There was only one other couple there when we arrived and they left shortly after. The sky was blue, the air was fresh and scented with pine and we had this forest waterfall all to ourselves…it was perfect!
After heading back to towards town and saying goodbye to our guide and horses we went in search of some refreshments. We were severely parched as we had not brought any water with us thinking it would just be a short walk.
Down a quiet street just off the main square we found this charming little bar that boasted Micheladas con Camerones. Micheladas are a favorite drink here in Mexico and consist of beer with clamato juice and spices but this one had the addition of cameromes (shrimp)…that's all it took to sell me!
As we quenched our thirst and satiated our appetite we talked about what a perfect day it had been. We never would have expected to be visiting a Swiss-like alpine town in the mountains of Mexico but here we were. Just one more wonderful surprise from this amazing colorful, vibrant and diverse country.
Salud  Mexico! Or should I say Proscht!
 **For a list of all of Mexico's Pueblo Magicos go here.
Born in England, Sarah developed her wanderlust at a young age as she traveled around Europe with her parents. As a young adult she spent every penny she could on experiences as opposed to possessions. Eventually she found a way to earn a living doing what she loved: traveling, writing and capturing images of the wondrous world we live in. When not on the go Sarah enjoys time in her "sometimes home" of Vancouver.