After tearing ourselves away from our comfy, canopied cave bed we ventured out into the courtyard of our Cappadocia castle. The air was cool bit still and the skies were clear blue so breakfast had been laid out on the upper terrace overlooking Mount Erciyes. As we sat down to a delicious meal of fresh eggs, cheese and homemade bread, jams, spreads and olives one of the resident dogs looked up sleepily from his place in the sun.
We had a full day ahead of us exploring Cappadocia with Argeus Travel and we were excited to see more of the intriguing landscape we had glimpsed on our way to the Kale Konak Cave Hotel. At 9am our driver and tour guide arrived with a comfortable van and we were off. Our guide , Eyup, didn't waste any time educating us on the area and proved to be an incredible wealth of knowledge. He very obviously took great pride in his hometown and in his work.
Before we even reached our first stop I had filled three pages with notes on the history of Cappadocia including the facts that it had at one time been a lake surrounded by three volcanoes, its name means 'land of beautiful horses' and that the Hitites were the first to occupy the area back in 2000 BC.
Kaymakli Underground City
The first site we were to explore was Kaymakli which is one of twelve underground cities that were created long ago as places to hole up (forgive the pun) in times of attack. Kaymakli and Derinkuyu are the largest and most visited. Some believe that these cities could have been started as far back as the Hitites but it has only been proven to date back to the 7th Century.
Before entering the underground city our guide asked if we were at all claustrophobic and it didn't take long to understand why. However I will say that unless you have an extreme fear I wouldn't let it stop you. I myself am quite claustrophobic at times and I had no problem. The really tight spots are very short in duration so you are out of them before you have time to get too anxious.
It was fascinating walking through the maze of underground tunnels and rooms as they were so well preserved. You could get a really good feel for how it must have been to live there and although very impressively organized I can't imagine it would have been much fun. This particular underground city was 8 stories deep and was believed to have held up to 2500 people at a time. They would spend up to three months living in this subterranean refuge and had everything from kitchens to churches and even stables…yes they even had animals down there. Can you imagine the stench?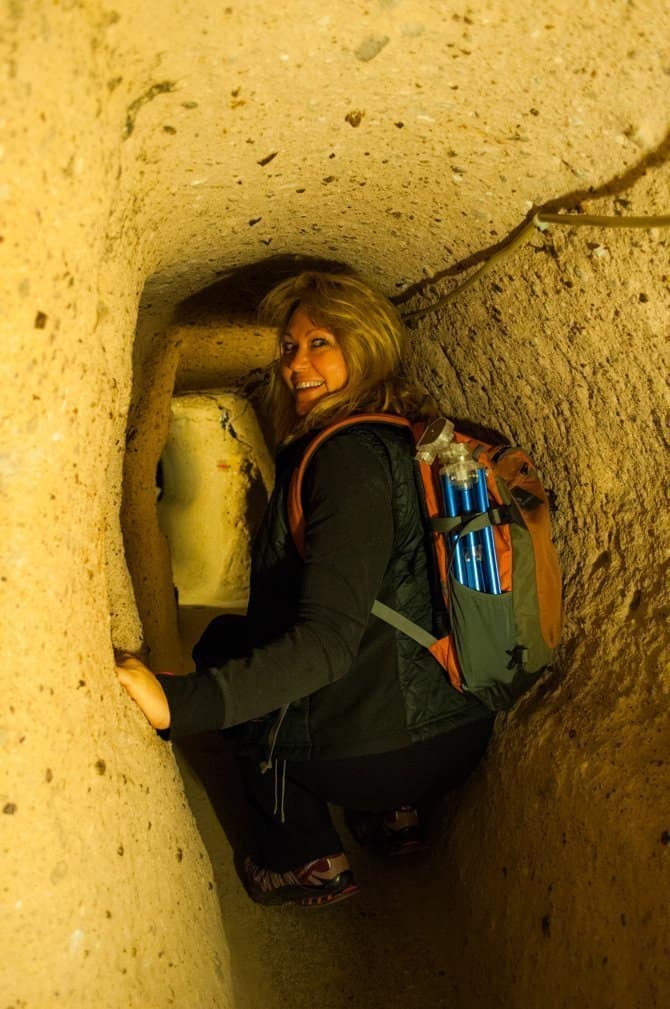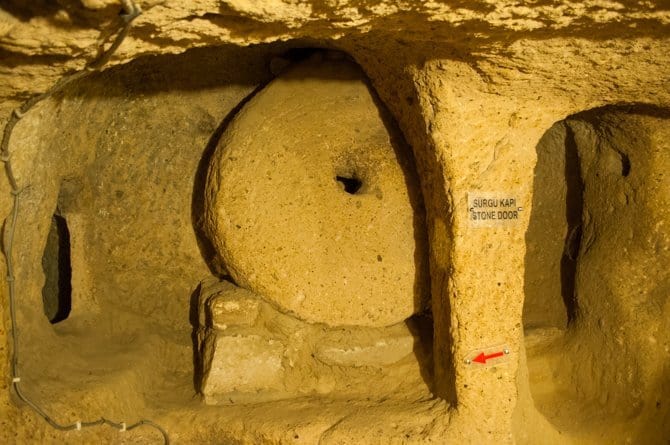 Goreme Open Air Museum
Next on our agenda was the Goreme Open Air Museum which is a preserved area of cave buildings including twelve churches. Surprisingly for a predominantly Muslim country Cappadocia has close to 1000 churches, most of which date back to between the 9th to 12th century. In the 3rd century the area started to become a prime location for the persecuted Christians to hide and remained a place of monasteries until the Islam faith took over. The original inhabitants were the hermit monks who lived in very simple hidden caves. They were eventually pushed out or forced to change their lifestyle when St George and St Basil came along and started to create a real community with more public monasteries and dwellings.
Unfortunately there is no photography allowed in the churches so you will just have to remember in your minds eye the historic and religious stories painted on the cave walls dating back to the 10th century. The Black Church is an extra fee but it does have the most well preserved paintings on site. Also don't miss a stop at the Tokali Church just outside the open air museum (admission is included in the museum fee) for some beautiful examples of artwork.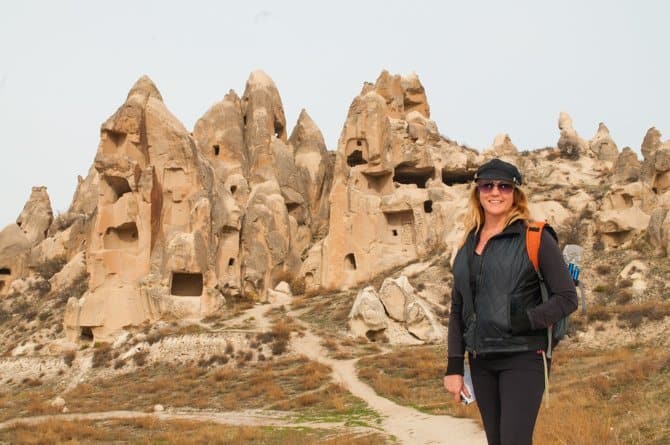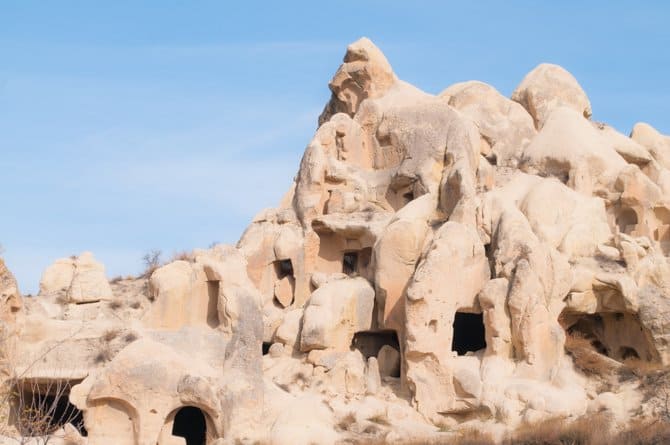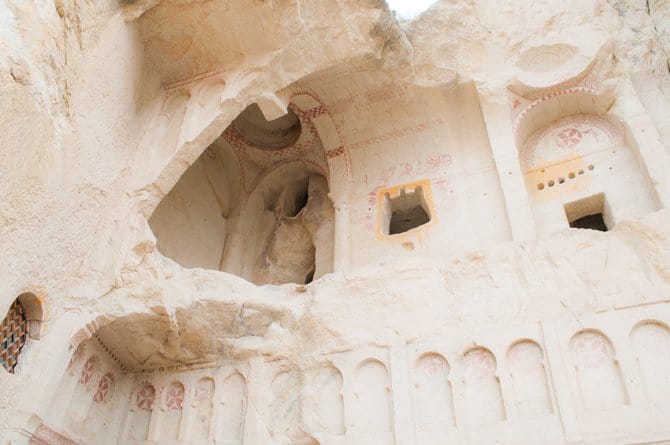 Pasabag Fairy Chimneys
After a delicious roast lamb lunch in a lovely cliffside restaurant we drove on to one of the sites of fairy chimneys called Pasabag. Here you can climb in and up some of the cave dwellings and it's also a great photo opportunity with all of the unique pinnacles and bizarre structures. As with most of the Cappadocia area you will notice dozens of small holes carved into the rocks. These are pigeon houses. Apparently pigeon droppings make great fertilizer and are still used today by the local farmers. There is no entrance fee but there are plenty of vendors selling their wares.
Sadly you can even take camel rides here but please don't do it. Although they don't appear to be mistreated we are very much against any animals being subjected to this type of unnatural life just for the entertainment of tourists. If we all stop contributing to this type of tourism the abuse and misuse of wildlife will eventually end. Ok rant over.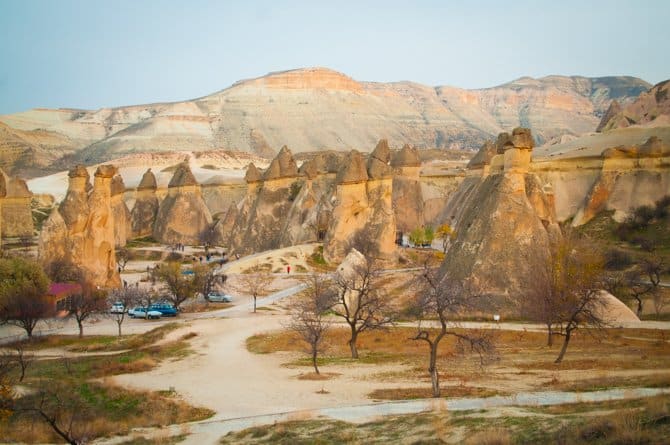 Avanos Pottery
The final stop on our tour was the pottery mecca of Avanos. We visited Sultans Ceramics which has been a family run business for 250 years and boasts some of the most beautiful pottery I have ever seen. The varied shapes and styles are numerous and unique and the intricate artwork that adorns the pieces is all hand painted. There you can watch the pottery makers deft hands mold and decorate the pieces on site and if you just can't leave without one of these stunning works of art they will pack it perfectly for travel.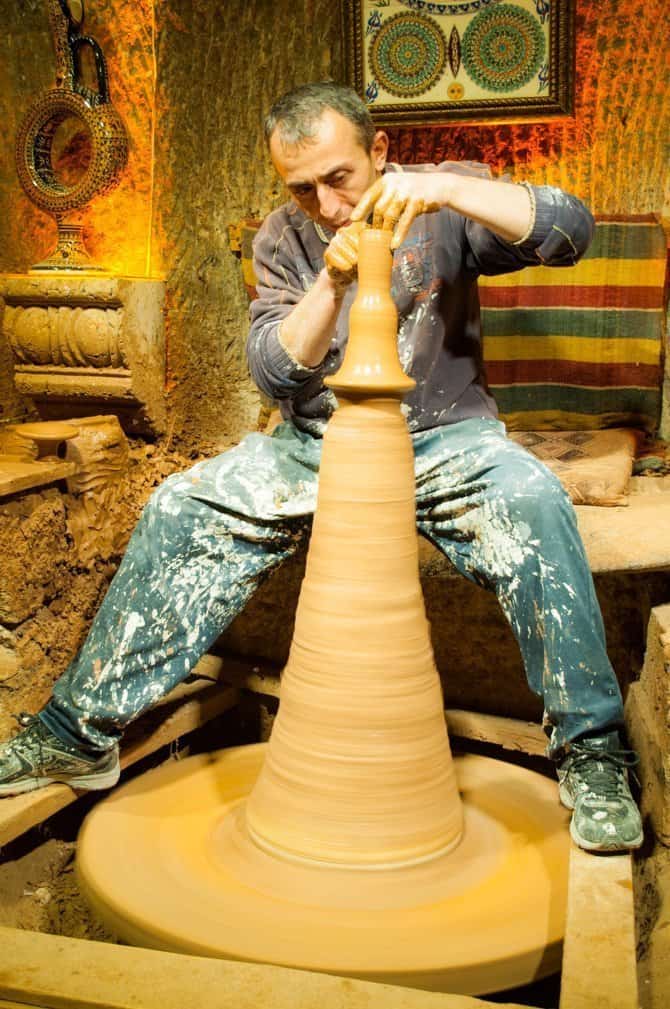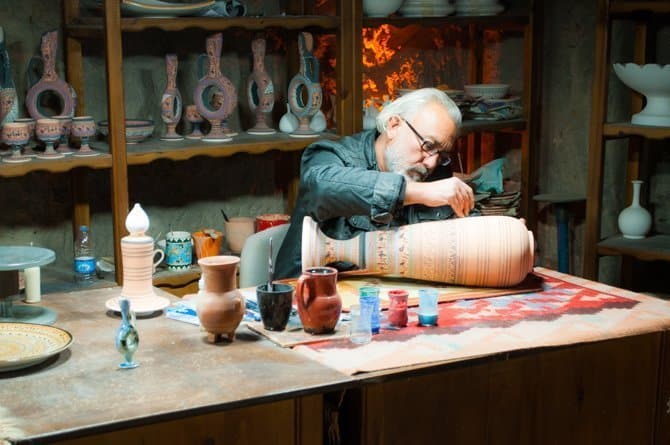 That night as we ate dinner in front of a crackling fire in one of the sumptuous living rooms of our castle we chatted about our day. Once again we had been blessed with a day well in line with our idea of balanced travel. A day of culture, history, nature, physical activity and good food. Amazingly we still had more Cappadocia adventure to come so be sure to read our next post about our Pigeon Valley hike and our absolutely incredible dream come true of a hot air balloon ride at sunrise!
Getting Around
Although Cappadocia is easy to get to without a car, once you are there you will need to get around by vehicle. If you haven't driven to Cappadocia you can rent a vehicle in Urgup. The other option is to do as we did and book a tour. There are many companies offering tours to and around Cappadocia but we used and can personally recommend Argeus Travel as they hosted us on a one day tour of the top sights. Argeus are a full service travel agency specializing in small custom tours and can arrange as much or as little as you choose. We found the staff to be very helpful, friendly and efficient starting with Mehmet, the agent that planned our tour, to the drivers and tour guides who made our day enjoyable and educational. Go ahead and google them as we did and you will find their reviews to be very complimentary.
Pin It For Later
Save
Born in England, Sarah developed her wanderlust at a young age as she traveled around Europe with her parents. As a young adult she spent every penny she could on experiences as opposed to possessions. Eventually she found a way to earn a living doing what she loved: traveling, writing and capturing images of the wondrous world we live in. When not on the go Sarah enjoys time in her "sometimes home" of Vancouver.