Southeast Asia is overflowing with natural beauty, exotic food, and fascinating cultures and one of our favorite countries is the Philippines. But what are the best destinations in the Philippines? The country is known for incredible diving and snorkeling as well as being home to some of the most breathtaking beaches and islands you'll ever see. Volcanoes, lush jungles, roaring waterfalls, and awe-inspiring rice terraces all help create an unparalleled adventure experience, combined with a sense of discovering a lost paradise.
There are literally thousands of different islands you can go to, some of which have been named as the best islands in the world. So, it becomes quite hard to see and do everything if you can only afford to spend a limited amount of time there. With that in mind, we have created this list of the best Philippines tourist attractions to help you plan where to spend your time well.
What are the best destinations in the Philippines?
Before we begin with the actual list, a quick overview is needed to help provide some context as to why we made the choices we did. We tried to keep the list as diverse as possible, so we can offer something for everyone. The best thing about the Philippines is that each island has its own special character and offers a completely unique experience. Some of these places might be better for couples, while others are much more child-friendly for example.
If you are short on time and really don't want to make any mistakes with planning your itinerary, consider finding a travel specialist to assist you with it. Since there are so many different places to choose from, and transfers between islands is a bit of a hassle, it becomes increasingly important to plan your trip correctly. In fact, as soon as you have your itinerary set it's a good idea to book land and sea transportation tickets online.
Palawan
Out of all the different stunning destinations to go to, Palawan is definitely the crown jewel. This large island is called "the last frontier of the Philippines" for a reason, as it offers the perfect combination between raw nature and luxurious accommodation and tours. Palawan has been voted best island in the world for 3 years running now, by countless online travel magazines.
The province of Palawan is divided into 3 main areas: Puerto Princesa, El Nido and Coron. Each of these has its own airport, with flights coming from all over the Philippines. Traveling between them is also possible by taking a van or a ferry. To fully enjoy everything Palawan has to offer, you'll need to spend there at least a week and visit all 3 of these locations.
Puerto Princesa, the provincial capital, is the most developed place on the island. Here is where you can easily find bars, restaurants and shopping malls, and the infrastructure, in general, is much better. The city is famous thanks to the nearby underground river national park, one of the new 7 natural wonders of the world, and the largest underground cave system known to man.
El Nido is the most popular among tourists, thanks to its stunning beaches and hidden lagoons. It's far less developed than other islands on this list, giving it a true feeling of raw, undisturbed paradise. Hotels here are very good, and this is the place (along with Boracay) honeymooners usually go to. El Nido is most famous for its private island resorts which offer a Maldives-like experience for only a small fraction of the cost.
Coron is equally stunning, but hard to reach and completely undeveloped. There, it's quite common to not have electricity or internet connection for long parts of the day. This is primarily a diver's destination, considered the best place to see shipwrecks. The dives are quite advanced, but if you are up for it you will enjoy a once in a lifetime experience.
Then there's the lesser-known, sleepy seaside village of  Port Barton, a tranquil place untouched by commercialism and still flying under the mass tourist radar. Go now before the secret gets out!
For a more detailed guide on Palawan, as well as a list of things to do there for 10 days, you can read our account of the 10 days we spent in Palawan.
---
Boracay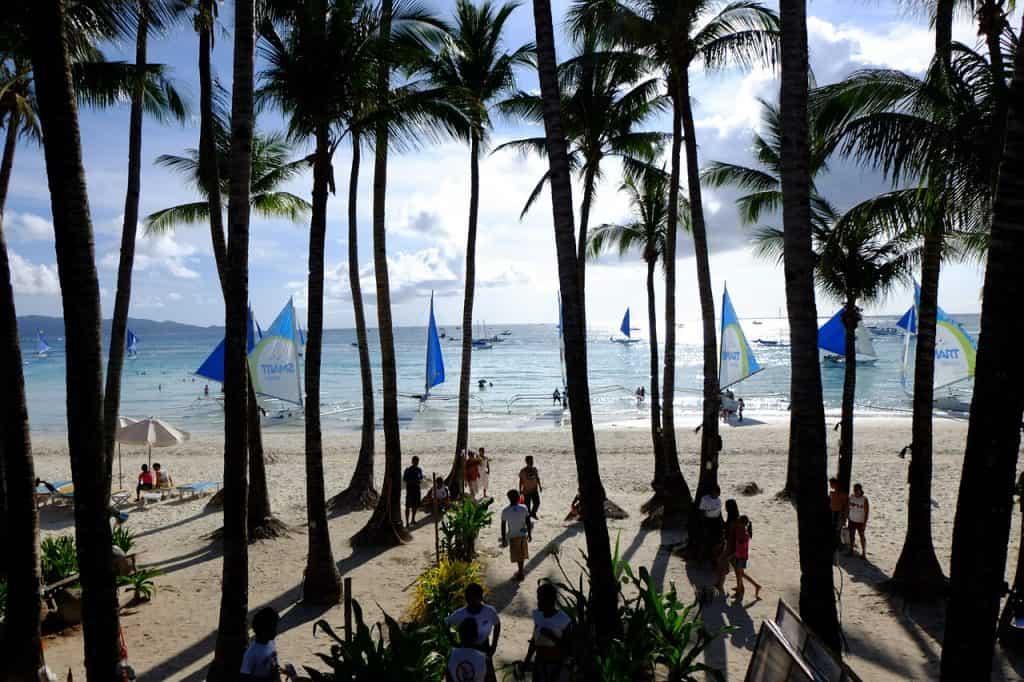 Even though Boracay is also considered one of the best island destinations in the world, it has a somewhat polarizing effect – Some people absolutely love it, while others can't wait to get away from there. On one hand, you get to stay at White Beach – the most beautiful beach in the Philippines – but on the other hand, you have to share it with thousands of other tourists. Boracay is the one place in the Philippines that really resembles the islands of Thailand: somewhat crowded, noisy and over-commercialized.
If you value your privacy, peace and quiet then stay away from Boracay and go to the smaller islands instead. However, if you're after some fun then Boracay is where you want to stay it. The advantages of staying at the most popular tourist spot are plenty – it's easy to find everything you want, from basic stuff like ATMs and pharmacies to specialized tours. Moreover, the hotels here are without a doubt the best in the country, and there are hundreds to choose from.
White beach is divided into 3 areas, called stations. Station 1 is where the beach is the widest, and most 5-star hotels are there. Station 2 is the center and is where you should stay if you want to be close to all the nightlife venues. Station 3 is mostly budget accommodation as the beach there is the least impressive, but this area is also the most peaceful.
Tours in Boracay are not that impressive, and can't be compared to the exciting attractions you can experience anywhere else in the Philippines. The main point here is to relax at the beach during the day, then go party all night long. Even if that sounds boring to you, we suggest you consider spending at least 2 nights there – so you can at least decide whether White Beach is overhyped or is actually one of the best beaches in the world.
---
Cebu island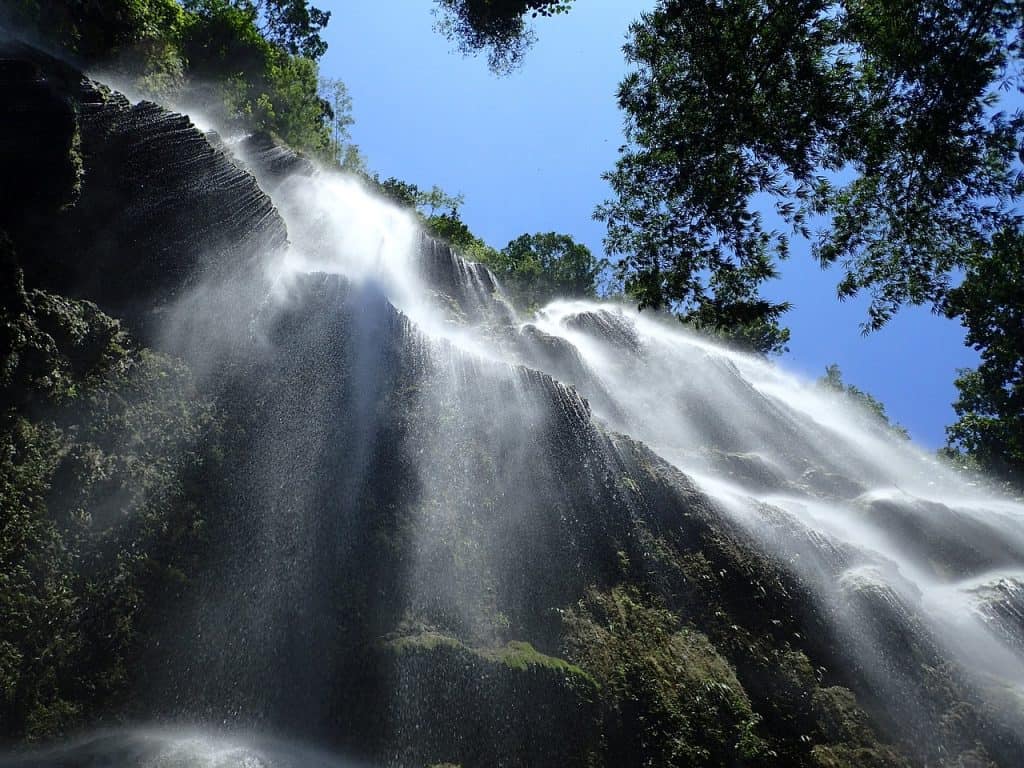 Cebu island is one of the most diverse places in the country and a real attraction for people who are mostly interested in excitement and adventure. The capital, Cebu City, is quite underwhelming and mainly serves as a transportation hub to reach various nearby islands. However, once you get out of the city and start exploring the nearby destinations, a real-world of wonder awaits you.
The most popular attraction is the sleepy beach town of Moalboal, 3 hours driving distance from the city. Moalboal is an excellent diving spot since it is home to a huge shoal of sardines who stay there all year long. This shoal attracts countless other fish and marine mammals, creating an extremely diverse and fascinating marine ecosystem. The town is also the launching spot for the Kawasan Falls canyoneering tour – one of the most exciting adventure tours in the Philippines. While it's possible to take these tours directly from Cebu city, it's much better to spend a night or 2 in Moalboal itself. It's a popular destination, especially for backpackers, and has a young, cool vibe to it.
If you are really into diving, take the 6 hours long bus + ferry ride from Cebu City to Malapascua island. This beautiful island is a fantastic diving destination, and one of the only places in the world where you are almost guaranteed to meet thresher sharks in the wild. You'll have to wake up extremely early (4 AM or so), but it's worth it for such a thrilling experience. Resorts in Malapascua are surprisingly pleasant, they have more of a boutique vibe to them but they are quite luxurious since they are all owned by Westerners.
---
Bohol
Bohol is an island just near Cebu, and a popular tourist destination in its own right. It only requires a 2-hour ferry ride to travel between the two so it's highly recommended to combine them both into the same itinerary. Bohol offers the perfect combination between stunning nature and pampering leisure and is considered the best family destination in the Philippines.
The place you want to stay at is called Panglao, a small island connected to the mainland by 2 bridges. This is where the best beaches are, namely Alona beach which is the most popular and has the best resorts and is full of bars and restaurants. Reaching Alona beach from the mainland takes only 30-40 minutes, so you can easily stay there and still go out on tours and activities.
Bohol offers a wide variety of activities, most of which revolve around nature and sightseeing. Diving there is also a great option since you have a good chance of seeing sea turtles and dolphins. For a detailed guide on what to do in Bohol, please check out our Bohol guide.
---
Manila and surrounding areas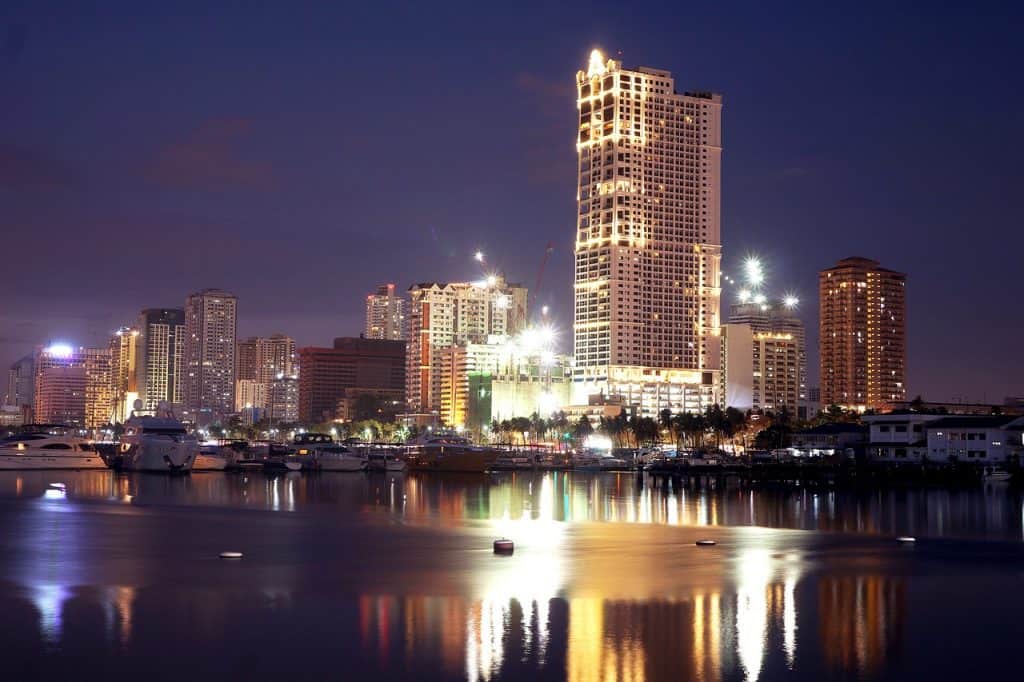 Many people wrongfully assume staying in Manila is a waste of time, and they are much better off just heading off to the islands instead. This is somewhat true, but only if you are really short on time. Otherwise, you should strongly consider spending at least a day or 2 in this fascinating metropolis, where so many different cultures and ways of life collide and integrate with one another.
Manila is the best place to get a small taste of the local culture, history, food and arts. Going to the old city, called Intramuros, and the nearby Museum of the Filipino people will open your eyes as to how rich and diverse the Filipino culture and heritage really are. You can finish your day by heading to Binondo – the oldest Chinatown in the world, where you can east delicious street food and do some shopping at the local market.
Another thing many people don't realize about Manila is how many nice places you can visit which are only 2-3 hours drive from the city. This means you can stay at a nice hotel for cheap, enjoy the best nightlife and shopping in the country, and still go out and absorb some nature and attractions. Taking day tours to Taal volcano or Pagsanjan Falls are perfect solutions for people who want to spend a day outside the city.
---
Bicol
Even though it's a huge area, Bicol stays under the radar as far as tourism is concerned. This region is part of Luzon island, the same island where Manila is located, and it's to the south of the capital. Driving there is very hard, and it's much better to fly from Manila to either Legazpi or Naga, especially since flights are extremely cheap.
There are a few interesting attractions in Bicol, but the one which truly stands out is hiking up Mayon Volcano. If the name rings a bell, maybe that's because it was recently in the news with a high risk of immediate eruption. The warnings have since subsided, but of course, you should make sure it's safe before going there. Mt.Mayon is one of a few volcanos anywhere in the world who have a perfect cone shape, and a great place for hiking and climbing for anyone who's into extreme sports.
Another beautiful attraction in Bicol is Caramoan – a place locals swear is just as beautiful as Palawan. Caramoan is a group of small islands which provide the ultimate castaway experience. Accommodation there is quite basic, and many people actually prefer to go camping on one of the smaller islands instead. This place hasn't been commercialized yet, even though it has been picking up lots of traction recently, thanks to being the location chosen for the US show "Survivor" season 26.
---
Vigan and Pagudpud
Both of these locations are a part of the Ilocos province, one of the northernmost provinces in the country.  Getting to Vigan from Manila means taking a 7-8 hours bus ride, or flying into Laoag and then driving from there (roughly 1 hour). The problem with Laoag flight is they are not always available, and even if they are then the price is usually quite high. Still, Vigan is such a great attraction that it's worth to make a special effort and go there.
A few years ago, a worldwide survey was conducted for choosing the new 7 wonder cities of the world. This quickly became viral, and more than 100 million people voted before the final results were announced. Then, to the surprise of many, it was declared that Vigan is one of the cities to have made this very prestigious list. The reason Vigan is so special is the unique preservation of Spanish colonial architecture and the unique fusion with Asian and Chinese culture and style. Visiting Vigan really feels like going back in time, and the main street is simply stunning, especially at night when all lights are on.
Pagudpud is located even further up north and is primarily a beach destination. This place is called "The Boracay of the North" and offers pristine beaches at a perfect location. There, you can enjoy and relax in private and not be disturbed by the crowds that frequent the more popular beach destinations. Another great advantage to Pagudpud is the fact hotels there are quite nice, but still much cheaper when compared to Boracay, El Nido and such.
---
Banaue rice terraces
The famous rice terraces of the Ifugao tribe are one of the most interesting attractions you can see, and a listed UNESCO world heritage site. Banaue is the most popular location to see them, but you are better off taking the extra time to visit Batad – this is the actual UNESCO site, and it's only 1-2 hours away from Banaue. You can easily see everything there within a day, although many tourists prefer to hire a local guide and take the 3-day trekking tour instead.
Reaching Banaue is quite difficult since there are no flights going there. Your only option is to book a van ride from Manila or take the public bus. Either way, it's going to take between 9 and 10 hours to get there. Ohayami Trans, Florida Liner and Coda are the 3 best companies that operate the bus route – you should make sure to book your tickets in advance since they run out quickly.
The best way to get to Banaue is by taking the overnight bus. These are air-conditioned and the seats are retractable so it's quite easy to sleep during the drive. This way you won't waste 2 days just on commute. While private vans are quicker, of course, they do not offer the option of traveling overnight due to safety concerns. If you want to read more about Banaue and get a better sense if you should take the time to visit it or not, check out our ultimate guide to the Banaue rice terraces.
---
Siargao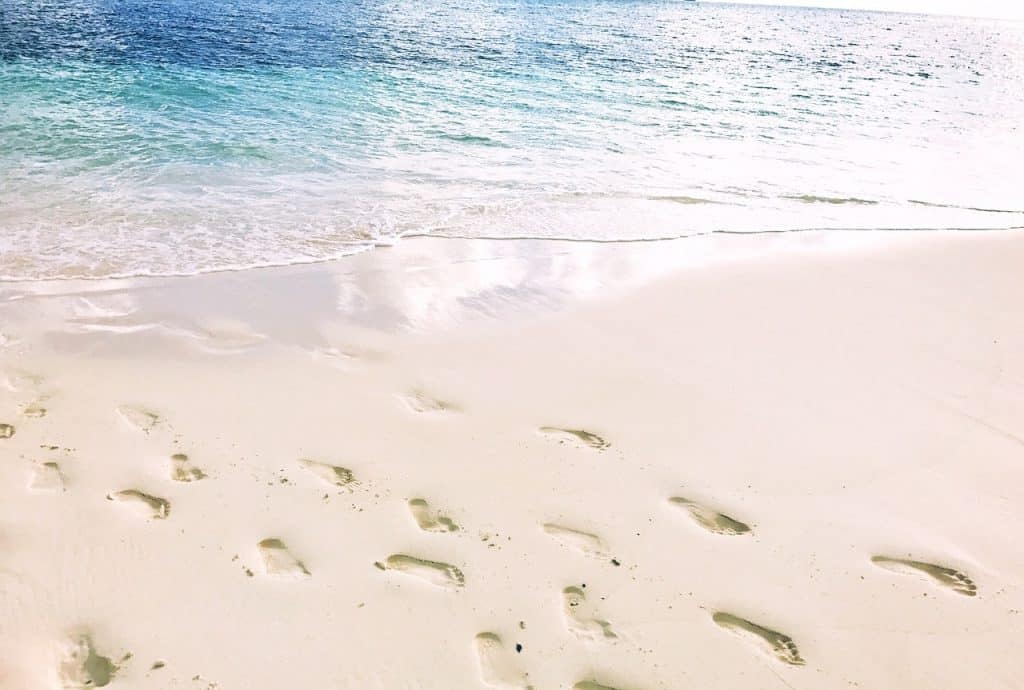 Siargao used to be strictly a surfer's destination, but recently a new airport was opened on the island and much more people started going there. What they discovered is probably the best overall island experience in the Philippines. Siargao strikes the perfect balance between being a remote island and still offering good nightlife and adequate services to visitors. You get the best of both worlds there – you will feel you are on a quiet little island, but can also mix it up by going to party at night.
Even though there aren't too many attractions in Siargao, most people who come there usually want to stay at least 4 or 5 nights. The beaches are fantastic, and the favorite activity among tourists is just renting a motorbike and go exploring. The most popular day tour is actually not in Siargao itself but rather at the nearby island of Bucas Grande.
Sohoton Cove in Bucas Grande is a truly beautiful location which closely resembles the scenes you'll witness in Palawan. Crystal clear waters inside a hidden lagoon, followed by a trip to the stingless jellyfish lake. The tour offers a complete taste of nature, at one of the most authentic and undeveloped areas in the country. It's simply perfect for people with an adventurous nature, who wish to explore the wilderness and uncover its secrets.
---
Camiguin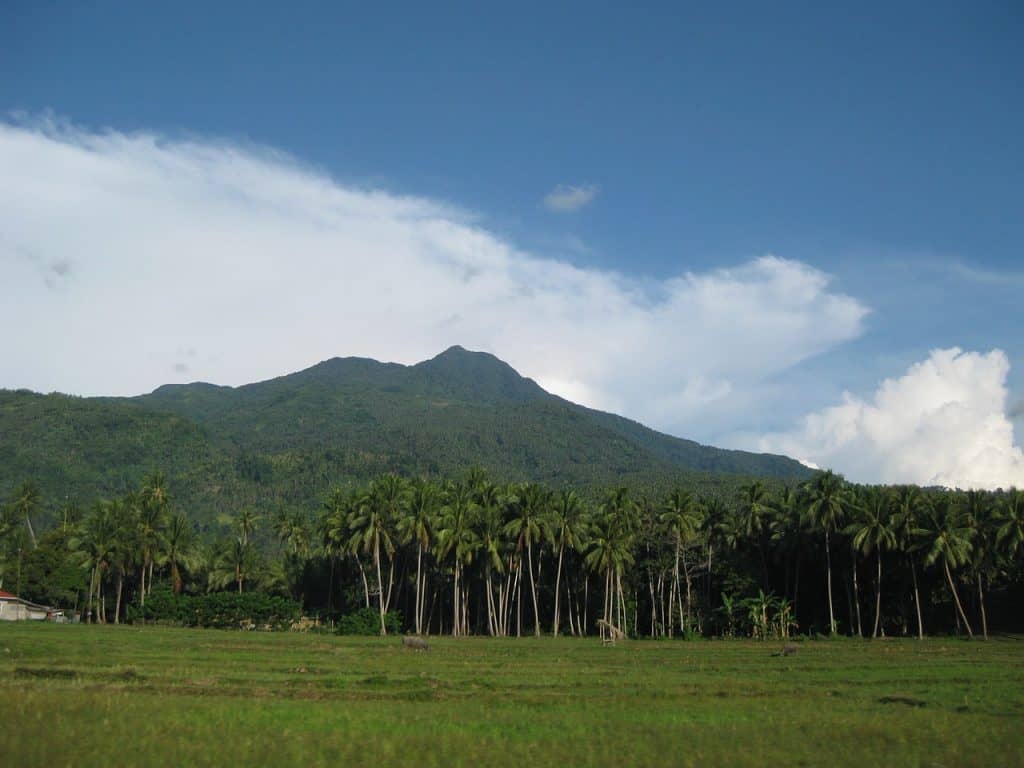 Camiguin is a small volcanic island right next to Cagayan De Oro in Mindanao. There's only one daily flight going to the island, from Cebu at 5:45 AM. The other option is to take a 4 hours ferry from Bohol. You can also get there from Cagayan but that's a bit of a hassle since you'll have to fly to CDO, drive for 2 hours to Benoni port and then take an hour-long ferry to Camiguin.
Many tourists make the effort to reach this island, and there's a very good reason why it's so popular – it's absolutely the best place for people who want peace and quiet, and an opportunity to become one with the surrounding nature. There's no luxury accommodation and infrastructure could use some work, but this place is absolutely charming in its charming way.
There are no less than 7 different volcanos on this tiny island, the most notable of them is Mt.Hibok-Hibok. The climb to the peak is quite challenging and will take you around 8 hours, but the reward is well worth it since the view from the really breathtaking. The way up to the summit is an adventure on its own, as you make your way through the thick jungles and come face to face with the local wildlife. Going on this tour by yourself is strictly prohibited, so make sure you go to town first and hire a local guide.
There are many beautiful white sand beaches in Camiguin, but the real attraction is the black sand beach. The sand feels just the same since it's only covered by volcanic ashes, but in your mind, it still feels very strange and even surreal. For divers, there's also the black forest – a huge coral reef which has also been completely colored in black due to volcanic activity.
---
Pin It For Later
Born in England, Sarah developed her wanderlust at a young age as she traveled around Europe with her parents. As a young adult she spent every penny she could on experiences as opposed to possessions. Eventually she found a way to earn a living doing what she loved: traveling, writing and capturing images of the wondrous world we live in. When not on the go Sarah enjoys time in her "sometimes home" of Vancouver.