After researching and weighing all the options we decided to fly into Guatemala rather than take the bus (or buses) from Puerto Vallarta. We would have liked to drive down the Mexican coast making stops along the way but we have some commitments that made it necessary for us to get to Guatemala sooner than later. Also, in this case it was actually cheaper to fly than to bus which is very unusual. We found flights from Puerto Vallarta to Guatemala City for just under $200 US pp and the buses would have cost just over $200 pp. Plus if we'd decided to split up the journey there would have been even more additional expenses.
Even though we flew into Guatemala City we didn't get a real taste of Guatemala until we hit Antigua as we opted to hop a shuttle straight out of that intense city. Shuttles are readily available to Antigua from the airport for about $25 US pp but the Hostal Casa La Asuncion that we were staying at picked us up for free…bonus! There are many hostels in Antigua and you can research and book them through sites like Hostelworld but we would definitely recommend Hostal Casa La Asuncion for a budget accommodation. In Feb, 2013 we paid $30 US per night (including the free transportation from the airport) for a private double room with a breakfast of eggs, refried beans and bread. We didn't have a private bathroom but as there are only four rooms (one of which does have a private bathroom) we never had to wait. The hostel is basic but it's quiet, clean and secure with comfortable beds, great staff and decent free Wi-Fi.
We laid low the first couple of days since I was fighting a nasty head cold and we both had work to catch up on but once we ventured out we very quickly decided we were going to like this cool Colonial city. Antigua sits in a valley surrounded by three volcanoes and is laid out in a grid pattern of cobblestone streets lined with a mix of newer (built in the last 200 years) pastel colored buildings, impressive churches and ruins (dating from 1541) of magnificent buildings largely destroyed in the earthquake of 1773. I happen to be crazy for ruins and architecture so I was in heaven and I pulled Nathan around the city for hours exploring preserved monuments and churches and convents. He did actually enjoy it though and of course being a photographer he had plenty to occupy him. There are walking tours of the city sights that you can take from Parque Central for about $25 and there is also a brand new hop on hop off bus tour or horse and buggy rides around the city but we chose to create our own walking tour. We will be sharing this tour plus a video with you soon.
We visited several museums and sights which we will cover in more detail in our walking tour but we just have to mention here the Casa Santo Domingo Hotel and Museo. This hotel is built among the ruins of the convent of the order of Santa Domingo de Guzman and it is stunning composite of old and new. They have retained and revived some of the grandeur of the original building and have beautifully melded this with a lavish, elegant five star hotel. You can go in and view the lobby and some of the hotel grounds for free but we would highly recommend paying the $4 to be able to enter and view all of the ruins and museums that are woven throughout the hotel grounds.
As with most city central parks or squares Antigua's Parque Central is a hub of activity and the park itself is surrounded by Catedral de San Jose (go around back for some amazing ruins), Palacio de los Capitanes, Ayuntamiento (City Hall) which create three sides of the square. On the fourth side is Portal de los Mercaderes which houses various shops and restaurants including Casa del Conde where we highly recommend stopping in to indulge in a Guatemalan hot chocolate or Café Mocha. You can enjoy your chocolate in their beautiful courtyard or take it to go and sit in the park enjoying the parade of locals and visitors.
If you go around the side of the new Catedral de San Jose you can enter the ruins of two of the original interior chapels (there were eighteen until 1773). The original cathedral was built in 1670 and was quite large and elaborate for it's time. If you like history and ruins it's well worth the cost of $1 to go and explore.
Other than visiting museums, ruins and churches you can also fill hours just strolling the streets, shopping at the markets and enjoying the many great restaurants around the city. The Mercado de Artesanias and Central Market in the northwest corner of the city are worth visiting. We went on a Saturday and the produce area of the market was amazing. We got lost in the maze of stands and just could not get over the quality of fresh beautiful produce…if only we could see that quality on our grocery stores back home.
The choice of restaurants available in Antigua is indicative of the international, cosmopolitan crowds that live in or visit the city. You can find Italian, Thai, Japanese, Steak houses and of course topic Gautemalan restaurants plus much more. Although the prices are higher here than in other areas of Guatemala a good dinner out is still a deal and there has been a real effort to create restaurants with ambiance and character. Our big splurge was at Las Palmas which is cozy and inviting but also trendy with dark wood, candlelight and walls covered in great eclectic artwork. We had a delicious dinner of spaghetti and meatballs and filet mignon with garlic mashed potatoes and cheese stuffed pepper for about $25 US. The same quality meal in a similar restaurant back home in the Pacific Northwest would have been more than double the price. Our other meals in Antigua were more budget conscious. Two of our favorite finds for good cheap eats were the Travel Menu (a cool, small, hole in the wall with an eclectic but tasty menu) and Antigua Crepes (huge selection of crepes with a fun, fanciful fairy themed décor and tables on the second level with bean bags for seating). There are also plenty of pubs and bars catering to the fairly young crowd in Antigua. I wish we could tell you about a secret hole in the wall spot that we found for music and drinks but we didn't have a chance to try too many and of the ones we did try our fave is already very well known. Café No Se is legendary and for good reason. It's a dark, lively bar full of character that attracts a wide range of people who are all just there to have fun. It's split into three sections, the front bar usually has live acoustic music, the back bar is a good place to sit and chill with a beer or cocktail and maybe have a bite to eat and then there's the "secret" mescal bar which you enter through an old metal, green fridge door.
If you're interested in good views plus a way to work off the delicious food and chocolate there are a couple of good options. Right in town is Cerro de la Cruz which is a hilltop with a giant cross overlooking the city and Volcan Agua. A few years back there were issues with crime in this area but an improved and increased Police presence seems to have resolved that. However it's still a good idea to ask before heading up alone in case things have changed. It's about a 20 minute hike up well paved stairs where you can go at your own pace and there are benches along the way to rest if needed.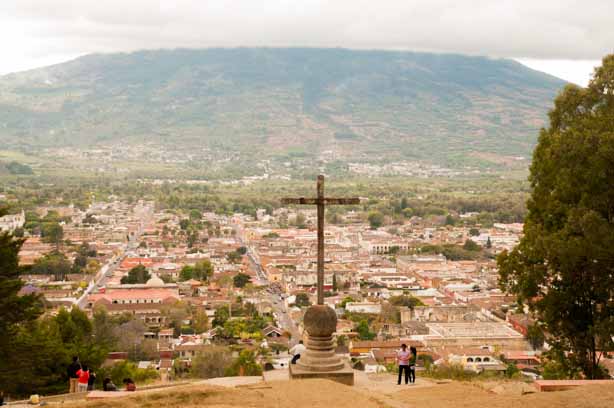 Another popular day trip from Antigua is a hike up Volcan Pacaya. You have to go as part of a tour at a cost of about $8 to $10 pp plus an entrance fee at the park of $5. The group tours are offered twice a day…at 6am and 2pm and last about 5 hours. They are pretty rushed and the hike up is quite strenuous (1 hour straight up on lose rock) but it's definitely worth it. You can also take the option of hiring a horse to carry you. The views are spectacular and you get to poke at lava and roast marshmallows. If you have it in the budget you can arrange for a smaller group or private tour which wouldn't feel quite so like being herded like cattle.
Here's a short video of our trek up the volcanoe

There are many other day trip or overnight tours available out of Antigua and there are small travel agent kiosks on every block ready to help you decide what to do. There is a variance in price between the different agencies but it doesn't seem that there is much of a difference in the tour itself. We found a great agent close to our Hostel who spoke perfect English and was very helpful. Her name is Doris Odisea and she can be reached by email at nickyliadoris@hotmail.com.
Antigua may not be the "traditional" Guatemala you're expecting due to the abundance of expats, English speaking students attending Spanish language schools and cosmopolitan restaurants. However there is still plenty of culture and history to be enjoy and all you have to do is look up at the volcanoes to know you're not in just any city. We would definitely say that Antigua is worth at least 2-3 full days to explore and more if you have the time.
Next stop for the Live, Dream, Discover duo…Lake Atitlan!